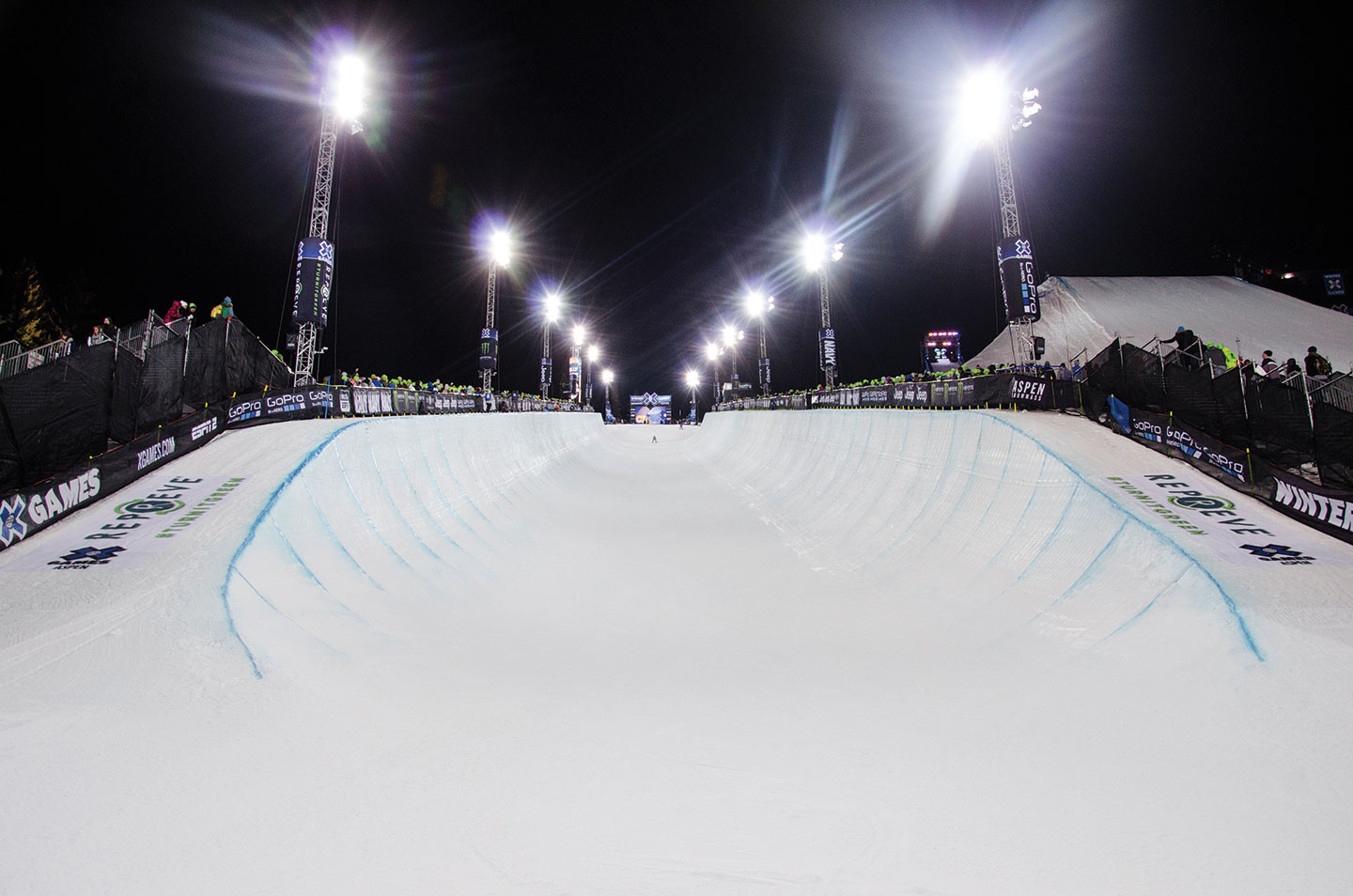 The women's superpipe at the 2014 Winter X Games in Aspen, Colorado, photo by Kaitlyn Egan, courtesy ESPN Images
22 Dec

Crafting the Cold
Snow Park Technologies grew from pushing snow to pushing the ski industry
The world is coming to Nate Holland's backyard this March. He needs something amazing to show them, and he knows where to turn.
No, Holland isn't gussying up the backyard grill and patio at his Olympic Valley home. As a seven-time X Games gold medalist, three-time Olympian and Squaw Valley boardercross rider, Holland is the unofficial 'host' of the International Ski Federation (FIS) World Cup Boardercross race coming for the first time to his home mountain, Squaw, this winter.
To build a course to challenge a field of boardercross X Games champs, Olympic medalists and up-and-comers, Squaw has turned to Verdi, Nevada-based Snow Park Technologies (SPT). The firm made its name building terrain parks and downhill courses at alpine resorts throughout the West (including Aspen for the X Games) and has since expanded into a variety of fields, including producing TV shows, consulting for a host of resort operations and even licensing apparel, but for Squaw it'll be building its first-ever FIS boardercross course, and Holland couldn't be happier.
"I'm excited to bring my competitors to my home mountain and invite them to see where I ride," says Holland. "It's going to be the best race in the world because the SPT people are all about topping themselves.
"Just like we throw down great runs, they do great builds, and just like we recognize there's always room for improvement, they do too," he continues. "Sometimes I have to fight with course builders after testing a course. I'll say, 'Is this the best the course can be? There's room for improvement, let's change it.' And they'll tell me 'we're only three days out, we'll leave it as-is.' With Gunny [SPT co-founder Chris Gunnarson], there's an open-door policy. They're pushing the sport to progress and willing to make changes and that's what makes them great."
Associates, athletes and business partners point to that attitude time and again—something that stems from the intersection of creativity and hard work—as what makes SPT such a huge name in the action sports industry.
Building From the Ground Up

An SPT park-builder at work wearing the company's branded DC Shoes, photo courtesy Snow Park Technologies
Gunnarson—who introduces himself as Gunny and is almost exclusively known by that moniker to acquaintances—runs something of a sports empire out of the slick Verdi warehouse and office complex SPT occupies just off Interstate 80. During an hour-long interview, Gunnarson politely ignores calls from ESPN and Red Bull, but does pick up for his hairdresser so as to look well-kempt for upcoming meetings. The offices are festooned with snowboards and photos signed by some of the premier action sports athletes working today—Shaun White, Truckee's Danny Davis and renowned park rider Jeremy Jones (not the one who lives in Truckee), all of whom have worked with SPT at one time or another during its nearly 20 years of official operation.
The renown, as well as the impressive Rolodex and ever-ringing phone, were hard-earned.
SPT started with Gunnarson and co-founder Mike Binnell (currently head of logistical operations) building the park at Snow Summit in Big Bear in the mid-1990s. Gunnarson had come to the park department from its infancy as the resort's first patroller who rode a freestyle snowboard.
"It was a big crash course in understanding market needs," Gunnarson says of building those early parks, which were massively popular with the skiing and riding clientele as action sports grew.
The two made a name for themselves and in 1997 landed a gig with ESPN to build the courses for the first Winter X Games in Big Bear. They've held the contract ever since.
Though officially affiliated with Snow Summit, Gunnarson and Binnell formed SPT that year and contracted with Vail Mountain for their first out-of-area operation, building and consulting with the resort's terrain park program. They now maintain similar partnerships with 14 resorts from Colorado to the East and West coasts, as well as builds from Europe to New Zealand. In 1999 SPT incorporated and in 2003 the company moved north to Tahoe to work for Booth Creek, the then-owners of Northstar California and Sierra-at-Tahoe. Gunnarson's wife Gen, now SPT vice president, had served as the director of marketing at Bear Mountian, and took over that same role at Northstar.
SPT has since grown explosively, expanding to do everything for resorts including business and marketing consulting, producing action sports TV shows and even operating the Summer X Games for ESPN. Roughly eight years ago the company ventured into a wholly new arena. ESPN approached SPT to work as its 'sport organizer' for every X Games discipline. The role requires its contractor to manage each step of the competition, from inviting athletes to communicating with them to arranging the details of a live TV production for an audience of millions.
"They came to us and said, 'we don't think there's anyone better than you to do it,'" Gunnarson says of the conversation with ESPN. "I'd never done anything like that. It was new. But they said they'd find someone else if we passed, so I said 'yeah, let's do it.' In true SPT fashion we hit it out of the park."

The men's snowboarder X final at the 2015 Winter X Games, photo by Garth Milan, courtesy ESPN Images
How does a crew who started pushing snow around end up with such a diverse skill set? A few have their theories.
"These industries are fairly small, and in the grand scheme of things, not incredibly lucrative, and it requires you to get a little creative with your business," says Chris Schuster, a contractor for ESPN's X Games productions and a Tahoe City resident who works closely with SPT in his role as a competition manager for the network. "You have to go out and figure out ways to be viable. You can't stick with one single thing."
Gen Gunnarson, who along with her husband bought out SPT's LLC from Booth Creek in 2011 when it sold Northstar, has another guess. A resort's terrain park is a breeding ground for a jack-of-all-trades.
"One of the things you notice the longer you work at a resort is that the park touches everything," she says. "You need to interact with so many different departments when you run a park—events, marketing, public relations, grooming, safety—you really connect with everyone there."
Client Relations
Holland started competing on SPT's X Games courses in 2001. In 2005 ("by the time I got good," Holland says), he was invited to give his input on the courses.
"I'll show up in Aspen in September, and along with the mountain manager and Snow Park [Technologies] and ESPN, we'll walk the course and talk about what features we can add for next year," Holland says. "A lot of stuff gets written on the back of a bar napkin."
The difference with SPT as a builder is that those bar napkin drawings come back as detailed, computerized layouts with precise measurements detailing the angle of the slope and the exact size of the proposed features, Holland says.
"They're so professional," Holland adds. Courses flow smoothly from one jump or feature to the next. Riders don't need to speed-check constantly or battle the course, he says.

Dara Howell competes in the women's ski slopestyle final at the 2015 Winter X Games, photo by Christian
Pondella, courtesy ESPN Images
That professionalism turned the spotlight on SPT in February 2014 during the Sochi Winter Olympics. Skiers and riders arrived at Russia's Rosa Khutor to find less-than-ideal conditions on the boardercross and slopestyle courses—the latter of which so unnerved Shaun White that the snowboarding legend pulled out of the event—and perhaps most tellingly in the halfpipe.
"I was one of the test riders at the Olympics, and I had to fight tooth and nail to get some changes to the course. You only have to bring something up like that with Snow Park [Technologies] once," says Holland. "It's the Olympics. You want to go there and show your best skills to the world, and I don't know if we got to do that."
Athletes took to press conferences, Twitter and Facebook to vent their frustration about the course's design, which was done by New Zealand–based Development Snowparks, comparing the company's work unfavorably to the perceived higher quality of SPT's. The endorsements found their way to Gunnarson in the form of interview requests from TV stations and publications like USA Today. SPT's president is pretty mum on the whole situation and says he wasn't "really given the opportunity to work in Sochi, which was disappointing to us." SPT's brain trust is considering a bid on the 2018 Games in South Korea, partially as a service to the athletes, who are among Gunnarson's friends, he says.
"[If we bid successfully] we are going to make a real serious effort because we want to do our part to make sure these sports shine on a world stage like they should," Gunnarson says, pointing out that the freestyle events in skiing and snowboarding were a ratings monster in Sochi. "The sport has been very good to us as a company, and aside from the politics and everything you hear about the Olympics, we want to see these people competing on the best possible courses."

Truckee's Danny Davis competes in the 2015 X Games. Davis is an SPT supporter and collaborates with the
company on his Peace Park each year, photo by Peter Morning, courtesy ESPN Images
That bond with the athletes is what makes SPT so successful, Schuster says.
"A lot of it is they really listen to what the athletes want and what they're saying, they're close with a lot of the athletes in both skiing and snowboarding now, and they strive to make adjustments," he says.
Building high-quality terrain parks and features doesn't hurt, either. John Rice, general manager of Sierra-at-Tahoe, which contracts with SPT for a number of services, says his confidence in the company's work is a huge reason it has such an outstanding reputation.
"The Winter X Games draws the world's best skiers and riders, and it's critical to them that they have quality features, pipes and courses to attempt the level of skill they need to execute their tricks. SPT is the right crew for that level," Rice says. "[Sierra team rider and Olympic gold medalist] Jamie Anderson has often told me she feels much more confident as a competitor when SPT is behind the build; her trust in their designs gives her assurance that all aspects of course design have been thought through and tested before an event."
Branching Out
SPT isn't just popular with its athletes, though. SPT's crews starred in their own National Geographic Channel TV show, Mountain Movers. The company is a bit of a Michael Jordan of the mountains—you can find its trademark snowflake logo on everything from jackets to watches to a new line of DC steel-toed, waterproof, fire-resistant footwear aimed at people who work in construction and other manual labor-type jobs, which is notable because DC's lines have always been more skater-focused.
"There are far more guys who do construction-type work than skaters, surfers and snowboarders," Gunnarson says. "Those guys look out there and their options were pretty standard, Red Wing and Carhartt and Dickies. Now we're out there, and there's a lot of those guys who connect emotionally with DC and our story."
Plus, Gunnarson adds, "they're pretty cool boots."

A Snow Park cat cuts a course, photo courtesy Snow Park Technologies
Beyond the product collaborations, there's space for high-tech video editing bays in the SPT headquarters, work spaces that will starkly contrast with the 5,000 square foot workshop/warehouse where welders create heavy, metal park features for delivery to resorts like Northstar, Heavenly and Squaw Valley. In partnership with Mike McEntire of Mack Dawg Productions, SPT produces the "Real" series of TV shows for ABC and ESPN. The hour-long shows follow athletes in a certain sport—urban snowboarding, motocross, et cetera—and their efforts to put together a 90-second highlight reel over multiple months.
"A 90-second edit is essentially a tease," says Gen Gunnarson. "But it becomes a one-hour show where fans really get to know the athletes. You get that connection to the athletes and that background that brought them to where they're at. You're intimately involved with that whole concept of what they're doing and how they're doing it."
The jump to TV production was natural for the company, Gunnarson says. Outside of resort builds, everything SPT does—the X Games, Dew Tour courses, specialty pipes like the cube pipe built for Simon Dumont (seriously, Google it)—is someone else's content for live TV or a taped spot.
And while the TV production and event coordination and brand deals are a huge part of the business—loaded shipping containers branded with GoPro's distinctive logo were awaiting transport on SPT's asphalt in late August, bound for resorts in Tahoe and beyond and loaded with "something very cool," but very secret, Gunnarson says—he still gets most animated when you ask him about park builds.
This winter, SPT, along with Northstar California, celebrates the tenth anniversary of Northstar's well-regarded "Stash" terrain park. The park is situated on a long run and is notable for its unique terrain park features—rails and boxes fashioned out of trees and logs harkening back to the region's timber industry past.
"The Stash is an amazing project, it was a big point of pride for us," Gunnarson says. He began working on the concept park, the first of its kind, while SPT was still under the Booth Creek umbrella. "That was a collaboration between the resort and [snowboard manufacturer] Burton. Jake Burton personally was the one who wanted to see something like that happen and we got to be the conduit to make that happen.
"A big part of Jake's vision was that he was looking at all these kids coming up and all they do is ride the park, and they're really, really good at rails and jumps but they don't turn real well and they don't explore the rest of the mountain and they don't really get to enjoy the mountain environment. His major goals in the Stash were to make the park and the backcountry feel like one location and to do it in a way that every segment of a family feels like they can go in there and find something to get stoked on."
Parks like the Stash—ahead of its time, Gunnarson says—are the wave of the future.
"We're just at the tip of the iceberg with where terrain parks are going to go," he says. "Freestyle-focused family zones that break away from the traditional alpine run mode. It's where the market's moving."
And wherever the market moves next, there you'll find SPT, jack-of-all-trades, masters of park building.
---
Kyle Magin is Tahoe Quarterly's Incline Village–based editor. He likes to admire SPT terrain park features while falling off them on his snowboard.