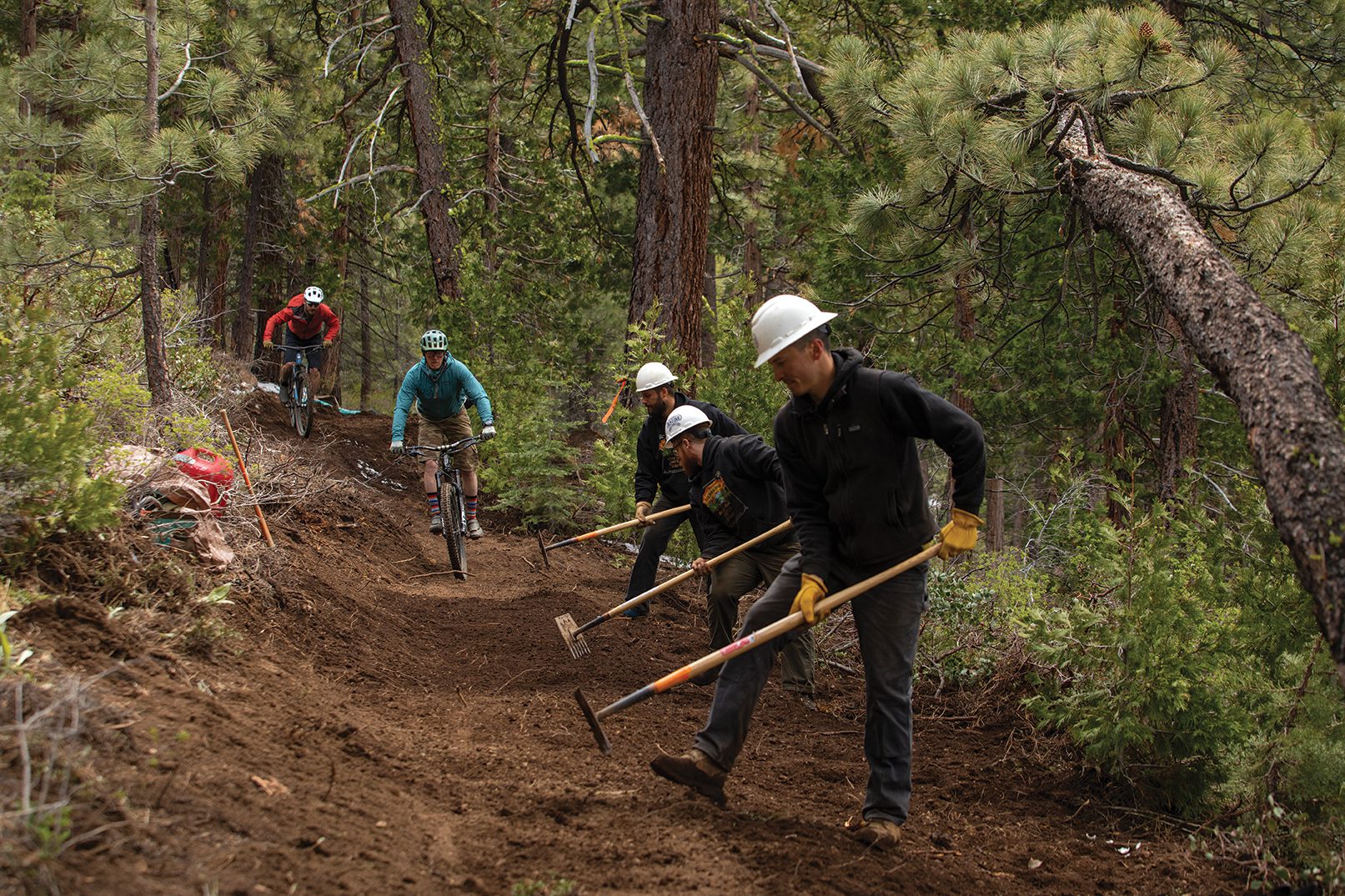 Trail workers from the Sierra Buttes Trail Stewardship work on the Beckwourth Peak Recreation Project, photo by Ryan Salm
27 Jun

Dirt Magic in the Making
Forward-thinking recreationists in the Lake Tahoe and Lost Sierra regions are resurrecting historic dirt routes forgotten by time to reconnect our communities
For as long as organisms have roamed earth, there have been trails—pathways connecting one point to another for animals to find food, water and shelter.
As human life evolved, so did trail networks, with early inhabitants sharing dirt pathways with animals in the quest for survival. Oftentimes these primitive game trails served as routes for Native Americans to access hunting grounds. Later, they became essential trade routes for early explorers, developing into wider dirt roads to accommodate horse-drawn carriages. The most important dirt roads further expanded into the paved roads and highways we use today.
Here in the Northern Sierra Nevada, the California Gold Rush established thousands of miles of pack trails, transporting endless supplies for building flumes, mines, stamp mills and entire towns. Henness Pass Road, a dirt route built 15 miles north of Truckee in the 1850s, runs nearly 100 miles from Camptonville in the Sierra foothills to Verdi, Nevada. Before the Transcontinental Railroad, Henness Pass Road was the Interstate 80 of its day, and became so busy that commercial traffic only ran at night while passenger traffic ran during the day. But gold prospectors didn't build the road from scratch; it was a trail shown to them by Native American guides, who found it by following a corridor cut by wildlife.
In modern times, trails provide an equally essential pathway for human survival, but in an entirely different way.
What used to be the only means to get from one place to the next, trails today are more used for leisure, accommodating different forms of recreation from hiking, trail running and horseback riding to cycling and off-highway vehicle use. Trails today serve as a mental and physical escape from the daily grind—a place where we can exercise, reconnect with nature and better experience the outdoors. Although our purpose for using trails has changed, the importance has not, especially over the last two years.
The Lake Tahoe, Truckee and Reno region is among the most prolific in the country when it comes to new trail projects thanks to organizations like the Tahoe Rim Trail Association, Truckee Trails Foundation, Tahoe Area Mountain Biking Association, Truckee Dirt Union, Muscle Powered, Carson Valley Trails Association and the Biggest Little Trail Stewardship. And with the recent announcement of the Connected Communities project, a proposed 600-mile trail network developed by the Sierra Buttes Trail Stewardship connecting 15 mountain communities across Sierra, Plumas, Lassen and Butte counties, including the towns of Truckee and Verdi, the Northern Sierra Nevada region is poised to become the recreational trails epicenter of the American West.
A Trail for Everyone
The Connected Communities idea was first presented at the 2019 Mountain Ventures Summit in Mammoth Lakes by Sierra Buttes Trail Stewardship (SBTS) Executive Director Greg Williams, a man known for his "moon shot" ideas, always dreaming big.
"At the end of my presentation, former Sierra Nevada Conservancy Executive Director Bob Kingman stood up in the audience and said, 'I want to fund this,' and off we went," says Williams. "Connected Communities is really an economic development project using trails as a tool for bringing tourism dollars and new jobs to struggling communities in our region."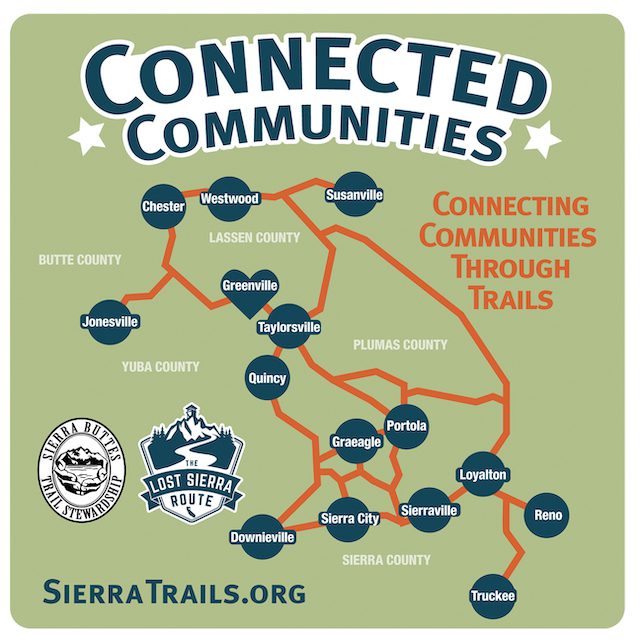 In June 2018, Proposition 68, the Clean Water and Parks Act, was passed, authorizing $4 billion in general obligation bonds for state and local parks, environmental protection and restoration, and water infrastructure projects. A central part of Prop 68 is educating the public about these environmental efforts, getting people out on trails while bolstering watershed communities in the Sierra Nevada. The Sierra Nevada Conservancy Resilient Communities Grant Program awarded SBTS a $360,525 planning grant for Phase 1 of Connected Communities, developing a
Trails Feasibility Study and Regional Trails Master Plan.
What sets Connected Communities apart from other trail projects of this scale is its inclusivity. Where other long-distance trails like the Pacific Crest Trail (PCT) only serve foot and horseback travel, Connected Communities will accommodate all user groups, creating what Williams calls "A Trail for Everyone." Also unlike the PCT, which rarely crosses through communities, the routes proposed in Connected Communities lead right into the main streets of the 15 towns across the region, directly bringing in tourism dollars.
The Connected Communities project includes the towns of Susanville, Westwood, Chester, Jonesville, Taylorsville, Quincy, Graeagle, Portola, Downieville, Sierra City, Sierraville, Loyalton, Verdi, Truckee and Greenville—a town that was almost entirely burned to the ground last summer by the Dixie Fire. Kest Porter, an avid cyclist and Greenville resident who lost his home in the fire, is optimistic about the future of the town.
"We have almost nothing left besides a grocery store, school and a Dollar General," says Porter. "For the first six months, people were just trying to figure out a place to live. But now the attitude has shifted to the possibilities of rebuilding. We are hoping Connected Communities will create trailhead facilities in the middle of town since there is so much available space. People are coming back to Greenville and rebuilding, and we are planning a pop-up business district in the interim with food trailers and other services."
For more than two years, through a pandemic and wildfires, SBTS solicited input from community members like Porter across the region, developing a trails survey for the Regional Trails Master Plan while collecting more than 1,200 responses.
"The original plan was to hold town halls across the 15 communities, but COVID restrictions made that impossible," says Williams. "The surveys have been insightful, with many respondents drawing lines on maps to show us where they'd like to see new trails connect."
The outpouring of public and private support illustrates how well thought-out and important Connected Communities is for the region. Because the project aims to be a national model, one of its deliverables will be a best-practices book on how communities, land managers and local government can collaborate effectively. The list of partners includes more than 50 public agencies and municipalities, trails organizations, conservancies, businesses and elected officials like Congressional Representative Doug LaMalfa, State Senator Brian Dahle and State Assemblywoman Megan Dahle—
a rare bi-partisan effort in a very partisan time.
"Everyone understands the economic importance of trails and recreation and what it can do for communities," says Williams. "We are hoping to not just attract visitors, but new residents and families who want to live, work and raise children in the Lost Sierra region."
Bringing Forgotten Trails Back to Life
Perhaps most interesting about the Connected Communities project is that all the towns included were originally connected by trails more than 100 years ago. Since the advent of automobiles and the construction of America's roads in the early twentieth century, the dirt pathways once linking these communities were forgotten and reclaimed by Mother Nature.
Part of the Connected Communities project is identifying these forgotten routes and either resurrecting them or creating new, more sustainable trails between the towns so they are once again connected by dirt.
Garnering public input has also been crucial for future planning in the Truckee area. Allison Pedley, executive director of the Truckee Trails Foundation, worked with the Town of Truckee and Visit Truckee Tahoe to collect more than 500 survey responses from residents, visitors and second homeowners about what kind of trails they'd like to see in their community.
"From the responses, we discovered that people want more long-distance trails, because I think they want to get further out in the forest and away from crowds," says Pedley. "Neighborhood connectivity also scored really high, so we are working with the town to provide more dirt connections around town to help kids get to school more safely while encouraging the public to walk and ride their bikes more."
Linking Truckee and Lake Tahoe with the Lost Sierra region where SBTS operates, the recently approved 71-mile East Zone Connectivity Project will create a multi-use singletrack trail network for motorized and non-motorized use between Boca and Stampede reservoirs and Verdi Peak. Spearheaded by the Tahoe National Forest's Truckee Ranger District, the East Zone project will join into the Connected Communities network, creating new singletrack routes between Truckee, Sierraville and Loyalton.
Construction of the first 10-mile segment in the East Zone project will begin this summer near Boca Reservoir, led by the SBTS Professional Trail Crew with support from Truckee Dirt Riders and Truckee Dirt Union.
Investing in Trails
The biggest challenge in creating a 600-mile trail network besides the actual work is fundraising. Williams estimates his organization must raise $40 million to bring Connected Communities across the finish line over the next decade. Williams and his colleagues are constantly presenting to audiences across the United States, helping raise awareness of the project and, they hope, more private donors.
"We're turning over every couch cushion, so to speak," says Williams. "What we need is operating capital to continue on with this and support our staff, our trail building and our youth programs, and then leveraging those funds with grants."
Chris McNamara, a Zephyr Cove resident and co-founder of GearLab, is a huge supporter of trails around Lake Tahoe and a pivotal force in funding several local projects in South Lake Tahoe, including transforming an empty lot on Ski Run Boulevard into a community park. McNamara is also working on creating a mountain bike–legal singletrack route that circumnavigates Lake Tahoe, an effort he calls "The Lake Trail."
McNamara and wife Viktoria are the founders of the Tahoe Trails Endowment managed by the Tahoe Fund, and they are also major supporters of what SBTS is trying to accomplish with Connected Communities. 
"Hands down the biggest return on investment in a community is funding new trails," says McNamara. "Trails can transform a community while costing far less than other public works projects. Especially here in the Lake Tahoe region, constructing a new trail costs a fraction of what it would in the Bay Area, so your money goes a lot further. Additionally, there's a long list of trails here in Tahoe already approved just waiting for funds to be donated."
McNamara's primary focus around trails is connectivity, which is why he is so supportive of Connected Communities. Another one of McNamara's side projects is the "Sierra Camino," a 510-mile route he's explored between Quincy and Lone Pine. Part of his Sierra Camino route will use trails developed in the Connected Communities project. These trails are also used in the bigger Orogenesis Trail system spearheaded by one of the founders of the Oregon Timber Trail, Gabe Tiller, who is working to create a 700-plus-mile bike-legal alternative to the PCT through Oregon and into Northern California. John Wentworth, former Mammoth Lakes Town Council member and CEO of Mammoth Lakes Trails & Public Access, is also working on a trails plan connecting Markleeville to Ridgecrest.
"With all these concurrent efforts, eventually there will be a bike-legal alternative to the PCT from Canada to Mexico, which is really exciting," says McNamara.
Dirt Magic
The pandemic changed a lot of societal norms, including the public's desire to recreate outdoors. There was already a solid movement toward trails and public lands before COVID-19, but the swarms of people flocking to the great outdoors in the summer of 2020 put pressure on elected officials, federal agencies and local municipalities to provide more funding for trails and recreation facilities.
The influx of new full-time residents to Truckee has further impacted the amount of vehicle traffic in town as well as users on the trails. Matt Chappell, founding member and board president of Truckee Dirt Union, is focused on creating more opportunities for people to ride their bikes without having to drive, relieving congestion on local roads.
"There's only so much parking available in Truckee," says Chappell. "We want to get more people on bikes without putting another car on the road, and the way we achieve this is through expanding trails connectivity and close-to-home, 'lunch-lap' trail networks."
In 2014, Truckee voters passed Measure R, a quarter-cent sales tax increase to fund the Truckee River Legacy Trail and other local projects. Thanks in part to the efforts of the Truckee Trails Foundation, the measure has raised $10 million for trails, bikeways and trail maintenance. Voters on June 7 also passed Measure U, the Truckee Trails Renewal Measure, which upped the sales tax from a quarter-cent to a half-cent to raise approximately $3 million annually for more projects, including the expansion of the Legacy Trail. 
The Truckee Donner Land Trust's recent acquisition of Truckee Springs, a 26-acre downtown parcel along the Truckee River, will enable the extension of the Legacy Trail to Highway 89. This connection will eventually allow the public to ride from downtown Truckee to Olympic Valley, and on to Tahoe City on a multi-use path along the Truckee River, directly accessing hundreds of miles of dirt singletrack such as the Tahoe Rim Trail, Western States Trail, Sawtooth Ridge and the developing Donkey Town trail network.
"We've always viewed public access as one of our founding principles when conserving land," says John Svahn, executive director of the Truckee Donner Land Trust. "Trails and open space go hand-in-hand, and there are at least a dozen organizations working together for more trails and better public access in the Truckee area."
When it comes to the dirt, Chappell has a clear vision of what he'd like to see in the community he's been a part of since 1997. Through a skilled, motivated and enthusiastic labor force, Truckee Dirt Union volunteer trail days regularly pull close to 50 community members, including kids and families helping build and maintain trails in Truckee.
"Our focus as a nonprofit is simply, 'What can we do to help?'" says Chappell. "Most members of [Truckee Dirt Union] already have full-time jobs. All we want to do is provide the labor of love to make outdoor experiences in Truckee better for everyone on mountain bikes with a collaborative approach. Truckee has a distinct trail culture thanks to our community builders, and we exist to celebrate it and keep it alive."
With the potential and momentum behind trails in Truckee, Chappell sees an opportunity for Truckee Dirt Union to create a shared grassroots vision through the community's trail builders and trail users. And although the organization is mountain bike–focused, Chappell values the importance of true multi-use trails, working collaboratively with other hiking, equestrian and motorized groups with a different focus so that all members of the community who volunteer have an opportunity to help shape the outcome.
Although the purpose of trails has evolved from the early days of mere survival into modern recreation and leisure, the importance of trails in our lives is unchanged; we need them to maintain our mental and physical balance in a more complex world. Many who choose to live in the Lake Tahoe, Truckee and Lost Sierra regions do it for the love of the outdoors and the endless miles of accessible trails.
Williams calls this love of creating and experiencing trails "dirt magic," but these paths aren't just magically built and funded. It takes a community to rally around an idea, put in the sweat equity and write the checks needed to create legacy projects that provide smiles for millions of people for the foreseeable future. And hopefully, hundreds of years from now, the public will look back on the efforts by community leaders, donors and volunteers and celebrate their vision of creating dirt magic for all to enjoy. 
---
Kurt Gensheimer (@trail_whisperer) is a Verdi resident with nearly 20 years of experience as a freelance writer and storyteller, working with outdoor industry brands, trail organizations and tourism agencies to promote trails, recreation and specifically mountain biking as a viable economic engine for mountain communities across the West. 
---
How the Lend a Hand
To get involved, donate funds or learn more, check out the following websites related to Connected Communities and other multi-use trail projects happening in the Tahoe and Lost Sierra regions:
• sierratrails.org/connected-communities/