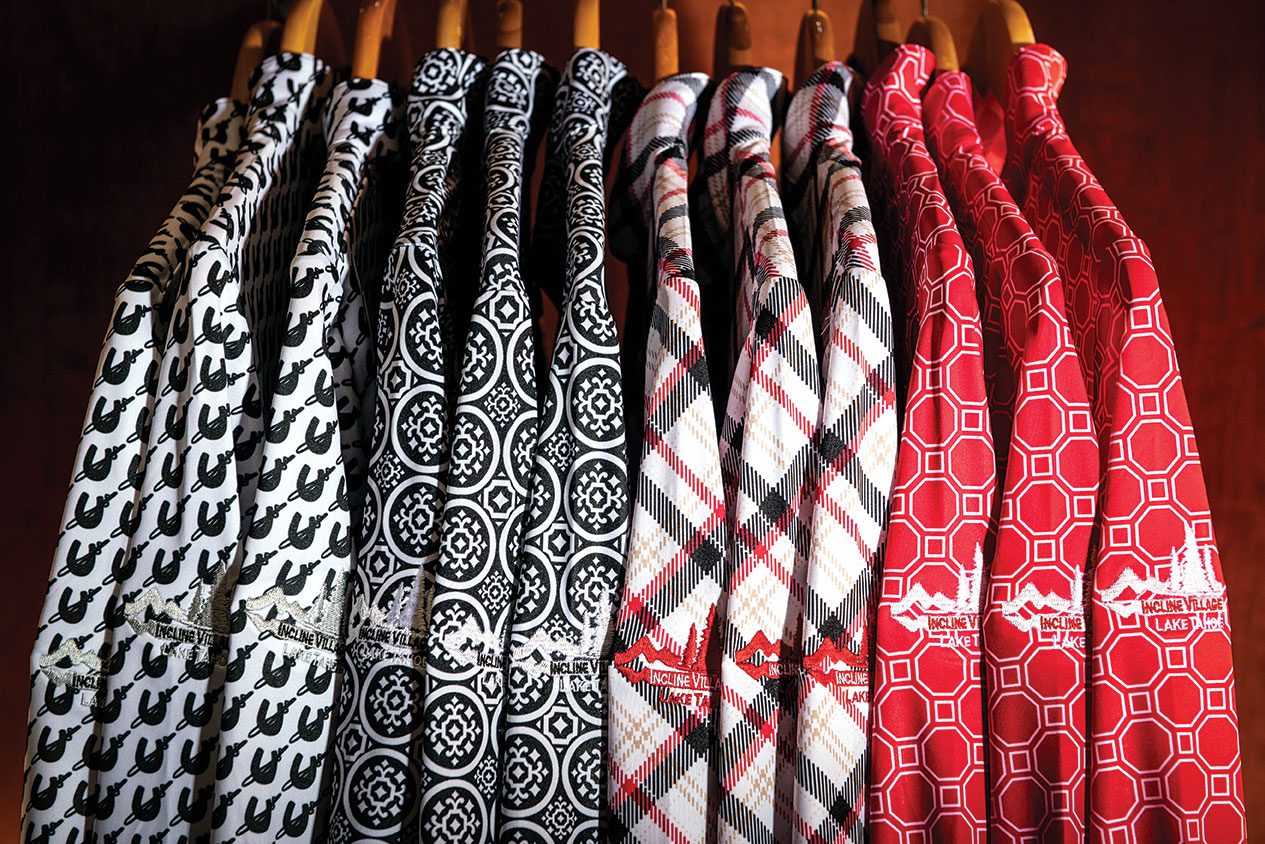 A row of collared shirts at the Championship Course Golf Shop, photo courtesy IVGID
26 Apr

Dressed to the 9-Irons
Have you seen what golfers are wearing these days? From needlepoint belts to
Caddyshack microprints, modern fairway fashion is easing up on formality in Tahoe
The Met Gala is known for being a fashion highlight of the year each May, coming just a couple of months after celebrities tantalize the paparazzi with their wardrobe choices at the annual Academy Awards. As the weather continues to warm, however, fashion finds another foothold in venues known less for their red carpets and more for their green swaths of grass: golf courses.
Is that overstating it a bit? Well, yes. You may not (OK, won't) see runway-ready evening gowns or highly avant-garde outfits on a typical summer day on your local fairway. Whatever a golfer wears must first and foremost be functional, of course.
Gregory Merritt, district merchandiser for the Incline Village Golf Courses, jokes that when it comes to choosing golf wear in the shop, guys will buy something they forgot—like a cap to keep the sun out of their eyes or a jacket for layering due to a misunderstanding of the mountain climate.
"They thought it was going to be 80 degrees," he says, "but they showed up and it was 60."
Ladies are more likely to shop, he says with a laugh, but adds that men also seek out gear with the course logo on it so they can proudly show off where they've played when they're traveling elsewhere. Joking aside, Merritt says there are many golfers who want to look "really good" on the course, from their hats to their shoes. Some want to deck themselves in gear from their home course, while others are drawn to what they see the pros wearing on tour.
"Then you have some other folks who could really care less," says Merritt. "It is very individualistic in that respect."
Still, golf is a sport with a definite fashion element—enough that recognizable trends come and go, encompassing everything from headwear (flat-brim caps are on their way out; rope hats are coming in) to cotton-weaving styles (pique polos are back) to colors (so is bright lime green).
Rules, Relaxing and Relaxing Rules
To start, many courses have a dress code, which obviously strongly influences what people wear. The Incline Village Championship Golf Course, for example, forbids jeans and requires collared shirts. Merritt, who oversees all buying at the Championship Course Golf Shop, says full button-downs were a popular way to meet this requirement in the past, but now, "99.8 percent wear a polo or polo-type shirt."
The nearby Mountain Golf Course is a bit more relaxed, with rules designed to be more welcoming for people who are just getting into the sport. Still, most people are aware they can't just show up in a T-shirt or look disheveled when they arrive at a prestigious course, Merritt says, so they tend to play it safe with a polo above pants or shorts.
When it comes to offering clothing choices in the course shops, the selection is also fairly constrained to the items manufacturers believe are going to sell the best in the upcoming season.
Within these confines, however, creativity flourishes. Whereas the polos of yesteryear featured solid—frequently pastel—colors or thick stripes, Merritt says the last few years have seen a rise in "fun prints." Think beach themes, classic cars or sailboats.
Brandon Miller, director of golf operations at Clear Creek Tahoe, agrees, calling the trend "microprints."
"When you look at a polo or pullover from 5, 6 feet away, you can't tell what it is," he says of the designs. "But when you get close …"
Something more than a passing glance will reveal that what looked like an abstract pattern is actually martini shakers, bourbon glasses and cigars. Or the infamous gopher and other fan-favorite references from Caddyshack.
Irreverent? Perhaps a bit—but that's the point. Miller believes golf fashion has become more relaxed over recent decades. When he was growing up on the East Coast in the 1990s, he says, you couldn't walk into a clubhouse without a shirt, tie and sport coat. There are still clubs like that—especially in that area—but many courses now avoid more strict sartorial requirements and instead set a general expectation that guests look "a bit more tidy, a bit more put together."
Clothing makers have capitalized on that shift. Many clubs have historically had a "tucked shirt" rule, for instance, and while seasoned duffers and golf professionals may dress that way every day, those who work to minimize pretension and attract a broader segment of people to the game may not insist on the style. Recognizing this attitude, some manufacturers have shortened their shirt lengths, Miller says, so that even untucked, the hem doesn't look floppy or unkempt.
The Tahoe area is also set apart because of why people golf here: "We are in the mountains. It's a vacation destination. It's a place where it's kind of anti-stuffy," Miller says. "You come to the club here, and it's meant to be a bit more relaxed. There are obviously still some dress codes, but they're much more relaxed than they would be in, say, South Florida, the Bay Area or the Northeast."
Work or Play?
Another more recent trend is versatility. Merritt explains that some companies crossing over from leisurewear are targeting younger golfers with more fitted shirts and pants.
"In the last five years, golf brands have been trying to say, 'Hey … this polo and these golf pants can go from the golf course right into the office for a business casual setting," he says. "To me, that's the thing with golf clothing. It doesn't have to be dressy, but it can be dressed up or dressed down."
Miller, too, has seen the same trend in the same time frame, with brands pushing the lifestyle segment of their business—not necessarily selling golf-specific shirts, but rather shirts you happen to be able to wear on the course as well as out running or to a fitness class or grocery shopping or lunch. The idea is that golf is just one aspect of your life, even if it's a significant one.
This hybrid trend has also spawned a sort of reverse aspect, which Miller explains as guys who may not have historically put much thought into their work wardrobe deciding to step up their fashion game when they get a chance to come to the club.
"They're going to be decked out," he says, noting the various elements of the outfit may all fit a theme or feature a matching element. "There's a sense of pride when it comes to how you present yourself when you're on the golf course."
This drive to coordinate can extend beyond the expected accessories. For anyone committed to teeing up a thoughtfully put-together ensemble, shoes, belt and hat are a given. Miller says there are a lot of belt options these days, from needlepoint to Nile crocodile and other exotic leathers.
Leather's popularity also extends to wallets and golf bags—the latter of which represents yet another way to accessorize on the course. Someone who doesn't want tanned hide may choose ballistic nylon or handmade wax canvas to hold their clubs featuring designs with unique head colors.
"The way that someone's golf bag is presented is one of those extensions of their outfits and sense of pride as well," Miller says.
Wear What You See
As Clear Creek Tahoe's director of golf operations, Miller says his job is to create a positive experience for the members and their guests, from teaching lessons to ensuring someone is always on hand to help them with what they need to have a great day.
Does that include providing fashion advice?
"Actually," he says, "sometimes it does."
Miller says he has special ordered the exact outfit he was wearing for guests—but in their size, of course—after they saw him in it and wanted to try out the look for themselves.
"We on the golf staff are essentially walking mannequins," Miller says, though he notes his fiancée teasingly insists that his entire wardrobe is devoted to a very limited palette. "There's a wide array of the blue pantones in my closet. It's easy! It goes with everything!"
Merritt, too, has seen his work attire trigger a guest's fashion sense. Though he demurs at being called a model ("model in the loosest sense," he allows), he does admit that he strives to wear various items available in the shop—and is no stranger to hearing someone else say, "Hey, I like that shirt."
---
Ryan Miller is a writer who lives in the Sacramento area. Follow him on Twitter or Instagram, @jesteram.