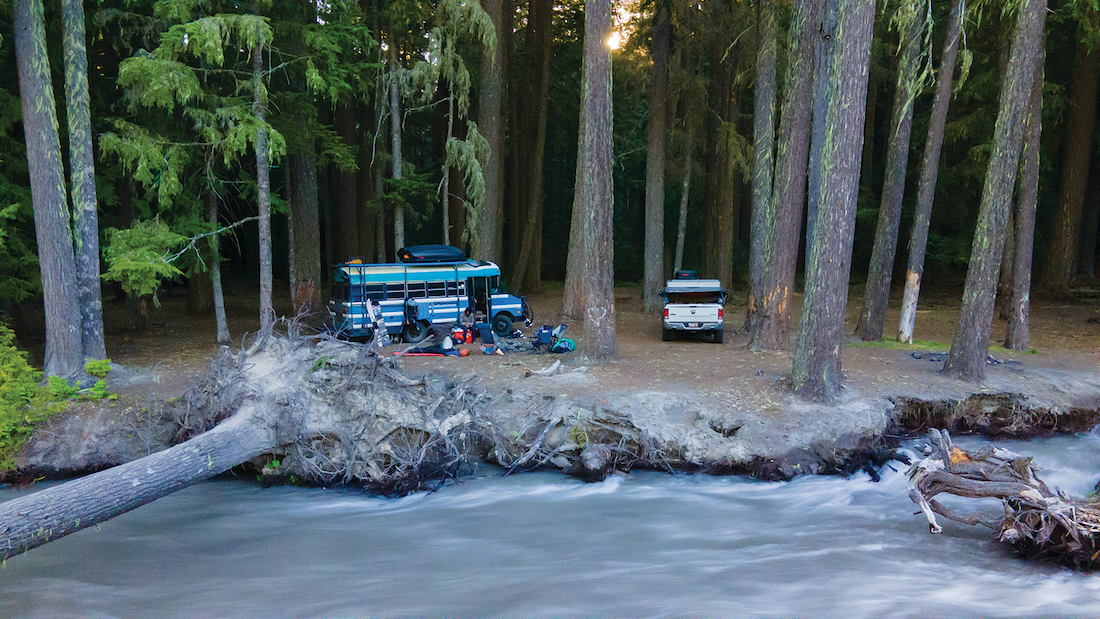 Nick Cahill's blue bus, a 1988 Thomas Built Mighty Mite, in Mount Rainier National Park
30 Nov

Forging the Ring of Fire
A photographer embarks on a grand adventure climbing and snowboarding a dozen volcanoes across three states behind the trusty wheel of his customized school bus
Nick Cahill swings open the cantilevered glass doors of his 1988 Thomas Built Mighty Mite and steps into the driver's seat. From the outside, the 23-foot-long adventure steed's hood looks like it may have once delivered bread to grocery stores. The rest of the bus looks like it shuttled children to elementary school. But on the inside, the reclaimed wood cabinets and countertops make it appear much more akin to a typical Tahoe basecamp on wheels. Except this is the furthest thing from a glossy adventure van. With a 2004 Chevy 6.0 fuel-injected V8, essentially the same motor as a Corvette only with an iron block instead of aluminum, and a Hummer transmission swapped in, the bus has been Frankenstein-ed into a beast.
"It's loud and it's bumpy and rattly, but it drives fast," says Cahill. Even with the aerodynamics of an NFL lineman, the bus can cruise at 85 miles per hour up Donner Pass if called upon, says Cahill.
Cahill's story as a photographer and videographer is intertwined with this beast.
It is a vehicle the 34-year-old Donner Summit resident happened upon one week before unexpectedly landing a National Geographic cover photo—a lifetime dream for any photographer—and one that has carried him and a close cadre of friends to Black Rock revelry at Burning Man year after year. But it was one of Cahill's latest adventures—an epic month-long journey hopscotching volcanoes that became a video series called the Ring of Fire—where the bright blue bus and its owner found a new direction and renewed inspiration after the pandemic upended the world.
Inside the bus, the wood flooring that Cahill meticulously wiped clean is now coated in a fine powder. It's a reminder of the rig's recent pilgrimage to the playa, where its welded-on oversized steel roof served as a Burning Man dance floor suspended 8 feet over the alkali. The vibrations from a recent photography trip caused the fine white dust to rise through the Mighty Mite's cracks and crevices, reemerging as a remembrance of the end-of-summer festival.
Burning Man was the original motivation that caused Cahill and his longtime girlfriend, Jessica Perez, to scoop up the Thomas Built in 2015. The couple found it in the rural Nevada town of Yerington, rusting into retirement as extra storage space on a desert property. They bought the bus for $1,000 and set to work rebuilding it piece by piece.
One week after driving it off the Yerington property, Cahill received word from National Geographic. At first he thought it was a joke, a clever prank from his friends. But it was true. His night sky exposure of Tahoe's East Shore with the Milky Way splayed out over the lake's tranquil waters landed on the cover of one of the nation's most respected and storied magazines.
The bus, the magazine cover and a trip to Mount Shasta with his mountain guide brother would all plant the seeds that sprouted into Ring of Fire during the deepest doldrums of the pandemic. And for the bus, motoring to 12 volcanoes across three states, ferrying passengers to over 63,000 feet of climbing and snowboarding, was perhaps the culmination of the vehicle's slow transformation into an adventurer's dream.
"I purchased [the bus] and a week later I got the email about Nat Geo, which was kind of a sign that the leap of faith was sort of the right choice," says Cahill.
Volcano Bound
Cahill hatched the Ring of Fire plan from the couch of his Soda Springs home in 2020. Professional photography and videography gigs had ground to a halt during the pandemic, and he had time. Despite being a seasoned adventurer—Cahill is an experienced skydiver and amateur wingsuit flyer, among many other outdoor pursuits—he had limited snowboard mountaineering experience.
Undaunted, he charted out an ambitious plan: Summit and snowboard down as many of the volcanoes between Tahoe and Canada as possible in a month while living out of the bus—which he and Perez did for two and a half years before moving to Soda Springs full time—and documenting the journey for a list of sponsors that would fund the trip.
The sponsors were hypothetical, and Cahill got to work knocking on doors, making calls and sending emails trying to marshal support.
"It was mostly 'no's,'" says Cahill. "It was maybe 5 or 10 percent 'yes's.'"
In the end, persistence paid off and a diverse range of sponsors signed on, everything from handmade soap and organic juice companies to apparel and cooler products.
"It is cool to know that there are companies out there willing to sponsor non-professional athletes," says Cahill.
He also needed an adventure partner, and he turned to fellow Sierra Nevada University graduate Danny Kern, a Truckee-based photographer, videographer and snowboarder, to join the mission in the spring of 2021.
Just like the sponsors, Kern was slow to say yes. He'd seen and heard of other people doing similar trips, many of them upping the ante. One person who personally inspired Kern was Stratton Matteson, a splitboarder who was, at the time, in the process of biking from Mount Whitney to Canada and summiting and riding 34 volcanoes along the way.
"I was like, 'People are doing this by bicycle, which is super gnarly,'" says Kern.
Kern decided to join, and his video and photo skills, as well as strong snowboarding, became a key piece of the film's storyline and success.
"I was honored that he asked me," says Kern. "I've been filming snowboarding since 2012, but I was finding my niche in the backcountry when Nick asked me to do this."
The entire trip was a crash course in splitboard mountaineering, planning and logistics, and adventure photography and videography.
"In the end I am super glad that I did it," says Kern. "After the first couple climbs we found our groove. It was a really great learning experience in run-and-gun filming."
Kern was also key in connecting with various other athletes who would appear in the eight-part video series. His girlfriend, splitboarding guide Tailer Spinney, became a central part of the project. And others joined them along the way, like North Face-sponsored snowboarder Amanda Hankison and Jaime Vincent, a geologist and snowboarder who works for splitboard binding company Karakoram.
The addition of fresh faces and new voices as the project moved north turned the series into a story that is diverse, at turns surprising, and captivating.
The pair started with Lassen Peak, the southernmost, and perhaps the most approachable, of all the volcanoes. With some friends along for the first summit, they snowboarded the peak in spring snow. Then they moved on to Shasta, tackling the mountain's more obscure and challenging north side.
"It was like Groundhog Day. Conditions stayed good all the way up," says Kern. "Those series of volcanoes are really cool to do because the mountains gradually get bigger as you go north, and you get stronger as you go."
It became clear that the partners' skill sets were complementary. Both could shoot both photo and video. Both were strong snowboarders and capable climbers. Despite the complexities of documenting each ascent and descent, the two settled into a rhythm.
"It's different because it's all a photoshoot. It might be that the light is decent, and you ask everyone to hold on a second so you can get a shot," says Cahill. "You are constantly leapfrogging each other on the descent. And then when you get down, you have to pay close attention to recharging camera gear and saving files when you are completely exhausted."
There were adrenaline-filled moments—a spicy traverse over exposure into the steep Early Morning Couloir on Oregon's North Sister. There were sublime moments—a lunar eclipse as the clouds parted right as the moon set on Mount Jefferson. And there were challenging and worrisome moments—when their guide, Spinney, suffered a concussion mid-trip.
The duo knew what was coming together was not necessarily a boundary-breaking shred flick, but a true adventure story—an expertly shot and edited tale of a bold mission born in the middle of a once-in-a-lifetime pandemic.
"When I looked at the footage, I knew there was something there," says Cahill. "It was not a first-descent story, but it was a relatable story, something your average adventurer could go do."
That's not to say what they accomplished wasn't impressive. The project included a climb and descent of Mount Rainier's Emmons Glacier, Mount Baker in full powder conditions, a committed line on the North Sister, and even more obscure peaks like Mount McLoughlin and Mount Jefferson.
The fact that Cahill had only snowboarded down Shasta once before, and Kern was relatively new to splitboard mountaineering as well, made the feat that much more appealing to a wide audience.
"I had only done one volcano before, so I upped it by 11," says Cahill.
The Thomas Built bus turned heads the entire trip, connecting Cahill and Kern to travelers and onlookers wherever they went.
"It has a specific look, and it attracts a different type of person than a Sprinter van," says Cahill.
From Shred It to Edit
A month after they hit the road, the Ring of Fire project was done. But that was only the start of the filmmaking process.
"I ate, slept and breathed the project for a full year," says Cahill.
The editing process was a laborious undertaking. Cahill and Kern did not always agree on editing choices, which made finding common creative ground a challenge at times.
"It was a bit of a process and a bit of a battle," says Kern.
But Kimera Collective, a Reno-based videography and film company, took on the bulk of the editing process with full commitment. The resulting Ring of Fire trailer and intro was addictively watchable.
After battling through music choices, tone, footage selection and technical editing decisions, the film came together in its final form.
Finally, the series premiered on May 4, 2022, at Alibi Ale Works in Truckee, which had supported the project with some of their own frosty beverages.
For Cahill, who poured his heart and soul into the planning, execution and editing of the project, seeing the final product on the screen in front of a packed house of friends, acquaintances and mountain lovers was disorienting.
"For me the premiere was a bit overwhelming," he says. "Covid and the lack of gatherings had sort of slowed down, so this was one of the first big events I—and most likely a lot of the attendees—went to.
"I put so much time, energy and effort into something, and we aren't professional athletes doing first ascents or setting records or doing anything all that crazy. So, when we hit play and I realized we had the whole place packed, I was pretty mind-blown that something we put so much time into was interesting enough to get people to come. When people wooted and yelled when I wanted them to in the film, it was really the cherry on top. I felt proud."
The event raised $2,000 that went to the High Fives Foundation and the Save-a-Brain Foundation.
It may have felt like the end of a long process, but for Cahill and Kern it was the start of a new brand of adventure filmmaking.
Cahill went on to travel to Alaska for a splitboard mountaineering film called Somos, summiting, snowboarding and filming wild glaciated peaks while camping for 27 days on a glacier. Kern went on to tackle a trip on Alaska's Denali and film a biking and snowboarding documentary.
Meanwhile, Ring of Fire has gone on to reach many more people. Distributed by Teton Gravity Research and The Inertia, it met with a larger national audience, captivating viewers from coast to coast.
And the Thomas Built Mighty Mite—the key to this and many other adventures—is receiving a makeover after its time in the Ring of Fire spotlight. The former school bus already has a new transfer case installed. Cahill is now searching for "the perfect front axle piece," which will pave the way for the part Hummer, part Burning Man motorized dance floor to start a new life as a four-wheel-drive beast.
---
David Bunker is a Truckee-based writer and editor.