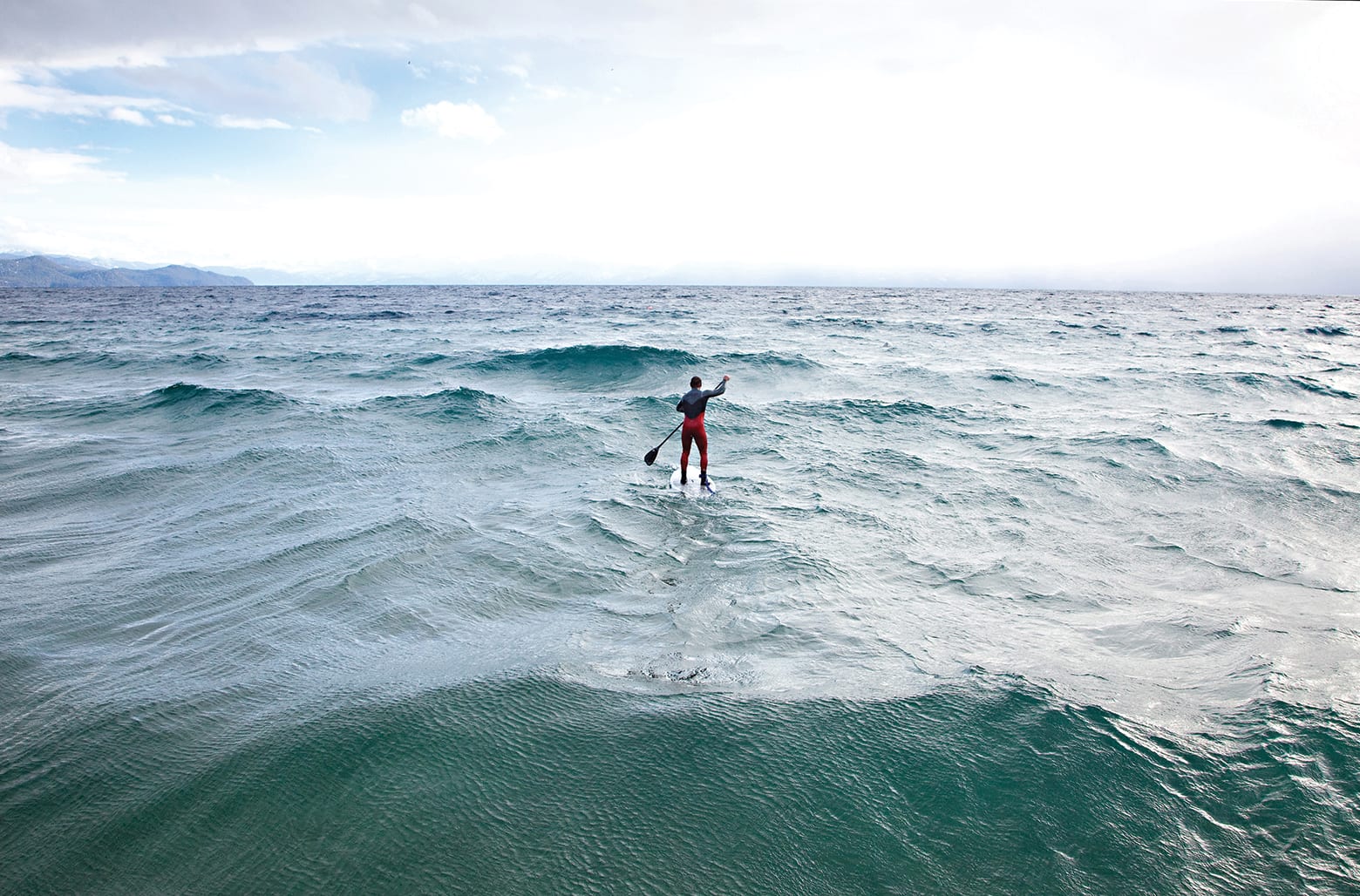 Jay Wild paddles through the chop off of Incline Beach, photo by Peter Spain
24 Jun

Get Up, Stand Up
Paddleboarding's growth owes much to a group of avid Tahoe paddlers who saw the potential in a young sport
Lake Tahoe was looking more like an ocean. Mid-May, an inevitable late-season system was about to hit the Sierra Nevada. Temperatures plummeted below freezing. Westerly winds blew dark, fast-moving clouds across the sea-foam green water. The waves had white caps.
To Jay Wild, a Tahoe-based professional paddler, conditions like these are world-class for stand-up paddleboarding. Wild's aim is to catch the wind swell and ride it for miles and miles across the lake. He calls this approach "downwinding." It's technically difficult, physically strenuous and appeals to those who have a specific palate for challenges in cold water.
"There's an art to it," says Wild. "There's a lot of time on the water spent figuring out how to catch wind swells and keep the heart rate low and keep the speed up. That's essentially what we're trying to achieve—surf the wind swells."
Wild's approach on this rowdy day would likely baffle average Tahoe paddlers, who view the sport as a pleasant, calm, blissful pastime to do on a hot day in the middle of summer. To them, waves are something to be avoided. For the most part, the recreational Tahoe stand-up paddler seeks smooth, flat water and the tingle of awe that accompanies the sight of granite boulders shimmering underfoot.
And that's the beauty of the sport—it's accessible to anyone who wants to get out on the water, whether a professional competitor or a beginner. Regardless of intent, stand-up paddling is an equalizer, granting access to the water with clean, human-powered energy.
Even those who haven't pushed out on a stand-up paddleboard are probably aware that Lake Tahoe is a bit of an inland mecca. Come summer, paddleboards are strapped to the roofs of cars headed toward the beach. Shops rent dozens of boards every day. Paddlers slip between buoys and piers, tracing the shoreline. Some may paddle with their dog on the board's prow for a quick out-and-back. Others might go longer, setting off in Sunnyside and pulling out in Tahoe City, or Kings Beach, or Incline Village. Or they may just paddle the entire way around the lake and back to their starting point.
In 2010, Jay and his wife, Anik, circumnavigated Lake Tahoe on stand-up paddleboards. It took them 22 hours to complete the 72.6 miles recorded on their GPS device. They say they were the first to paddle the shoreline without any shortcuts, nonstop.
But it's not just that Tahoe is a popular destination for stand-up paddling. The lake has played a big role in the sport's explosion across the country.
According to a 2015 Outdoor Foundation report, 2.8 million Americans call themselves stand-up paddlers. More than a quarter of them live in the Pacific region of the United States—in California, Oregon and Washington. Yet, almost 40 percent live in landlocked states with many freshwater lakes and rivers to paddle. Tahoe, with its expansive body of water and proximity to Pacific surf culture, was the launchpad for paddleboarding's inland growth, taking a sport that was made for the ocean and adapting it to flat water.
Lake Tahoe was one of the first inland lakes for stand-up paddling, says Phil Segal, who was among the first shop owners in the Tahoe Basin to carry stand-up paddleboards. "There are a lot of enthusiasts, water babies, that live in Tahoe," Segal says. "And they go between Santa Cruz, Hawaii and Tahoe. Those are the people who generated the sport and put the interest in there."
Paddling Pioneers
Tahoe's biggest paddleboard evangelist is Ernie Brassard, a 72-year-old surf and ski bum who says he's "kinda retired." After a 28-year career in the surf industry in San Diego, Brassard and his wife now live in Tahoe full time. It didn't take long for Brassard to find his new calling. In a mid-May phone interview, he describes the epitome of Tahoe living: The day before, he was skiing some of the best spring corn snow of his life on his lunch break. ("It's so perfect. There is no place on that mountain you can't ski. Everything is filled in.") Today, he is about to cut through Tahoe's still waters on a stand-up paddleboard, taking advantage of warm, sunny weather before the summer madness arrives. ("You get those days that are magic out there.") Brassard talks quickly and easily, and after chatting about the skiing for a while, he finally gets to the point of the phone call.
"Here in Tahoe, we pretty much invented the flat-water market. Stand-up paddling was surfing," says Brassard.
Stand-up paddling's history is deeply rooted in Hawaii, where it is embedded in the culture of surfing. It wasn't until the early to mid 2000s that a few enthusiasts took the sport to the mainland. One of those early adopters was professional big wave surfer Laird Hamilton. Another was Rick Thomas, a Vietnam veteran, San Diego surfer and friend of Brassard's.
Around 2003, Brassard was on a surf trip at The Ranch, a private spot in Central California, when Thomas showed up with a giant custom-made paddleboard.
"We goofed around with it down there, but we never took it serious," says Brassard. "The last thing I wanted to do was start something new. I just wanted to keep surfing."
In 2005, Thomas came to visit Brassard in Tahoe. He brought his big board with him. The two of them took it down to the lake on a windy day and took turns riding the board. Brassard says, as far as he knows, it was the first time anyone had paddled on Lake Tahoe.
"We were the very first place that stand-up paddling went from surfing to flat water. This is the birthplace of inland flat-water paddling," says Brassard. "Everybody came from the surf industry to Lake Tahoe for flat water, and then brought this to the rest of the world—to the Midwest, Northeast and Southeast, everywhere they sell paddleboards."
From Sideshow to Sport
Phil Segal opened Tahoe Paddle and Oar in Tahoe City in 1986, renting canoes and kayaks from Tahoe City's Commons Beach. Eventually, he moved his business to Kings Beach. A skier who likes to surf (except for the years he was recovering from a major knee injury), the first time Segal saw a stand-up paddleboard was on a trip to Hawaii in 2006.
"Every morning I'd see this guy go by, and I didn't know what he was actually standing on," says Segal. "I swear it looked like he had a broom."
The following year, in 2007, Segal stocked the first commercially available stand-up paddleboards at Tahoe. The boards were made by Surftech, a Carlsbad-based company that was working with Laird Hamilton at the time.
"They were just oversized surfboards," says Segal. "They had a planing hull, a fin. As we got going into this, I was looking for something that would go faster on the water."
The early stand-up paddleboards were made to ride waves in the ocean. Segal wanted something that would cut through flat water. He contacted Joe Bark, a well-known surfboard and prone paddleboard shaper, to make flat-water race boards. Bark started making prototypes with thicker displacement hulls, for more buoyancy. They also featured a kayak-esque pointed nose that would cut through and divide flat water. Bark brought them up to Tahoe for Segal and other local paddlers to give them a try. Those early board shapes are the forerunners for many that exist today.
"Today, there are a lot of boards out there, but they have the same shape that his original boards had," says Segal.
Those first years, stand-up paddleboarding was grassroots, something friends told each other about. But word caught on quickly, as it would across the country. Some people compare paddleboarding's rise to snowboarding—another fringe offshoot of a larger sport that began with a core group of followers and then exploded into the mainstream.
Brassard saw it happen within a matter of years. He started hanging out with Segal at the shop, and soon, the sport started spreading to their friends. One day, Brassard and his crew were sitting at the bar at Pete 'n Peter's in Tahoe City when someone gave him the idea to do a stand-up paddleboard race.
The inaugural Ta-Hoe Nalu in 2007 drew 32 participants. Nine of them were from Tahoe. The rest were visiting from San Diego, Santa Cruz and Cabo San Lucas, says Brassard. They raced from Jake's On The Lake in Tahoe City to Captain Jon's in Tahoe Vista.
"We had so much fun, we decided to do it again," says Brassard.
The next year, 108 people showed up to race. That's also when Brassard helped launch Tahoe SUP, a local company that makes boards specifically for paddling on Tahoe and other lakes. In 2010, the Ta-Hoe Nalu became a two-day event. This year, Brassard expects 250 paddlers to participate in multiple events for outrigger, prone and stand-up paddleboard categories, plus thousands of spectators.
"It's a full Hawaiian paddle festival," says Brassard. "I never, ever planned to keep doing this. Now that I'm retired, it's the only thing I do in the summer. Now, it has a life of its own."
Brassard didn't realize this when he started the Ta-Hoe Nalu, but now, he says, the event is the longest running inland stand-up paddleboard race in the world. It's only 13 years old.
"Just like me being the old guy up at Squaw Valley, we were the first ones," says Brassard. "The paddling community is still vibrant and healthy. This year, right now at this time, I have more pre-registrations [for the Ta-Hoe Nalu] than I've ever had."
Segal also started his own race series, in 2008, with a hallmark event called the Tahoe Fall Classic that traverses 22 miles across the lake, from El Dorado Beach in South Lake Tahoe to Kings Beach on the North Shore.
Jay Wild remembers that first lake crossing on a paddleboard. At that time, he was entrenched in the world of outrigger canoeing, training year-round on Lake Tahoe in a single-man outrigger canoe and racing across California. His decision to try a new race discipline was last-minute. It seemed like an adventure.
"Outrigger got pushed to the back burner once the stand-up thing came in," says Wild.
That first year he paddled with a giant Camelbak and a recreational surfboard, won his category and placed sixth overall. In 2009, he got on a new Tahoe SUP board that Brassard gave him and won his division on Donner Lake, as the initial race had expanded into a series.
"All of a sudden, the flood gates opened up," says Wild.
Because it was so early on, manufacturers were excited about racing and sponsoring the winners. Wild landed a deal with Hobie, the iconic Southern California surfboard brand, and rode stand-up paddleboarding's wave to races around the world. He represented the United States in Peru at the World SUP and Paddleboard Championships in 2012. "More sponsors, more races, and it just turned into stand-up was my thing."
Segal retired in 2017, and in 2018 handed over the race series to the Wilds, who had opened their own stand-up paddleboard shop called Tahoe Watermans Landing. Anik Wild is also competitive; she has an X Games gold medal in skier cross. But she grew up paddling competitively in the summers in Quebec.
Housed on a lakefront property with a concessionaire agreement from the Tahoe Conservancy, Tahoe Watermans is a café, rental, and retail operation—and a lot more. They rent plenty of paddleboards and kayaks, as well as a few other types of human-powered watercrafts. Patrons can buy a cup of coffee, eat a sandwich, sign up for a paddleboard clinic or drop the kids off for paddleboard camp. It is also the headquarters for Team Tahoe Waterman and the Tahoe Watermans Race Series. Anik's sister, Kina Nemeth, runs the café while Jay and Anik have let their passion for paddle sports blossom into a community service.
"Phil and Ernie, they've been our mentors since the beginning," says Anik. "They were building all the races and organizing the community and educating everybody… As they age, now it's our role to take it on."
Growth of a Sport
When Andrew Laughlin, owner of Tahoe City Kayak, first opened his business in 2005, he often heard people say that Tahoe was a "big boat" lake.
"I heard that phrase many times," says Laughlin. "Now, anecdotally, as I look out on the lake on a busy summer day, it's exciting to see more paddlers in my view than power boats."
Laughlin was also one of the early adopters of stand-up paddleboarding, adding boards to his fleet of kayaks in 2011. Now, he rents both in Tahoe City and Sand Harbor, and says that paddleboards are 40 percent of his business. "There's a lot more interest in paddleboards when temperatures are in the mid-70s," he says.
"I find all paddling—kayaks and paddleboards—to be almost meditative," says Laughlin. "I enjoy it for that reason. In a beautiful place, with repetitive movement, it's a great way to de-program after a busy day when both of our shop phones are ringing off the hook."
On the other side of the lake, South Tahoe Standup Paddle is a go-to shop for rentals, lessons and tours. They host another race series on Wednesday nights throughout the summer.
This summer, the Tahoe Regional Planning Agency (TRPA) is rolling out new boating regulations, among them more recognition for human-powered watercraft. No-wake zones, where boats must stay below 5 miles per hour, are now being enforced within 600 feet of shore, 200 feet from shoreline structures, and 100 feet from paddlers and swimmers. All of Emerald Bay is now a no-wake zone as well.
Safety is still catching up with stand-up paddleboarding's rapid rise to the mainstream, and shop owners like Laughlin and the Wilds stress the importance of paddling with a leash, a personal flotation device, knowledge of conditions and weather, and a sense of water awareness and hazards. They recommend going out with a friend or a phone and departing in the morning, when the lake is calmest, or at least checking the forecast for wind.
"People die on this lake every year because of negligence," says Jay. "Because the mainstream has allowed stand-up paddleboarding to be so accessible, people are going to get themselves into trouble. I would be doing a disservice to the community if I didn't provide my knowledge and experience to each one of our customers."
That's why the Wilds have a mandatory safety briefing and instruction for anyone who rents a boat or paddleboard from them.
In front of their shop, Jay says he often sees boats entering the cove at fast speeds, heading toward the marina next to their business. He's talked with the TRPA for years to get no-wake buoys set up and slow boats down, which may finally happen now.
The sport is also seeing growing pains with the arrival of cheap, low-quality boards that fall apart quickly. The next wave of board design is all about inflatables, which are easier to transport and store. But Laughlin says, with a few exceptions, the vast majority of inflatable boards lack the integrity to hold up against different conditions in the water and probably won't last very long. This affects the sport's overall footprint, which doesn't sit well for paddlers whose values align with a clean environment. Laughlin and the Wilds recommend investing in a quality board that will last a lifetime.
"The perspective that you get from standing is so much greater than sitting, so you can see things in the distance, like trash," says Jay.
"Especially after the Fourth of July," adds Anik.
These are real challenges. But, they're also a reflection of the sport's success at Lake Tahoe.
"We live in an age that I call the 'I, me, me' generation. Everything we do is with technology," says Brassard. "What I love about stand-up paddling, you have the parents doing it, it's easy enough for the grandparents to do it, and it's cool enough for the kids to do it. They're out on the water and they are unplugged."
On this particular sunny day in May, Brassard is preparing to head out to the lake to paddle. Some of the best days for stand-up paddling are in the offseason. The temperatures are a bit cooler, but the water is so still, it reflects the mountains and the sky like a mirror.
"For me, stand-up paddling, it's almost meditative. You're exercising your body and your mind at the same time," says Brassard. "It embodies everything that I've ever had in my life. I've been a skier, a surfer, a hiker, a camper, and this is another extension of being in nature under your own power."
---
Julie Brown is a freelance writer based in Reno. She tried to do yoga on a stand-up paddleboard once. Then she fell into the lake.