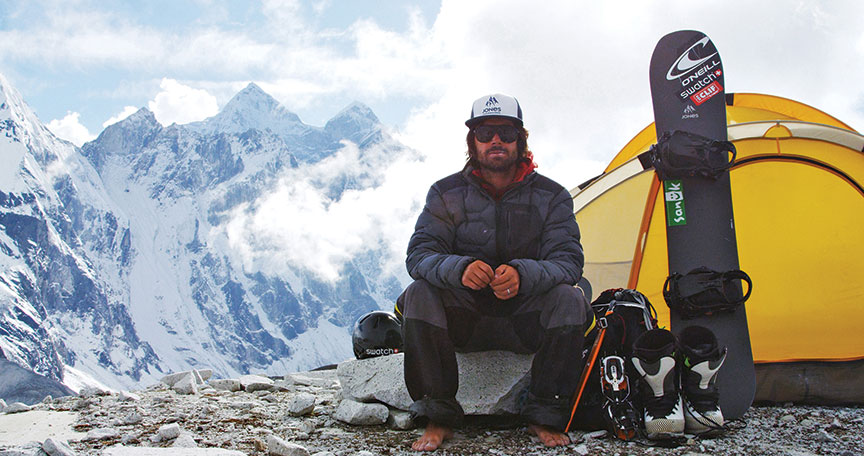 Truckee snowboarder Jeremy Jones, photo courtesy Teton Gravity Research
14 Dec

Jonesing for Adventure
Led by Truckee snowboarder Jeremy, the Jones brothers and their camera crews film in the most remote parts of the globe
People call Jeremy Jones a lot of things. The Truckee filmmaker, pro snowboarder, business leader, world explorer, industry pioneer, father, husband and environmental champion is the subject of hundreds of articles, dozens of films, appeared on a 60 Minutes feature earlier this year and has spoken before Congress more than once. Simply put, a lot of words have been used to describe the man. In all that coverage, a few patterns surface.
One trend is easy to spot. No one publishes anything negative about Jeremy Jones. Ever. He's either mafia or just a really nice guy. Need evidence? Everyone who has spent time with the man goes out of their way to compliment him about his talents, his calm, his successes and his balanced approach to life. Even his brothers—Steve, the oldest, and Todd, the middle brother—sense the phenomenon. With Jeremy, the Jones brothers created and built Teton Gravity Research, the Jackson, Wyoming, production house, and masterminded the Deeper, Further, Higher film trilogy, which concluded this fall with Higher's release.
"No, nobody does say anything bad about him," Steve says. "If there were any criticism of Jeremy to be had at all, it's that he's so focused that to some people it can come off as too serious. There's a weight to what he's doing, and that can make him very intense sometimes."
"He's also very boring," Steve adds. Jeremy is never described as such, but his brother continues: "He's the most patient person I've ever seen in the mountains. I've seen him sit on a line for three years before he tries it. It's an ability most people don't have."
"Jeremy's the ringleader," adds Todd. "He found a passion for freeriding and foot-powered split-ride snowboarding, and he loves to share that, whether he's in the background telling his kids how to ride, or being in the backcountry and finding a good line for all of us."
Jeremy credits his decades of experience guiding people in the mountains.
"I've learned to lead when I need to lead," Jeremy says. "I've probably gotten better with that over time, how I manage. Most important is picking the right crew. There's very little drama if you do that. My biggest skillset is finding people so there is very little group drama."
Higher, despite Jeremy's best effort, still includes a healthy dose of drama. The story details his life, tells stories about how he grew up with his brothers and started TGR, and shows how he has progressed snowboarding—from his days racing on the icy rock of New England to his recent adventures in the Nepalese Himalayas.
The Path to TGR
When we talked in June, Jeremy was running errands. A tiny voice–belonging to one of his kids–popped up from the backseat, and after answering it, he apologized for the interruption.
"Sorry," he said. "Busy times."
Jeremy has always been busy. Born January 14, 1975, in Cape Cod, Jeremy and his family would venture out to play around Vermont ski resorts almost every winter weekend. As he grew older and started winning races, he found himself following the traditional path of a top American snowboarder, the only path known in the 1990s—weekend competitions, a lot of domestic travel, and the inevitable grind of training, training, training.
He didn't love it. A scene in the 1969 film Downhill Racer—based on a book by the late Squaw Valley author Oakley Hall—explains why people struggle within the rigorous approach of the national ski and snowboard teams. In the film, Robert Redford's character tries to explain to his dad, a dairy farmer, why he competes:
His dad: "I don't know why you do it."
Redford's character: "I'll be the champion!"
His dad (deadpan): "World's full of 'em…"
Jeremy—a man with a creative bent—found a voice in his head echoed that sentiment. At the time, the snowboarding world was still small, shapeable, and in desperate need of direction to separate it from the monotonous, repetitive world of ski racing, which had always struggled for an audience and American acceptance. This is when snowboarding was still fringe, pre-Shaun White and pre-GoPro. However, in the ski world, mountain men and ex-racers like Squaw Valley's Shane McConkey were just starting to prove that films could be an alternative way to ride mountains professionally.
Jeremy became interested in films. Not only did the film track allow athletes to build their own, individual following, it allowed them to reach an audience interested enough in snowboarding to watch the sport more frequently than it appeared on TV. But there were huge challenges, the biggest being the lack of successful snowboard films off which to build.
To change all that, it would take a revolution, both in film technology and mountaineering. Luckily, one began.
In the mid-1990s, Jeremy made his first trip to Alaska and was instantly enamored. He began filming his descents with his brothers, and between the three of them, helped define the lifestyle associated with early powder hounds in Alaska. They bummed space on couches, lived off energy bars, hitched rides on helicopters and wrecked cars they bought with spare change. They pioneered routes up and down Alaskan mountains, always with a camera in hand and always with a movie in mind.
Early on, when the Joneses weren't in Alaska, they spent winters climbing with an 8mm camera around Teton Pass outside Jackson, where they alternated turns between filming and riding, while building the groundwork for Teton Gravity Research, which was founded in 1996. During the next two decades, the brothers turned a "let's have fun and see where this goes" experiment into one of the largest adventure film companies on the planet, traveled the globe and pioneered new direction in the growth in the quality of snowboarding films, while garnering them more widespread acceptance. (Evidence: their $750,000 camera that mounts on a helicopter, and their research-and-development roles with Sony cameras.)
Pioneering a Film Revolution
Learning can come one of two ways: easily or painfully. Those are rarely exclusive. In 2008, more than a decade and 19 films since their start, Teton Gravity Research partnered with Jeep for a series of movies, including one the Jones brothers titled Under The Influence. Jeep disapproved of the drunk-driving connotation and pulled its sponsorship. At that time, the industry was crowded, the Great Recession was starting, and sponsorship dollars were limited. For the first time in the company's history, it felt like they were moving in reverse, Steve says. And more was on the line, too, than during the days of climbing around Jackson. They had employees expecting paychecks and fans expecting films. Standing out—what economists call "differentiation"—became the only way to survive.
"Extreme sports, or whatever you want to call them, have gone so much into the mainstream that we had to keep doing something different to keep it fresh," Todd says. "My 7-year-old has grown up with the X Games like we grew up with the Red Sox."
The difference maker for TGR began when Jeremy was told he could not access a mountain he wanted to snowboard via helicopter as it was too dangerous. First, they would have to give up on helicopters and go to base camps, splitboards, ropes and mountaineering. And while they still used helicopters for camera support, the athletes mostly were on their own to learn, and in many cases invent, the skills needed to reach the summits and ride down safely.
A splitboard is a modified snowboard, cut in half lengthwise, with bindings that rotate to turn them into climbing skis. Once a summit is reached, with a couple snaps and a binding twist, the skis turn back into a snowboard.
This change immediately disrupted the filming game, not only by improving the types of films the Joneses would produce, but also by altering how everyday riders would look at their backyard mountains. Jeremy taught the world that, if you go about it right, everything could be accessible. But there was still risk. And not just in the terrain they would be riding. Dropping helicopters for splitboards in the snowboard film industry was the equivalent of a Wall Street broker trading in a cell phone for smoke signals and wolf howls. Even the major snowboard companies refused to build him the tools he needed at first, citing little mass-market demand. People don't want to suffer this much, they thought. So Jeremy created his own company, Jones Snowboards, which helped develop the splitboard technology and sparked one of snowboarding's biggest evolutions since the halfpipe. The demand for the splitboard spiked just after Jeremy's latest films were released.
The second thing the Joneses did to differentiate their movies was to transition away from the traditional ski porn formula—cue music, cue riding, cue someone saying "stoked." Instead, they decided to create three, full-length documentaries about Jeremy's life, their crusade to find new mountains to ride and their ability to solve the deadly puzzles those mountains present. Sponsors jumped. Funding, top-tier athletes and crews lined up. By 2010, when Deeper was released, the obstacles that had shown up uninvited in 2008 vanished, leaving only possibility and a tremendous amount of work. "The journey is the reward," became Further's theme.
"Compared to the early films where we bought plane tickets as the only real steps in planning, there was definitely a ton more going into this," Steve says. "Jeremy mapped it out. He knew that was the key to making it new and unique."
Navigating On-Site Troubles
Austria. Land der Berge, Land am Strome. Land of the Mountains, Land on the River. Land where it's frozen like Eskimo snot.
Nick Kalisz, a 26-year-old assistant producer for Teton Gravity Research, grew up in Chicago and now lives in Jackson, Wyoming. On paper, he gets sandwiches and runs film and charges batteries, his role a half-notch above "intern" in the production hierarchy.
As an up-and-comer in TGR's film crew, Kalisz traveled with the Jones brothers to Austria for Further. On a night in 2012 before a scheduled shoot, in the middle of one of Austria's coldest weather patterns in a decade, Jeremy was in his tent, memorizing his lines up and down the face. A few yards away, his crew also prepared. Kalisz sat freezing, packing. In his mind—which is where you go when it's dark and 20-below zero and you are stuck in a tent in the middle of nowhere—he was comforting himself with the plan. While Jeremy and the more experienced team members would be climbing and riding in the frozen, steep conditions, he'd be at the bottom watching from far away, capturing the wide-angle shots, safely.
In the still-frigid morning, someone tapped on Kalisz's tent. It was Jeremy. "He sticks his head in and asks me, 'Are you ready?'" Kalisz says. "I asked him what he meant and he told me that I'd be going up with them."
Kalisz wasn't exactly in love with the idea.
"I was more scared," he says. "The first day, I kept falling behind. I had never been on a splitboard before."
"We gave him an opportunity to come out with us, and he performed really well, and we continued to give him more opportunities," Jeremy recalls. "He was definitely the most inexperienced person in the field, but his work ethic and dedication allowed us to bring him along."
As they scaled Mont Forte in Austria, Kalisz was just trying to keep up with Jeremy and the nine other veteran climbers and photographers charging ahead. He knew time was precious on a shoot, when clouds are the enemy, sunlight and snow are scarce resources, and people are literally hanging on a mountain waiting for something bad, or great, to happen. Kalisz didn't want to keep the others waiting, not moving while heavily exposed, so he struggled along with his 50 pounds of camera gear. Finally, exhausted, he reached the top, only to be told that the real work was just starting. For Kalisz to get his shot, he needed to cut down a cornice—not exactly in his skillset.
Enter Jeremy. He took a probe and poked it through the snow. "You have to find the bottom first," he told Kalisz. Then he jabbed it a little harder, and started to cut it away. At first, the snow flaked in small pieces, disappearing below the edge of the cornice. Then the pieces turned into large blocks that tumbled away from view, simultaneously eroding the area beyond where they stood, while providing a clear view for the money shot. When they were done, Kalisz was staring down the barrel of a mile-long free-fall to a serene, dimly lit valley floor.
On cue, Jeremy dropped in. He turned on a spine of snow, and as he created his first cloud of powder, Kalisz gripped into the mountain with his feet and elbows, and with his free, frozen hands, he held the camera. Focus. Record. When the powder cloud dissipated, Kalisz saw Jeremy reappear safely below. Arms raised, high-fives and hugs. Eventually, Kalisz made it down safely, too.
It had taken eight hours, a standard workday in the States.
"It was for a five-second shot," Kalisz says. "We got back and I couldn't believe it. I actually got it on camera. There's a lot that goes into each shot, and there are a lot of days when we go out and get absolutely nothing."
Higher—Literally
Rarely are the first steps of epic stories taken between the dusty, quiet rows of a public library, but around the time Deeper was released, one of Jeremy's friends sent him a picture he'd found in a library book. While this wasn't the first time Jeremy's friends had shown him a picture of a mountain for inspiration, and not the first time Jeremy had chased a picture for a film, this one in particular framed a peak in the Nepalese Himalayas, the biggest mountain, tallest mountain and most exotic area Jeremy had ever considered riding. Jeremy refers to the peak—which is not officially named—as Shangri-la.
While many would look at the picture and say, "Wow, that's pretty," Jeremy saw potential for climbing and riding it for Higher. He looked at the bottom of the mountain. If he were to fall, there was nothing below the face to swallow him, no holes or crevices or bergschrunds flashing their teeth. When he looked above, he didn't see anything evil, no sheet of ice, no precipitous boulders angling to rain down on him and the crew. Despite all these assurances, he still saw the most formidable challenge he would ever face. This was at 21,500 feet and was 68 degrees of window-shade steep, and would require more logistics to get to than any mountain Jeremy had climbed and snowboarded, which is saying a lot for a man who makes a living off first descents in remote places.
"This was really just a great gamble," Jeremy says. "Generally, we try to line up as many factors as possible to allow for success, and in the past, that would mean going into a snowpack I know is safe, one that I've had a good history in—no deep instability in the snowpack, going in for long periods of time, picking terrain we can build our way up to, and go from small, safe terrain to larger, bigger stuff."
The Himalayas would make most of that strategy impossible. There are no small lines to test, only big ones that can kill you. No helicopter companies with experience testing aspects and snow. No local après tavern with bearded fogies who had been there, done that and would tell you about it for a free shot and a beer.
Or, as Todd puts it, "Nepal was the funkiest call, because there isn't a lot of beta there."
"Yeah, I've been in mountains all over the world, and I've never been in anything like the Himalayas," Jeremy says. "The size, the scale, the culture—everything about it was so foreign."
To make it more recognizable, Jeremy and the crew, including Sherpas, spent hours analyzing everything they could get their hands on—GPS maps, expedition journals, local guide experience and, naturally, more library books. For Todd and Steve, it meant understanding angles of photography and where to position the film crews. When they arrived, they gaped. Then, they planned. Finally, they climbed. They even invited Kalisz, that intern-turned-assistant-producer-turned-mountain-goat.
"These, these were big mountains," Kalisz says. "We hiked for two weeks and didn't even get to snow until the third week. And when we got there, we still had to climb thousands of feet."
To reach the top, Jeremy needed his A-team—Kalisz was a veteran by then—a perfect weather window and some good, old-fashioned luck. There would be no way to test the snow until they were on it. "I just wanted to make sure I could stick to the mountain," Jeremy says.
And there would be clouds. The very things that created the snow are always one of the biggest threats to shutting down a day of shooting. And in Nepal's absurdly tall mountains, clouds arrive as quickly as the shivers. But, in the end, the heavens opened, the routes declared themselves, and the riders descended. It worked.
Twenty years of experience that began by goofing off on Teton Pass culminated in Higher's most climactic scene—a daring climb and a first descent starting nearly four miles above sea level.
"I thought there was a good chance I would get there and our month-long effort would result in nothing," Jeremy says. "We had no plan B with that trip, but I just felt like, at this stage in my snowboarding, it was time to take a big risk. And, I felt like I had the experience and crew to do it."
---
Ryan Slabaugh lives in Boulder, Colorado, and is a freelance writer and current editor of Backyard Poultry magazine. Since 2001, Slabaugh has been an avid skier and mountain traveler, and has worked as managing editor of the Tahoe Daily Tribune and Sierra Sun and several newspapers in Colorado, including The Aspen Times.