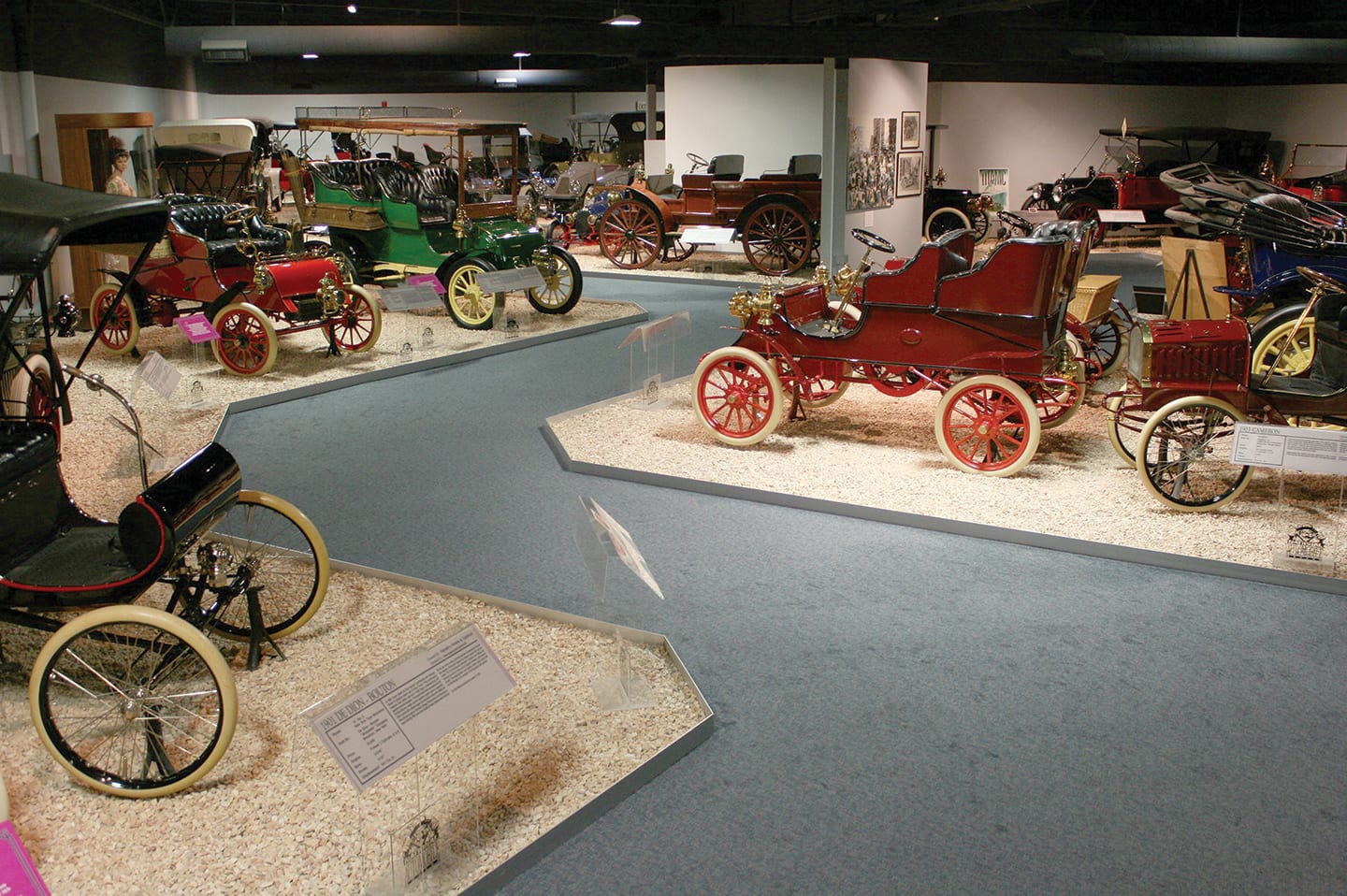 Gallery 1, which includes vehicles from the 1890s to 1910s, photo courtesy National Automobile Museum
25 Jun

Road Trippin' Through Time
The exterior of the museum was designed with classic cars in mind, photo courtesy National Automobile Museum
Reno's acclaimed National Automobile Museum shines thanks to an avid collector and a generous gift
"Few material things have been as important to America as the automobile. The manufacture of the automobile was the root of our industrial growth… we are all tied to the automobile by history, by business, by emotion. The automobile deserves to be preserved and remembered."
–Bill Harrah, 1911–1978
Elegant in design, with chrome trim and smooth, rounded walls of Heather Fire Mist—a popular 1950s car color—the exterior of Reno's National Automobile Museum pays subtle homage to the treasures harbored within. Inside, the building is a virtual time portal, whisking guests to bygone eras of four-wheeled travel.
With little effort, the imagination runs rampant.
Steam-powered contraptions conjure images of curly-mustached inventors of nineteenth century lore. Authentically staged street scenes lined with Duesenbergs and Packards spring visions of Depression-era mobsters, Tommy guns spraying bullets from open windows. Luxurious rides once owned and loved by the likes of Frank Sinatra and Elvis Presley evoke a sense of celebrity nostalgia.
Car history—and thus, a large part of American history—awaits around every corner.
"It's a very comprehensive collection, and it starts from the inception of the automobile," says Jackie Frady, the museum's longtime president and executive director.
"A lot of people travel to Reno just to see the museum, but I think they are surprised when they get here because they anticipate that it's going to be a warehouse filled with cars parked side-by-side. You travel through time and experience different aspects of history, especially when you walk through the turn-of-the-century street and the '30s street and the '50s street. It really is a great experience."

The 1930s Street, with Sammy Davis Jr.'s Duesenberg replica parked under a movie theater facade, photo by Sylas Wright
Quality Collection
Indeed, the encompassing collection with its engaging displays is highly regarded, earning recognition from AutoWeek magazine as one of America's five greatest auto museums. The same publication ranked the museum among the top 16 in the world.
It's not just cars, either. Rare signs, emblems, photographs and artwork from the golden age of the automobile adorn the walls. Colorful Art Deco gas pumps stand seemingly at the ready. Vintage clothing items hang in glass cases. Primitive, yet ingenious, engines sit on display. There's even a space center, home to the Challenger Learning Center of Northern Nevada.
"We've taken transportation from when it became motorized to where it has gone into space," says Frady. "People can come here and explore the automobile, but also use one of the simulators and fly to the moon and fly to Mars. It's very popular with kids and adults."
Mostly, though, visitors come for the cars.
1910 Stearns, photo by Sylas Wright
The museum houses over 200 meticulously restored and significant vehicles dating back to the 1890s—from state-of-the-art horseless carriages to outrageously extravagant vintage cars of Roaring Twenties wealth.
And that's just in the first two galleries. Gallery 3 covers the "1930s to 1950s" and Gallery 4 the "1950s and beyond," while additional vehicles spaced throughout the museum help bring to life the three replica street scenes and Masterpiece Exhibit. A 1981 De Lorean made of 24-karat gold greets guests in the front lobby.
John Wayne's 1953 Corvette, photo by Sylas Wright
Highlight attractions include a number of celebrity cars—John Wayne's 1953 Corvette, Sinatra's 1961 Ghia and the 1949 Mercury driven by James Dean in Rebel Without a Cause, to name a few—as well as zany one-of-a-kind builds, race cars and more. A few classic motorcycles even grace the galleries.
After soaking in a century of automobile history, which can take anywhere from a couple hours to a full day or more for a true enthusiast, the fact that the collection represents only a small fraction of its original bounty is testament to the man who made it happen.

Vintage gas pumps, photo by Sylas Wright
Car Aficionado
The National Automobile Museum is also known as "The Harrah Collection." It's named in honor of Bill Harrah of Harrah's Hotels and Casinos legacy, who owned and restored the vast majority of the cars seen in the museum today.
Born in 1911 in Pasadena and raised in Venice, Harrah was immersed in Southern California car culture from an early age. At 8 he drove his first automobile—a right-hand-drive 1911 Hudson with a crank start—and by 16 was customizing a 1926 Chevrolet roadster that his father gifted him, adding 11 horns and 26 lights, including road lights, running board lights, spotlights and an extra taillight.
After studying mechanical engineering at UCLA for a year, Harrah left as a result of the Great Depression and went to work for his father as a game operator on Venice Pier. He bought the game from his father at age 21 for $500 and soon bought out two competitors.
Four years later, Harrah opened his first bingo parlor in Reno, followed by his first casino in 1946—Harrah's Club on Virginia Street. In 1955, he expanded his territory to Lake Tahoe with the purchase of the Gateway Club.
Harrah's success enabled him to indulge in his true passion—cars.
With wealth on his side, he began collecting in 1948 and by 1962 had amassed 325 cars. He opened Harrah's Automobile Collection in Sparks that year.
Bill Harrah stands with a few of his prized automobiles, photo courtesy National Automobile Museum
The collection gained prominence in 1964 when Harrah purchased the 1907 Thomas Flyer, winner of the 1908 New York to Paris Automobile Race. He also added two extravagant Type 41 Bugatti "Royales," only six of which were built in 1931 for $40,000 apiece. However, Ford, Franklin, Packard and Pierce-Arrow were Harrah's particular favorites. He acquired the vehicles from an array of sources, including Winthrop Rockefeller, who sold Harrah his entire collection for $947,000 in 1975.
Harrah's collection of cars eventually grew to 1,400, every one of which was restored to rigorous standards, including a final road test to ensure it performed to factory specifications. The thoroughness of the restorations earned Harrah's automobiles renowned acclaim and numerous awards at prestigious events.
On June 30, 1978, Harrah died at age 66 after suffering an aneurysm. Having built the largest gaming empire in the world, he left behind a grand estate and his company, which included his hotels, casinos and 1,400-piece car collection—also the largest in the world.

Bill Harrah portrait, photo courtesy
National Automobile Museum
A New Era
Holiday Inns purchased Harrah's Hotels and Casinos and Harrah's Automobile Collection in 1980.
When the hotel giant announced its intention to sell the automobiles, Nevada citizens and car lovers across the nation rallied to save the collection—or at least a portion of it. In response to the public outcry, Nevada Governor Robert List helped form a private nonprofit corporation, and a board of trustees was created to oversee the development of a new museum.
After considerable negotiations, Holiday Inns agreed to donate 175 cars and Harrah's extensive research library. At the time, the donation was the largest corporate philanthropic gift in U.S. history. The company sold the remainder of the collection through private sales and record-setting auctions, mostly between 1984 and 1986.
With generous donations from the City of Reno, the state and countless individuals and organizations, the National Automobile Museum (The Harrah Collection) opened at the corner of Lake and Mill streets along the Truckee River on November 5, 1989.

The museum opened in November 1989, photo courtesy National Automobile Museum
The esteemed collection has since attracted hundreds of thousands of visitors, including some of the country's preeminent car collectors—like comedian Jay Leno.
Frady recalls the time museum personnel picked up Leno at his private jet. They drove the museum's rare 1933 Cadillac All Weather Phaeton formerly owned by Al Jolson and powered by a V-16 engine.
"Jay Leno is extremely knowledgeable, so we both gave each other a tour of our museum," says Frady, who first began working for Harrah's Hotels and Casinos in 1981 before rising to president and executive director. She now also serves on the board of the National Association of Automobile Museums.
Reno's prized auto museum operates today with the help of donations, grants and scholarships, which augment the revenue generated from operations. It receives additional assistance from devoted volunteers who maintain the automobiles, wiping them down, adding oil, gas and air if they leave the property (cars are sometimes loaned to other museums and events), and performing other various duties.

Volunteers like Gary Crain help maintain the cars at the museum, photo
by Sylas Wright
As stewards of the museum, these volunteers take pride in their role.
"It's a challenge, but it's a lot of fun keeping the cars up for the kids and the people. That's the major thing, is to continue what Harrah started," says Gary Crain, volunteer of seven years, as he breaks from tidying up around the Thomas Flyer. "This museum is right up there at the top. Our cars, especially the older ones that Harrah collected, are one-of-a-kind. He did such a good job of collecting and had such a good eye for things."
While Harrah undoubtedly would have liked to see his entire collection on display, he'd surely appreciate the efforts that preserved a select few.
---
Tahoe Quarterly editor Sylas Wright gained an appreciation for classic cars at an early age as the son of a (small-time) car collector. In fact, the first car he ever drove was a 1953 Studebaker. He managed to not crash it.
---
HIGHLIGHT ATTRACTIONS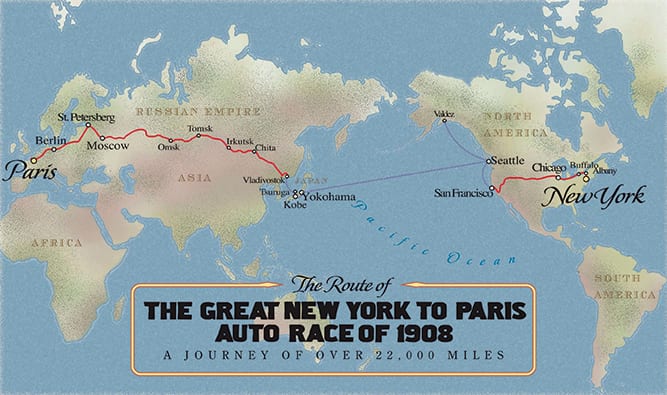 1907 Thomas Flyer
If judging by fame, glory and adventure, the 1907 Thomas Flyer is hands down the coolest car in the Nevada Automobile Museum. It's also the most valuable, says Frady.
"It's been considered one of America's most historically significant cars. It's definitely a car that's priceless. It's the only one."

The Thomas Flyer drives through a Japanese village during the Great New York to Paris Auto Race of 1908, photo courtesy National Automobile Museum
Purchased by Bill Harrah in 1964, the museum's Thomas Flyer is the car that won the Great New York to Paris Auto Race of 1908. Harrah had it authenticated by the driver himself, George Schuster, who, at 91 years old, identified cracks in the frame and repairs he had made during the 22,000-mile race around the world.
What a race it was. Held in the dead of winter, the event pitted six entrants from four countries on a formidable odyssey across the globe. It started at Times Square in New York and crossed the United States to San Francisco using much of the famed Emigrant Trail of the 1880s—a feat never accomplished to that point by an automobile. After crossing the Pacific Ocean by ship, the route traversed the island of Japan, where most citizens had never seen a car, and continued after another water crossing through Siberia, Manchuria, Russia, Germany and France, finishing in Paris.

While jarring, the Flyer crew found that the most efficient route was oftentimes along Union Pacific tracks, photo courtesy National Automobile Museum
After 169 days of racing, the lone American entry, the Thomas Flyer, claimed the victory on July 30, 1908.
"The European auto industry was far ahead of us at that time, so the Thomas Flyer's victory proved that the American auto industry was a serious contender," Frady says. "It also proved that cars could be driven all year long, through the winter, and not just in fair weather. It proved that the automobile was here to stay."
A late entry, the Thomas Flyer was taken right off the showroom floor of the E.R. Thomas Motor Company and shipped to New York three days before the start. The 4-cylinder, 60-horsepower, right-hand-drive roadster did not come with a top or windshield because glass was considered a safety hazard. Only minor modifications were made, including the addition of wooden planks attached to the sides—to be used as tracks in mud and snow, or a temporary bridge. Holes were cut in the floorboard so heat from the engine could warm the driver's feet.
The Thomas Flyer bogged down in mud on a Siberian "road," 
photo courtesy National Automobile Museum
As one might guess, the Thomas Flyer crew and their competitors faced significant hardships throughout the race, enduring snowstorms, sandstorms, torrential rain, freezing cold and blistering heat across three continents—all while regularly having to perform repairs to the vehicles.
The full story of the 22,000-mile race reads like something out of a fictional adventure book, with far too many perilous moments to recount here. A display at the National Automobile Museum documents the action in detail. It alone is worth the admission fee.
1907 Thomas Flyer, photo by Sylas Wright
---

1892 Philion Road Carriage, photo by Sylas Wright
1892 Philion Road Carriage
Patented in 1892, this 2-cylinder steam carriage designed by Achille Philion is the only one produced and is one of the oldest existing American-built automobiles. The carriage could be steered from the front or back and achieve speeds around 8 miles per hour. It appeared in two movies, Excuse My Dust in 1951 starring Red Skelton and The Magnificent Ambersons in 1952 directed by Orson Welles.
---

1921 Rolls-Royce made from copper, nickel and silver, photo by Sylas Wright
1921 Rolls-Royce Silver Ghost
This Rolls-Royce was assembled using full sheets of solid copper .065 inches thick in order to avoid welded seams and rivets on the body and fenders. Accessories are nickel and German silver, while the wood trim is made from Makash ebony (historical records show that the coachbuilder had to purchase an entire tree to obtain the rare wood). Its 454-cubic-inch, 6-cylinder engine moves the car along at modern speeds with smooth, silent performance. The car cost $16,000 new.
Copper Rolls-Royce, photo by Sylas Wright
---
1948 Tucker, photo by Sylas Wright
1948 Tucker 48 Sedan
Only 51 Tuckers were ever produced, and 47 are known to exist. Designed by visionary Preston T. Tucker, the car featured a rear engine with automatic transmission, disc brakes, independent suspension, a center headlight that turned with the direction of the car, and many advanced safety mechanisms, to include a padded dash, pop-out windshield and a place where a front-seat passenger could crouch in case of an accident. The car was the subject of the 1988 movie Tucker: The Man and His Dream starring Jeff Bridges.
---
1961 Ghia owned by Frank Sinatra, photo by Sylas Wright
1961 Ghia L.6.4 Hardtop
This Ghia owned by Frank Sinatra was one of only 26 built. At $15,000 when new, the Ghia combined Italian design and Chrysler engineering, with Chrysler's Torqueflite automatic transmission, air conditioning and power steering, as well as luxurious interiors and an impressive instrument panel. The cars were powered by a 335-horsepower V-8 engine. "It just looks like a Rat Pack car, and several members of the Rat Pack had that particular car," says Frady. "And we found an interesting compartment under the driver's seat that makes you think that perhaps it was a built-in holster. I'm sure that car went to very great parties. It probably had a lot of interesting passengers as well."
---

1941 Chrysler Newport, photo by Sylas Wright
1941 Chrysler Newport Dual Cowl Phaeton
Six Chrysler Newports were constructed as show cars, and four are known to exist. The original owner of this car was millionaire playboy Henry J. "Bob" Topping Jr., one-time owner of the New York Yankees and former husband of Lana Turner. It became known as the "Lana Turner Chrysler." Cost when new was $4,725.
---
1949 Mercury from Rebel Without a Cause, photo by Sylas Wright
1949 Mercury Series 9CM Six-Passenger Coupe
Famous American heartthrob James Dean drove this 1949 Mercury in the 1955 movie Rebel Without a Cause. The car was mildly customized and de-chromed for the movie, which premiered one month after Dean's death. Few automobiles have developed such a cult following as this Merc, which remains one of the most famous movie cars in history. "It just speaks of cool," says Frady.
---
1936 Mercedes-Benz, photo by Sylas Wright
1936 Mercedes-Benz Type 500K Special Roadster
This elegant 500K series (the K stands for Kompressor, or supercharger) is the second most valuable car in the museum's collection, and cost $10,780 new in 1936. "It has gorgeous lines," says Frady. "It will always be considered one of the most beautiful cars in the United States. It's extremely valuable as well."
1936 Mercedes-Benz, photo by Sylas Wright
---
IF YOU GO
General admission: $12
Senior admission: $10
Youth admission (6–18): $6
Children admission (5 under): free
Hours: 9:30 a.m.–5:30 p.m. daily; 10 a.m.–4 p.m. Sundays
Location: 10 South Lake Street, Reno, 89501
Contact: (775) 333-9300