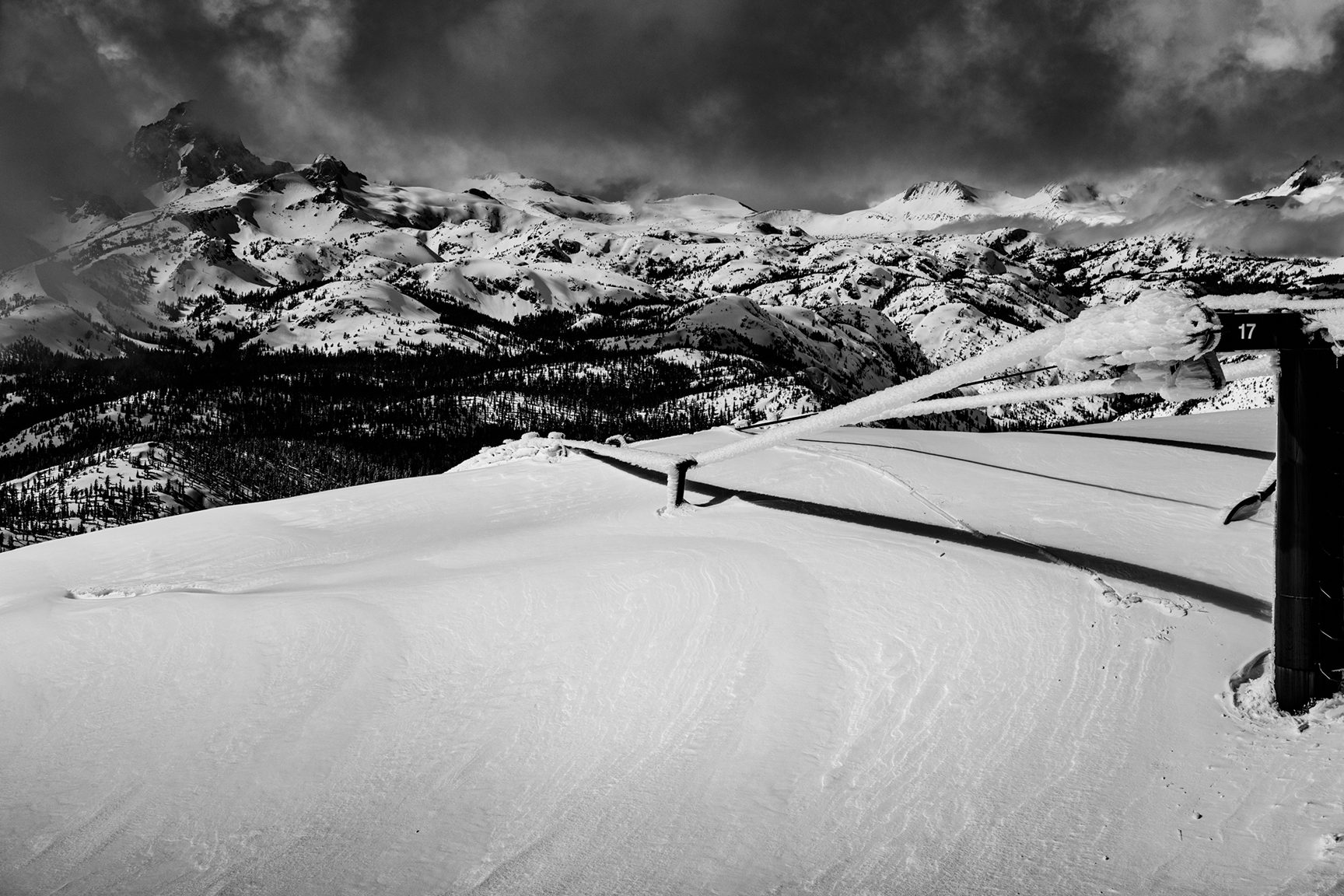 Deep snowdrifts atop Mammoth Mountain, photo by Peter Morning, courtesy Mammoth Mountain
27 Jun

Surviving Winter's Wrath
As storms pummeled California into March, a record-breaking winter turned perilous for residents of the rural Eastern Sierra, who found themselves stranded by deep snowdrifts and avalanches that buried all roads in and out of town
Thinking back on this past winter, I see mostly static, like a connection was lost. The entire winter was a white blur, an onslaught of storms that began in November and didn't stop until April. Numbers lost all meaning—6 to 9 feet in the forecast, 45 inches of snow in 24 hours, 695 inches to mark the moment Mammoth Mountain broke its previous snowfall record. That's 58 feet of snow, as deep as a lighthouse is tall. By May, the ski resort was counting nearly 900 inches of snowfall at its summit.
The 2022-23 winter will go down in history alongside the other big ones: 1951-52, with the iconic black-and-white photos—taken in July—of cars driving over Mount Rose with snowbanks four times as tall; 1982-83, which longtime locals are still telling tall tales about 40 years later; the floods of '97; the infamous La Nina winter in 2010-11.
But what will we remember from the historic winter of 2022-23?
When I read through journal entries and dig deep into my memory, there is one storm that stands apart from the rest. It marked the moment a great winter morphed into an oppressive, overwhelming feeling of claustrophobia, and it appeared on the radar in late February: a swirling mass of green energy with orange and red and yellow at its center. It looked as if it was about to swallow the entire state of California.
This was the storm that produced avalanches that buried a half-mile stretch of Highway 395 in the Mono Lake Basin beneath 30 to 40 feet of debris, creating a mountain of ice and snow, fencing and guardrails, boulders and trees that stranded rural residents for six long weeks. 
Suddenly, Lee Vining was at the end of the road. On the other side of the avalanche debris, Mono City was shut off from the world. Every route in and out of the tiny hamlet was buried. The two small towns share schools and a post office. They are usually a 10-minute drive apart. But with the road impassable, the distance between them was unsettling, life-altering.
Given all our technology and infrastructure, we live in an era with an expectation of insularity and comfort, no matter what's happening outside. We receive up-to-the-minute weather and traffic notifications. Snow removal fleets work tirelessly to clear our roads. When these systems break down, it's all too easy to get frustrated, to feel anger about chain control stopping traffic for several hours, impeding plans.
But this past winter seemed to trivialize all those feelings about systemic failure. The snow was too deep. It demanded our surrender. I felt exposed, vulnerable, wondering if this was just a taste of the big swings—from extreme droughts to major storms—that climate change will continue to bring.
The winter forced us to return to the basics and recognize that, when we're outdone by nature, we must turn to one another for help and support. That, at its core, is what climate adaptation will look like.
"We can't continually rely on fiber optic cables, power poles, highways, you know, all the machinery," says Paul McFarland, a Lee Vining resident. "What really matters is the people you're surrounded by, and we can get through a lot when we pull together and, you know, simplify."
The Brunt of the Storm
Since early childhood, I've survived the Sierra Nevada's long, cold winters by skiing. Skiing makes me happy. It gets me above the inversion, into the sun, and the movement feels good in my body. 
But this past winter I was shut inside, pregnant. While I skied in my first trimester early in the winter, my doctor put the fear of God in me about continuing to ski. I figured I wasn't eating sushi because of the risk of food poisoning, and the odds were much higher that a kook would run into me on one of Tahoe's slopes. So I obeyed the doctor's orders and stayed home in Reno, where the ice never seemed to melt, unable to do much but wait it out. My sister in Truckee and parents in Tahoma shared photos of the ever-growing snowbanks closing in on their homes. 
For weeks, I'd been looking forward to a trip to meet some friends from Los Angeles in Mammoth the last weekend of February, a chance to finally get out of the house. The days leading up to the trip were some of the sunniest of the winter, a reprieve from January's blizzards. But then the forecast for February 24–26 came into focus, predicting 3 to 4 feet of snow at Mammoth Mountain's Main Lodge. I wondered if we'd even make it. Caltrans had been shutting down long sections of Highway 395 almost every storm cycle.
I've driven the stretch between Tahoe and Mammoth in a whiteout before, and it was the scariest drive of my life. Swirling white snow erased my vision on Conway Summit above Mono Lake. Dropping into Bridgeport, I drove from snow stake to snow stake, terrified of driving off the road, but also afraid that, if I stopped, someone would crash into me from behind. Or that I'd get buried and disappear.
Meanwhile, the National Weather Service was issuing blizzard warnings as far south as San Diego. In Los Angeles County, the warning was the second ever issued on record and called for 5 feet of snow in the mountains. My friends from L.A. had planned to rent a car. We canceled the trip and rescheduled for the first weekend in April.
Mercifully, our VRBO host returned our money, even though we were outside the cancelation window, making our decision that much easier. In hindsight, had we not canceled, I'm not sure how we would have gotten home. 
The week after President's Day was winter break for schools in Lee Vining, meaning many residents in the Mono Lake Basin were out of town. Mono Lake doesn't freeze. Instead, it creates its own weather system, with a thick ice fog that lingers beneath the inversion and keeps everything in its grasp cold and dark. The phenomenon is named after the Paiute word for fog, poconip. (It can also be spelled with a g: pogonip.)
The Mono Lake Committee recorded 40 days of poconip from November to February. The incessant fog was so cold, so consistently, people ran through their wood faster than normal, says Elysia Fischbach, a Mono City resident. That became an issue when the town was trapped by the storm to come. People were running out of wood. The poconip is also known to create surface hoar and embed weak layers in the snowpack.
Fischbach was visiting Santa Barbara and Paso Robles over winter break when she saw the storms lining up over the Pacific in the forecast. She cut her trip short and got home while she still could.
McFarland was of the same mind, fleeing the ice fog in Lee Vining for desert vistas and wildflowers in the Mojave and Colorado deserts with his family. But as soon as he saw the storms building, he packed up and headed home.
"We made it home in the beginning of that storm," McFarland says. "And then, it didn't stop. It feels like after that storm, it just kept going."
The first wave dropped several feet of snow in the Mono Lake Basin. For a place that borders the sagebrush desert and steep escarpment of the Eastern Sierra, several feet is enough to overwhelm residents, many of whom don't own snowblowers. On Saturday, February 25, the Eastern Sierra Avalanche Center reported 4 feet of new snow on top of a fragile layer near the Sierra Crest.
That Saturday, the roads were a mess and Caltrans was overwhelmed by low freezing levels that spread thin their snow removal efforts. The Mono County Sheriff's Office reported an all-day rescue effort on Benton Crossing, a country road near the Mammoth airport, where 17 people were stranded in their cars.
"As the snow continues to fall, the roads continue to be closed," the Mono County Sheriff's Office stated on Twitter. "This includes all of your backroads, shortcuts and 'local' alternate routes."
The next day, the snow picked up again, along with horrendous winds blowing down the mouth of Lundy Canyon that built deep snowdrifts on the roads. The warnings and notifications about road closures continued at a rapid pace on Twitter. "It's a blizzard, people," read another Mono County Sheriff's Office tweet. "You cannot see your hand in front of your face, let alone a snow stake to guide your way. Stay home."
Earlier Sunday, some residents snuck out during a brief break in the storm cycle to ski at June Mountain. Todd Wanner, who has lived in Mono City for nearly 15 years, was skiing at June Mountain with his family that day, but they cut their ski time short and made it home at 2:30 p.m. The roads were sloppy, full of snow.
"And then we heard that multiple avalanches went down," Wanner says.
An unknown number of avalanches buried Highway 395 that weekend. Gullies that never slide slid. Fischbach describes it as a starburst effect. Like rays shooting out from a center of energy, the mountains in the Mono Lake Basin heaved and avalanches tore down the mountains from Lee Vining to Lundy Canyon. The biggest slides were the ones closest to Lee Vining, a town known as the eastern gateway to Yosemite.
At his 100-year-old house in Lee Vining, McFarland says he felt as if he were living in a cocoon of snow. He passed the time shoveling the roof, clearing snow from the windows, making pizza and delivering slices to the neighbors.
"Everywhere changed," he says. "The town looked different. From signs to swing sets, all the landscape that you remember was buried in a blanket of white."
Stranded
Cory Duro, Mono City's volunteer fire chief, had been in Oregon for winter break, meeting his newborn granddaughter, when he, too, saw the forecast and rushed home. By the time his family reached the Eastern Sierra, roads were already closed, leaving them waiting for an escort from Bridgeport over Conway Summit to their home in Mono City.
Duro remembers waking up the first morning he was home to an ocean of 9-foot-deep snowdrifts in every direction.
"It was like Armageddon," he says. "It really was crazy. None of us had ever seen it like that."
Duro's family owns a gas station and tow company, but he put on his hat as the volunteer fire chief and pushed out his front door. With the roads buried, the only way to get through town was on foot. Alongside the other volunteer firefighters in the neighborhood—a sheriff's deputy who lives in Mono City also played an instrumental role in the days to come—Duro went door to door to check on neighbors. 
"I was trying to keep my composure for my immediate family and for the community and for myself, for my own mental health," Duro says. "It did get a little patchy. I couldn't have done it without my guys, though: the fire department."
To keep a sense of calm in Mono City, the town's fire department started hosting community meetings every day at 11 a.m. There was a straightforward agenda of updates to discuss essential needs. Out of those meetings, tasks were divided among community members.
"People were so ready to just look around, see who was in trouble, in need and reach out and help," Wanner says. "Our little community really pulled together."
Fischbach became the go-to person managing communication between Mono City residents and Mono County emergency services. High school students joined the shovel team, clearing fire hydrants and propane tanks and helping elderly residents dig out their homes. People shared firewood and fuel. Eventually, a medical reconnaissance person was appointed to help people fill their prescriptions. Another person was in charge of dog food.
The calendar rolled forward and the snow kept pace. On Tuesday, February 28, the electricity went out in Mono City and Bridgeport. Avalanches, again. Transmission lines and electricity infrastructure got caught up in the avalanche debris. With the ongoing storm, crews were unable to access the site and restore electricity for days.
The storm wore on Fischbach's nerves. She couldn't sleep, couldn't read, couldn't do any crafting or house projects to occupy the time. Instead, she watched the snow pile up on the other side of her windows.
"That whole first week, I'm a fairly even-keeled person, but even that shook me to my core," Fischbach says.
She set up a community-wide chatroom in an app called GroupMe that became a clearinghouse of information. Managing that app became a full-time job, giving Fischbach a sense of purpose when she needed it.
"There was concern about running out of fuel, running out of food … running out of wood," Fischbach says.
At one point during that first week when Mono City was stranded, the National Guard landed a Chinook helicopter on the highway and delivered supplies—generators, water and MREs, or meals ready to eat—to residents. 
By Wednesday, March 1, more than 100 inches of snow had fallen across the Eastern Sierra. To the south, avalanches buried Highway 395. To the north, Conway Summit was closed, with Caltrans still working hard to keep up. To the east, Highway 167, a less-traveled road leading to Hawthorne, Nevada, was also buried. 
Mono City was trapped on all sides, with every route in or out of town blocked.
The Aftermath
There are about 100 homes in Mono City, according to Duro. Fischbach describes the town as a hodgepodge with all types of homes, old and new. There is no throughway. The little fire station serves as the community's biggest landmark and town center. While electricity was out, the fire department kept generators running for people to get warm and charge their phones. Running the GroupMe app, Fischbach says, was a great way to meet everyone who lives in town. 
Thursday, March 2, was the first calm, sunny day after a week of blizzards, although Mono City and Bridgeport remained without power. Caltrans said it was "making all efforts" to reopen highways in Mono and Inyo counties. Snowplows, operators and trucks arrived from across California to help with snow removal efforts.
But Mono City, unlike Lee Vining and Bridgeport, does not have a yard where Caltrans stores equipment. Gradually, Mono City residents began to realize none of the routes in and out of town were going to open any time soon.
"That's when the anxiety levels started to climb up pretty good," Duro says.
Fischbach remembers the community meeting the next morning, on Friday, March 3. People were nervous, scared and frustrated by the lack of progress made to reopen the roads. A glimmer of hope arrived when electric utility company Southern California Edison arrived to repair transmission lines and restore power to Mono City. Fischbach says it was Southern California Edison that punched the first path through Highway 167—one of the most remote roads in the state—to create a passage for repair crews.
Rebuilding the transmission lines destroyed in the avalanches would take more time, but Edison hooked up Mono City to temporary hydropower sourced up-canyon from Lundy Lake and the Lundy Power Station.
Midday on Saturday, March 4, five days after power went out, electricity was finally restored.
"Once the power came on, everyone felt so much better, less worried," Fischbach says.
Life in a Trapped Town
The avalanches that struck Highway 395 destroyed everything in their path. Trees snapped and rocks dislodged. There's a stretch of road, closer to Lee Vining, that threads a narrow gap between Mono Lake and a steep embankment jutting toward the High Sierra. This is where the biggest avalanches slid, requiring a monumental effort to clear before reopening.
Meanwhile, avalanche danger remained, creating another hurdle to simply access the site and begin cleanup work. In a statement issued Monday, March 6, Caltrans said it hired an emergency contractor to remove avalanche debris and repair the highway, but crews couldn't get started until the snowpack stabilized and there was no avalanche risk.
"The full extent of the damage won't be known until the cleanup work has been completed and we can inspect the damage to the highway," the statement read.
Due to the huge amount of debris, Caltrans estimated the road would stay closed for at least two weeks. But the closure extended several weeks longer, stretching into April.
Many Mono City residents commute south on Highway 395 to work jobs in Lee Vining or Mammoth. So the extended closure ushered in a whole new chapter of their continued isolation, well after Conway Summit and Highway 167 were finally plowed.
Fischbach is an early-childhood special education teacher for the Mono County Office of Education and works out of an office in Mammoth. Her 40-minute commute became a four-hour commute. For Wanner, a high school Spanish teacher in Lee Vining, his normal 10-minute commute stretched into a five-hour-long detour through Hawthorne to Bishop and up past Mammoth. Same for the students living in Mono City who attend schools in Lee Vining.
Day after day, schools were canceled because of weather conditions. But eventually, they had to figure out something to get kids back to their desks. One option was to stay overnight in Lee Vining. But with families and pets at home, that was impractical for most. The other option was familiar, thanks to the pandemic. But this time, Wanner and another elementary school teacher living in Mono City decided to go about remote learning differently.
"We just thought, well, both of us have pretty big living rooms," Wanner says.
Wanner transformed his home into a schoolhouse for about 10 kids in middle and high school. The other teacher took charge of the younger students at her home. A handful of other teachers and school employees living in Mono City helped set up the renegade schoolhouses, too. Inside Wanner's home, English classes took place in the den, by the wood stove. Science class happened in the dining room. And Spanish and math classes were taught in the living room. At any given moment, three classes were being taught under one roof.
"It was like going back in time to the one-room schoolhouse," Wanner says. "It was actually really pleasant. At break, all the kids were drinking tea and sitting by the fire, eating snacks that we provided."
Afternoons were reserved for physical education, taught by Wanner. He'd set off on Nordic skis to make an under-the-radar trip to Lee Vining, traversing the flats near Mono Lake, so he could pick up about 10 pairs of cross-country skis from the high school and carry them back to Mono City for PE class. Then, every afternoon, Wanner and the kids went out and skied together.
"Everything was shut down and we could ski everywhere," he says. "There were middle schoolers and high schoolers and we just went out and played on the hills."
Once Highway 167 was restored, people had a lifeline to basic amenities like a grocery store and hospital. Those who needed medications refilled had to transfer prescriptions across state lines to the pharmacy in Hawthorne.
Figuring out the postal service was a next-level operation.
One of Fischbach's neighbors rounded up P.O. box keys while McFarland, in Lee Vining, organized Mono City's mail so it could be shuttled, en masse, around the five-hour detour through Nevada, eventually landing at the Mono City fire station. A similar system was set up to collect UPS and FedEx shipments from Bishop.
"People needed their medicine, they needed their packages, they needed their bills—bills weren't getting paid and people were getting overdue notices," McFarland says.
Meanwhile, the snow-bound activities continued. And people came together to get things done.
"You look at a neighbor's house that has snow on it, you knock on the door and next thing you know you've spent four hours shoveling their roof because it had to be done," McFarland says.
In Lee Vining, life adjusted to being at the end of the road.
"No truck traffic. No tourist traffic. There was no commuting traffic. We were literally the end of the road," McFarland says. "You skied on the highway. You skied on town roads. The only people you saw were people you knew and would see every day because they lived right down the street."
Slow Progress
March 7. Caltrans brought in helicopters to help with avalanche control work above Mono Lake. Snow safety professionals dropped 20 explosives out of the helicopter, but nothing moved. The snowpack was too firm. No avalanches were triggered. On March 8, work finally began to clear the debris from Highway 395.
Then came the rain. In mid-March, another atmospheric river pushed a warmer storm system across the Sierra, and Mono City residents filled up their sandbags. In Lee Vining, McFarland says town streets turned into rivers. Then the precipitation turned back to snow.
March 16. Caltrans announced that a single lane on Highway 395 was open over Conway Summit, finally clearing a second lifeline from Mono City north to Bridgeport. Highway 167 also fully reopened.
March 23. Nearly a month after the avalanches, enough work was completed to allow timed escorts between Mono City and Lee Vining. Drivers could pass through the closed road between 7 and 8:30 a.m. and 3:30 to 5 p.m. The wait leading up to the escort became a social hour in Lee Vining, McFarland says. The parade of cars driving through became the town's big form of entertainment, a chance to see friends and neighbors.
Early April arrived, and we finally made it to Mammoth. I'd been stuck in my own cocoon of snow closer to Tahoe, and I didn't realize Highway 395 was still closed to through traffic until Google routed us through the middle of Nevada, down to Bishop, then north to Mammoth. I was stunned that such a critical artery for the eastern spine of the state remained disabled.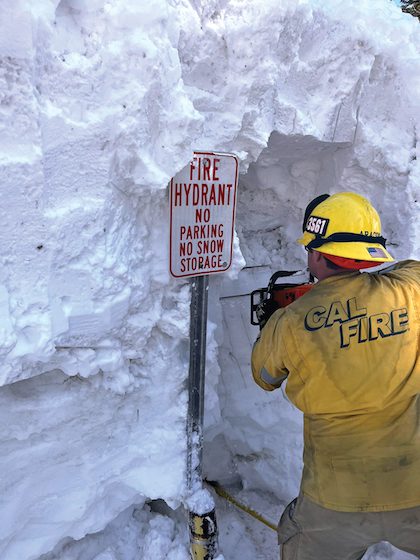 In Mammoth, we arrived to find an entire town on edge, frayed by exhaustion. The snowbanks were so tall I could barely see the sky, and our condo was dark, entirely buried. One window had shattered beneath the weight of the snow, a piece of plywood acting as a temporary fix. The trip turned scary when the smell of gas lingered outside and Amber alerts warned of propane explosions. The first morning of our trip, several firefighters knocked on our door as they inspected the building to find the source of the leak.
It felt like the winter when tourism—tens of thousands of people arriving in a town that can barely save itself beneath the weight of the snow and condemned buildings, when an exploding propane tank hospitalized several people—became a form of extraction. How much sanity did Mammoth have to give? How much more could people take? This past winter pushed our resources to the breaking point and showed that there are limits to what we can do. 
"Nature really has the final say," McFarland says. "And that, going forward, when we think about resiliency and disaster preparedness, are we thinking about fighting those natural forces? Or figuring out how to work with them in a way that, you know, the swings of the coming climate don't knock us off the wall all the time."
Runoff
As the snow receded, the destruction revealed itself on the mountains above Lee Vining. Snapped trees. Displaced rocks. Caltrans installed a new fence to reinforce the stability of the slope above the highway.
On Friday, April 7—six weeks after the avalanches—Highway 395 reopened between Lee Vining and Mono City. No more escorts.
Asked in May to reflect on their memories from the winter, most of the Eastern Sierra residents interviewed for this story were still processing the events.
"March was a long month, besides a long winter," Fischbach says.
Duro says a community barbecue was held at the firehouse in early June for everyone to come together again and debrief on everything that happened.
"A key point to this whole story was that we never lost life," Duro says. "We only lost two kitties to old age and a couple of outhouses, but no loss of life. That was our main objective, especially with the elderly."
McFarland, who works for a local environmental nonprofit, the DeChambeau Creek Foundation, had been out on the hills, taking in the continued shifts on the landscape. In the runoff, he describes sheets of water flowing across the desert where people have never seen water before; ephemeral lakes in the sagebrush, full of fairy shrimp and spadefoot toads; creeks flowing in mid-May that aren't even named. He muses about the gigantic natural forces that shape our landscape, and how this past winter's power was a chance to see that change at a pace we humans can grasp and comprehend.
"Water, ice and fire, that's what makes our landscape, and we got to see that happen," McFarland says.
Hearing these Eastern Sierra residents tell their story, I think about the power of community. How the simple act of checking in on neighbors, of reliance on one another, may be yet another adaptive strategy to cope with climate change's big upheavals. McFarland agrees.
"The power of small gestures," he says. "Sometimes all you need is one bright spot in a poconip-filled day."
---
Tahoe native Julie Brown is a freelance writer based in Reno. She's savoring every day of summer this year.