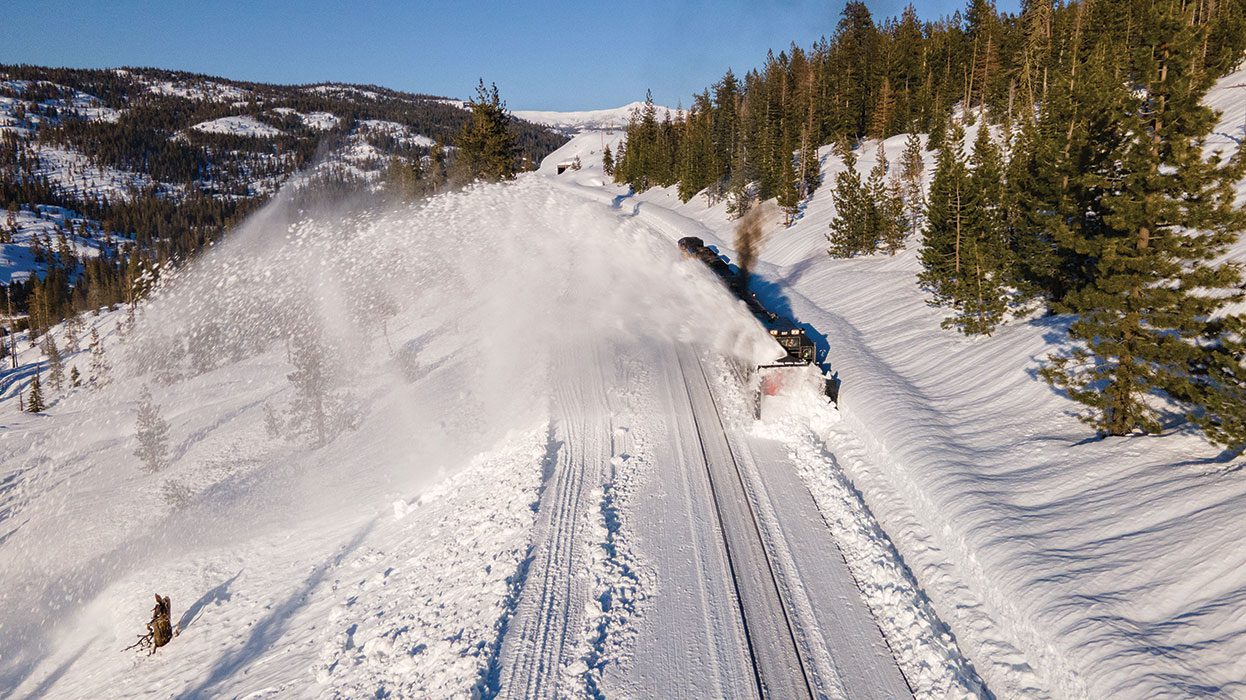 A rotary snowplow makes its way from the snowy depths of Donner Summit to its home in Roseville
26 Apr

The Crowd-Pleasing Workhorse of Winter
Deployed when conditions get extreme on Donner Summit, rotary snowplows bring out the railroad buffs while keeping a crucial mountain corridor open for travel
They are nearly 100 years old, weigh 288,000 pounds and move at 4 miles per hour. And you can go a decade or more without seeing them in action. But when historic snowstorms pound the Sierra Nevada, the legendary rotary snowplows come out of hibernation and burrow through the towering snowdrifts on Donner Summit to keep transcontinental rail lines open.
It's a Herculean task that only a few pieces of machinery in North America can handle. When the rotary snowplows lumber out of the Union Pacific railyard in Roseville, history buffs and railroad fans take notice. It's not only the sign of a big Sierra Nevada winter, it's a throwback to the raw power of a steel-and-steam era of awe-inspiring railroad engineering that still stands up to the worst that winter can throw at Union Pacific crews today.
"The rotary snowplow is the one that gets all the attention," says Jerry Blackwill, president of the Truckee Donner Railroad Society. "The rotary is the crowd pleaser."
Pushed by two locomotives, the plows are capable of moving tremendous amounts of snow and operating in all weather conditions. They grind their way slowly across the high-elevation rail route west of Truckee, keeping the tracks clear even in the fiercest snowstorms.
In particularly deep snow conditions, crews often place a rotary snowplow on both ends of the locomotives, creating a snow-fighting behemoth that can plow forward or be operated in reverse.
"They put a rotary in the front and the back of these trains and if an avalanche happens in the back, they can use the rotary to get back through it," says Blackwill.
This season is the first in more than a decade that Union Pacific railroad crews have deployed the beastly winter warriors. The last season they were used was during the prodigious winter of 2010-11, according to Robynn Tysver of Union Pacific Railroad.
Through March, the huge machines had been called into action five times over Donner Summit during the 2022-23 winter, and thanks to this workhorse of winter, the tracks have not closed for any significant period, says Tysver.
100-Plus Years of Snow Removal
Remarkably little has changed in snow removal operations over the last century. Diesel locomotives have replaced steam power, but the same techniques and sometimes the same machinery still reign supreme. 
One of the rotary snowplows clearing Donner Summit tracks this winter was built in 1926 and then rebuilt in 2013. Rotary snowplows have been used on Donner Summit since the impressive winter of 1890—when 776 inches of snow fell on Donner Summit—and use a design of revolving fan-like blades that cut into the snow and propel it up and into a spout-funneled stream that lands far from the tracks. The giant plumes of snow arcing into the winter sky are a sure sign of a rotary snowplow in operation.
The design in use today, called the Leslie rotary snowplow, followed failed designs by early snow removal innovators like Toronto dentist J.W. Elliot, who designed a never-commercialized snowplow.
The Leslie rotary snowplow revolutionized winter rail operations. Before the rotary, rail crews employed the Bucker snowplow, a wedge-shaped device that was powered by six to nine wood-burning locomotives. The design was known to derail frequently when it encountered large snow drifts or the dense snow known in the Tahoe region as Sierra Cement.
While two other important pieces of snowplow-like rail equipment—the spreader and the flanger—became vital pieces of the winter operations of the railroad, it was the rotary snowplow that was called upon during the most severe winter storms.
And even as almost every other corner of the world has been rapidly changed by new technology and innovation, the rotary snowplow has remained the same. Its raw power and efficient design never necessitated an upgrade.
"Snow, just by the nature of it, needs a lot of energy and horsepower to get rid of. And in those days, they were good at creating big-horsepower equipment," says Blackwill.
Other things have changed around Truckee. The town still houses a significant Union Pacific maintenance crew, but its days as a main link in the rail system have waned. New, more powerful locomotives with longer ranges mean trains no longer must stop in Truckee to prepare for the push over Donner Summit. The town once housed roundhouses where locomotives could turn around and receive maintenance.
"It used to be a turnaround station for the locomotives. They needed a more powerful locomotive to get them up Donner Pass. There was a roundhouse where they would hook up to the extra locomotive," says Blackwill. "Now, Roseville and Sparks are the stations. That is a big change. Most of the equipment that comes through here does not stop."
But on a winter like this, Truckee's railroad workers are unquestionably a vital link in a transcontinental rail system. Union Pacific Railroad sees freight volumes peak in November and December as product demand for the holiday season floods the rail lines. This makes snow removal efforts throughout winter particularly important to a supply chain that the nation relies on for the free flow of materials. It's perhaps even more important when Interstate 80 closes for significant periods of time, as it has this winter.
"This has been a historic winter for our 'Sierra Snow Fighters' out of Truckee, California," says Tysver. "They have been going at full-court press since November, moving snow and clearing track. With the exception of about three weeks, the snow has been falling."
And as word spreads that the rotary snowplows are back in action, railroad buffs come out in droves to see the powerful machines ply their trade on Donner Summit.
"When they hear the rotaries are up here, they come out with their cameras and it is really a big thing for them," says Blackwill.
---
David Bunker is a Truckee-based writer and editor.