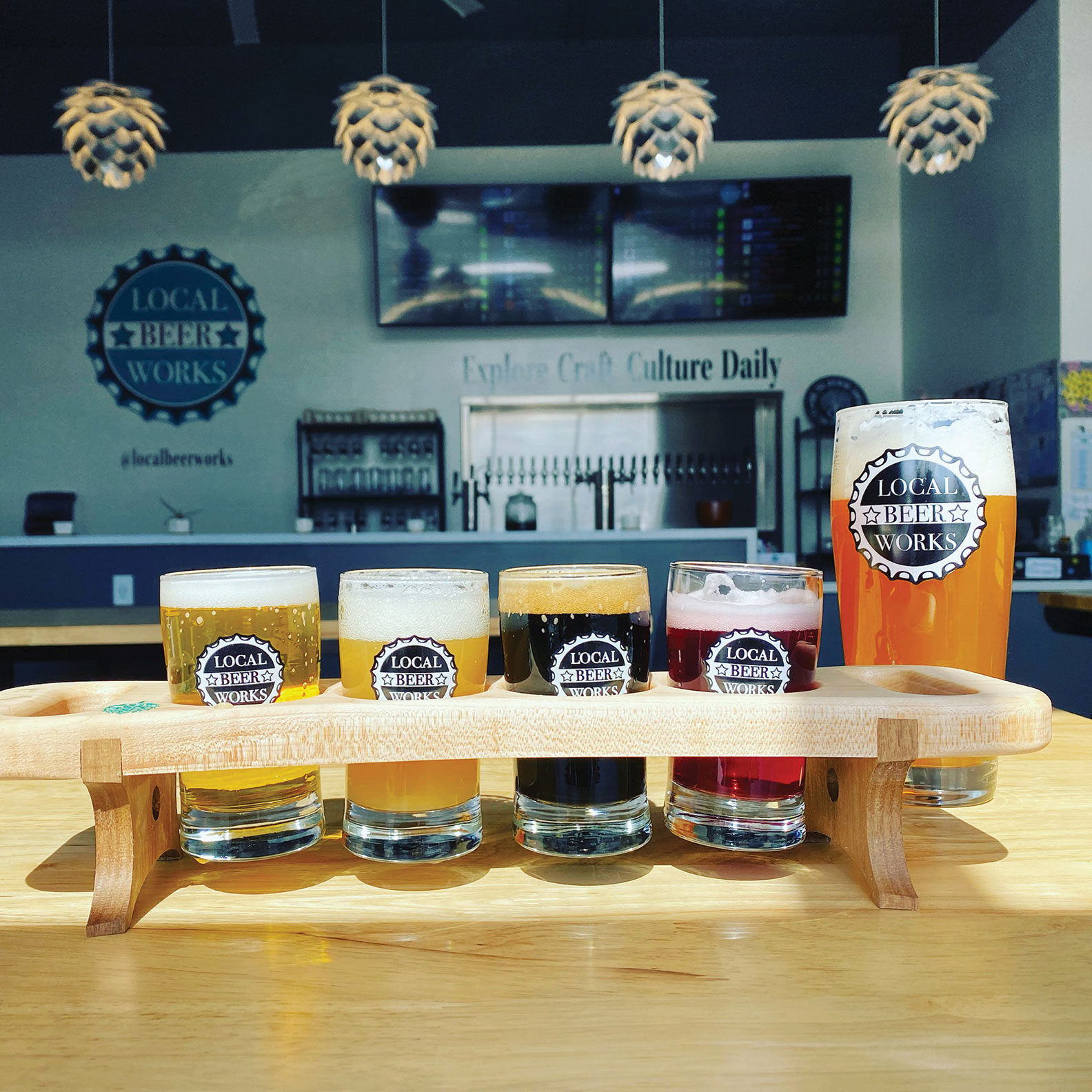 Local Beer Works, photo by Ashley Johnson
24 Sep

New Spots

Editor's note: Information was accurate at the time of this writing, but check directly with establishments due to constantly changing COVID-19 conditions.
North Shore
TREMIGO MEXICAN KITCHEN & TEQUILA BAR
1850 Village South Rd. #52 | Olympic Valley | (530) 584-6021 | www.tremigotahoe.com
Carolyn Nunn, Randy Rogers and Rachel Graf-McCabe from Auld Dubliner launched this spacious family-friendly spot in the former Mamasake location in the Village at Squaw Valley. Start with shrimp ceviche, street tacos and elote with chipotle lime crema and move on to house specialties like chile relleno, blue corn sopes with chicken tinga and the molcajete—grilled shrimp, carne asada, chicken and cactus served in a traditional lava stone. There's a long list of tequilas and specialty cocktails such as the frozen hibiscus margarita, as well as outdoor seating, online ordering and scheduled pickup. L. D; $18–$34
STELLA
10918 Brockway Rd.  |  Truckee | (530) 582-5655 | www.cedarhousesporthotel.com
Truckee native Chef Lupe Solis oversees this relaunched space at the Cedar Sport Hotel, where he serves a mashup of Mediterranean and Mexican dishes like falafel and smoked chicken wings with ancho chile barbecue sauce, shawarma spiced roasted cauliflower with tahini, along with baba ganoush and hummus. Entrees include 10-hour smoked pork shoulder tacos, salsa verde chicken, sous-vide Durham Ranch steak with chimichurri, and king salmon with couscous and pomegranate molasses. Save room for the fig cheesecake with labneh, pistachios and local honey. Beer and wine are available, as well as outdoor seating. D; $13–$29
TAHOE MOUNTAIN BREWING CO.
10292 Donner Pass Rd.  |  Truckee | (530) 587-3409 | www.tahoebrewing.com
Aaron Bigelow and Tanya Thayer launched this long-awaited brewpub in the 1870s-era Kruger-White House following a year-and-a-half-long renovation. The couple, who operated Tahoe Mountain Brewing locations in Tahoe City and Industrial Way in Truckee (now Good Wolf Brewing), offer a variety of beers by the bottle and on tap, including a selection of well-aged sours, along with familiar food options of hot and cold sandwiches, half-pound burgers, fish tacos and tostadas, flatbreads and salads. The large patio provides plenty of outdoor seating and the carriage house has been converted into a wine and cider tasting room. L, D; $12.25–$17.25
HOPPY DUCK
10182 Donner Pass Rd.  |  Truckee | (530) 214-8927 | www.thehoppyduck.com
Bobby Kuebler, who worked at Old Town's Mellow Fellow since it opened seven years ago, now owns the brewhouse that has taken its place. Hoppy Duck offers 40 craft beers on tap, including many local and regional selections ranging from light to bourbon-aged stouts to sours, ciders and kombucha. Chef Joe Colletta oversees a pub-style menu laden with house-smoked meats, including pulled pork; brisket and turkey sliders with Carolina, spicy and smoky barbecue sauces; elk-jalapeño-cheddar sausage; duck and pork with orange sausage on a pretzel bun; cheesesteak; chicken teriyaki skewers; plus a couple of salads. Outdoor seating is available. L, D: $12–14
MOUNTAIN LOTUS PROVISIONS
10124 E St.  |  Truckee | www.mountainlotusprovisions.com
Parked at the Mountain Lotus yoga studio at the edge of Old Truckee, this mobile kitchen that taps Tahoe Food Hub, Mountain Bounty Farms and Kitchen Collab focuses on a half-dozen plant-based Pacific Rim–inspired dishes, all of which can be made gluten-free and vegan. The menu includes Thai-style stir-fried noodles with egg, onion, garlic, ginger, pepper and lemongrass topped with Thai basil and furikake, as well as a naan mi with mushroom or jackfruit, smoked walnut pate, pickled daikon, and carrot topped with cilantro and shaved jalapeño. Beverages and elixirs include the Heart Opener with beet and lime juice and ginger and pomegranate syrups. Online ordering is available, as well as outdoor seating. L; $12
South Shore
CREPES & CRAFT
(530) 494-9846 | www.crepesandcraft.com
Chef Eric Mutell and Loft alum mixologist Nick Giordano rolled out this food truck specializing in crepes such as the Nor'easter with Vermont maple butter, green apple and marshmallows and the Key West with Key lime mousse, raspberries and graham cracker crumble. The Truffle employs wild mushrooms, spinach, brandy-garlic-thyme butter and Gruyere crisp, and the Tahoe Bleu layers free-range chicken, uncured ham, Gruyere and honey mustard; they also serve gourmet grilled cheese sandwiches and twists on French toast. Wellness elixirs headline here, including Liver Love Lemonade mixed from lemon kefir water, lavender-thyme shrub, dandelion root extract, monk fruit sweetener and fresh blueberries. Locations include Sidellis Brewery, South Lake Tahoe Brewing Co, the Hangar Taproom and the Idle Hour Wine Bar. L, D; $7–$14
MARIA'S
2494 Lake Tahoe Blvd. | South Lake Tahoe | (530) 600-2200 | www.mariaslaketahoe.com
A native of Guadalajara, Mexico (South Lake Tahoe's sister city), longtime local Maria Hernandez and her daughter Andrea Villagrana-Hernandez launched this eatery featuring family recipes as well as more modern takes on Mexican cuisine such as the Torta Ahogada—seasoned carnitas in a "birote" (a football-shaped, crunchy sourdough roll unique to Guadalajara) with refried beans, red sauce, pickled red onions and Maria's hot sauce on the side. The menu includes several vegan options; tortillas and salsas are made in house daily. L, D; $9–$13
YUGEN CUISINE
1132 Ski Run Blvd.  |  South Lake Tahoe | (530) 600-1838 | www.yugencuisine.com
Located in the former Blue Angel Cafe space, this spot offers well-presented sushi and ample outdoor seating. Popular items include barbecued albacore appetizer and the lobster roll—tempura lobster, crab and grilled asparagus in soy wrap. Vegetarians will like the spicy golden beet poke in a yuzu-soy miso glaze, which is tossed with seaweed salad and pecans and topped with a raw avocado tomatillo sauce, and the sushi averse will enjoy the spicy katsu chicken sandwich and fries. Beer, wine and sake are available, and, for dessert, green tea ice cream tempura topped with whipped cream and chocolate syrup. L, D; $4–$16.
GASTROMANIAC
3091 Harrison Ave.  |  South Lake Tahoe | (530) 600-2110 | www.gastrotahoe.com
Taking over the former RoJo's Tavern location near the Y, this spot specializes in authentic Italian pizza and pasta. The list of nearly 20 pies includes the Valentino topped with arugula, cherry tomatoes and burrata. Pastas include flat ribbon mafaldine and snail-shaped lumache and get topped with a choice of four sauces; take-and-make options are also available. Starters include arancini as well as puffed bread bites dubbed gnocco fritto. For a sweet finish, try the panna cotta and tiramisu. The small wine list features several Italian wines, including lesser-seen varietals such as Arneis and Falanghina. L, D; $7–$16
Reno
RECORD STREET BREWING COMPANY
324 East Fourth St.  |  Reno | (775) 357-8028 | www.recordstreetbrewing.com
This lofty Brewery District building designed by Frederic DeLongchamps, which was once home to the 1920s-era Alpine Glass Company, boasts exposed brick walls and glass and steel garage doors that open onto a spacious dog-friendly patio. The brew-centric menu includes house-made beer cheese, chorizo, chicharrones and wings with sweet and spicy serrano sauce or sea salt and vinegar, nearly a dozen wood-fired pizzas (mozzarella is house made) and a trio of cast iron dishes: shrimp and grits, seared chicken and pork belly–laced mac and cheese, and, for dessert, bread pudding with bourbon dulce de leche and tart tatin. Head brewer Travis O'Brien rotates beer production with local tributes like High Rollers Pale Ale and Malt Rose beer; owner Jesse Corletto, who is also a firefighter, has earmarked a percentage of the brewery's Scottish-style ale, Flowers of the Forest, to go towards Truckee Meadows firefighters and their families. L, D; $8–$15
HANDCRAFTED GOURMET BURGER BAR
254 West First St.  |  Reno | (775) 432-2694 | www.handcrafted-restaurants.com
Jay Hackstaff, who operated a short-lived Burgerim franchise, opened in the same location his own eatery serving a plethora of patties and sauces between buns. In addition to burgers of grass-fed beef, options include steak trim; asada; wagyu (with Brewer's Cabinet Dragon Punch IPA beer cheese); grilled and crispy chicken; turkey; salmon; and falafel, plus sandos such as banh mi; ribeye; cheesesteak; chicken and waffles; crab cakes; smashed chickpea and avocado; and messes of fries of all manner. For dessert, dive into a grilled, glazed Doughboys donut slathered with berry compote and vanilla ice cream. L, D; $8–$13
CHURRASCO BRAZILIAN STEAKHOUSE
425 South Virginia St.  |  Reno | (775) 322-4000 | www.churrascobr.com
Meat—and lots of it—is on the menu at this long-awaited all-you-can-eat steakhouse opened by Brazilian native Diego Zaroski, who owned similar spots in Seattle and Chicago. Housed in the remodeled former CreAzian bi-level space, the restaurant includes over a dozen selections of beef, chicken, pork, lamb and sausage all slowly spin-roasted over open charcoal fire, with servers slicing the meats as requested from 3 1/2-foot skewers. There's also a server-dished buffet of some 50 hot and cold items, including feijoada, the Brazilian black bean stew. D; $47.95
LOCAL BEER WORKS
955 South Virginia St.  |  Reno | (775) 348-1060 | www.localbeerworks.com
Ashley Johnson, also of Pangolin Café (next door) and the Emerson, and partner Tina Nielsen launched this light and bright Midtown destination devoted to drafts and crafts in the former Happy Happy Joy Joy location. Johnson, who got her start in homebrewing, studied the art formally and did a stint at Revision, manages the rotation of 24 local and regional beers on tap plus kombucha and wine, which are displayed on a flat screen. Nielsen oversees the crafty side, which will eventually include an adult coloring bar, local art displays and classes in crafts, yoga and brewing. No food is served, but patrons can bring their own or order from one of the nearby eateries.
THE ARCH SOCIETY
960 South Virginia St.  |  Reno | (775) 800-3000 | www.thearchsociety.com
Located in the old Simple space next to Junkee Clothing Exchange & Antiques, this dessert bar dishes up sweet treats with help from the Minden-based Hoch Family Creamery. It serves a pistachio ice cream sundae with lavender shortbread cookies, a decadent brownie a la mode, and the so-called So Much More with cake splatter ice cream sandwiched between two cinnamon graham crackers, drizzled with dark chocolate liquor. Look for cocktails like the basil blueberry lemonade and boozy milkshakes—the Spiked Creamsicle gets vanilla-infused Tahoe Blue vodka, vanilla ice cream and Cointreau, and the Fig Frappuccino rum includes Alpen Sierra nitro brew, coffee ice cream and fig syrup. D; $4–11
ANNA'S TAQUERIA
271 Wonder St.  |  Reno | (775) 384-3712 | www.annastaqueriareno.com
Marco Antonio and Anna Perez, whose Mexican Grill on South McCarran has been going strong for nearly a decade, opened this spot in the former Maggi's Breakfast & Lunch space. Small in size and menu, this eatery features street tacos with 10 choices of meats (including an all-you-can-eat option), tortas, quesadillas and chancla—a thick masa shell layered with melted Oaxaca cheese, grilled chorizo, carne asada, al pastor and onions. Also find guac and chips, elote, and rice and beans, and for dessert, arroz con leche and jericalla—a cross between a flan and creme brulee. L, D; $5.99–$14.99
UNO MAS STREET TACOS + SPIRITS
2500 East Second St.  |  Reno | (775) 789-2000 | www.grandsierraresort.com
Located inside the Grand Sierra Resort, this festive, casual casino cantina features twists on Mexican favorites like agave-fried pollo nachos and grilled corn; street tacos with Yucatan pan-roasted shrimp; carne asada; al pastor; agave-fried pollo; crunchy shell shredded pollo; chipotle- and beer-marinated mahi mahi; plus vegetarian options like queso a la plancha and the plant-based Beyond Taco, all served in hand-crafted tortillas made fresh daily. Look for specials such as beef barbacoa, Baja-style lobster, green chile filet mignon and mix-grill featuring cilantro-lime pollo and citrus-marinated carne asada. Start with a Dole whip margarita and finish with churro-crusted mango cheesecake. L, D; $13–$29
GLORIA'S CAFE
2365 Dickerson Rd.  |  Reno | (775) 409-3277 | www.facebook.com/gloriascafe.nv
Named for longtime Silver Legacy chef David Moreno's wife Gloria, this family-run spot in Northwest's former Oxbow Cafe space serves a large all-day menu of hearty breakfast items: omelettes, skillets, Benedicts and French toast, pancakes and waffles, as well as house specialties such as chicken-fried steak, breakfast burrito and tacos, huevos rancheros, biscuits and gravy, and Gloria's specialty eggs and homemade chorizo. Lunch brings salads, burgers, and hot and cold sandwiches. B, L; $6.99–$14.99
PEAVINE TAPHOUSE EATS AND BEATS
7665 Town Square Way  |  Reno | (775) 276-6761 | www.peavinetaphouse.com
Replacing Babe Matteri's in the Somersett Town Square Shops, this family-friendly spot in the heart of Somersett serves breakfast from Rounds Bakery: sandwiches, muffins and bagels with schmear. Later in the day brings a casual menu of tomato-Parmesan and kale sausage soups; Greek and antipasto salads; lemon pepper, barbecue, bourbon glaze or buffalo wings; loaded tater tots; shishito peppers; brick-oven pizza; pasta; and s'mores calzone for dessert. Specialty cocktails are available, as well as 20 beers on tap, a simple wine list and plenty of outdoor seating. B, L, D; $7–$24
FLOWING TIDE PUB NO. 7
3372 South McCarran Blvd.  |  Reno | (775) 971-4151 | www.flowingtidepub.com
Lucky number seven. Mid-pandemic, Jason and Missa Tolotti and Justin Moscove launched their seventh Flowing Tide location (six are local, one is in Vegas) in the former Hellfire Saloon at Mira Loma Drive. Ming Fong, a longtime local chef and Rapscallion alum, manages the extensive menu served at all the eateries that feature salads, sandwiches, pastas and sliders, and specialties such as meatloaf, pot roast, fish and chips, and cioppino. Save room for the salted caramel cheesecake. L, D; $9.99–$16.99
NOBLE PIE PARLOR
13979 South Virginia St.  |  Reno | (775) 298-1261 | www.noblepieparlor.com
Occupying the long-vacant one-time Chocolate Bar at the South Reno Summit shopping center, this is the third Noble Pie location for owners Ryan Goldhammer and Trevor Leppek, also of Pignic Pub & Patio and the Pig Shack. Remodeled with industrial chic decor and local artist Ryan Fassbender's edgy illustrations on the walls, the menu features East Coast–style artisan pizzas made with longtime family recipes for dough and sauce. The menu also includes pesto chips, garlic knots, wings, polenta, calzone, stromboli, loaded Parmesan garlic fries and savory brunch dishes such as cinnamon-ricotta knots, apple cream cheese challah French toast and calzone-omelets. BR, L, D; $6.99–$31.49
ANTHONY'S CHOP HOUSE
1100 Nugget Ave.  |  Sparks | (775) 356-3300 | www.nuggetcasinoresort.com
Located inside the Nugget Casino Resort, this old-school steakhouse with a modern vibe serves up fresh seafood, prime cut filets, ribeye and New York strip steaks, as well as specialties such as lamb chops with a minted demi-glace. Start with an appetizer like pan-seared scallops with poached pears, braised fennel and leeks and a quinoa cake, or seared tuna with ponzu and ginger, and finish with a 24-layer chocolate cake for two, made with Frangelico, salted caramel and hazelnuts. Pair it all up with selections from over 200 wines from around the world. Reservations required. D; $16–$65
Carson City
CUCINA LUPO
308 North Curry St.  |  Carson City | (775) 461-0441 | www.cucinalupo.com
Chef Mark Estee of Chez Louie and Liberty Food & Wine Exchange in Reno opened this Italian eatery downtown behind his Union property. The menu sourced from area farmers and purveyors features appetizers like fritto misto and meatballs, pastas such as short rib ravioli and squid ink spaghetti, and entrées from chicken marsala, picatta and parmigiana to a coffee-rubbed, garlic-buttered Bently Ranch steak. Save some room for an affogato or budino topped with chocolate cookie crumbs, caramel and sea salt. In addition to a solid wine list, there's a picon punch salute to the Basque restaurant that Lupo replaced, with a portion of proceeds going to the Carson City 4-H Club. L, D; $16–$28
PIAZZA
130 West 3rd St.  |  Carson City | (775) 301-6708 | www.carsonpiazzabar.com
Adele's lives on. Mark and Jenny Lopiccolo opened this casual lounge spot downtown on McFadden Plaza with many of the legendary café's longtime staff. Chef Dan Burnham and food and beverage manager Robin Shriver have stayed on, along with Mark and Ellen Nadreau—he the longtime bartender and she tending to the front of the house. The menu, which features shareable items, encompasses salads, crostini, flatbreads, small plates such as chickpeas with seared spinach and lamb pops, as well as larger platters with smoked salmon, seared ahi tuna, baked brie and charcuterie. To sip, select something from the short but solid wine list or an Italian-inspired specialty cocktail. There's also a retail market, as well as outdoor seating. Reservations recommended. D; $8–$18
CAPITAL CITY SUSHI
319 North Carson St.  |  Carson City | (775) 883-2372 | www.capitalcitysushi.com
Located in the former Kim Lee space downtown, this spot does the requisite all-you-can-eat sushi with specialty rolls such as the double-sized Reno 911 (aka Fireman Challenge) with spicy tuna, jalapeño and lemon inside, with barbecued tuna, spicy salmon, habanero tobiko, green onion and sesame seeds outside. Or try the torched Honey Badger Scallops with honey garlic butter, jalapeño, salmon roe, sweet sauce, green onions and sesame seeds. Entrées include teriyaki salmon and chicken, yakisoba noodles, seared tuna and tempura. L, D; $3.50–$16.95