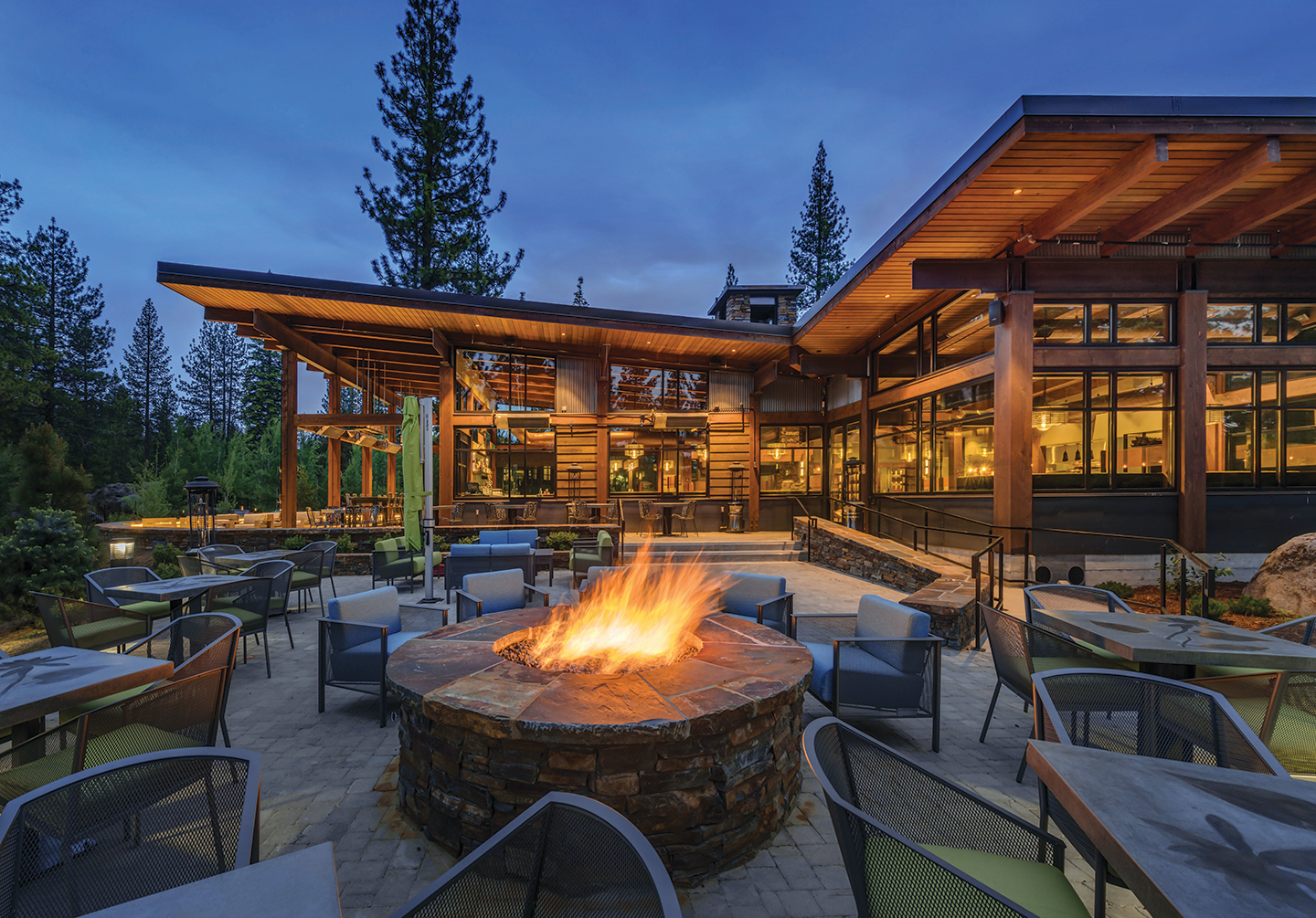 The Sawyer in Schaffer's Mill is a handsomely built restaurant with abundant outdoor seating that takes advantage of its location, photo by Vance Fox
25 Jun

A Culinary Diamond in the Rough
The Sawyer restaurant in Schaffer's Mill pairs chic style with an eclectic menu
One of North Tahoe's best new restaurants is hiding in plain sight.
Tucked into the pines behind the gates of Schaffer's Mill, the 475-acre private upscale residential community on the edge of Truckee, the Sawyer is a beautifully designed eatery boasting mountain and forest views and an eclectic menu. And it's open to the public.
Launched two years ago, the lofty and well-lit restaurant built from wood, stone and steel is named for the men who sawed timber in George Schaffer's mill that operated here in the 1800s.
Hefty barnwood doors usher guests inside into a greeting area lined with a lighted wine refrigeration display wall. A sturdy four-sided ledgestone fireplace separates the dining and bar areas, the u-shaped key lime green booths providing a cool pop of color contrasting with the rest of the restaurant's earth-tone palette. Butcher block-style high-top communal tables and a horseshoe-shaped copper-topped bar offer additional seating and a closer view of the several flat-screen televisions broadcasting the sports event du jour. Hint: It might be tuned to golf.
Overlooking the 10th hole of the development's award-winning course and sited with views of Northstar California's Lookout Mountain, the Sawyer also boasts plentiful outdoor seating areas that more than double the restaurant's capacity in the warmer months. High-top concrete tables stamped with steel leaf shapes shelter beneath the long overhang rigged with lighting, heat lamps and a large-screen TV. The spacious terrace, recently expanded to accommodate live entertainment such as local folk duo Ike & Martin, is outfitted with a trio of fire pits plus heaters and umbrellas as needed.
Executive chef Corey Kelso oversees the Sawyer's contemporary open-exhibition-style kitchen, which turns out an all-day menu long on comfort-food favorites. A Bay Area native, Kelso honed his culinary chops at various Southern California venues before being recruited to Tahoe some three and a half years ago by Moody's Bistro Bar & Beats in Truckee; during his tenure there, he was a featured chef at the Pebble Beach Food & Wine Festival.
While some of the Sawyer's menu is set by Bluestar, the Arizona-based company which provides management services for the property, Kelso has a free hand to round out the offerings as he sees fit and works tirelessly experimenting with new items.
"I am inspired by food I like, trending stuff, feedback from guests," says Kelso. "I try to make as many people as I can happy, to create a real eclectic menu. If you have something for everyone, you should be busy, right?"
Kelso keeps busy with the ceramic-tile-wrapped EarthStone pizza oven, using the 750-degree heat to turn out deeply flavored starters such as cast-iron-roasted meatballs served with marinara and parmesan. The thin-crust pizzas are popular, especially the barbecue chicken with house-made sauce, caramelized onions, mozzarella and flecks of cilantro, as is the earthy mushroom pie topped with ricotta white sauce, parmesan, truffle oil and arugula; a gluten-free cauliflower crust can be subbed on any order.
Kelso also works his magic with the wood-fired grill, which imparts an almond aroma on menu items like the New York steak frites with mushroom bordelaise and sriracha aioli, a filet with veal demi, and the grilled balsamic marinated portobello mushroom with basil and parmesan polenta, red pepper pesto and grilled summer vegetables.
Other hearty dishes include crispy brussels sprouts roasted with pancetta and tossed with parmesan and a champagne vin, as well as a tender pot roast with garlic mashed potatoes, plus a braised short rib beef stroganoff atop a house-made pappardelle.
On the lighter side, look for crab cakes made from 100 percent red and lump crabmeat, finished with chipotle aioli, charred lemon and micro green salad, as well as a miso sake-marinated cod and a smoky bourbon-glazed cedar-planked salmon. Tasty bowls include an ahi poke option, as well as a pork tonkotsu ramen topped with marinated egg, shitakes and black garlic oil.
For fun on a bun, there's the Rocket Bird—crispy buttermilk-fried chicken on brioche, drizzled with spicy sriracha honey and topped with house slaw—and the Millionaire Burger, lavishly appointed with aged white cheddar, thick smoked bacon and caramelized demi-glace onions.
The California-leaning wine list, curated by general manager Derik Martinez, includes nearly 40 options, all available by the glass in 6- and 8-ounce pours. There's also beer by the bottle, can and on tap, plus hard cider and kombucha, along with cocktails like the refreshing California Summer mixed with mezcal and fresh grapefruit and lime juices.
Seeking something sweet, crusty and melty to cap off your meal? Save room for the warmed butter cake with berry compote and whiskey sauce, or the chocolate chip cookie skillet in a mini cast-iron skillet hot from the pizza oven; both are topped with a scoop of vanilla ice cream.
From start to finish, the Sawyer is tasty and tastefully stylish. We're guessing that this hidden gem of a spot won't be hiding for long.
---
The Sawyer, 9055 Heartwood Dr, Truckee, CA, (530) 214-7385, www.schaffersmill.com. Summer hours 12 p.m. to 9 p.m. Wednesday to Sunday; reservations required for non-members/non-residents. Due to changing COVID-19 conditions, verify information directly with restaurant.
---
Tahoe Quarterly Food & Wine editor Susan D. Rock looks forward to enjoying some outdoor terrace time—and the chocolate chip cookie skillet—at the Sawyer this summer.