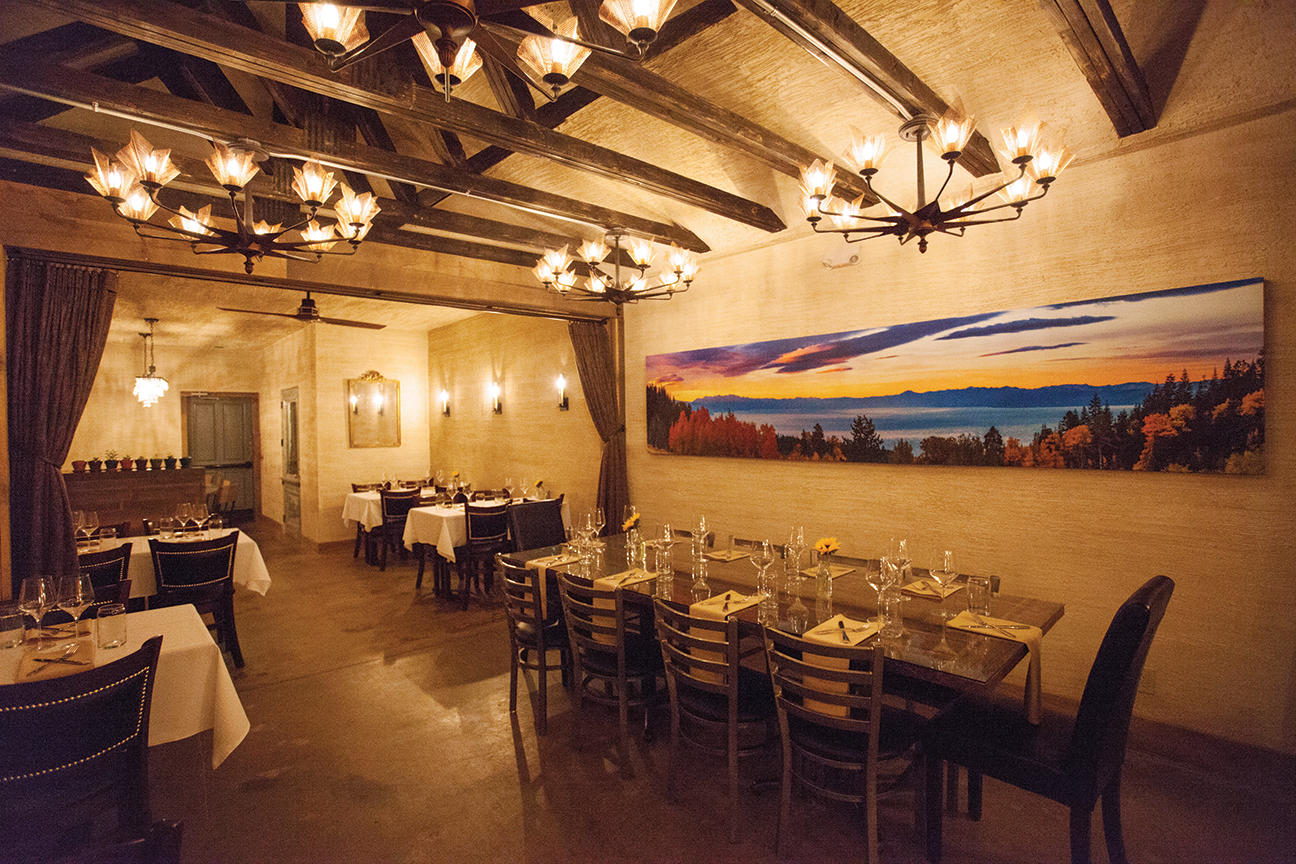 Open wood trusses, steel and mesh fixtures, textured concrete walls and a panoramic Tahoe photo by Mike Eadington lend the Lake House an eclectic chic sort of vibe
27 Sep

A Delectable Find Not Far from Home
The Lake House restaurant in South Lake Tahoe delivers upscale comfort food prepared by a master chef
Misty Sparrow grew up across the street from Passaretti's Italian Restaurant, in a neighborhoody stretch of South Lake Tahoe's Emerald Bay Road. Ferrying vegetables from their family garden every summer over to the long-running restaurant tucked into the trees, she likely had no idea that one day, she'd be running a restaurant of her own there.
Fast forward to 2016. For several years Sparrow and her husband Jeff had been running their successful Lake Tahoe Catering Company out of the Tahoe Seasons Resort near Heavenly, where they also headed up food and beverage operations for the property, when their arrangement there came to a rather quick end. Coincidentally, in a case of culinary kismet, Dan and Tai Passaretti were ready to retire their eponymous eatery of some three decades near the "Y."
The Sparrows, who had long thought about opening a restaurant of their own, purchased the Passaretti property and set off on a nine-month remodel, converting the 1950s-era, home-like structure into an upscale comfort food destination that would double as their catering base, well away from the casino corridor crush.
After major renovations inside and out, the Lake House launched in October 2016. The white-tablecloth restaurant brings an eclectic chic sort of vibe, with open dark wood trusses and steel and mesh fixtures overhead, stained concrete floors underfoot, vintage mirrors and recycled wood accents on the textured concrete walls. A large-scale panoramic photo of Lake Tahoe by local photographer Mike Eadington establishes the Lake House theme (even though the windowless restaurant is actually some distance from the water). The snug bar at the entrance and two dining areas can accommodate 80 guests.
Though neither of them are traditionally trained in the culinary arts, the Sparrows have plenty of professional on-the-job experience between them, including Jeff's ownership and involvement in Whiskey Dick's and the former Fat City Food Company, both in South Lake Tahoe.
"We are both just really into food and we've both been in the business a long time," says Misty. "And I'm a great cook."
But even great cooks need experienced executive chefs, and kitchen karma came calling again in the form of Jimi Nakamatsu. As work finished on the Lake House, the longtime veteran of Kalani's at Heavenly Village approached the couple about a job.
"He found us," says Misty of the San Jose native, who wandered in one day with a resume that includes working at Waikoloa Village in Hawaii, and in San Francisco, cooking under both Daniel Humm at the Campton Place Hotel and Hiro Sone at the restaurant Ame at the St. Regis Hotel, and holding sous chef positions at Fifth Floor Hotel Palomar and Sushi Rock.
"We came up with the menu ideas in the kitchen with friends and family over the period of time it took to remodel, which was nine months," says Misty. "Then when we met Jimi, he took the menu and made it into the culinary beauty it now is—he 'bedazzled' it."
Nakamatsu is firmly in charge of the specifics of the menu, whose details evolve with the seasons. "The proteins have been the same since the beginning," says Misty, who most nights can be found at the restaurant busily setting, serving and clearing tables; Jeff manages the catering side of the business.
For starters, Nakamatsu brings his deft hand with fish to a fresh and light hamachi ceviche, which he prepares with raw sashimi-grade Japanese yellowtail, onion, jalapeño and tomato seated atop a bed of creamy avocado and cilantro and served with root vegetable chips for scooping. There's a tender and crisp calamari that comes with shaved jalapeños and roasted jalapeño aioli and cocktail sauce for dipping. His umami-rich mushroom risotto, delivered in a mini cast iron pan, is stirred with onion, garlic, mascarpone, parmesan and butter, and finished with a drizzle of truffle oil. Dungeness and Pacific blue crab cakes come together with Dijon mustard and Old Bay seasoning and are accompanied with chipotle aioli and an olive and mushroom tapenade.
For something green and crunchy, get yourself to the Greek—a chopped, balsamic-tossed salad with romaine hearts, tomatoes, red onion, feta, kalamata olives, artichoke hearts, sun-dried tomato pesto and pine nuts. Look for seasonal salads such as the summery mixed greens with blueberries, strawberries, red onion, pecorino and toasted almonds in a lemon poppy seed vinaigrette. Classics like an iceberg wedge with bacon, candied walnuts, tomatoes and chives topped with bleu cheese dressing and lobster chowder finished with brandy and chives are menu mainstays.
On to the some of the main course selections: The grilled beef tenderloin filet with peppercorn cream sauce, available in a four- or eight-ounce cut, is the most consistently popular menu item on the Lake House menu. The Duck Two Ways—pan-roasted duck breast and confit of duck leg with blueberry red wine gastrique—earned its place on the menu "because when I go out, I want to order something I would never make at home," says Misty. Same for the pan-seared New Zealand thick-cut lamb atop a pinot reduction, served with sauté of fingerling potatoes, spinach and red onions in a Dijon mustard-lemon vinaigrette and a swath of herbed Greek yogurt.
In the seafood department, richly pan-roasted scallops and prawns are topped with chimichurri and seated on a bed of green chili oil–tinged beurre blanc. The sustainably raised steelhead trout is shipped from Britain, paired with a roasted eggplant puree and lemon caper beurre blanc. King crab legs are a recent addition after customers kept requesting the crustacean.
Non-meat eaters will appreciate the pan-seared tofu with a mint pesto crust and the grilled portabella mushroom with roasted root vegetables, red onion chimichurri and balsamic reduction.
Misty manages the well-rounded wine list with help from Jeremiah Schwartz from the Estates Group at California's Republic National Distributing Company. Pairing by course is easy here with some 30 pours by the glass, including seven sparkling options alone. For something different, start with the Gérard Bertrand "Thomas Jefferson" brut, a crémant from Languedoc, France. A variety of craft beers are also available.
If you've saved room for dessert, get two spoons and dive into the Death by Chocolate, a flourless chocolate cake topped with chocolate gelato, caramel and chocolate sauce, chopped hazelnuts and whipped cream, a warm, sweet, gooey and thoroughly decadent finish to a fine meal.
When it's time to settle up, the check is delivered in a notebook where you can read previous guests' impressions as well as leave your own review. We're pretty sure it will include some heavy sighs of delight.
---
Reservations required. Dinner is served nightly at 5 p.m. (hours and capacity limits subject to change due to changing Covid-19 restrictions); children 12 and over welcome. 1181 Emerald Bay Rd., South Lake Tahoe, CA; (530) 541-3433; www.thelakehousetahoe.com
---
Tahoe Quarterly Food & Wine editor Susan D. Rock is thankful for the many brave men and women who protected South Lake Tahoe and the Lake House during the unprecedented Caldor Fire.