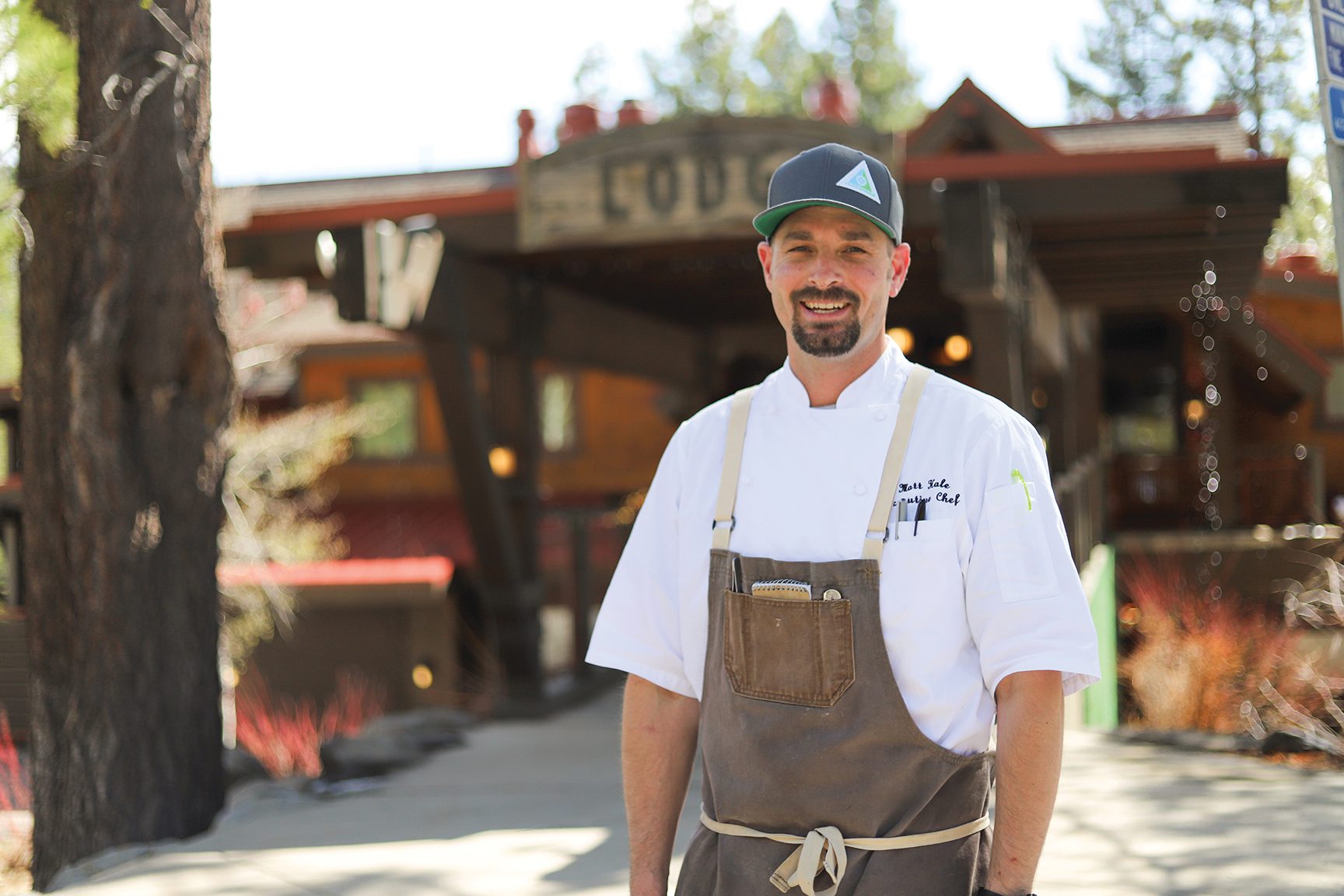 The Lodge & Pub executive chef Matt Hale most recently served in the same role at Skamania Lodge in Washington, along the Columbia River Gorge
27 Jun

A Neighborhood Gem Shines Even Brighter in Summer
The Lodge Restaurant & Pub at Tahoe Donner offers inviting food, forested views, friendly vibes and outdoor dining options
Tahoe Donner residents have seemingly been keeping a tasty little tidbit all to themselves—the Lodge Restaurant & Pub, tucked into the upper reaches of the 7,000-acre Truckee subdivision. Designed by award-winning Ryan Group Architects and built as a clubhouse-style amenity for its some 6,500 properties' homeowners, the restaurant is also open to the rest of us.
Solidly constructed with a welcoming covered walkway, shed roofs, and heavy timbers and railings, the 9,255-square-foot Old Tahoe-style building is situated amidst the towering pines on Tahoe Donner's 18-hole championship golf course. Inside, beneath the vaulted ceiling, vintage posters of winter and summer sports, as well as more modern touches like a large-scale Keoki Flagg metal print of Emigrant Peak at Palisades Tahoe, line the walls leading to the restaurant.
The 130-seat Lodge Restaurant & Pub is divided into several spaces. The lively pub, which can seat around 40 guests, has a bit of a tavern-meets-Cheers feel to it, locals lining the horseshoe-shaped bar to chat, catch a game on TV or sip a craft cocktail like a blood orange old fashioned. Pub fare features grilled fish tacos, buttermilk fried chicken sandwich and Angus burger with black garlic aioli.
A river rock fireplace anchors the main dining area, the Aspen Room; the Sage Room runs perpendicular to it, with both boasting big forested views. An adjacent enclosed porch with windows leads to an outdoor deck, where, in the warmer months, teak tables and chairs can accommodate another 50 diners. A new outdoor terrace pavilion with a circular fire pit, four fire tables and seating for some 80 people offers a casual lunch menu daily and is open with a more "pub style" menu for dinner Friday and Saturday nights in July and August (live music on Fridays).
Last June, Matt Hale took over for longtime chef Lew Orlady, who retired after a 17-year run. Hale (the brother of former Olympic snowboard-cross racer Jayson Hale) grew up in nearby Sierraville, where his parents cultivated a large garden and orchard every summer and also opened a local food co-op.
A graduate of Lake Tahoe Community College with an advanced degree in culinary arts, Hale worked at the former Pacific Crest Café, as well as Six Peaks Grille and Sandy's Pub at the Resort at Squaw Creek (now Everline Resort & Spa), winning awards for the Lake Tahoe Autumn and Wine Festival and Truckee Rib Cook-off along the way. He spent seven years as executive chef at Skamania Lodge in Stevenson, Washington, along the scenic Columbia River Gorge, recently returning to Tahoe to be closer to family and the Sierra sunshine.
Hale sources fresh, local, seasonal and organic ingredients whenever possible and seeks out the best natural meats and sustainable seafood on the market; his preferred purveyors include Kings Beach-based Habeger Produce Plus, Overland Meats in South Lake Tahoe, Gary Romano's Sierra Valley Farms in Beckwourth and Allen Brothers Seafood in San Francisco.
"I'm a full-on fisherman," says Hale. "I got way into it in Washington. I'm very much into the conservation angle." Pun intended.
Seafood-centric starters include Manila clams and Washington mussels steamed in a white wine saffron broth and grilled octopus with Fresno peppers, manchego cheese, fried leeks and cilantro oil atop a swath of romesco sauce. In addition to fishing, Hale is into foraging, adding to the menu forest mushrooms in port wine with herbs and goat cheese served with thickly sliced grilled ciabatta bread for soaking up every last bit of sauce. 
The menu changes seasonally, but recent entrees included Mary's all-natural chicken breast with fork-mashed garlic confit potatoes and lemon-garlic beurre blanc, braised short rib stroganoff and grilled skirt steak with roasted squash, zucchini, blistered tomatoes, eggplant and chimichurri sauce. Nightly specials are also based on seasonal availability, such as pan-seared steelhead with pickled onion, microgreens, mushroom risotto and arugula.
And for something sweet, look for desserts such as warm zeppole doughnuts (Italian-style doughnut holes rolled in powdered sugar) with dipping sauces, chocolate soufflé cake with Valrhona chocolate sauce and vanilla bean ice cream, and sticky toffee pudding cake with caramel sauce, maple bourbon ice cream and vanilla bean crème brûlée.
Offseason special programs include Mexican food-focused Fiesta Sundays as well as Bring Back the Mac, a month of novel riffs on mac and cheese that diners vote for inclusion on an upcoming menu.
Hale plans to offer lighter small-plate and shareable items this summer to replace some of the heavier winter entrees. He is also keen on setting up a smoker; a man familiar with both smoke and flame, Hale worked as a wildland firefighter while going to college, fought the Dixie Fire two years ago and still volunteers with Sierra County Fire Protection District.
Service here is friendly and professional. General Manager Christen Holland, a veteran of Moody's Bistro Bar & Beats (and whose husband Nate Holland is also a former Olympic snowboard-cross racer), has worked at the Lodge Restaurant & Pub for nine years. She oversees the West Coast-focused wine list that features some 14 selections by the glass, including a Coravin wine preservation system program that allows for rare single pours from vaunted wineries such as Silver Oak, Stag's Leap and Chateau Montelena. Corkage fees are waived on Wednesdays and, in addition to regular happy hours, look for special wine and beermaker dinners.
---
The Lodge Restaurant & Pub, 12850 Northwoods Blvd., Truckee, CA, (530) 587-9455. Dinner at the Lodge & Pub is served this summer Wednesday through Sunday. Reservations recommended. Lunch is served on the Pavilion daily, with a pub-style menu dinner served on the Pavilion Friday and Saturday nights.
---
TQ Food & Wine editor Susan D. Rock looks forward to a long lovely evening outdoors at the Lodge Restaurant & Pub this summer.