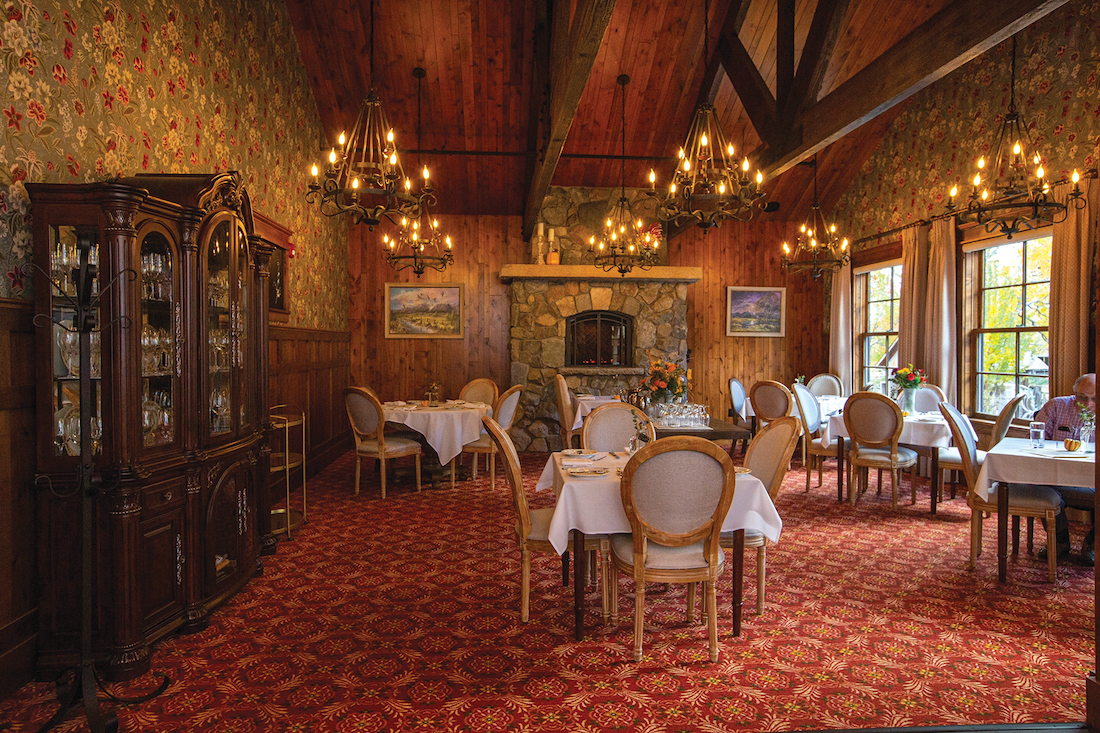 Daniel's dining room, anchored with a stone fireplace and antique breakfront, is both warm and elegant, courtesy photo
30 Nov

A Sweet French Toast
The spirit of the much-loved La Ferme restaurant lives on at Daniel's in Genoa
La Ferme was one of those restaurants. From the first seared foie gras to the last caramelized crème brûlée, for some two decades the endearing antique-filled bistro located in historic Genoa lured diners from across Northern Nevada for its authentic country French cuisine.
The restaurant, which launched in Incline's Christmas Tree Village before moving down to the Carson Valley, was as much about its owners, Belgian-born chef Yves Gigot and Basque-French Gilles Lagourgue, helming the front of the house. So when Lagourgue fell ill, eventually losing his fight against cancer, the little farmhouse also lost its heart and soul and shuttered in 2015.
Enter Lois Wray, who moved from San Diego to Genoa with her husband Daniel 15 years ago. They bought the adjacent historic Pink House, which operated as a cheese and charcuterie shop/cafe until this past October, and acquired the former La Ferme property in 2018.
"So many of us missed La Ferme ("the farm" translated from French), which was truly a gem for our community," says Wray. "We wanted to bring it back." Gigot, who still lived in Genoa and heard about the sale, got in touch. "I asked him what his dream job would be and he said to be back in that kitchen," adds Wray.
But the old structure, a 1904 guesthouse, was in serious disrepair. "Much of the electrical and plumbing had been jury-rigged over the years, which was a potential hazard," Wray says. "It would have cost more to refurbish than rebuild." With no special historic designation preservation requirements, the lot was scraped and a brand-new red- and white-trimmed farmhouse-style building constructed in its place, a three-year process from blueprints to completion. 
While awaiting his gleaming modern workspace, Gigot, a classically trained chef who made his U.S. debut at the storied L'Orangerie in Los Angeles, helmed the Pink House. He also returned to Incline Village, collaborating with chef Amy Simpson at another favorite restaurant now gone, Jack Rabbit Moon.
Daniel's, which opened its new doors in September 2021, is named for Wray's husband, who lost a sudden and short battle with cancer just after the property purchase. The roosters that serve as the restaurant's logo and dot the heavy wood-beamed, walnut-wainscotted, floral-wallpapered and white table-clothed dining room "are a nod to Dan and Gilles" and La Ferme, homage to the past with an eye firmly on the future—a fresh start rather than a reincarnation.
"We wanted to honor the spirit of La Ferme and all that Gilles and Yves did for this town, but at the same time wanted to create the feeling that this is Daniel's," says Wray.
The small standalone wood-and-stone structure called the Icehouse serves as a bar and venue for monthly wine tastings and is constructed with the original Genoa stone salvaged from the building that housed Gille's Menagerie Boutique. A meander amidst the jewelry, art and, yes, many handcrafted roosters that he had for sale was part of any La Ferme visit.
Guests enter the restaurant via a wooden wraparound porch complete with rocking chairs; the adjacent private brick patio strung with lights overhead offers outdoor dining in warmer months.
Inside, the small but handsome bar is well stocked with spirits familiar and exotic. General manager Casey Sebahar, who came from the Pink House, oversees the creative cocktail program that ranges from the Normandy November mixed with Calvados brandy, black tea, absinthe, brown sugar, honey, lemon, cinnamon stick and apple to the Lavender Old Fashioned made with local Frey Ranch bourbon, honey and lavender. He also manages an extensive and outstanding Euro-centric wine list that includes smaller, lesser-known Napa Valley producers; many pours are available by the glass. A dozen beers include rotating taps featuring local brews such as Reno Pigeon Head Swing Shift IPA; Belgian ales from Gigot's home country are well represented in bottles and cans.
Boasting an antique breakfront filled with crystal stemware, the quietly elegant dining room that can accommodate 28 guests is anchored with a sturdy stone hearth. Fresh-cut blooms from Sierra Flower Farm accent each table, attended by knowledgeable and experienced servers.
A carrot-and-ginger mousse toast amuse bouche accompanied by house-made potato chips is quickly delivered, followed by sourdough rolls (also made in house) served with a perfectly rounded ball of butter blended with Provençal honey and topped with truffle salt.
Wray, who also still owns several businesses in Nevada and California, stops by each table to chat. She works with Gigot and Sebahar to create the seasonally changing menu of classics presented in a contemporary style that bridge past and present. Many La Ferme favorites made the leap to Daniel's.
Appetizers include a griddled and browned warm goat cheese disc atop greens with toasted hazelnuts and balsamic vinaigrette; a roasted quail salad is tossed with mixed greens, bacon, mushrooms, quail egg and white balsamic vinaigrette. The red curry crab cake arrives crispy with just the right amount of Romesco sauce and spice. A ratatouille and confit tomato terrine is finished with a tomato vinaigrette. And yes, there's seared foie gras with confit apples, ring of crispy thin potatoes and honey jus.
On to the entrées, classics include a traditional braised rabbit leg in a Dijon mustard sauce with pomme frites and coq au vin "mere grande" (grandmother), and boneless chicken thighs braised in a red wine sauce served over carrots and fingerling potatoes. The menu also includes roasted duck breast, as well as rack of lamb Provençal. On the lighter side, look for grilled king salmon with fettuccine and fresh peas, as well as spinach pesto ravioli topped with a poached egg.
Nightly specials arise from "what looks really good from one of our purveyors or when Yves gets inspired by something," says Wray. Those might include selections such as a seared bluenose fish filet atop a bed of fried rice, finished with a soy-ginger-garlic sauce, or a changed-up chicken cordon bleu rolled around a delicate ham-and-cheese mousse.
Dessert. Gigot's classic sweet French finishes, such as boozy baba au rhum, tarte du jour, assorted chocolate plate and oeuf a la neige—whipped sweet egg white, lemon curd and creme Anglaise—pair well with a glass of Sauternes, sherry or port.  And yes, the crème brûlée is still superb, its caramelized sugar crust shattering with the tap of a spoon.
---
Daniel's, 2291 Main St. Genoa, NV, (775) 392-1822, danielsgenoa.com. Open for dinner Tuesday through Saturday. Reservations strongly recommended.
---
TQ Food & Wine editor Susan D. Rock remembers La Ferme and Gilles fondly and is delighted to know that both live on at Daniel's.