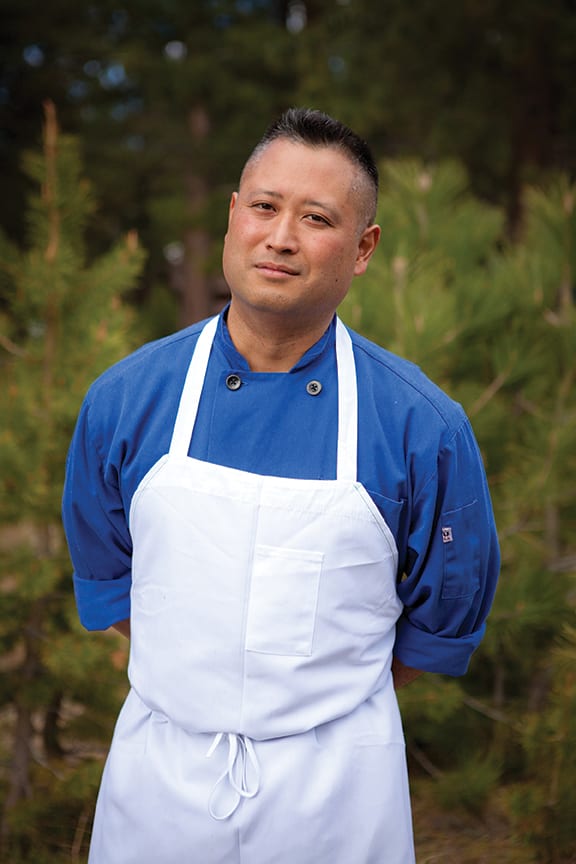 Jimi Nakamatsu, photo by Hall Creations Photography
25 Jun

Chopping Block: Q&A with Jimi Nakamatsu, executive chef at the Lake House

Born and raised in San Jose, California, Jimi Nakamatsu has worked as sous chef at Fifth Floor Hotel Palomar and Sushi Rock, both in San Francisco, and as executive chef at Kalani's in South Lake Tahoe. He is currently executive chef at South Shore's relative newcomer, the Lake House, which serves upscale comfort food.
Earliest culinary memories?
Scrambled eggs. I remember being around 5 or 6 years old and one morning, my mother taught me how to scramble eggs. I can still see and feel the cold linoleum on my bare feet, just barely tall enough to reach the top of the electric stove with its coil heating unit, hearing the sounds of sizzling oil as the eggs hit the pan and seeing my mother smiling. I'm pretty sure she regretted that decision, because the following weeks had me waking my parents really early on weekend mornings and asking, possibly begging, for them to allow me to make them scrambled eggs.
Also fond memories of Taco Bravo, the Giant Artichoke (long gone and, yes, you got to eat deep-fried artichokes all year round), and the Paul Mason Winery (super long gone), where we used to get chased by security as we rode our bikes through their vineyards.
Education—culinary and otherwise?
I'm the kid that, when the episodes of the "Herculoids" and "Space Ghost" were over on Saturday mornings, I'd switch the channel to PBS and start watching cooking shows. Jacques Pépin, Julia Child and "Great Chefs Great Cities" (that dumb theme song still plays in my head), they were my tutors, teachers, heroes.
Cooking has always been a part of me. I was that guy who would always bring the 'weird' stuff to the party. I was the guy who would have people over to try something that I 'concocted.'
My formal degree is in finance from California State University, Sacramento. I worked around in the dot-com days and I hated it. I always dealt in intangibles; I actually never made anything. I never woke up wanting to go to work. After serious soul searching, I chucked everything that I was comfortable with and traded my comfy cubicle, lunch breaks, 9-to-5 p.m. hours, weddings off, birthdays off, holidays off, weekends off, actual vacations, and enrolled in the California Culinary Academy in San Francisco.
What brought you to Tahoe?
A crazy, strange woman who continually dyes her hair every shade of the rainbow. She drives me insane and honestly, I truly can't live without her.
How did your gig with the Lake House evolve?
In the beginning, the chef position at the Lake House Restaurant started out like any other job. Over time, a transformation of sorts took place and now it feels more like a family than a career choice or employment. Owners Jeff and Misty Sparrow are the key to this nurturing environment. It's a rare thing when chefs and owners work as well together as we do. I think it stems from our shared beliefs of caring about what we do, how we do it and the people that we employ and serve. It's a wonderful thing when 'work' doesn't always seem like 'work' and we can just focus on doing our best every day.
What inspires your menu?
Menu items, catering items, special event planning and items that we serve out of our mobile food trailer come from all over the place. One day Jeff and Misty might have ideas, sometimes my cooks or even servers chime in with their input and then some days I just get something stuck in my head until it needs to get made. We take all those ideas and then start building on them: trial runs, testing things out, all the fun stuff that makes cooking challenging. It's nice to remain completely flexible, not be limited in anything, field all sorts of concepts and turn them into something tangible and wonderful.
Go-to kitchen tool?
People will always tell you that it's their knife. I'm kinda a weirdo, so I'm gonna tell you that it's my spoon. Spoons do everything. The versatility ranges from the mundane of stirring something, tasting or even more advanced things like quenelles, pan sauces on the fly and even caramelizing sugar on a crème brûlée. When I first started cooking I learned how to cook meat with a spoon. Searing a piece of meat in duck fat, then adding butter, herbs and whole garlic cloves, all the while basting the piece of meat with that oversized spoon. It is the best thing ever. If you're picking up a leg of duck confit and continually baste it, you can actually see the meat tightening up all around the bone as the hot butter surrounds and sears it. And the smell of the herbs, butter and garlic are amazing.
Purveyors with which you like to work?
I try to use Sierra Meats, which is a family-run business that runs out of Reno, as much as I can. I really like what Tahoe Food Hub is accomplishing lately and I hope there's a way I can incorporate them in our business. I plan to go to the local farmers markets weekly and pull ingredients that are unique or look fantastic that we can highlight on specials or in menu items.
What's in your home fridge right now?
I work a lot, which means the contents of my refrigerator is embarrassing. I'm hardly ever home to cook real meals, so it's really just randomly packed with condiments and things that I forget to throw away. Right now, there is some miso paste, 15 Tecates and some V8 (been on a michelada kick lately), one small pack of natto (fermented soy beans), a jar of pickles that one of my friend's mom made from 2009, and a tablespoon of cotija cheese, to name a few.
Strategy for winning Sample the Sierra's Best Experience award last year?
I love the event. It's one of the few in South Lake Tahoe where chefs and restaurants truly get to meet the Lake Tahoe community and showcase what they can do. Realistically, my focus isn't really winning a prize. I think it's more about providing the crowd with some great food and fun so that everybody 'wins.'
Favorite summer Tahoe spot?
My friends and I like to do crawfish boils in the summer, so we have a secret place where we go to catch them. If I give out the location, I might die under extremely suspicious circumstances.
---


Spicy Baba Ganoush with Kalamata Olives and Root Vegetable Chips, photo by Hall Creations Photography
Chef Jimi Nakamatsu's Recipe for Spicy Baba Ganoush
with Kalamata Olives and Root Vegetable Chips
I always think simple is better and baba ganoush is a perfect example of simplicity of flavors. This recipe is gluten-free, vegan and can be used as a simple dip or even as a component on a dish. At the Lake House Restaurant, we serve it two ways, as a dip with a little sambal chili sauce and Kalamata olives to spice it up, and we also pair it with our pan-roasted steelhead trout with a lemon caper beurre blanc sauce.
BABA GANOUSH (yield: 1 quart)
Ingredients:
2 large eggplants
Extra virgin olive oil
1 large lemon
1 tsp minced garlic
1 tbsp tahini
2 tbsp extra virgin olive oil
1 tbsp chopped fresh thyme
1 tbsp chopped fresh oregano
1 tsp cumin
Salt and pepper to taste
Sambal chili sauce
Kalamata olives (sliced)
Chives
Directions:
Preheat oven to 350 degrees. Split the eggplants in half lengthwise and toss them in the olive oil and season with salt. Place skin side down on a sheet pan lined with parchment paper and place in the oven and roast until the meat of the eggplant is cooked through, approximately 30 to 45 minutes. Remove and cool down.
Scrape the meat of the cooled down eggplant and remove any of the skin. Place into a food processor and add all the remaining ingredients. Blend thoroughly and add salt and pepper until well seasoned. Adjust to taste.
At the restaurant, we spoon some of the baba ganoush into a bowl, top it with some sliced Kalamata olives, spread a little sambal chili sauce on it and garnish it with chives.
ROOT VEGETABLE CHIPS
Ingredients:
2 each white sweet potatoes (medium size)
2 each garnet yams (medium size)
2 qts canola oil
Kosher salt
Equipment:
Mandoline
A candy or oil thermometer
1 gallon pot for frying
Large pan lined with paper towels
Directions:
Place the canola oil in the pot and using the thermometer, regulate the heat to a constant 300 degrees. Peel the sweet potatoes and yams and, using the mandoline, start slicing "chips" lengthwise with almost the lowest possible setting. You're looking for the chips to slice cleanly from front to back with an even thickness. Ideally, I shoot for about 1/16 of an inch.
Add the chips to the tempered oil in small batches (to prevent over bubbling of the oil as well as maintaining a constant temperature) and continually move them around for even frying.
The chips are done when the water of the chips has evaporated out of the chips and there are hardly any bubbles emanating from the root vegetables.
Transfer the chips from the oil onto the pan lined with paper towels to drain any excess oil and season with salt. Let the chips sit and they will really crisp up when they are cooled down.
Repeat the process until all your chips are fried crispy.
Notes:
We use white sweet potatoes and yams, but you can also do this with regular russet potatoes, large taro root, lotus root and yucca for a more varied chip selection.
Use caution when deep frying. Keep your area clean and never overcrowd the oil with too much product or the oil could overflow from the pot.
Seasoning can be done with your choice—garlic, salt, rosemary, anything you can think of.