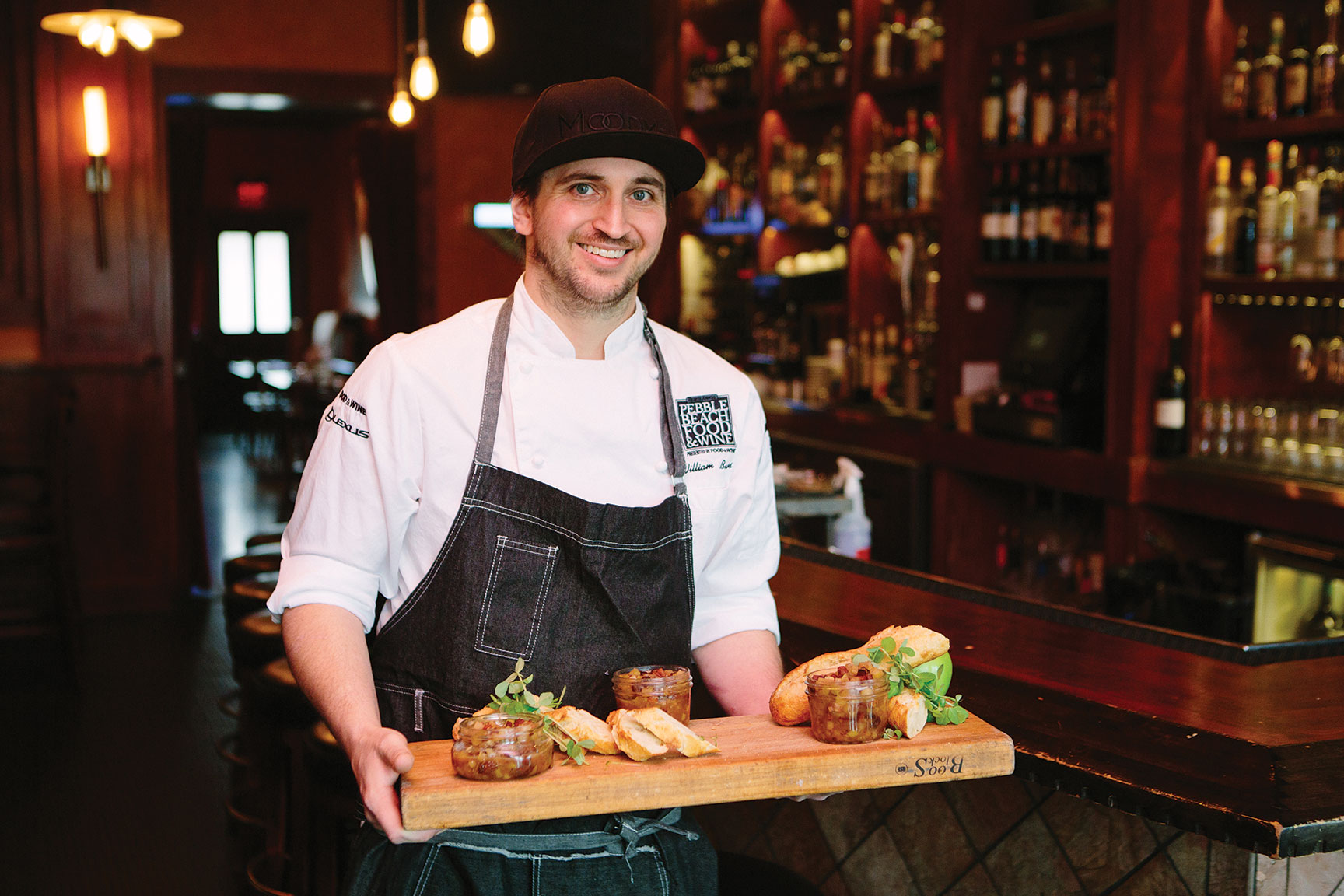 Chef William Burns, photo by Jen Schmidt
02 Dec

Chopping Block: Q&A with William Burns, executive chef at Moody's Bistro, Bar & Beats

Executive chef at Moody's Bistro, Bar & Beats in Truckee since 2012, William Burns grew up in Connecticut and graduated from New York City's prestigious French Culinary Institute. A veteran of the city's celebrated Le Bernardin and 11 Madison Park, he traded East Coast for West, working at the Ritz-Carlton, Laguna Niguel, before finding his way to Tahoe.
Earliest culinary memory?
Washing dishes and watching the hot line get buried and thinking of how much fun that would be.
What brought you to the area?
Mostly skiing, but also to work for Chef Traci Des Jardins at the Ritz-Carlton, Lake Tahoe.
Describe your style of cooking.
French background with a farm-to-table approach.
Favorite ingredient?
Thyme. It's subtle but great.
Purveyors you especially like?
Heidi Watanabe in Sacramento with her heirloom tomatoes and Ernie Gerome's line-caught salmon out of Bodega Bay.
How has the Moody's menu evolved during your tenure?
It's all trial and error really. Over time, it's become more approachable as my culinary experience expands.
Any menu changes or specials we should look for this winter?
A lot more game and heartier dishes.
Go-to meal you make for yourself?
Mac and cheese.
Top kitchen tool/implement?
Vitamix Vita-Prep.
What's in your home fridge right now?
Five flavors of La Croix, eggs, cheese, bacon, bread and milk.
Describe your experience at the Pebble Beach Food & Wine Festival.
Amazing. It was the greatest cooking experience I've ever been a part of. I felt like a kid in a candy store cooking dishes you can't put on your menu because the cost is way too high.
Tell us about your family.
My wife Ashley, daughter Avery and I have two dogs, an Akita named Bear and a black Lab named Stokes.
Hobbies?
Family hikes with the dogs, playing with my daughter and working on my Tacoma.
Anything else we should know?
Tom Brady's innocent. Go Pats.
---

Photo by Jen Schmidt
---
Chef Burns' Recipe for Bacon-Apple Jam
This cold-weather recipe, which yields about two mason jars, goes great with pork. The recipe could be cut in half or quartered to make a smaller batch.
Ingredients: 
1 bulb fennel
4 shallots
2 cloves garlic
6 apples
1½ lb thick-cut applewood smoked bacon, cooked
1 cup sherry wine
2 cups apple cider
1 cup currant jelly
Salt and pepper
Directions: 
Brunoise (finely dice) all the ingredients. In the bacon fat, sweat the shallots, garlic and fennel until soft, then strain out the fat and deglaze with the wine. Add the apples and cider and reduce to au sec (nearly dry). Add currant jelly and bacon to the pot and cook until the consistency is thick like jam. Salt and pepper to taste. Store in mason jars.