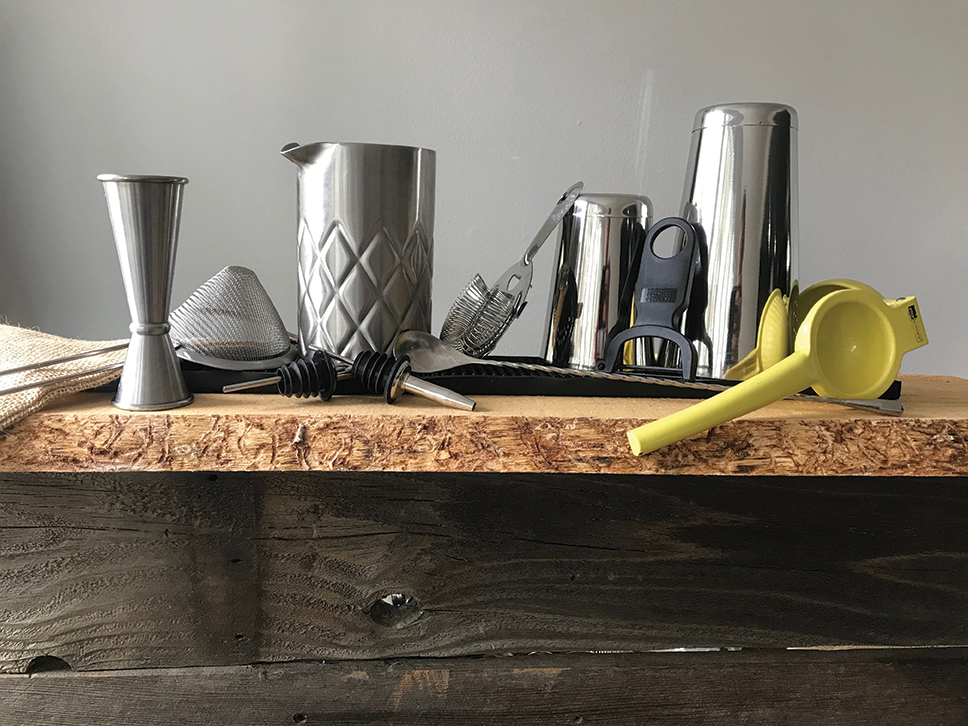 Tools for your home bar include (from left) a Lewis bag, jigger, mesh strainer, pouring spots, Yarai-style mixing container, Hawthorne strainer, long bar spoon, shakers, peeler, juicer and bar mat, courtesy photo
25 Jun

Cocktails in the Time of Corona
Setting up your own home bar is easier than you might think, especially with help from a pro
During the depths of COVID-19 quarantine, did you miss your favorite bartender? Pine for your usual cocktail? Watch actor Stanley Tucci's viral lounge music-laced Negroni video with wonder?
In this ongoing COVID-19 cycle of days with no end, and often no clear end to the day, cocktail hour has become a coveted ritual to mark the passage of time. Sure, twisting the top off a bottle of beer or wine is expedient, many a mixed drink is available curbside, and once again at your local watering hole, but taking the time to compose a chilled adult beverage may just be a little more rewarding.
With a functional bar and a few mixology basics, budding bartenders can soon be sipping something shaken or stirred at home—and check the "new skill" box along the way. We asked Michelle Stohlgren, a former competitive snowboarder who honed her bartending skills with Truckee Tavern's Ryan Dierks and now owns Garden to Glass mobile beverage service, for a few tips to get started.
Spirits
Stock your own personal speakeasy with your favorite spirits, especially in this time of the quarantini when you may be making a drink for… you. But adding the base liquors from which most cocktails are made—gin, vodka, rum, tequila, whiskey and brandy—will also enable you to expand your bartending repertoire and cater to a wider range of personal preferences and tastes, especially once entertaining opportunities return in earnest.
As for quantity versus quality, Stohlgren suggests avoiding bottom shelf spirits as those tend to have a harsher bite and can throw off the balance in your cocktail. Pro bartenders stock well-priced workhorse spirits—for example, bourbons such as Buffalo Trace, Elijah Craig or Four Roses, which retail around $25 a bottle and work well in mixed drinks. This is also a prime time to try one of the small-batch spirits produced by distilleries in the Tahoe-Reno area (see sidebar below).
Mixers and Modifiers
Aromatic bitters—alcohol-based flavoring made from herbs, bark, roots and fruit first designed to alleviate digestive ailments—is a bartender's staple, a secret sauce of sorts. Many flavored varieties are on the market, but the standard and perhaps the most well-known is Angostura in the oversized white wrapper.
"It is used in a lot of cocktails, especially those that are spirit forward," says Stohlgren, a wilderness enthusiast who also incorporates Tahoe-foraged ingredients into her drinks. "The cool thing about bitters is that it's a nice bridge. For example, bitters can take a daiquiri to another element, contrasting that sweetness and adding a layer of spice. It's just fun to play with, and really, really versatile."
Of course, if you like a martini, Manhattan or Negroni, vermouth, the botanical flavored fortified wine, is essential (Tucci opines on this in the aforementioned video). Just be sure to refrigerate, along with syrups and other perishable mixers.
Tools
The basic must haves, which can be purchased for around $40: shaker, jigger, Hawthorne strainer (the coiled contraption used to keep ice and ingredients in shaker), long bar spoon, hand juicer, peeler and bar mat. As your bartending prowess progresses, Stohlgren suggests adding a mesh strainer, additional shakers (to mix multiple drinks at once), pour spouts, muddler, Lewis bag (made of canvas for crushing ice) and a burnt cedar plank (to add a wisp of smoke).
Glassware
Keep it simple and start with sets of high ball and coupe (stemmed with broad shallow bowl) glasses, then add the taller Collins tumblers.
Ice
It's easy to up your game with the larger so-called king cubes, which make a nice presentation and melt more slowly in the glass. Size is just the tip of this iceberg; clarity counts too.
"Ice is such a heavily discussed topic in the cocktail world," says Stohlgren, who teaches classes at Sierra College, leads wilderness expeditions with Alpenglow Sports and established Old Trestle Distillery's foraging and alchemy program. "There are really two types of ice—clear and non-clear.
"Clear ice is completely clear and has no oxygen bubbles; oxygen bubbles cause the cubes to melt faster, which waters down your drink. Purists also argue that oxygen can affect the flavor of spirits. Making clear ice is a multi-step process, and it involves insulation to slow the freezing of the water, which allows oxygen to escape so it's not preserved in the cube. In short, I recommend a clear ice mold."
Bar Placement
The first rule of thumb is to avoid direct sunlight and temperature fluctuations—and storing bottles based on what you use the most.
"I like to keep nicer bottles stored in cabinets. That way when I bring them out for special guests there's a wow factor," says Stohlgen. "I tell my friends/family that I have a special bottle I've been saving for just an occasion…"
Recommended Reading
Death and Co: Modern Classic Cocktails, and for advanced expertise, Liquid Intelligence.
The most important consideration when setting up a home bar? "Give your bar your own personality," says Stohlgren. "Stock the things you like to make and drink and have fun with it."
And to that, we say, cheers!
---
Susan D. Rock is Tahoe Quarterly's longtime Food & Wine editor.
---
Watermelon and Roasted Jalapeño Margarita
Try your hand at this delicious and easy summer cocktail (or mocktail), courtesy of Michelle Stohlgren.
To make watermelon and jalapeño syrup:
1 small watermelon or 4 cups watermelon
3 cups water
1 roasted jalapeño
1 cup sugar
• Roast a jalapeño by placing it on your stove's burner with the heat on medium. Rotate until all sides are charred. Place watermelon, water, sugar and jalapeño into a blender and process on medium until your mixture becomes a thick liquid (for less spicy, use half jalapeño).
• Using a fine strainer and a big bowl, empty mixture through the strainer to catch any fruit chunks; you will be left with a gorgeous pink syrup. Store syrup in an air-tight container in your fridge until ready to use. Should keep for up to a month; you can also freeze.
How to make margarita (makes one cocktail):
2 oz watermelon and jalapeño syrup
1/2 oz fresh lemon juice
2 oz reposado tequila (can substitute mezcal)
• Put all ingredients into mixing tin with 1/2 cup ice, and shake hard for 20 seconds. 
• Salt glass rim and fill halfway with ice. Place Hawthorne strainer on mixing tin and pour cocktail into glass. Garnish with a piece of watermelon.
"On a side note, this recipe is very versatile," says Stohlgren. "If you don't like tequila, you can easily substitute bourbon, vodka, rum or gin. You might have to play with your ratios to get the perfect balance, as some spirits are naturally sweeter than others. A few other options are a non-alcoholic version with soda water instead of spirit, or a champagne cocktail with bubblies in place of the tequila."
---
Distilleries in the Tahoe-Reno Area
Old Trestle
Tahoe Blue Vodka
Bently Heritage Estate
Seven Troughs
10 Torr
The Depot 
Ferino 
Forsaken River Spirits Company
Branded Hearts 
Verdi Local 
Frey Ranch Estate