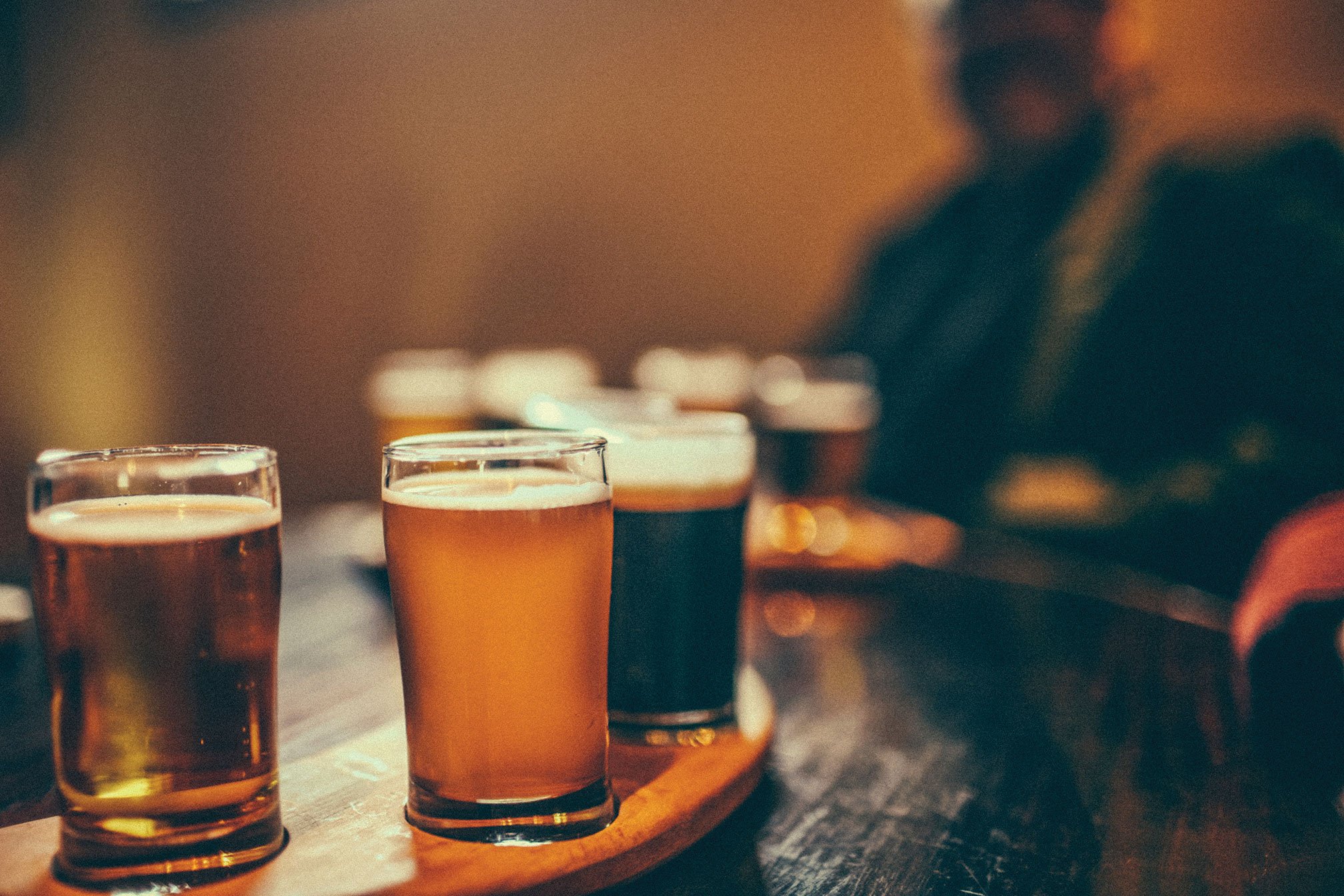 26 Apr

Craft Brewery Boom

Beer is proof God loves us and wants us to be hoppy. While there is no proof Ben Franklin actually uttered those words, we do hold this truth to be self-evident: The Tahoe-Reno region is awash in the current craft beer buzz. Prohibition pretty much put the lid on most local beer production in Nevada until 1993, when the state legislature legalized brewpubs (long after brothels). Seems suds lovers have recently sniffed out a special something in the High Sierra water, and a big old batch of production facilities, taprooms and pubs have set up shop to keep pace with a thirsty albeit discerning crowd. Here's our guide to what's brewing.
Reno

846 Victorian Ave., Sparks
5525 South Virginia St., Reno
Buzz: Reno's largest and longest-running brewpub operation was the first to open since Prohibition. A second location launched in 2010. Brew: Ichthyosaur IPA, better known as "Icky," after Nevada's state fossil. Bite: Willy Dillys, thick-sliced pickles, made by Nevada Brining Co. with Icky IPA, flash-fried in Wild Horse Ale batter and served with ranch. Bit: Icky artisan breads baked daily with leftover barley, brewer's yeast and local honey are delicious and help reduce the brewery's overall waste output.
Silver Peak Restaurant & Brewery
124 Wonder St., Reno
Silver Peak Grill & Taproom (a.k.a. River Peak)
135 North Sierra St., Reno
Buzz: The original location, opened in 1999, boasts a rooftop terrace on which to sip one of a dozen regular house and seasonal brews. Brew: Peavine Porter, in honor of Reno's local peak. Bite: Jamaican-style jerk chicken pizza baked with dough made from brewery grains, topped with bacon, onion, peppers, mozzarella and a sweet and spicy Caribbean sauce. Bit: Owners Dave Silverman—a Culinary Institute of America (CIA), Hyde Park, grad chef—and Trent Schmidt—University of Nevada, Reno, alum brew master—have been pals since high school.
345 North Virginia St., Reno
Buzz: The first casino-operated microbrewery, this 20-year-old spot inside the El Dorado/Silver Legacy complex is named for the Carano family brothers. Brew: Redhead Amber Ale, a German-style altbier. Bite: Big Boy Mac & Cheese: rigatoni pasta mixed with beer–cheddar cheese sauce, crisp bacon and caramelized onions, topped with a potato chip crust. Bit: Because the fermentation room is on the roof, the beer moves two stories up and back down (from the third to the fifth floor) during the production process.
865 South Rock Blvd., Sparks
Buzz: Originally launched in Carson City, now located in Baldini's Casino, beers here are brewed in a 15-barrel production facility right behind the bar. Brew: Buzzed Bee Honey Ale, made with local orange blossom honey. Bite: Crispy Alaskan cod hand-battered with sesame Irish Red Ale beer batter, served with fries and tangy tartar sauce. Bit: HSB founder and former owner Jim Phalan (of Firkin & Fox in Carson and the former Firkin & Wolf at Sierra Summit) owns the rights to the historic Reno Brewing Company name and trademark so stay tuned there.
840 East Fifth St., Reno
Buzz: This newcomer specializing in lagers, whose name was inspired by a somewhat creepy old oil painting, set up shop in a former SPCA building. They like to say, "You used to come here to get cats, now you can come here to get your kegs." Brew: Pilsner, crisp and clean, showcasing top-quality German malts and hops. Bite: This tasting room with wooden picnic and stand-up tables also has a patio and food trucks like Starkey's and Stephon's Mobile Bistro parked outside. Bit: Base grain used in brewing comes from Fallon's Churchill Vineyards; lagering tanks were converted from old dairy tanks.
559 East Fourth St., Reno
Buzz: A ten-tank brewery, focused on producing "dry, sessionable, easy-drinking beers," aims to blend styles, create hybrids and experiment. Brew: Berlinerbeer, European-style sour ale. Bite: Tasting room with a big bar and indoor bocce ball court; food trucks often set up outside. Bit: Name derives from its location beneath 10,778-foot-high Mt. Rose.
475 South Arlington Ave., Reno
Buzz: This wood-paneled eatery and small-batch brewery continues to make Tahoe brand beer started by the now-defunct Reno Brewing Company established in 1903. Brew: Tahoe Amber, malty, hoppy with slight sweet-toffee caramel finish. Bite: Beer-battered salmon and chips with lemon-caper aioli. Bit: In the spirit of community collaboration, BC started the Strange Brew Festival last year, encouraging unexpected offerings like its own Roasters Imperial Coffee Stout, produced in conjunction with Imperial Bar & Restaurant and Hub Coffee Roasters.
901 South Center St., Reno
Buzz: Brought to you by Art Farley, owner of St. James Infirmary, this brewery-restaurant in the renovated historic Crystal Springs building features Old World–style ales and lagers and European comfort food. A second Brasserie just opened in San Francisco's Mission District, and Farley plans to open The Saint bar and music venue in Midtown later this year. Brew: Third Man, Belgian-style tripel. Bite: Porter-braised lamb shank, five-chili mole sauce and creamy polenta. Bit: Beers are produced with Sierra mountain spring water from an active artesian lake located 285 feet below the building.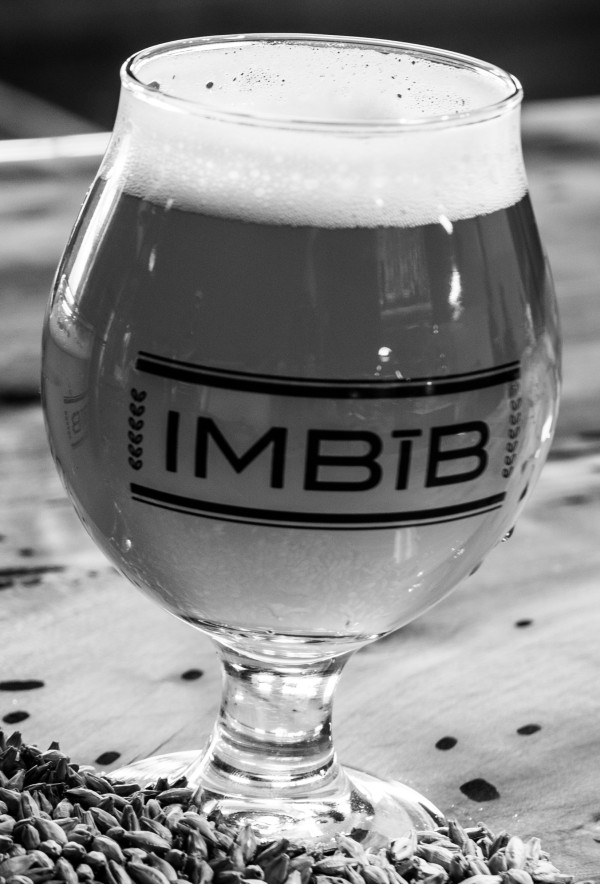 785 East Second St., Reno
Buzz: Old World barrel-aged beers ranging from wild to funky to sour are on tap in this rehabbed 1950s-era ex Earl Scheib building. Brew: Berliner Weisse, clean and sour. Bite: In addition to events like Girl Scout cookie and beer pairing night, get your chow on Thursdays from food trucks like Smee's Alaskan Fish Bar, Fire on the Mountain wood-fired pizza and Nom Eats vegan and vegetarian fare, as well as several food delivery options. Bit: IMBĪB started the first community-supported ale club membership in the region.
5301 Longley Ln., Reno
Buzz: What started as a homebrew operation is officially the area's smallest (nano) brewery, turning out five types of "beer that rocks" inside a small warehouse. Brew: Galena Gold Amber, English-style with distinct hoppy overtones. Bit: The brewery's curious Polynesian appellation derives from brewer-owner Paul Michelini's pal, who deemed Galena Gold "too stoney" (in a good way). An Easter Island–style moai graphic solidified the deal.
The Depot Craft Brewery Distillery
325 East Fourth St., Reno
Buzz: This three-story brick building dating back to 1910 originally served as headquarters for the Nevada-California-Oregon railway. The state's first combined brewery and distillery, the well-preserved space now serves a rotating lineup of adult beverages brewed in copper kettles. Brew: The Wild 49er, a Belgian-style ale with apricots fermented in merlot wine barrels. Bite: Depot Blacksmith Stout molé-braised lamb shank served with grits, confit radish and daikon sprouts. Bit: Chef Kevin Clement is a CIA-Hyde Park grad who honed his chops locally at Campo and Midtown Eats.
15 Foothill Rd., Reno
Buzz: Although Beer NV doesn't produce any beer itself, this swank South Creek spot earns a slot for its 60 rotating taps, the largest selection in Northern Nevada. Tap takeover nights feature specific sorts of pours, including an all-local brew night. Brew: Lassen Ale Works India Pale Lager, brewed up the road in Susanville. Bite: There's no food service but patrons are encouraged to bring in outside food—Yosh's Unique Deli, South Creek Pizza and Los Compadres are just doors away. Bit: Beer NV's mobile unit brings the party to you.
Tahoe North Shore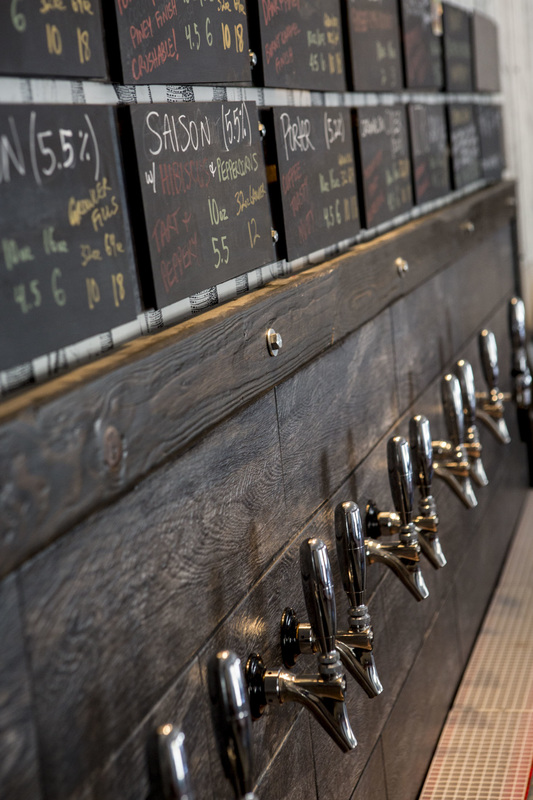 204 East Enterprise St., Incline Village
Buzz: Twelve to 15 beers are on tap at this converted auto parts store in an industrial part of town. Brew: Rauchbier, a German amber made with cherrywood-smoked malt that imparts a bacon-esque smokiness. Bite: No food service, but food trucks like Starkey's, Sol Food and a regular pop-up sushi night fill the bill. Patrons are also welcome to BYO eats or order from one of the area restaurants. Bit: Well-behaved dogs are welcome; sometimes four-legged patrons outnumber two.
475 North Lake Blvd., Tahoe City
Buzz: Barrel-aged ales are brewed in Truckee, where you can take a brewery tour or stop by the taproom there for a taste. Brew: Higashino Farmhouse, with flavors of Szechuan peppercorns, Asian pear juice, Sorachi Ace hops and toasted brown rice. Bite: House-smoked bratwurst, served with sautéed red peppers and onions on a pretzel bun with a side of house-made beer mustard. Bit: This family-friendly spot with outdoor seating right across from The Lake may win in the 'best brewpub view' category.
11197 Brockway Rd., Truckee
Buzz: This lofty mountain-rustic spot, with gleaming tanks inside and a spacious patio outdoors, is frequented by the aprés-everything crowd. Truckee's mayor is a part owner and regular patron. Brew: Eclipse Imperial Stout, aged in oak bourbon barrels for six months and redolent of dark chocolate, espresso, vanilla, coconut and tobacco. Bite: Kale 'n Ale Salad tossed with dino kale, Maytag bleu, apples, spiced nuts and Base Camp Ale citrus vinaigrette. Bit: Contender for most cringe-worthy tagline for a beer: "Donner Party Porter—your friends never tasted so good."
67007 Highway 70, Blairsden
Buzz: This 15-barrel brewery on a forested property near Graeagle, north of Truckee, produces high profile ales. The Trail of Tastes self-guided tour gives guests the option of learning about the brewing process and includes a flight of five beers. Brew: Uncle Elliott's IPA, hoppy with a touch of caramel, brewed annually on Feb. 2 and available around a month later. Bite: No food service, but you can bring a picnic or use one of the three barbecues to fire up some eats. Bit: A nine-hole disc golf course and slack line keep the active busy; dogs are welcome here, too.
South Shore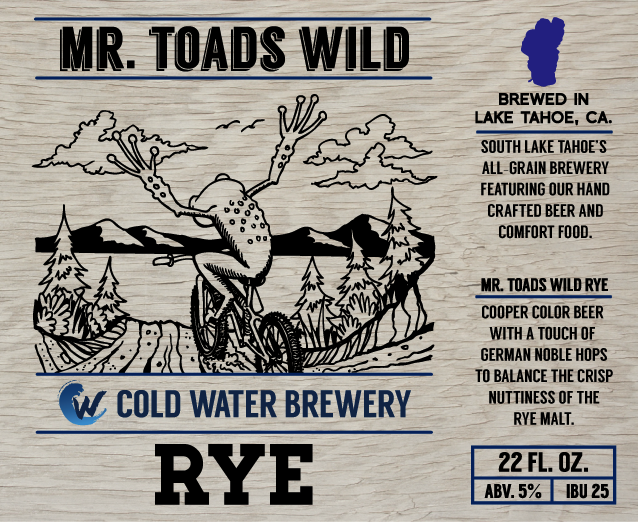 2544 Lake Tahoe Blvd., South Lake Tahoe
Buzz: Owned and operated by Debbie Brown, former general manager at Stateline Brewery, Cold Water serves up a California-style comfort food menu courtesy of Chef Justin Kaplan, formerly of Martis Camp. Brew: Mr. Toad's Wild Rye, named in honor of the iconic Tahoe mountain bike trail. Bite: Mussels simmered in Cold Water Ale broth with Andouille sausage and grape tomatoes. Bit: The renovated building was home to Baumann's Swiss Chalet (which still sells its salad dressing online) for five plus decades.
Stateline Brewery & Restaurant
4118 Lake Tahoe Blvd., South Lake Tahoe
Buzz: Located at Heavenly Village, four ales and lagers are on tap, along with a half-dozen rotating selections like Boont Amber from Anderson Valley Brewing. Brew: White-Out Wit, a light unfiltered wheat beer with orange peel and coriander. Bite: Soft-shell crab sandwich made with Avalanche Ale beer-battered soft-shell crabs, served on a sourdough roll with lemon slaw, tartar sauce and sherry vinegar. Order with a side of beer-battered fries. Bit: Motto here is "Drink Tahoe Brew," a foamy play on the League to Save Lake Tahoe's Keep Tahoe Blue.
3542 Lake Tahoe Blvd., South Lake Tahoe
Buzz: With its aim on ales, the first brewpub at Lake Tahoe opened in 1992 in a 1930s-era red brick building. Brew: Bad Ass® Ale, the signature deep burgundy–colored drink. Bite: Shrimp Po Boy—Palisade Pilsner–battered shrimp, bacon, shredded cabbage tossed in Sriracha aioli with lettuce and tomato on a toasted French roll. Bit: When it opened, The Brewery focused on making beer, its menu constrained by a postage stamp–size kitchen, but quickly gained a following for its Michelangelo pizzas made with Bad Ass® Ale pizza dough.
Sidellis Lake Tahoe Brewery & Restaurant
3350 Sandy Way, South Lake Tahoe
Buzz: The newest addition to the South Shore craft brewery line-up, this simple wood-paneled spot behind the DMV (formerly occupied by Bitter Creek Bar) launched early this year with a mission to focus on beer first, food second. Brew: South Shore Sour, light and refreshing Berliner-style fermented for a month. Bite: Peri Peri pulled pork—spicy pulled pork covered in house Pale Ale barbecue sauce and served with brewery slaw. Bit: Sidellis is a conflation of the names of Australian-born Chris Sidell (an alum of the UC Davis viticulture and oenology program) and his husband and one of the five local owners, Elwood Ellis.
Virginia City Brewery and Tap House
62 North C St., Virginia City
Buzz: Pioneer-miner types founded Nevada's first brewpub—Carson City Brewing—in Virginia City in 1860, four years before statehood. That spirit and history lives on at this spot specializing in American craft-style beers created with water from Marlette Lake located high above Lake Tahoe. Brew: 601 IPA, named for a vigilante group "formed to combat lawlessness in Virginia City… Six Feet Under, Zero Trial, One Rope." Bite: Steamed beer brats and pulled pork sandwiches headline the limited menu; several local restaurants deliver to the brewery. Bit: The brick building dates back to 1875.
---
Susan D. Rock is an Incline Village–based writer and editor who enjoys the occasional brew after chasing her sons from basketball practice to cross-country practice.