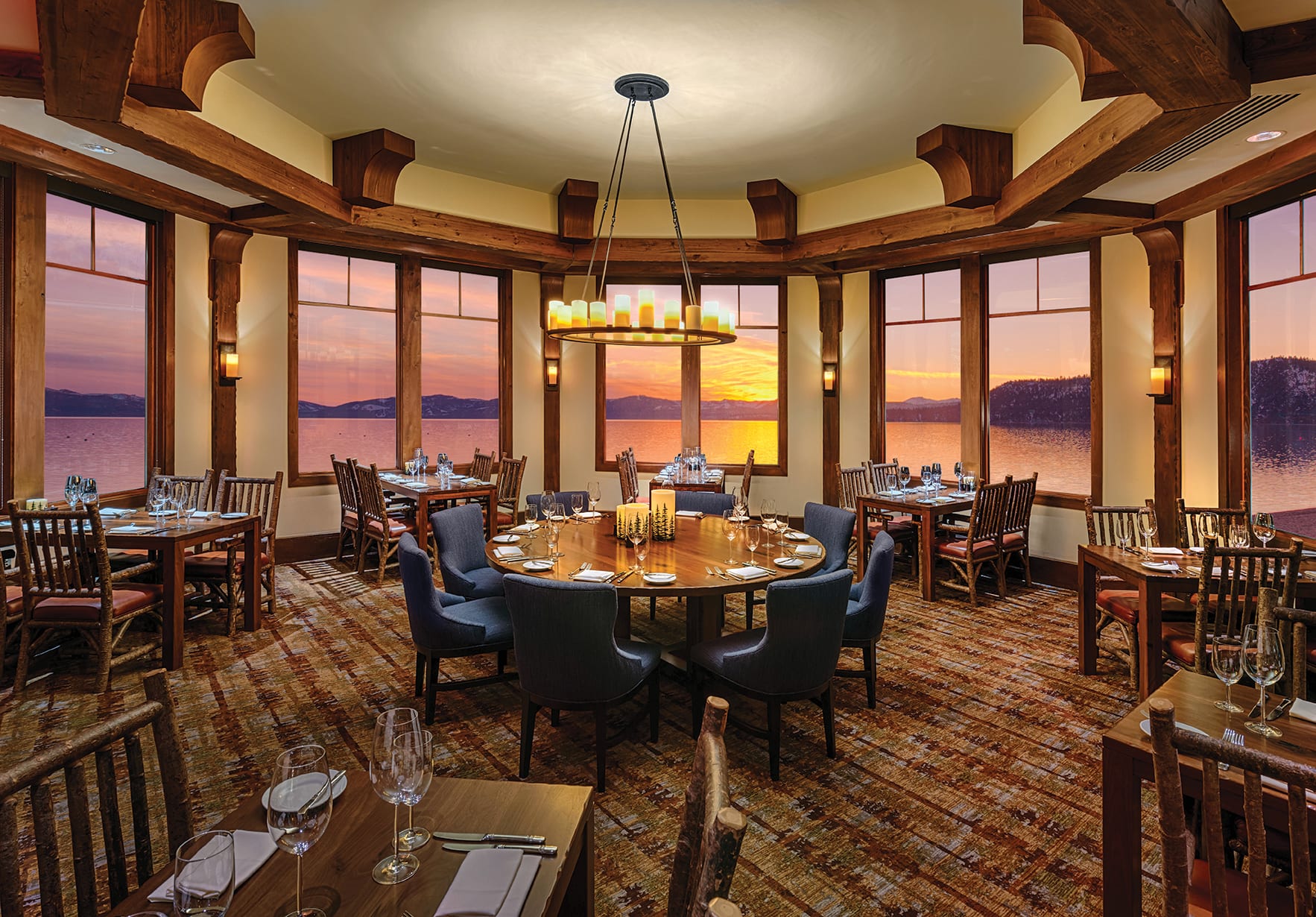 The Lone Eagle Grille in Incline Village features stunning views from its lakeside location
25 Jun

Flavors Soar at the Lone Eagle Grille
Hyatt's signature restaurant pairs inviting lakefront location with delectable menu
Ah, the age-old-view-versus-food-quality conundrum. Seems so often diners must sacrifice one for the other. Fret not, though: The North Shore's Lone Eagle Grille has figured out how to do both well, in a big way.
Part of the Hyatt Regency Lake Tahoe Resort, Spa & Casino in Incline Village, the soaring lakefront setting serving New American cuisine has grown in its 23 years into a gathering spot on a grand scale for both locals and visitors alike.
Located across the street from the Hyatt's main hotel tower, the stand-alone building doesn't give away much from the parking lot. But once through the door, the lofty, lodgelike venue reveals itself with a birds-eye view—a vaulted ceiling supported by heavy wood beams, an interior decorated with rustic furnishings and a spacious room punctuated by a towering two-sided river rock fireplace.
A staircase descends into the often buzzy lounge, home to longtime local guitarist–vocalist Luke Stevenson and his songbook. On the far side of the hearth, past the open kitchen, the main dining room boasts butcher block tables and stick furniture seating for 176 guests.
On top of the welcoming ambiance inside, the near floor-to-ceiling windows frame the main attraction—the panoramic mountain and lake views outside.


Lone Eagle Grille's fire pit on The Lake
In summer, many diners opt for the glass-enclosed seating near the dining room or head for the Adirondack chairs around the fire pit closer to the lounge. Steps away, Pier 111 Bar at the end of the Hyatt's 275-foot floating dock is popular with boaters and a lively way to start the evening regardless of manner of conveyance or onward plans.
By now all this drinking in of views and fresh air has stoked an appetite. Good thing chef de cuisine Shane Hammett's hearty mountain-inspired menu awaits. Hammett, a Sacramento native who has presided over the Lone Eagle Grille's kitchen since 2012, is a graduate of Le Cordon Bleu Culinary Program at the California Culinary Academy in San Francisco. After completing a stint at the Napa Valley Grille in Yountville, he worked as sous chef at the Blackhawk Grille in Danville and then at the Michelin-starred former Etoîle Restaurant at Domaine Chandon Winery in Yountville. He helped open Zinnia in San Francisco and spent three years as executive chef of Amber Bistro in Danville before landing at the Lone Eagle.
"Two main things make my job a dream job for a chef," says Hammett, who lives in Incline Village with his family. "It's challenging to find people in this industry who are as committed as you are. The team of professionals here that I have the pleasure of working with makes being here a pleasure.
"The second thing that I love about my job is the freedom I have to not only create the dishes that I want to serve, but also to have access to the products to elevate those dishes to be their best."
And though he works for a large company, he has full ability to follow his culinary instincts. "I have complete freedom to change anything I see fit," Hammett adds. "It is liberating as a chef to be in charge of your menu and it also pushes you to be creative. I don't have any corporate directives to follow."
His seasonally driven menus are inspired by what's fresh and available. "I try to start with the best ingredients possible and let them be the star of the dish," says Hammett, who is a fan of the Tahoe Food Hub, a local nonprofit that connects chefs with small area farms and farmers.
So what's cooking? A recent lunch menu included appetizers like the popular ahi tuna poke with avocado, sesame, soy glaze, wasabi crème fraîche and wakame salad. Hammett also serves P.E.I. mussels steamed in white wine with Basque chorizo, baby arugula, cherry tomatoes, chili flakes and garlic toast. Soups such as a silky lemongrass and coconut milk soup with poached shrimp, pickled chili and enoki mushrooms, as well as a tomato and roasted red pepper bisque finished with fried chickpeas and basil oil, are both satisfying. Summer always brings a cool gazpacho.
Many of these items are available on the lounge menu, which also incorporates pizzas like the California asparagus with basil pesto, pine nuts, balsamic reduction, lemon ricotta and mozzarella cheese.


Sea scallops
The lunch menu offers substantial salads as well. Scallops (flown in from Massachusetts daily) seared to a crispy brown are served with baby greens, pickled Beech mushrooms, bacon and cherry tomatoes in a Worcestershire vinaigrette. Roasted organic king salmon sourced from British Columbia is seated atop  baby arugula, capers, pine nuts, cucumber and pickled onion tossed with Champagne vinaigrette. Mesquite grilled chicken breast is arranged with baby kale, Asian pear, Laura Chenel goat cheese, marcona almonds and basil, and a Sparrow Lane balsamic vinaigrette. And, marinated beets are mixed with Granny Smith apple, frisée, hazelnuts, Laura Chenel goat cheese and cider vinaigrette.
Searching for something a la sandwich? Reach for the Durham Ranch bison burger on brioche with gruyere cheese and tomato chutney, or the Angus burger with bacon, horseradish aioli, roasted mushrooms and onions, and beer cheese fondue. There's a hot pastrami with red wine braised cabbage, dill Havarti cheese and rosemary aioli on a French roll, as well as a braised short rib and aged cheddar grilled cheese on jalapeño-cheddar bread. A pheasant salad sandwich is prepped with green pear aioli and cranberry sauce, and the Dungeness crab melt comes on sourdough crostini with artichoke hearts, red onion and Monterey Jack cheese. 
Some starters from the lunch menu are also available during dinner service, with notable additions such as seared scallops with caraway carrot purée and pickled red cabbage. Foie gras fans will find the dish served with kirsch bread pudding, roasted strawberries, toasted pistachios and red wine jus.
On to the main courses, a customer favorite is the cabernet-braised beef short rib with truffle potato puree, lemon and garlic roasted squash, Espelette pepper, truffle jus and freshly grated horseradish. A Grimaud Farms duck breast is arranged with a garnet yam croquette, spiced cranberries, milk-poached garlic puree, buttered turnips and rosemary essence.


Grimaud Farms duck breast
From the sea, look for a blackened wild Alaskan halibut with spring pea potato purée, grilled baby sweet peppers, prickly pear gastrique and lemon beurre blanc, as well as trout from Passmore Ranch served with sauteed haricots verts, potato gnocchi, brown butter cream, toasted pine nuts and caper relish.
"Passmore Ranch has an amazing program raising indigenous fish in the foothills outside Sacramento," says Hammett, who also created a grilled king salmon roulade with Dungeness crab salad and caper beurre blanc.
Hammett was instrumental in implementing a program whereby the Lone Eagle Grille is donating $1 from each order of its seasonal Niman Ranch menu items through June 30 to the Niman Ranch Next Generation Scholarship Fund, established to raise awareness around dwindling traditional farming and ranching practices and provide scholarships for those families' college students. Perhaps that's incentive enough to try the bone-in Niman Ranch pork chop with orange- and soy-braised pork belly, or their lamb chops with olive tapenade and parsley coulis.
Other a la carte items from the grill include Duncan Ranch's elk strip loin with mole negro and fried quail egg, as well as their bison tenderloin with bone marrow butter and mushroom jus. Also served is a Brandt beef prime New York cut with Bordelaise and bleu cheese fritter, as well as a marinated American Wagyu flat iron steak with chimichurri butter.


Bison tenderloin with bone marrow butter and mushroom jus
For non-meat eaters, Hammett has designed a standalone vegetarian menu with entrees like a soy sauce marinated tofu with roasted garlic potato puree, grilled asparagus, balsamic reduction and marinated fennel.
If by chance you've saved room for dessert, try the sharable pine cone shaped Baked Tahoe, the Lone Eagle's take on Baked Alaska assembled with a buckwheat brownie, French vanilla ice cream, torched meringue and chocolate sauce drizzle.
The Lone Eagle's wine program is broad and deep. It's a past Wine Spectator award winner, with over 170 bottles and 24 wines by the glass on its ipad-based menu. Though California focused, the cellar represents the best grape growing regions and vintners and includes A.B.C. breakout sections, shorthand for "Anything but Chardonnay" and "Anything but Cabernet."
Cocktail enthusiasts will enjoy a list that includes the signature Golden Eagle frozen margarita mixed with gold tequila, orange liqueur, orange juice, fresh lime and Grand Marnier float, which can be ordered in a souvenir cup or upgraded to the Drunken Eagle with a Casamigos reposado tequila float. There's also craft brews aplenty, with Reno's Pigeon Head IPA and Crispin Pacific Pear Cider brewed in Colfax on tap.
Come for lunch, stay for dinner. Whichever Lone Eagle Grille dining adventure you choose, rest assured, it will be served with a tasty heaping helping of Tahoe.
---
Incline Village resident Susan D. Rock has been a Lone Eagle Grille fan since smoking a celebratory post-wedding cigar around the fire pit there 19 years ago this summer.
---
Lone Eagle Grille
111 Country Club Drive
Incline Village, NV  •  (775) 832-1234
www.laketahoe.regency.hyatt.com
Summer hours: Lunch from 11:30 a.m. to 3 p.m., dinner from 5:30 p.m. to 10 p.m.; lounge is open from 11 a.m. to 10 p.m. Reservations are recommended.