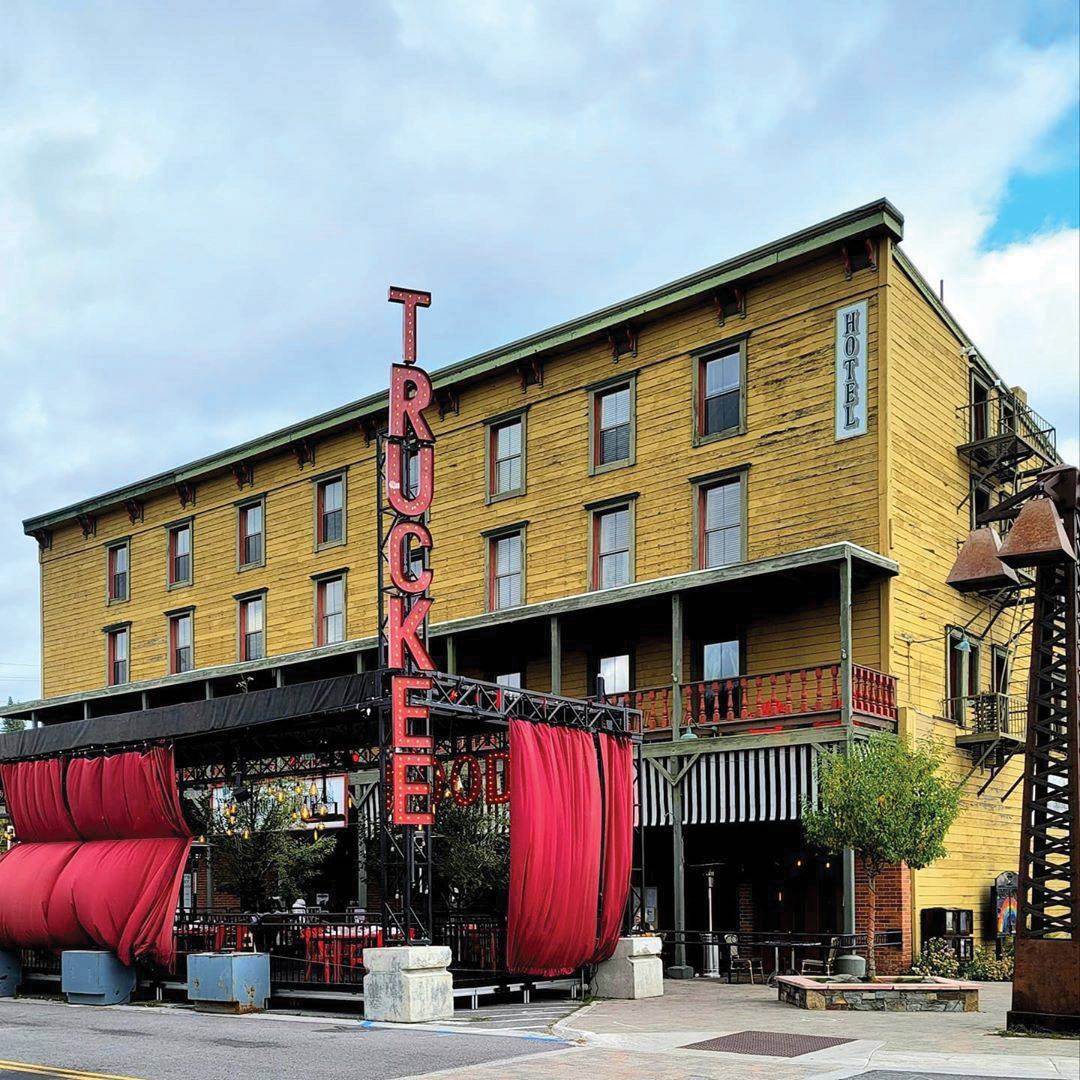 Located on the ground floor of the historic Truckee Hotel, Moody's offers outdoor seating out front and on its back patio, weather permitting, courtesy photo
06 Dec

In the Mood: Moody's Bistro Bar & Beats
Going on two decades, the popular Truckee restaurant still hits all the right notes
Moody's Bistro & Lounge debuted in Old Town Truckee 20 years ago with a simple premise.
"We wanted to open a restaurant and bar with live music, great food and great atmosphere," says Moody's co-founder and managing partner JJ Morgan, who with chef Mark Estee launched the buzzy bistro on the ground floor of the historic Truckee Hotel in July 2002.
The pair, who met while working on Lahontan's food and beverage efforts, easily hit all three milestones, with Morgan focusing on the front of the house, including the speakeasy-style bar, lounge and stage, and Estee busy in the kitchen, his farm-to-table menu drawing on deepening relationships with regional ranchers and farmers.
Two decades later, the inviting eatery named for John Moody, whose 1870s-era building once served as a Trans-Sierra stagecoach stop, continues to hit all the right notes.
Morgan, a San Francisco native, knows his way around the music and hospitality scene. At 26, he opened and ran the Up and Down Club, a happening SOMA supper club featuring live nightly hip-hop and jazz, producing a pair of award-nominated recordings during his tenure there. In addition to a stint as general manager of the Balboa Café, Morgan also served as corporate GM for the Real American Restaurant group's Gordon's House of Fine Eats, Loongbar, Bix and Postino properties.
Moody's—its entrance marked by its bold black-and-white-striped awning and interior done up in crushed red velvet drapes, rich ochre-hued walls and vintage Parisian posters—quickly turned into a hot ticket. That winter, a certain Beatle named Paul McCartney, in town for a ski trip, dropped by for dinner with then-wife Heather Mills, taking the stage and singing to a much-surprised audience an improvised tune he dubbed Truckee Blues. He had so much fun he did an encore a year later.
"We were private cheffing for Paul, and he wanted to go out one night," recalls Morgan. "So I hired a band just in case, and he actually asked the band if he could sit in. He was appreciative of how we handled everything, so he came back and did it again the next year." Though not necessarily household names, over the years jazz headliners such as the Shotgun Wedding Quintet, Jamestown Revival and Marty O'Reilly & the Old Soul Orchestra have also taken the stage at Moody's.
Morgan and Estee also launched Baxter's Bistro at the Village at Northstar in 2008, which they ran for two years. In 2010 the pair went their own ways, the entrepreneurial Estee evolving into a serial restaurateur whose projects have included Burger Me, Campo, Chez Louie, Liberty Food & Wine Exchange, Pizzeria Lupo, The Union, Cucina Lupo and Overland Pub in Reno, Carson City and Gardnerville. Morgan briefly shuttered the restaurant, shuffled the name to Moody's Bistro Bar & Beats, updated the interior and revamped the menu to make it more accessible, adding items like a Niman Ranch cheeseburger and artisan pizzas ready from a Remco infrared brick oven in 90 seconds.
In addition to Estee, a series of capable chefs, including Guy Frenette and Corey Kelso (the latter now at The Sawyer at Schaffer's Mill), have left their mark on Moody's. William Burns, a graduate of New York City's prestigious French Culinary Institute, has overseen Moody's kitchen for the past decade. A veteran of Le Bernardin and 11 Madison Park in New York, Burns made his way west to the Ritz-Carlton in Laguna Niguel and then Tahoe to open Manzanita with two-time James Beard award-winner Traci Des Jardins.
In addition to sourcing many fresh ingredients from Tahoe Food Hub, Burns, who has been a featured chef at Pebble Beach Food and Wine four times, continues to cultivate relationships with longtime local purveyors such as Gary Romano from 65-acre organic certified Sierra Valley Farms, Heidi Watanabe, who grows some 30 types of tomatoes in West Sacramento, and fisherman Ernie Gerome, delivering line-caught salmon fresh out of Bodega Bay.
Some long-running customer favorites from Estee's original Moody's menu remain: ahi poke with wonton crisp, the tomato soup en croute topped with a puffed pastry crust and the Durham Ranch classic steak frites. Burns' seasonal offerings reflect a happy intersection of his French training and farm-to-table approach. Nearly every component—down to the bacon—is made in-house.
Umami-packed appetizers pair perfectly with one of the bar's many clever cocktails such as the Smoken Last Word mixed with mezcal, rosemary-infused Old Tom gin, green chartreuse, maraschino liquor and a torched rosemary stalk served on an oversized cube.
Try the creamy-smooth truffled deviled eggs with mushroom duxelle or smoked trout rillettes—line caught Mt. Lassen Trout combined with whipped mascarpone and dill, folded into jam jars, sealed with a plug of clarified butter deftly removed by the server, and destined for the toasted buttered brioche rectangles topped with avocado and French radish. A spoonful of lemon dill creme fraiche stands at the ready for the assist.
Select from seasonal salads such as heirloom peas and carrots, endive, Point Reyes bleu cheese and pine nuts tossed in a carrot ginger vinaigrette or roasted chioggia beets with bibb lettuce, chevre, shaved fennel, hazelnuts, oranges and honey vinaigrette.
Pasta is made on the premises, with dishes that might include a hand-rolled strozzapreti topped with white wine-braised Durham Ranch rabbit, chanterelle mushrooms, bacon, English peas and house-made ricotta.
Carnivores will enjoy entrées like the popular Colorado rack of lamb al pastor served with spice yam puree, white beans, broccoli rabe, grilled pineapple and pickled blackberries, or the double-cut pork chop from Chico's Rancho Llano Secco slathered with Moody's peach barbecue sauce presented with purple potato gratin, haricots verts, Tokyo turnips and pickled cherries.
Bring an appetite for Burns' take on chicken and waffles. His fried chicken roulade rolls a pounded chicken breast with dino kale, ricotta and a maple-sauced waffle spaetzle that gets breaded, fried, sliced and artfully stacked atop a bed of creamy ranch sauce laced with shallots, garlic and chives and accompanied by a pickled green tomato.
  On the lighter side, look for dishes such as an Alaskan halibut with saffron romesco or Maine day boat scallops with roasted corn succotash, tomato marmalade and charred tomatillo pistou.
Blissfully, dessert is a simple matter of selections such as cheesecake, crème brÛlée or chocolate cake.
The only questions that remain: Order that big basket of truffle and parmesan fries as a starter or side? And which of the 90-some wines to drink? Fortunately, the 22 eclectic and generous pours by the glass, including lesser-seen Sancerre and Savoie varietals, make it easy to pair by course. Bar manager Peter Fain also stocks a dozen or more beers plus local draughts like Truckee Brewing Company's hefeweizen produced down the street. His barrel-aged cocktails and a sizeable whiskey selection have evolved to keep pace with consumer demand.
While Moody's pivoted during the pandemic with efforts such as the marquis-lit, red-curtained sound stage that doubled as an outdoor dining deck (since removed for winter), Morgan is looking forward to the eventual return of one of the restaurant's fundamentals—a calendar packed with live music. He also hopes to bring back his Jazz Artists in Residence and Jazz Camp programs this summer, in which jazz musicians spend a week working with kids by day and performing on the Moody's stage at night.
Until then, here's to Moody's at 20. It's looking good and tasting even better.
---
Moody's Bistro, Bar & Beats is open daily this winter for lunch and dinner; reservations recommended. 10007 Bridge St., Truckee, CA, (530) 587-8688, www.moodysbistro.com.
---
Tahoe Quarterly Food & Wine editor Susan D. Rock occasionally dreams about Moody's truffled deviled eggs.