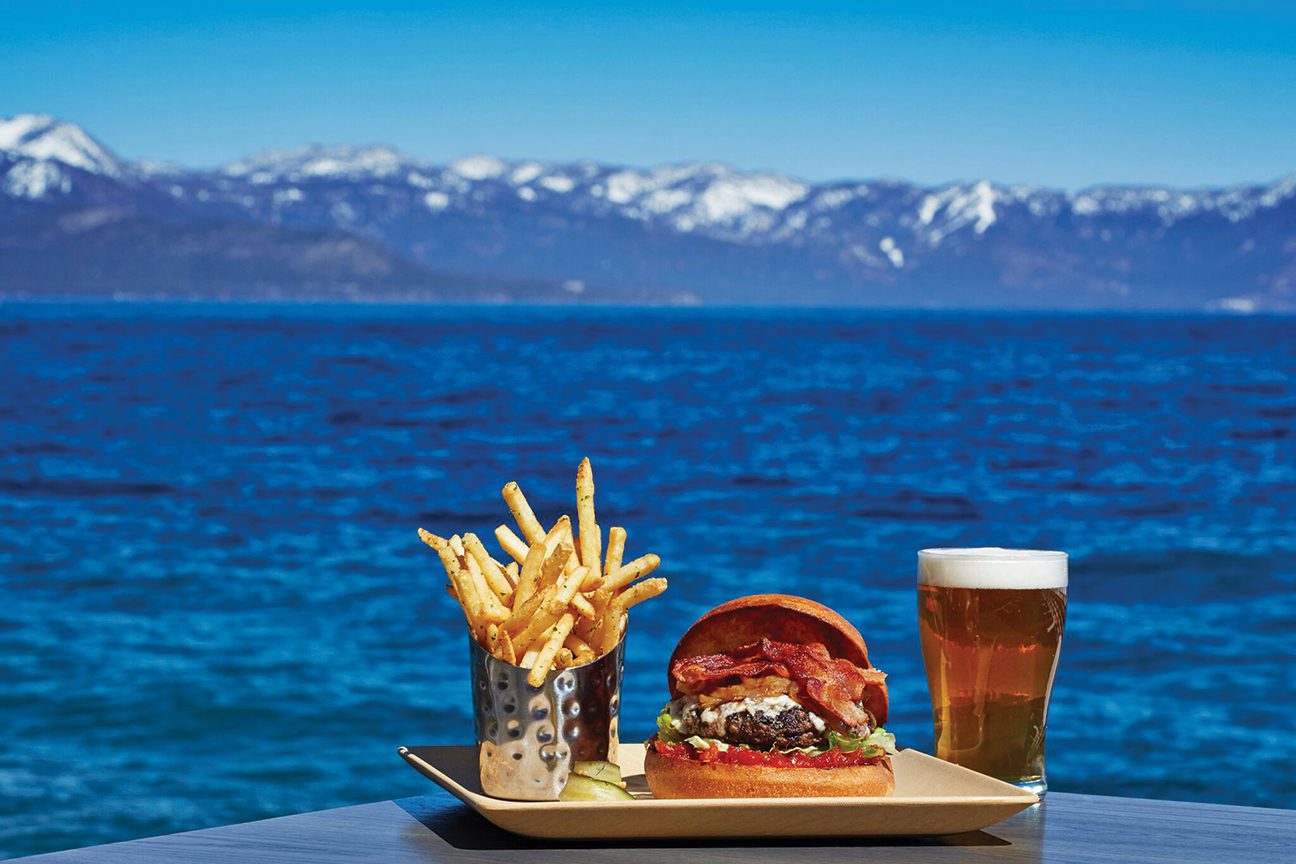 A Sunnyside beer, burger and fries hits the spot any time of the year
27 Jun

Life on the Sunnyside
Celebrating 35 years on Lake Tahoe, this iconic West Shore spot shines brightest in summer
Best buds and restaurateurs Rob Thibaut and Sandy Saxten made a pact to design and build their dining destinations in places they wanted to live, work and play, which, for the California natives, meant spots with surf, sand and sun. The pair, who started and sold the seafaring-themed Rusty Scupper chain, eventually built a family of 13 eateries in the Hawaiian Islands and California, launching Sunnyside Restaurant & Lodge on Tahoe's West Shore in 1987.
For the past 35 years, the buzzy lakefront landmark 2 miles south of Tahoe City has served as a social center of sorts for generations of Tahoe families, friends, locals and visitors who arrive by boat, bike, foot and car for fried zucchini and fish tacos, mai tais and margaritas—and nonstop hopping summer fun on the lake's largest deck.
Originally a summer home dating to 1908 that was turned into a seven-room lodge with a small marina in 1946, the property in its current incarnation was completely renovated and rebuilt, with an eye on preserving panoramic lake and mountain views.
The sturdy log-and-stone structure, which includes 23 guest rooms, was again refurbished and refreshed a decade ago, bringing a little bit of a mountain-cabin-meets-lake-lodge look: Decor includes a moose head gazing out over the entryway and buffalo brooding from the river-rock fireplace, plus antler fixtures and a pair of canoes suspended from the ceiling. The snappy, nautical-themed, 300-plus-seat Lakeside Dining room features full-height windows, wood paneling and seating that calls to mind a classic Tahoe runabout; the cozier, more casual Mountain Grill is outfitted with a glass-and-pine tree stump communal table, alpine photography from local Keoki Flagg and a handsome bar topped with leathered granite.
Speaking of bars, in full summer season swing, Sunnyside's bar staff operates at full throttle, kicking out cocktails like Duke's Mai Tai, complete with pineapple and umbrella (with a dollar from each sale going to the Lake Tahoe Waterman Association) and the Escalade margarita made with Herradura silver, fresh lime juice, organic agave nectar and a Grand Marnier float. Summer also brings the addition of drinks such as the Sunnyside Refresh shaken with organic cucumber vodka, mint, agave and lime. A solid, mostly California-sourced wine list includes some 15 pours by the glass; the eight beer taps include one handle reserved for Truckee's Good Wolf Brewing.
Sunnyside's longevity seemingly owes something to its long-running management team, headed by Jeff "Ox" Oxandaboure, who recently retired after 32 years at the helm. Former partner Lee Kresy served as chef for a quarter century before moving on to D'lish Catering with his wife, Leah. His successor, Robb Wyss, now at West Shore Cafe, leaned on his time in Napa Valley to freshen up the menu during his tenure.
Current general manager Derrick Morales, who transferred from sister restaurant Duke's in La Jolla, and British-born chef Christian Novak, who most recently ran a private chef business based in South Lake Tahoe, have teamed up to keep Sunnyside sailing into the summer with a slimmed-down menu to more efficiently manage through pandemic-related challenges—from staff housing to supply chain issues.
Longtime customer favorites, like fried zucchini, stay. On the menu since day one, every year Sunnyside sells tens of thousands of pounds of the humble squash strips dipped in buttermilk, dredged in panko and regular breadcrumbs, and consigned to bubbling hot oil. Mainstay fish tacos aren't going anywhere either, served here blackened, grilled or battered with local Alibi Ale and topped with tomatillo sauce, and pico de gallo. They also headline Taco Tuesdays from October through May.
For something light and fresh, diners may opt for a goat cheese puff pastry tart topped with arugula, toasted pine nuts and balsamic reduction, or an arugula, strawberry and goat cheese salad tossed with toasted macadamia nuts, shaved prosciutto and mint. Also popular: the sesame crusted salmon rice bowl carefully composed with pickled carrots, kimchi, cucumbers, edamame and citrus ponzu sauce. Still light but satisfying, a seafood hotpot features lobster, shrimp and fresh fish in a saffron tomato broth atop brown jasmine rice.
The seasonally updated menu might also include selections such as a pistachio-crusted fresh fish with asiago herb panko crust, lemon caper butter, ruby red and wild rice, asparagus and a butternut squash puree, or a braised pork belly with apple puree and cider jus.
When the urge to take a big bite of something strikes, fun on a bun here includes the grilled chicken with bacon and basil peso aioli, pulled pork with pineapple sesame slaw and the signature half-pound cheeseburger; look for Burger & a Beer Mondays, also October through May.
For a sweet finish, save room for legendary Hula pie, a chocolate cookie crust layered with macadamia nut ice cream, hot fudge and whipped cream that debuted at Thibaut and Saxten's first eatery called Kimo's in Maui's Old Town Lahaina. Plan ahead, however: Dubbed "what sailors swam ashore for in Lahaina," it's served in portions that could surely sink any seafarer's ride.
Thibaut and Saxten are both gone now, but their spirit lives on through Sunnyside's community-focused Legacy of Aloha charitable foundation, headed up by Saxten's daughter Susie; other family members remain involved in the business as well. Each year, Sunnyside designates a local nonprofit organization as a beneficiary with a portion of sales from a specific menu item; past recipients have included the California Wildfire Fund, Tahoe XC, the North Tahoe Booster Club, the Humane Society of Truckee-Tahoe, the Tahoe City Downtown Association, the Shane McConkey Foundation and Tahoe Backcountry Alliance. Legacy of the Aloha also donates money and time to area youth sports programs, recognizes local teachers through an Educator of the Month program and, since 2003, has awarded over $85,000 in academic scholarships to graduating North Tahoe High School seniors who plan on furthering their education in culinary arts.
---
Sunnyside Restaurant and Lodge, 1850 West Lake Blvd., Tahoe City, CA (530) 583-7200, www.sunnysidelodge.com. Summer hours: Mountain Grill (and deck) is open 11:30 a.m.–9:30 p.m.; the Lakeside Dining Room is open from 5:30 p.m.–9 p.m. Reservations recommended; boat valet service is available via Sunnyside Marina.
---
Based in Incline Village, Susan D. Rock is Tahoe Quarterly's longtime Food & Wine editor.