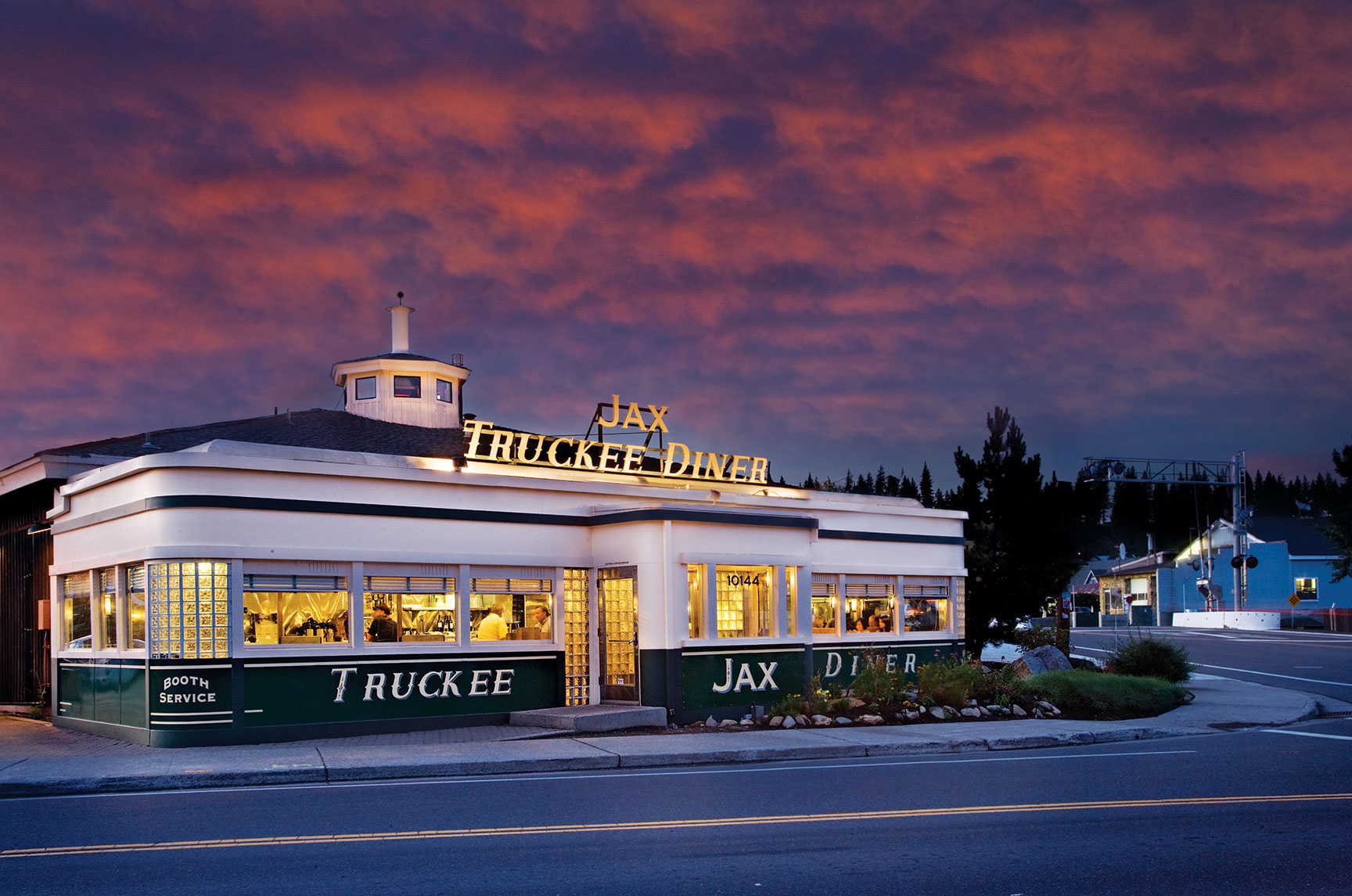 Photo courtesy JAX at the Tracks
05 Oct

On Track at JAX
Classic Truckee diner is big on portions and people
The folks at JAX at the Tracks have figured out that mountains make us hungry. Really, really hungry, at all hours of the day. The classic American diner along an Old Town Truckee stretch of the Transcontinental Railway doesn't do anything dainty, even the way it conveys the low, heavy rumble from the many regularly passing trains. In other words, this is no calorie-counting place.
This 1940s-era diner that began its career as an eatery outside Philadelphia was delivered to its Truckee trackside location in 1992 and, after much restoration from stainless counters to tile floors, opened as Andy's Diner. Current owner Bud Haley purchased and renamed the business in 1995 not long after moving his snowboard-loving wife Allison (who has Tahoe ties) and three sons to Tahoe.
Haley, who had launched a gourmet market and partnered in a fine-dining restaurant in Southern California, hired a team of chefs to create the eatery's original menu, which has since evolved to better reflect his vision of the old-school diner with a modern twist, starting with breakfast. What is a day on the slopes without first ingesting a massive plate of carbs?
Burritos, pancakes, waffles, French toast, biscuits and gravy, chicken and waffles, corned beef hash and all manner of eggs comprise the breakfast menu. The All Day Addiction is a house favorite: Two eggs, hash brown cake, Canadian bacon, avocado, mixed greens and oven-roasted tomatoes finished with balsamic glaze and basil pesto. The crab cake Benedict, made with Maryland blue crab (Haley hails from Washington, D.C.) served on a hefty house-made English muffin, is another signature selection. Breakfast goes until 2 p.m., and some dishes are designated the all-day sort.
Lunch starts at 10:30 a.m. if you arrive ready for that. Of course, diners mean drippy burgers. JAX serves locally sourced half-pounders that range from the chili cheese to the Cajun blackened varieties. For those who need to double down on their meat intake, the one-pound burger stuffed with either bacon and cheddar or bleu cheese and garlic is dubbed the Outrageous. You can sub out bison or add enhancements like caramelized onions or a fried egg for an additional charge.
A list of some 20 sandwiches features faves like a barbecued pulled pork and cheddar with tobacco onions on a bolillo roll, a dill crumbed fishwich, a Philly cheesesteak and falafel on flatbread. Opt for the side of house-made parmesan chips.
Yeah, there are salads—they're hiding under a fold in the menu and not why you're here. OK, so some customers like the Asian chicken with jalapeños, crispy noodles, cashews, cabbage and organic spring mix tossed in a peanut dressing. Or the shrimp and crab Louie served with a secret sauce straight from Fisherman's Wharf.
Appetizers/sharables for lunch or dinner include a slider trio, Guinness beer–battered onion rings with chipotle ketchup and wings with ghost chili pepper five-alarm sauce.
Dinner starts at 4 p.m., an après meal or early bird, depending on how your day on the mountain went. The Kobe beef meatloaf is a signature special that is individually prepared and wrapped with Applewood bacon and finished with a root beer raisin glaze. JAX also serves lobster and shrimp four-cheese mac and a traditional chicken pot pie with no shortage of crust. Steak, chicken and pasta are all here as well as a panko-breaded calamari steak sautéed with lemon, capers and white wine.
"We change up the specials weekly from our 20-ounce, chipotle-rubbed, bone-in rib-eye with whiskey butter to our lobster pot pies, and do an overhaul every season to keep things consistent but fresh," says Haley, who calls JAX head chef and kitchen manager Jaime Herrera a partner. On a busy peak-season day Herrera and his crew can turn out close to 900 meals. "That's when the restaurant really hums," says Haley.
Because a milkshake is a diner staple and no one is counting calories at this point, peruse the menu and blackboard for specials before ordering a regular or malted from the many flavors beyond the standards, like apple pie, pumpkin spice or orange cream. Kids love the M&M, Oreo and Butterfinger options, especially the crowning mountain of whipped cream.
Did someone say dessert? Fudge brownies, white chocolate blondies with macadamia nuts and M&Ms, New York–style cheesecake, lava cake, ice cream cookie sandwiches and banana splits all beckon, because you're going to ski it off tomorrow.
Now don't think that all this little mountain town diner finery went unnoticed. The Food Network's Diners, Drive-Ins & Dives, and its exuberant spiky bottle blond finger-licking host Guy Fieri, descended on JAX for three days of shooting for a segment that aired in 2010.
"After being in the higher spectrum of the food industry, I was a bit apprehensive of going on DDD, but it really did showcase how classic food never goes out of style," says Haley. "Whole foods with fresh and local ingredients is nothing new. It's how things should be done along with a spin on the classics. We actually loved the experience. It helped brand JAX on a regional and national level and certainly helped cement us as a staple in the area."
JAX has also cemented itself in the community as a generous donor of time and money, supporting—and feeding—a Mt. Rose–based snowboard team founded in 2012. Those dozen or so riders, which include Haley's son Graham as well as 2014 Olympic slopestyle riders Karly Shorr and Ryan Stassel, pay it forward by volunteering with groups like Project Snow, a Reno-based organization that enables foster kids to get out on the slopes for a day.
Haley also helps the High Fives Foundation, a Truckee nonprofit that provides support for therapies, rehabilitative and adaptive equipment to area winter athletes who suffer a life-altering injury. A couple of years ago Haley put together a bike-and-burger combo fundraiser, with the goal of donating $5,500 from the sale of his custom El Bruto chopper.
And, among other efforts, Haley is also a supporter of the planned 25,000-square-foot Rocker Memorial skate park in honor of Steve "Rocker" Anderson, an avid local skateboarder who died in a Donner Summit avalanche in 2012.
"It's the only way to live," says Haley on his view of civic engagement. "We all must have a purpose to make our community better and support one another." Amen and pass the fries.
---
Incline Village–based writer and editor Susan D. Rock takes her teen boys on all burger, fries and shake research runs.