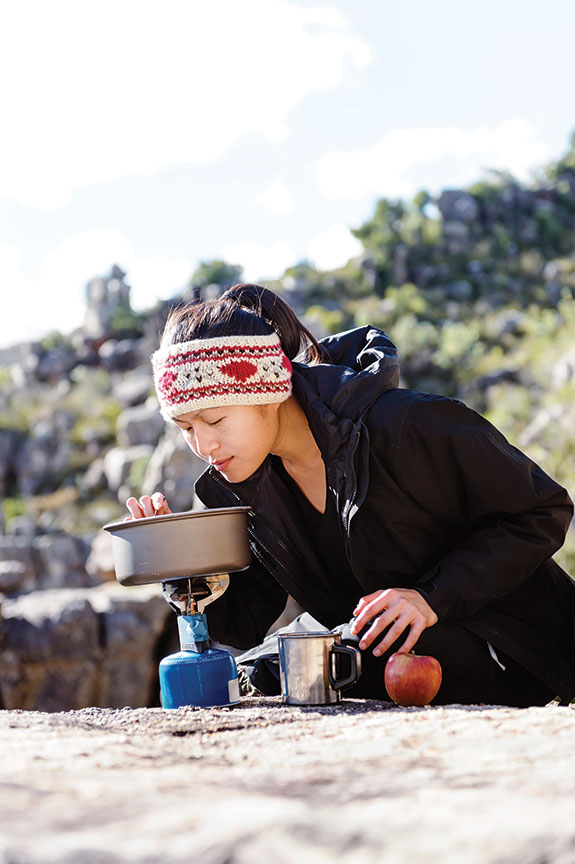 22 Jun

Tahoe's Best Backpacking Recipes

You know the feeling. Rolling into camp after a big day on the trail and the mere thought of one more freeze-dried, highly salted, shrink-wrapped meal in a shiny package can push you over the edge of the dreaded Cliffs of Hangry.

Backpacking purists, we know, will do whatever it takes to lighten their load. For other outdoor enthusiasts, however, food is both fuel and fun, and worth a little extra weight. To those folks we offer some backcountry cooking tips and slightly right of minimalist recipes from these local Lake Tahoe outfitters, where backpacking advice, gear and inspiration is always on the menu.
Meghan Robins

Alpenglow Sports, Tahoe City
I love backpacking and rarely (as in never) bring freeze-dried food. This is an original recipe my sisters and I created while backpacking every summer in Desolation (surely others have combined these ingredients before, as well). It's definitely my staple and I prefer to serve it with Earl Grey tea. As you can tell from the ingredients list, I'd rather eat well than worry about extra pounds in my pack.
Peanut Butter Apple Breakfast
(2 to 3 servings)
Ingredients
1 fresh apple
½ cup peanut butter
1 cup granola
Directions
Heat half the peanut butter in pan atop stove (do not use Jetboil or MSR Reactor because it will burn). Add cubed apple pieces, letting the meaty part turn golden brown. Add more peanut butter and granola, stirring often to prevent burning. Cook to desired crispiness. Eat hot.
You can add mixed nuts, dried fruit, chocolate chips (after removing from heat), oatmeal, really anything you want. Depending on your ratios, this might glue your gums together, but if you keep the apples big enough, they'll add a perfect juiciness and you won't have to eat again for miles!
Peter Hussman

Owner of Lake of the Sky Outfitters,
South Lake Tahoe
We use a variety of one-pot meals built around rice or pasta. We have a food dehydrator, which we highly recommend for making your own meals. Also, a seal-a-meal type appliance, which allows one to use lighter weight plastic bags than ZipLocs. Plus, you can package the meals to a very compact size.
Foods that dehydrate pretty well are corn, peas, cooked chicken, turkey, tuna, strawberries, bananas and apples. We try to avoid greasy dense foods and tomato-based sauces as they tend to stain your bowl and retain odors that attract critters.
Rice and mashed potatoes are very light and cook fast; pasta takes longer and weighs more. We will combine different foods to make a one-pot meal limited only by one's creativity. For sauces, any packaged sauce mix that uses water works. Throw in some pine nuts or sunflowers seeds for added protein.
Oatmeal gets real old after several days on the trail so we have a recipe for cinnamon rice with raisins that is quick, tasty and tends to stick to your ribs longer than oatmeal. Rice is often overlooked as a breakfast food (Rice Krispies aside).
Cinnamon Rice with Raisins
(1 to 2 servings)
Ingredients
1 cup minute rice
¼ cup raisins
1 tsp cinnamon
¼ tsp salt
Directions
Add enough water to cook the desired amount of rice per package directions and bring to a boil. Add rice and cook until done, then add raisins, cinnamon and salt and stir together. Dried milk can be added as well as other dried fruits or nuts.
Adam Baillargeon

Content manager at Tahoe Mountain
Sports, Truckee
Who doesn't love pizza, especially in the outdoors? This recipe comes from www.gurutotheoutdoors.com.
Campfire Pizza Log
(4 servings)
Ingredients
1 can refrigerated pizza dough
8 oz. pizza or spaghetti sauce
2 cups mozzarella cheese
Toppings of choice
Dried Italian seasoning
Salt and pepper
Aluminum foil
Directions
Roll out pizza dough to form a rectangle. Spread pizza sauce over top. Top with cheese, additional toppings and seasoning. Roll pizza to form a log and tuck edges in.
Wrap in thick foil and place in freezer until ready for your backpacking trip. Place pizza log, still in its foil, on hot grill or fire pit. Cook for about 15 minutes. Flip and cook an additional 10 to 15 minutes. Remove from fire, slice and serve.