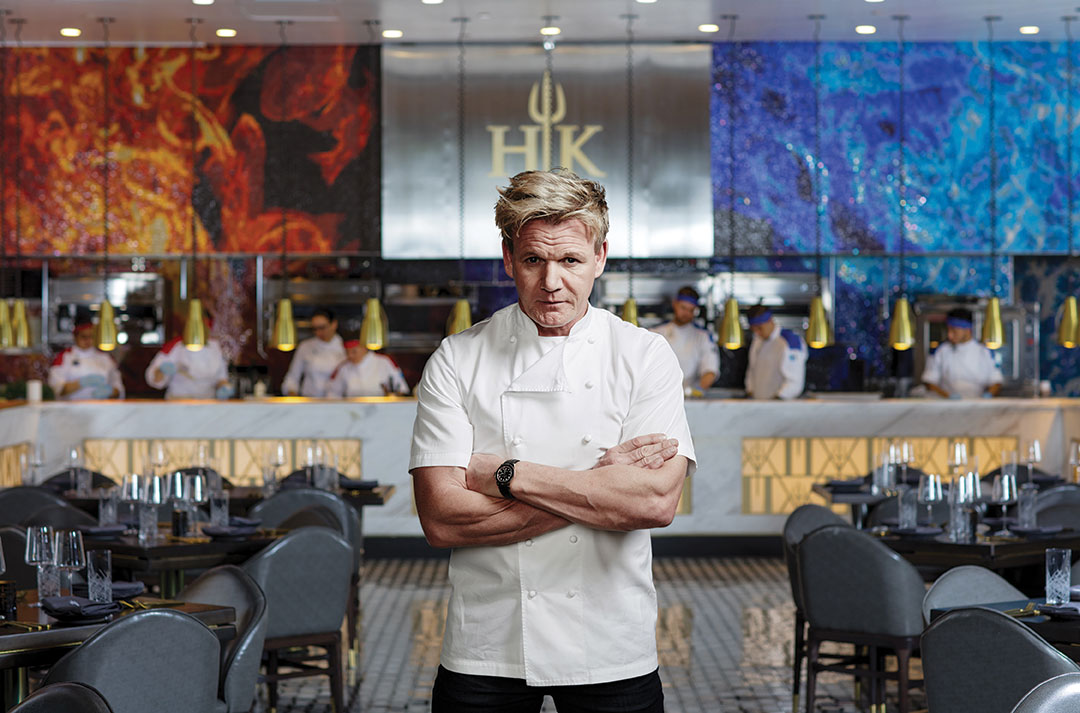 British chef Gordon Ramsay may be best known for his reality television show Hell's Kitchen, after which his new Stateline dining spot is modeled, courtesy photo
24 Sep

Where Hell Freezes Over
Celebrity chef Gordon Ramsay opens third Hell's Kitchen location at Harveys Lake Tahoe
Hell, it turns out, is just a pitchfork's toss from Heaven.
Hell's Kitchen, the restaurant based on celebrity chef and restaurateur Gordon Ramsay's hit reality television show by the same name, opened in January at Harvey's Lake Tahoe in Stateline, near Heavenly Village. It is the third Hell's Kitchen location (the other two are at Caesars properties in Las Vegas and Dubai) for the energetic and sometimes stroppy Scottish-born chef.
Ramsay's portfolio includes a string of some 35 successful restaurants across the globe, including four Michelin-starred locations in London and France, and a handful of television shows aired worldwide that also include MasterChef, Kitchen Nightmares, 24 hours to Hell and Back and the highly anticipated Gordon Ramsay: Uncharted, on the National Geographic Channel.
One of the most hotly anticipated restaurant launches in Tahoe, Hell's Kitchen had some 8,000 reservations within its first 48 hours in October, more than 12,000 bookings by the third week of December and a feeding frenzy of over 20,000 reservations in January, according to John Packer, spokesman for the Caesars property. Of course, the COVID-19 pandemic upended everything in March; the restaurant reopened in June with reduced seating for 87 patrons in the bar, lounge and dining room plus additional safety protocols in place.
Ramsay, who made several scouting trips to Tahoe, wanted a location off the casino floor to match the high energy atmosphere of the restaurant. The long-running, venerable Sage Room steakhouse was subsequently moved (wooden doors, fixtures and all) to the now-closed 19 Kitchen & Bar location. The space underwent a six-month remodel to create the buzzy vibe that resembles the red-and-blue-team-themed open kitchen television set, where aspiring chefs compete for a chance to run one of Ramsay's restaurants—and avoid invoking his notorious on-camera wrath.
Indeed, a life-sized backlit image of Ramsay glaring out from a flaming kitchen greets diners, along with the signature pitchfork logos here and throughout the restaurant, including custom lighting that combines brass rods with pitchfork features and runs across the high ceilings. The Sage Room's wooden beams, hewn from trees felled when the original Harveys was built in the 1940s, were preserved as a nod to the past and a desire to imbue the room with a bit of a "lodgy Tahoe look."
Even the cocktails like to put on a show here. Notes from Gordon is made with Plymouth dry gin, green tea, lemongrass, peach and lemon and garnished with a scrolled message from the chef. The Smoking Barrel mixed with Woodford rye, Aperol, amaro and sweet vermouth gets a dramatic delivery in a glass lantern filled with cherry wood smoke. The well-represented and robust wine list features over 25 wines by the glass, with the pricier pours decanted via Corovin. Some 18 beers are on tap, including Hell's Kitchen's own IPA by Stone.
Ramsay's signature greatest-hits dishes from the show headline the menu, though nary an idiot sandwich to be found. The line-up includes pan-seared scallops atop sweet corn puree with bacon lardons and corn salad; lobster risotto with a butter-poached lobster tail; beef wellington on potato puree with red wine demi-glace; crispy-skin salmon accompanied by a bed of beluga lentils and citrus herb beurre blanc; and the famed sweet finish—sticky toffee pudding.
"The dishes selected for the show require specific techniques, acute attention to minor detail and strong, timely communication with other stations," says Ramsay. "This lets us covertly see how skilled a chef is in all areas of the craft during dinner service. We took the dishes that were stars across the past seasons—scallops, risotto, welly, lamb, etc.—and adapted them using local and seasonal ingredients."
Other menu highlights: seared foie gras with stewed cherries, Scottish shortbread and candied marcona almonds; Wagyu meatballs in slow-roasted tomato sauce, with polenta croutons, Parmesan and basil; Jidori chicken scallopini accompanied by roasted peewee potatoes, artichokes, Tuscan kale and truffle chicken jus; a dry-aged New York grass-fed and carrot-finished strip steak with glazed maitake mushrooms and shishito peppers; plus a chocolate decadence caramel cake with chocolate glaze, gold-dusted caramel corn, chocolate gelato and a red fondant pitchfork garnish.
Behrendt has some leeway with the New American menu that gets refreshed at least twice a year. He also leans on local and regional purveyors for quality ingredients.
"The first thing we did was find other local businesses we could support," says Ramsay. "We are sourcing our ice cream from the Hoch Family Creamery in Minden, Nevada. Our bread is from Truckee Sourdough and our carrot-finished beef from Santa Carota Farms near Bakersfield." Additional local purveyors include Sierra Meats and Bonanza Produce.
Does Ramsay have a personal menu favorite? "Oh, that's a tough one. They're all my favorites, but I'd have to say it's the beef Wellington," he says of the English pastry-wrapped, mushroom-encrusted beef tenderloin. "It's our top seller, and I think if it wasn't for Hell's Kitchen TV show, Lake Tahoe would have no idea what the dish is!"
Ramsay, who splits his time between Los Angeles and South London, where he resides with his wife, Tana, and four children, first visited the lake when he was scouting for a Hell's Kitchen location. "I came to Tahoe in 2018 to check out Harrah's/Harvey with Caesars, but the area has been on my radar for years," he says. "When I'm in California and Nevada shooting MasterChef or Hell's Kitchen, it was always on the agenda for a weekend away for some skiing."
As for Ramsay's favorite run? "You tell me! I've only made it up to Tahoe in the summer and when there's been no snow on the ground. So once things settle and I'm back in America, trust me, I'll be on the slopes when we're not in service!"
---
Hell's Kitchen is open nightly for dinner; reservations strongly suggested. Due to changing COVID-19 conditions, check hours directly with restaurant. 18 Highway 50, Stateline, NV; (775) 586-6868, www.caesars.com/harveys-tahoe