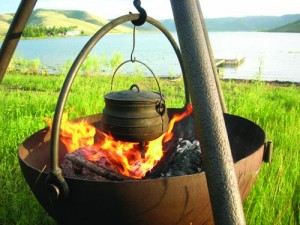 23 Feb

Playing with Fire

There's something about a fire that draws a crowd: An outdoor fire pit or fireplace provides warmth on brisk Tahoe summer nights and adds a focal point for al fresco gatherings.

"We see an outdoor fire feature in almost every new home that gets constructed," says Tom Just of Truckee's Mountain Home Center.

"People love the idea," adds Tom Bork of Stateline's Sunbasin Landscape & Nursery. "It's a place to sit around, get warm and have a cocktail."

Both types of fire features are very popular around the Basin. "I would say it's about a 50-50 fire pit to fireplace ratio," says Chris Ingram, of Lake Tahoe Specialty Stove & Fireplace in Kings Beach, though he personally prefers fire pits. "Everyone sits around it," Ingram says. "Plus, they have more of a wow factor."
Gas versus wood
When it comes to choosing between wood-burning products and gas, "more and more people go for gas," says Just. "I have both and I use my gas fire pit ten-to-one over the wood-burning fire pit. It's way more convenient—you turn it on, have a fire, shut it off. There's no soot, no ashes and no embers in the air."
Fireplaces are also more likely to be gas. "You don't need a chimney," Just says. "The byproducts of combustion just vent out the front. There's more versatility in where they can be installed."
Should a homeowner prefer a wood-burning fire feature, it may be necessary to get a permit or a specially certified product. Homeowners also need to be more cautious—especially during wildfire season—to avoid sending sparks into the forest; those who rent out their homes should educate tenants on how to properly light up and put out the fire.
Heavy gauge steel products are also advisable, as they won't rust out like cheaper brands. One such product is the Cowboy Cauldron. Based out of Salt Lake City, these suspended, woodburning fire pits double as grills. With sizes available from the 30-inch diameter urban cowboy to the 41-inch diameter ranch boss, these cauldrons are made of thick-pressed steel, designed to radiate heat in all directions and the perfect fiery ornament for a Midwest or Western-themed home.
Outdoor Art
Fire is no longer solely about warmth. Just carries a full range of metal log sculptures for fire pits. The sculptures may be realistic, abstract or feature more decorative elements like pinecones.
Likewise, Ingram has begun working with a company called Cast Creations. "It's real custom," he says. "They take an actual round from a tree and make a mold of it. Say when you're building a house, you have to take down a tree in the middle of the patio for code clearances. You can actually take that stump, and they make a fire pit out of it. It's perfect for Tahoe."
Another option is a fire pit table. Because it's not fixed into place, the table can be moved around or put away. "You have heat right where you are sitting," says Just. "It's very popular."
Fire features can be designed in any style, from rustic to contemporary. Whatever the design, experts recommend locating it on a patio close to the house—which allows it to feel like an extension of indoor living space, as well as being easier to connect the gas line— and blending it with the landscape.
"Make it look natural and make sure there's enough room for people to sit," says Bork, who has incorporated boulders and wrapping rock walls as seating in his designs.
Then grab wine, marshmallows and settle in to enjoy the evening at your outdoor hearth and haven.