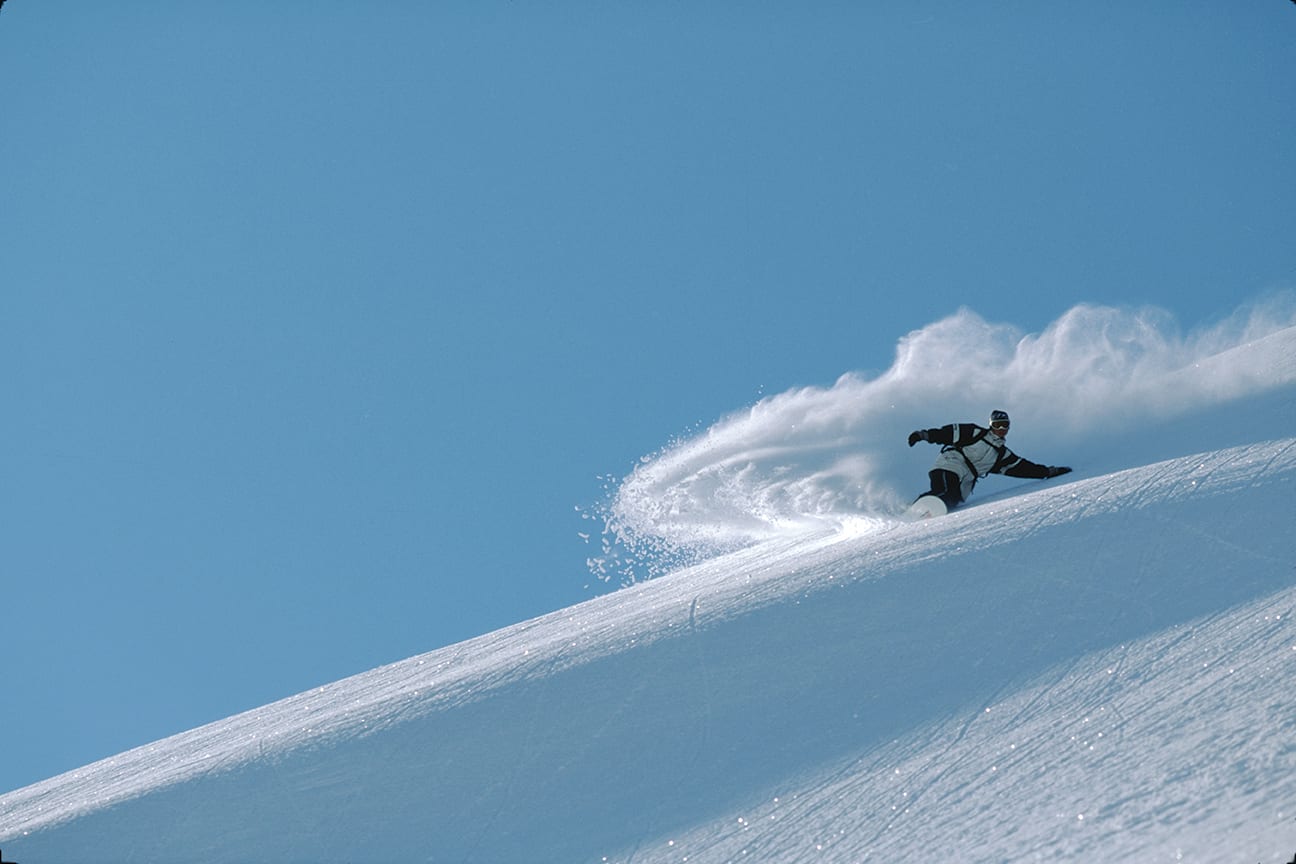 Noah Salasnek slashes a powder turn in Valdez, Alaska, photo by Aaron Sedway
27 Sep

Noah Salasnek: The Natural
The Tahoe snowboarder brought style and progression to the young sport during a scintillating career that ended too soon
In the early 1990s, acclaimed cinematographer and former pro skier Tom Day found himself captivated by the brimming talent of a young snowboarder named Noah Salasnek. But it was a seemingly benign aspect of his riding that clued Day into his elite abilities.
"I clearly remember a day when I was filming with Noah, and we were trying to get tight shots of him linking pow turns," says Day, reflecting on a morning shoot at Squaw Valley. "Whenever I did that style of filming, I always noticed how people acted between the turns, because it was a telltale sign of how good you are, and Noah had a flow and a delicate balance that was beautiful to watch."
Consider the texture of this compliment. In an era when snowboarding was still largely viewed as a rebellious fad, Salasnek managed to impress an esteemed skier, and the element that that stood out, that earned that respect, was what he did between turns.
The adulation given by friends, fans and riding partners of "Salaz" as a rider and human is endless. Pro snowboarder and freestyle pioneer JP Walker told Snowboard Magazine in 2017 that he considers him "one of the best all-around snowboarders to do it."
In a blistering decade-plus career that included two sports and lasted until the late 1990s, the goofyfoot Tahoe-based rider was known for excelling in all facets of the sport, rather than staying within one discipline.
He crushed contests, halfpipes, rails, kickers and jibs in his early years, inventing tricks along the way, and was among the best to transfer skate skills to freestyle snowboarding. He later claimed many first descents in Alaska and pioneered the art of spine riding, becoming one of the first to bring a freestyle background to the big mountains.
Underlying these phases was his calm, fluid style that pops off the screen in each of his video parts.
"What set him apart is that, he went huge, but he did it with an uncompromising style… no rolling down the windows, no butt-checks," says Sean Sullivan, a friend and photographer. "He was all the things that most pro snowboarders wished they could be, but were not."
From Skate to Snow to Superstar
Born in 1970, Salasnek grew up in Marinwood in Marin County and began to learn the ways of transition, pop and balance when he started skateboarding at age 6. He went pro as a skater in his teens, even having his own skateboard deck with San Diego–based H-Street Skateboards, and had several film segments during a roughly seven-year span.
"Snowboarding was kind of a cross between my skiing and my skateboarding," Salasnek said in a 2012 documentary by Vice about his career. "I was like, 'Wow, snowboarding looks so cool to me.'"
He rode his first snowboard in 1988 and soon found himself in need of a sponsor after H-Street went through financial struggles. He took his resume to a tradeshow where he met Sims founder Tom Sims, and left the show a signed athlete with a leading snow and skate company. He received his first pro snowboard model a few years later in 1993, a top-seller for Sims, and an iconic deck with a yellow base and skateboard truck graphics.
The future looked as bright as a bluebird California day, and Salasnek was in hot demand by the fledgling snowboard film industry of the time—an industry that helped spur snowboarding's meteoric rise in the '90s, with Salasnek playing one of its leading roles.
Mike Hatchett, co-founder of Tahoe-based Standard Films, was among the filmmakers who recognized Salasnek's skills early and worked with him throughout his career.
"Whenever he rode a snowboard, you just wanted to watch it," says Hatchett. "It didn't matter what it was. It looked effortless how he flowed down the mountain."
Salasnek made a skatepark out of Tahoe's diverse terrain—poking out method grabs, floating late 180s and buttering off of cornices. His riding was something aspiring riders tried to imitate.
"Noah was one of those guys who had a really clean skate influence," says Hatchett. "He could do three turns down a steep chute, then hit a frontside 360 off a little side-hit, land in the chute and keep making turns out the bottom."
He bought a house in Tahoe after signing with Sims and was pumping out video parts at a prolific pace. He filmed with Tahoe-based Fall Line Films, Standard Films and Mack Dawg Productions, often putting out several parts in one season, year after year.
"He knew the value of being a professional," says Sullivan. "He was always willing to get up early, re-hike a jump if he needed to get another shot and go the extra mile."
At the same time as he was closing in on the pinnacle of the freestyle world, Salasnek sought out big-mountain riding. His fame coincided with the advent of exploring Alaska with helicopters and film crews, and within five years of first strapping into a snowboard he was on the summit of some of the most hair-rising lines on the planet.
Super Spines
Salasnek amassed a pile of highlights in his career. He did a backside 720 on Mount Rose that JP Walker claimed as "the best backside 720, ever… in the history of snowboarding" in a documentary of his career by Vice. He rode a first descent in Alaska called Blind Faith, on which the guide rode the helicopter to the bottom because he thought it was too sketchy to ski.
But perhaps the defining moment in Salasnek's career—and a pivotal moment for snowboarding as a whole—was his first descent of "Super Spines," a line near Haines, Alaska, filmed for the 1995 Standard Films movie Totally Board 5. Spine riding, which involves navigating down steep, ruler-edge ribbons of snow, was a mostly unknown arena at the time.
"That's the first proper spine line ever documented and it's still the Holy Grail," says professional big-mountain snowboarder Jeremy Jones, who first saw Salasnek's freestyle riding via early Mack Dawg movies and later went on to ride with him.
Super Spines, in particular, opened Jones' eyes to this new frontier and helped steer his own obsession with the challenge of spine riding.
"At the time, we had never really seen spines before, let alone knew that they were rideable," says Jones. "That line shifted our compass and whole focus, from what we previously thought was the ultimate line—which was steep pow—and then he took it to even steeper pow on these corrugated geographic anomalies."
Hatchett, who filmed the line, says the crew was close to riding it earlier the same season but pulled back due to weather. The late skier Doug Coombs—the other person to ski it that day—convinced them to stick around in Alaska for another attempt. They returned in early May, after other film crews had left Alaska, says Hatchett.
"It will always stick out in my head… there were bergschrunds at the bottom, all these cornices at the top, but we could see a way through it. If you land the heli in this one spot, and ride the line exactly this way, and do this, and don't do that, you could actually get down and not kill yourself," says Hatchett.
Salasnek threaded the dangers with finesse, bouncing from one spine to another, and working the fall line diagonally to outrun his slough. "Afterwards, we were elated and freaking out. We couldn't believe it," says Hatchett.
"Our Bro"
Salasnek's video parts often portrayed the rock 'n' roll lifestyle synonymous with snowboarding at the time (his riding sometimes interspersed with clips of dirt biking, partying or packing a chew), but he's remembered as a well-adjusted human, intelligent and respectful of both the mountains and the people who helped him make a living off of snowboarding.
"I met Noah at Donner Summit in the parking lot and he commented on my old-school camera," says Day, now a filmer with Warren Miller Entertainment. "From that day on, he was always polite and sincere. He always said 'thank you' at the end of the day to the filmers."
Additionally, one might think a 20-something, skater-turned-snowboarder on Alaskan first descents as something of a liability, but he was a student of the mountains with an eye toward safety, according to those around him. Jones says that Salasnek always "did the math" on big lines, analyzing snowpack and identifying the dangers.
He would stay focused when needed, but also had a bright and comical demeanor. "He was always the most witty guy, making everyone laugh—really clever and sharp," says Jones.
"Noah was our bro, a close friend in our tight-knit crew that we had, an all-around nice guy and fun to be around. He was a team player. He was fun like that on and off the hill," says Hatchett, who became close friends with Salasnek over their years filming together.
A Career Cut Too Short
Salasnek filmed his last major snowboard movie in 1998, and while his riding talents were far from plateauing, his career came to a sudden halt, triggered by sponsorship problems. 
Around this time, Salasnek was interested in new sponsorship opportunities, particularly with a startup company called Forum, that would lead snowboarding's progression into the new millennium. Salasnek knew Forum founder Peter Line, and there was interest in having Salasnek be a part of the new team. Salasnek went to Sims to discuss moving on from his longtime sponsor, but Sims wouldn't allow it due to contractual obligations.
Soon after missing his chance with Forum, Sims cut him from its team. Salasnek's years in the spotlight came to a sudden and disappointing close, and his troubles deepened from there. 
"They had some kid come out and tell me they were not going to re-sign me, after I begged them to not ride for them, to go to this other company," Salasnek said in the Vice documentary. "So they really, I think, took advantage of me, and unfortunately, it didn't pan out that well for me, afterwards."
After being dropped by Sims, Salasnek fell hard into drugs, reportedly going from cocaine to a crystal meth addiction that spun out of control. In conjunction with the drugs, he struggled with serious mental illness and lost touch with society.
"It just changed him as a person," says Hatchett.
Over the years, Salasnek found periodic respites in sobriety and would get back on his board occasionally. But he never regained his Midas touch.
Then, in 2016, he contracted liver cancer. He didn't have a traditional family during this time, but his snowboard brothers and sisters did what they could to help with his addiction, and then the cancer.
Hatchett's twin brother, Dave, took Salasnek under his wing, along with a few other friends, and rented him a house in Tahoe to provide a place to rest and recover. In May 2016 friend Mike McEntire, founder of Mack Dawg Productions, and others set up a GoFundMe account to help with medical expenses, with 814 donors raising more than $50,000.
Despite the widespread efforts, Salasnek died on April 19, 2017. He was 47.
Lasting Legacy
The snowboard world didn't get to see what Salasnek could have done into his 30s and beyond. But all snowboarders today, more than 20 years after he exited the spotlight, benefit from his influence.
Beyond the tangible film parts, he helped snowboarding find its identity. If the snowboard landscape of the 1970s and '80s was loosely defined as a Molotov cocktail of anti-establishment, primitive equipment and neon, what emerged in the '90s was a more identifiable image of what snowboarding looked like—a look that the kids idolized, and one that helped launch a global industry.
Salasnek was in the crosshairs of this new era. He was innovative, freestyle-driven but highly proficient in pow, throwing down in baggy pants, with long hair flowing, going huge, drinking beer and having fun. That was Salaz.
To be sure, there were dozens of other riders pushing the envelope alongside him—including notables like Shaun Palmer, Craig Kelly and Terje Haakonsen. But, for most of the '90s, he embodied the new school of snowboarding as well or better than anyone, and with his efforts he progressed the sport of snowboarding like few others.
"If there's a Mount Rushmore of snowboarding, Noah Salasnek is on it," says Jones.
---
Dave Zook remembers watching Salasnek as an early teen in Standard Films TB6: Carpe Diem, and had no qualms spending hours re-watching videos of Salasnek to research this piece. He recommends everyone do the same.