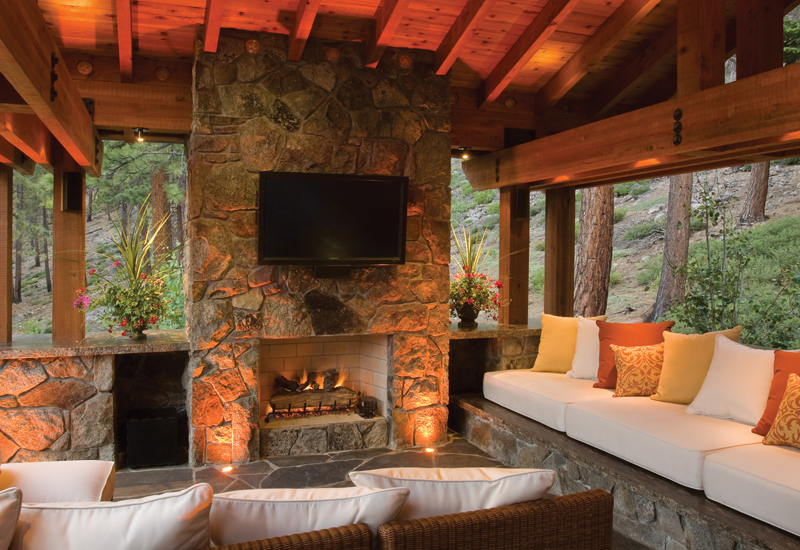 Bringing the Resort Lifestyle Home
Who hasn't dreamed
of bringing the fabulousness of a resort hotel home? Incline Village residents Julie and Mark Ludviksen made a list of outdoor amenities they most enjoyed when traveling and decided to build a back­yard living space family and friends could enjoy year-round.
After consulting Micah Langdon of South Lake Tahoe's Design Workshop in April 2009, the couple, who have three young children, discovered they had enough existing cover­ age on their hillside lake-and-mountain-view lot to create a substantial and seamless outdoor extension of their eight-year­ old house. Several design iterations and a little over a year of construction resulted in a trio of inviting, interconnected granite-walled terraces that provide well-planned places to mingle, cook, dine and play amidst expansive Tahoe vistas, whatever the weather.
"Over several months the project grew bigger and bigger, and the grassy play area we had originally planned for was replaced with a sport court," says Mark. "The outdoor kitchen evolved into a covered living area with a fireplace and TV, and we added water fountains for both the sound of splashing water and the visual effect. The spa/pool ("spool") was reworked into an infinity edge and we added a leaping water feature as well."
The computer-controlled fountains can be set to music and contain color-changing fiber-optic lights. Incline-based Holm Electric, which installed the lighting, routed audio through a series of 26 speakers placed throughout the space.
The fully-walled sport court is big enough for a half-court game of hoops and has a basketball goal that can be moved out of the way to hit tennis balls or accommodate a ten-foot-high screen for movie night, complete with surround sound.
Landscaping, which integrates BMPs, includes native and adapted plants, aspens to help provide privacy and seasonal color, drip irrigation and raised stone planters where veg- etables can be grown out of critters' reach.
While the Ludviksens make the most of this space in the summer months, they made certain that no one would be left out in the cold when the inevitable chill sets in. Covered sitting areas provide protection from the elements, the pool can be cranked to 100 degrees Fahrenheit, a large granite gas fireplace offers warmth and wind-screening, infrared heaters are placed above seating areas and snow-melt systems are embedded underfoot—all ensuring that this backyard resort is truly one for all seasons.
Architect: Gary Davis Group,  Builder: Hummel Construction,  Blue Rock Development,  Landscaping: Design Workshop,  Square Feet: 3,000 ± ft