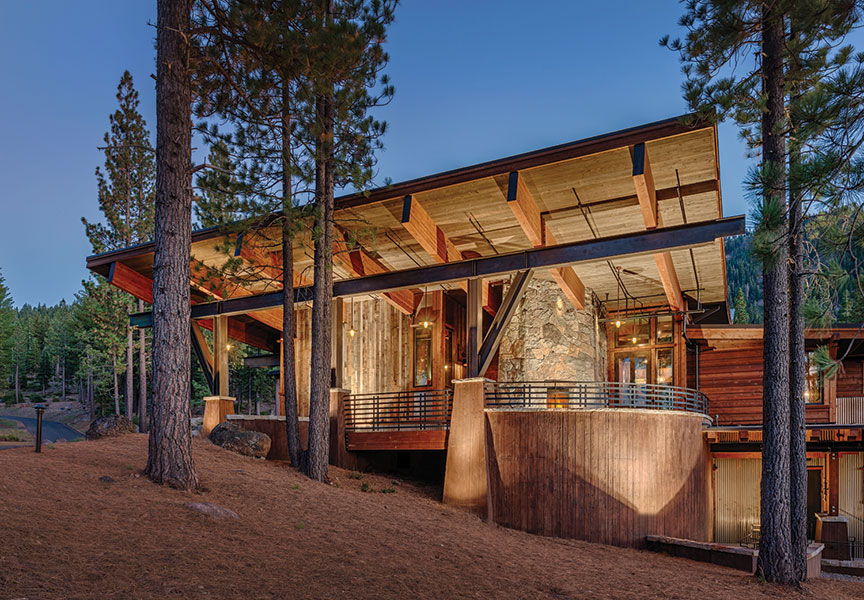 24 Feb

All Decked Out

Imagine après-ski heaven and it may look something like the back deck of Martis Camp's Lookout Lodge.

Lookout Mountain—with its fun groomers and expert-only glades—and the Martis Camp express lift to Northstar California's slopes stand a short ski-skate away from the brand-new, 8,604 square foot ski lodge for the private development. A barbecue—large enough to feed a deck-full of guests (70-plus) but small enough to avoid looking commercial—is set to one side while a long bench lining the south-facing building allows guests to soak in rays while grabbing lunch.

The Lodge, which opened for its first ski season this past December, is already a hit with guests, says Ron Todd, an architect with Martis Camp owners DMB Highlands, which designed the building.

"We've had a few days when it's been so packed we've looked around at each other and asked if we have space for an addition," says Todd.

One of Martis' final planned community buildings, the Lodge was finished in summer 2012. The exterior of the two-story building is of picklewood, western red cedar and COR-ten steel, lending a rustic quality that compliments modern touches such as a saddle roof.

"It's a modern building and we wanted to create a more rustic look using those materials," says Clare Walton, of Tahoe City's Walton Architecture + Engineering, who oversaw the project locally.

The picklewood backs a large, numberless clock face on the outside of the building that was designed by Walton and fabricated in steel and COR-ten by Hunter Metal Forge & Ironworks, based in Tahoe Vista. "We wanted to do something very simple, but also something that was very unique," Walton says.

The back deck seating area remains drip-free thanks to the saddle roof, which pipes melt-off away from the front entrance as well.

"The main reason I wanted that roof is so you don't have icicles hanging over people—which can be dangerous—or have them getting dripped on," says Todd.

On the far end of the dining deck—a concrete surface featuring an underground radiant heat system—sits the barbecue and an adjacent seating area.

"We really wanted to create that relaxed, springtime skiing atmosphere there," says Jason Hansford, Martis Camp's vice president of construction management.

Hugged against the slope-facing exterior wall is Shirkey's bench—a long, wall-mounted bench named for a popular restaurant owner in Vail, Colorado, where Todd worked in the past.

"The restaurant was always packed and Shirkey had a bench on the side of his building; it was always full of people who were just eating and looking up at the slopes," Todd says. To avoid bench-sitters blocking the view of diners inside the lodge, the deck was lowered into the slope the Lodge sits upon.

So get a member to invite you, kick back and bask—this outdoor space was made for food, friends and enjoying the view.
Outdoor Space award
Architects: Ronald A. Todd, Highlands Management Group and Clare Walton, Walton Architecture + Engineering
Builder: Hayhoe Construction Corporation
Interior Design: Walton Architecture + Engineering and Vallone Design
Landscape Design: Loverde Landscapes
Landscape: Martis Camp
Year Completed: 2012
Square Feet: 8,604