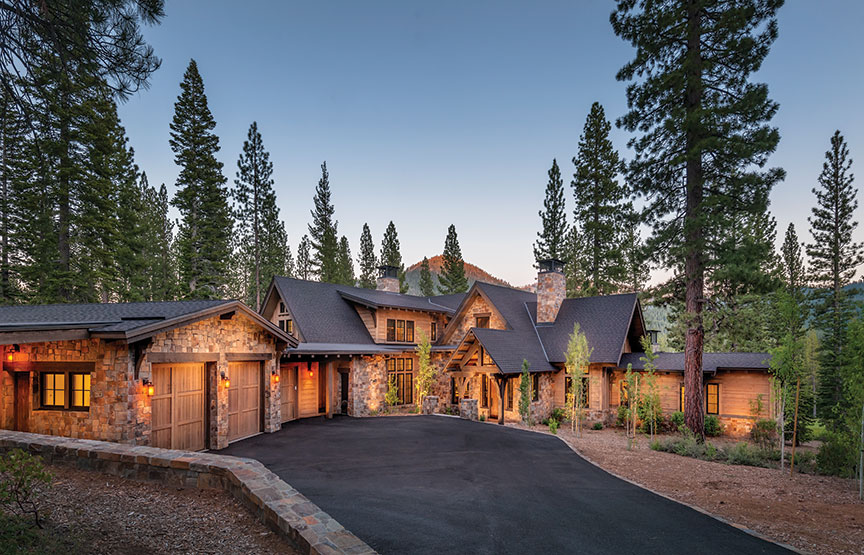 25 Feb

All in the Family
Built for multi-generational enjoyment, a Martis home highlights family
Lake Tahoe and Truckee mean many things to many people, but for Jack and Liz Weingart, the area means family.  And not a mere 8 or 9 or 12 family members.  No, the Weingarts fill their spectacular 7,200 square foot Martis Camp home with as many as 28 people during the holidays or special occasions. "When we think of being in Tahoe, the first words that come to mind are 'family and friends,'" says Jack.  "We are very close to our families and we built this house to share."
Lifelong San Francisco Bay Area residents who currently live full time in Los Altos Hills, the Weingarts each enjoyed childhood vacations in Tahoe, so when they started a family of their own, it was a standing dream to have a mountain home in this area to continue the fondly recalled tradition. Six years ago, they purchased a sensational south-facing property along Martis Camp's driving range.

An expansive deck area opens to views of the surrounding mountains
"The site has it all, bar none," says architect Kristi Thompson of Truckee's MWA, Inc. Phenomenal views of Northstar California fill the panoramic backdrop and the topography gently rolls downhill, allowing the home to enjoy a direct connection with the natural landscape but rest just above the driving range stretching along the periphery.
The Weingarts' program for the home was not dissimilar to the needs of a ski lodge with guest quarters. "We wanted a home large enough to accommodate extensive family and friends and lots of kids, an open floor plan, plenty of lockers for ski gear and a lot of outdoor living space," says Jack. The "extensive family" Jack references includes his and Liz's four children, their parents, the five siblings they have between them and a passel of nieces and nephews.
But the couple was not interested in building a temple to alpine lodging, or a house that made any outward "statement."  "Jack and Liz wanted an unassuming and visually quiet house from the exterior," says Thompson. Traditional gable forms and additive shed roofs maintain calm, comfortable visual lines and the use of muted tans and browns via trestlewood siding and basalt stone at the exterior contribute to the home's unobtrusive presence.

The great room features barnwood over the fireplace mantle and folding door system
Friends recommended MWA for the project. After meeting Thompson and her partner, Kurt Reinkens, "we decided that Kurt and Kristi understood our vision the best and had both the architectural skill and creativity to adapt that skill to our vision," says Jack.
General contractor Jeff Cotton of Truckee's Cotton Construction, who often collaborates on projects with MWA, was tapped to build the home. "I have a full-on trust relationship with MWA," says Cotton. "I was confident we'd end up with a great result."
The home extends along the southern edge of the property and is bracketed with small gabled "pods" (the master suite in one, a guest suite in the other). An angle change in floor plan at these ends create a "U" shaped footprint, providing visual privacy from neighboring properties and giving the expansive and multi-leveled outdoor living areas a greater sense of shelter and connectivity to the home.  Outdoor dining, a fire pit for s'more snacking, a generous hot tub, barbecue and margarita bar are distributed between three terrace levels, connected with gracious runs of reclaimed limestone (also found on the interior) and interwoven planter areas.

Reclaimed wood drawers in a bathroom carry through a theme present throughout the home
Thompson skillfully zoned the house to serve active and age diverse crowds. The great room/kitchen is the anchoring space of the home and, in grand fashion, it offers a genuine Tahoe-lodge feeling with expansive volumes scaled by stone walls and warmed with exposed timber trusses and a full-height fireplace.  Reclaimed wood used for flooring, casework and trim—some from Salt Lake City, some from East Coast barns—lends the depth of quality and character that is a defining element of the home. "It adds integrity and history," says Thompson of the warmth of old lumber. "And I like that we aren't tearing down a bunch of trees—all this reclaimed wood will have a whole new life here."
The Weingarts engaged the services of San Francisco interior designer Sally Ward to help fulfill their vision of a "Euro-lodge mixed with rustic materials." In addition to the extensive use of reclaimed wood and stone, Ward selected an array of materials, colors and furnishings from a fresh, clean palette that contrasted just enough with the more rustic selections and gave the house a light and airy feeling. Touches of red accenting the house's mostly neutral flavors add a layer of liveliness and fun. "Sally helped tremendously," says Liz. "The process of selecting interior materials is daunting and she was invaluable throughout."

A bunkroom includes storage and plenty of sleeping room for all the children in the
homeowner's extended family
The kitchen is a chef's dream: Two separate linear islands, topped with smooth concrete slabs, serve the dual needs of feeding a quick, energy-filled breakfast to a pack of squirming children, and allow those preparing the meals a space all their own to easily load the oatmeal bowls. A bank of three, gridded windows gazing out at Lookout Mountain flank an additional runway of counter space; a pantry and storage areas hide behind rich, reclaimed alder casework. "This is our favorite space," says Jack. "It is so open and airy; it's the central gathering space where we are creating so many long-lasting memories."
A well-separated game and TV area lie only a few short steps up from the great room, but that division makes all the difference. "The layout of the house holds the crowds so well," says Jack. "The TV and game rooms can be full of people and you would not even know it from other parts of the house."
These rooms also tout fun bells and whistles such as an eight-by-eight foot reclaimed fir barn door that slides out to separate the game and TV spaces when necessary, and also hides a Murphy bed for overflow guests. "They've spent time in the house with unbelievable quantities of people," says Cotton, "and it just works beautifully. The ability to segregate activities throughout the house is great."

A two-island kitchen makes for a handy space to feed a large extended family
Reclaimed materials throughout the house play into the larger goal of reducing its overall carbon footprint. "For us, this is a legacy home and we wanted to do whatever we could to reduce costs for future generations," says Jack. While extensive solar gain factored prominently into the building design—Thompson equipped the house with 30 solar panels and three solar hot water panels—a ground-source heat system comprised of nine 300-foot-deep wells also lightens the utility load considerably. Thompson estimates the gas bill went from many hundreds of dollars a month to double digits once the geothermal system was engaged.  "It feels really good knowing we have minimized the impact of this home on the environment," says Jack.
As so many generations before, Jack and Liz are continuing the long Tahoe tradition of joyously bunking up with kin.  "Everyone in our family loves the mountains as much as we do," says Jack. "We've got a place here to gather for spontaneous dinners, footballs games, epic games of Catch Phrase and Liar's Dice—this is a great place to spend time together."
Legacy Award
Architect: Kristi Thompson, MWA Architecture & Engineering
Builder: Cotton Construction
Interior Design: Sally Ward
Year Completed: 2012
Square Feet: 7,200