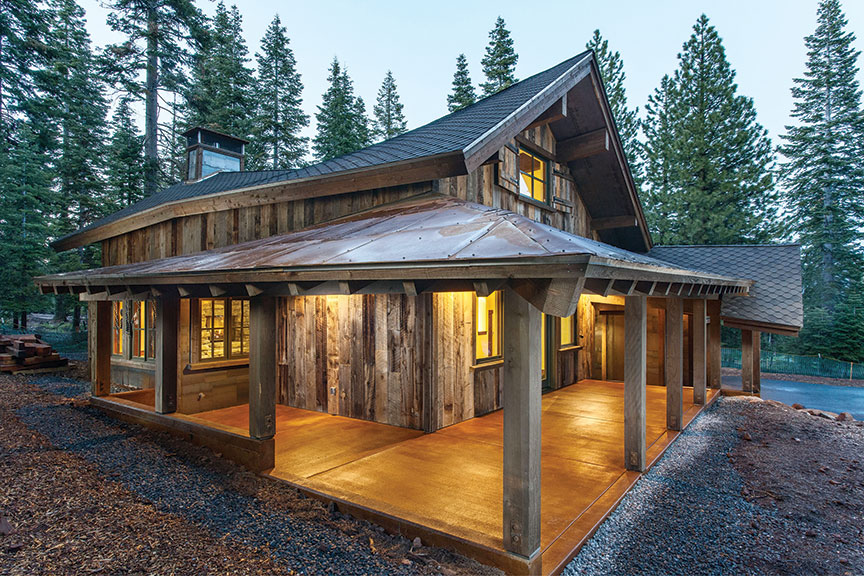 24 Feb

Drunken Hermit

An owner indulged his imagination, a designer and builder figured out how to make the wild ideas work, and together they created one of the more unusual structures in Martis Camp, and winner of this year's Unique Vision Award.

"I imagined the narrative of this house to be that it was built completely by a drunken hermit and his mule," says owner Scott Ewing. Every roof on the structure twists and bends. Materials appear haphazardly applied, as if the building was constructed section by section over time. The overall exterior impression is surprisingly graceful, while inside, cleverly constructed roof trusses and angled beams accomplish the twisting wizardry.

"The challenge from the beginning was trying to create a twisting roof using conventional material," says Mountain Concepts principal David Spears. "We did some experimentation and computer modeling. We weren't completely sure that the two-by-six decking was going to twist with the rafters, but it worked out fine."

Spears hired a sympathetic builder, Stuart Construction, owned by his father, to take on the challenge.

The building's material and design echo a rustic mountain camp, its wood siding reclaimed from barns in Northern Nevada. Corrugated metal siding is slightly random and skewed, modeled after ghost town buildings. Portions of the roof are covered with historically-common asphalt squares that help accent the twisting panels.

"Roof material was a challenge on the lower pitches, where we couldn't use comp material," says Spear. "We came up with randomly shaped metal panels over bichethane [weather proofing]. The overall effect is of an additive process with different material and forms; it's meant to look imperfect."

At just more than 2,000 square feet, the home is designed as a guesthouse for a main house to be built later on this Martis Camp lot, Ewing says. In the meantime, it serves as a memorable, extended family escape, sleeping 19.

A stone fireplace with seating around its front anchors the great room. The tiered hearth also serves as a stage for small theatrical productions (Ewing heads his own Nevada City theater company). Eventually the room will house some of his father's taxidermy collection from African safaris, including an elephant's head.

While an intimate master bedroom and bath occupy a wing of the home, most of its space is given over to bunkhouse efficiency. An oversized bathroom includes a large communal sink and connects to shower and locker rooms. Galvanized metal on the wall and plumbing pipe used for handles complete a utilitarian, industrial look.

"My father was an industrialist, so those touches are a tribute to his legacy," says Ewing.

Doors from the bathroom, shower room and master bath lead to an enclosed patio, hot tub and a year-round outdoor shower featuring a heated drain that won't ice up.

The "bunk rooms" demanding all of this bath-power are accessed up a tall ladder—a series of kid-dream lofts, the second requiring an adult-sized visitor to scrunch through a small opening. The third, largest loft spies down a floor on the home's entry (a second bedroom is located on the ground floor).

While the home's overall impressive is mountain camp rustic, it is nevertheless very energy efficient, with a portion built underground and radiant natural gas heat running through its concrete slab floors, says Spear. It was cost-effective to build, too: Despite its creative and engineering challenges, the project came in at $320 a square foot, a bargain at Martis Camp prices.

Hidden back in the woods, protected behind the gates of this private community, you might have to be a drunken hermit, stumbling out of the forest, to come upon this unique structure. In such a state, you'd be excused for thinking you'd just been transported to a much different place, or perhaps just time-traveled to a much different century in this corner of the Sierra.
Unique Vision award
Designer: Mountain Concepts, David Spear
Builder: Stuart Construction
Interior Design: Homeowner
Landscape Design: Loverde Landscapes
Year Completed: 2012
Square Feet: 2,032