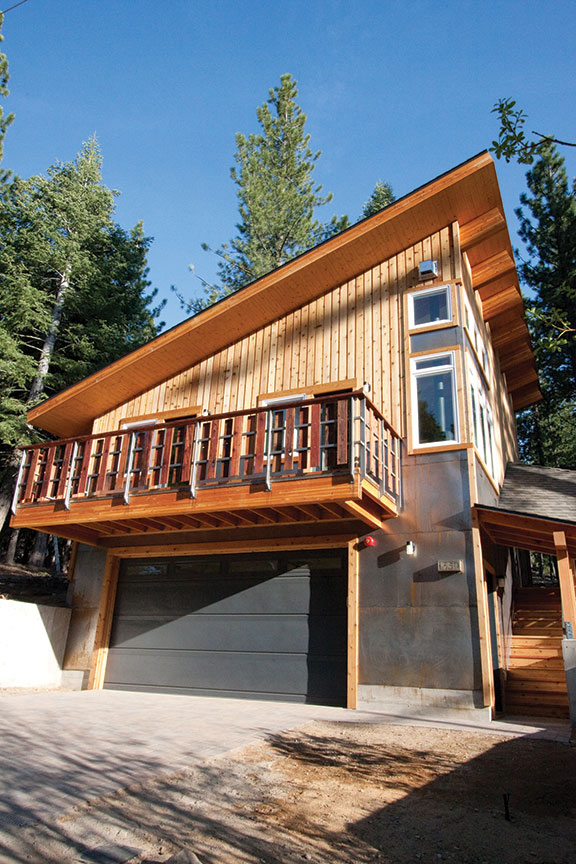 24 Feb

Functional Green

Mixing your mother-in-law with your favorite outdoor pursuits may not seem like a good idea, but husband-and-wife duo David Reichel and Katharine Miller found a way to make it work with a recent addition to their South Shore home.

The full-time Meyers residents completed the two-story garage and granny flat adjacent to their home in early summer 2012 with the help of Healthy Home Consultants' Bret Hackett.

The addition got the bikes out of the bedroom and gave Reichel and Miller's families a place to stay and see the couple's two-year-old son grow up, all while utilizing the environmentally-friendly building techniques in which Hackett specializes.

"The kid was the serious catalyst," says Reichel, a wilderness coordinator and adjunct instructor at Lake Tahoe Community College.

The avalanche safety instructor bought the approximately 1,600 square foot, three-bedroom, two-bath main house in 1999. With the new addition, Reichel didn't want to repeat design mistakes of the 1970s-era main house, which he describes as a "poorly insulated home that was not well sited." The connection between the garage and older home is a relocated, covered walkway that eliminates some of the home's snow removal challenges.

Construction of the in-law unit was completed using Structural Insulated Panels (SIPs), rigid insulation sandwiched between two pieces of plywood, on top of traditional stick framing and a concrete foundation.

SIPs earn their green chops by creating a space that requires less energy and greenhouse gases to heat than conventional construction. The panels are especially adept at keeping Lake Tahoe winters at bay, Hackett says.

"I think it's the ideal building material in this climate," he says. "It's one of the most airtight structures on the market."

SIPs arrive ready to install and create "basically no onsite waste," he adds. Reichel and Miller's project marks Healthy Home Consultants' fifth SIPs structure.

"This is all we want to do," says Hackett, who founded the design-build firm in 2007. "Work with great people and do innovative design."

Other green features of the couple's new addition include an on-demand water heater, a natural gas fireplace and re-milled redwood taken from an existing deck and transformed into outdoor railings and interior trim.

The downstairs garage holds two cars (and seven bikes). The upstairs contains a small bedroom, living room, bathroom and loft that provide additional storage and living space.

"It's a good space," says Miller, who works as a librarian for El Dorado County.

Reichel and Miller, who considered purchasing another home instead of adding on, are happy with their decision. They are surrounded by public forest and the $280,000 cost of the addition was well worth the extra comfort in a beautiful spot, they say.

"We liked our house. We liked our location," Miller says. "It was a very good investment."

Perhaps the project's best feature is a second-floor deck, which Hackett included to break up the building's façade. Providing an incredible view of the sun setting over Echo Peak, it serves as a daily reminder of the beauty of the natural world—and thus, of the importance of building green.
Smart Addition award
Architect: Healthy Home Consultants
Builder: Bret Hackett, Healthy Home Consultants
Interior Design: Healthy Home Consultants
Landscape Design: Loverde Landscapes
Year Completed: 2012
Square Feet: 630 (guesthouse), 630 (garage), 300 (deck)