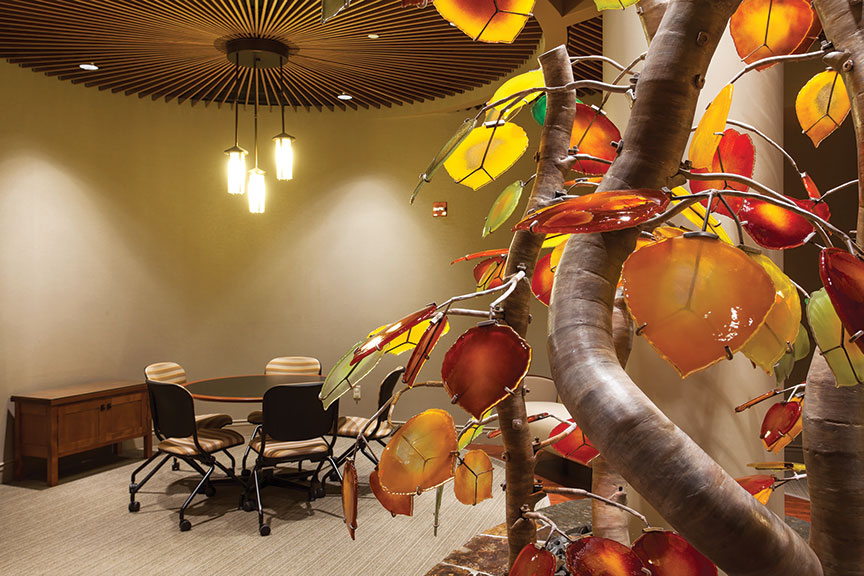 24 Feb

Life-Giving Mission
Truckee's new Cancer Center is a triumph of design, science and compassion
The Gene Upshaw Memorial Tahoe Forest Cancer Center stands as a testament to its community, namesake, designers, physicians, staff and patients.
For years, Truckee's cancer care program was shoved into a building just across Donner Pass Road. Having hired Dr. Laurence Heifetz, a renowned oncologist from Los Angeles' Cedars-Sinai, in 2006, Tahoe Forest had a robust staff, but facilities were lacking. "You had to take breaks in the hallway," says Eileen Knudson, clinical operations director. "There was one bathroom for the physicians, patients and staff."
Named for the late, legendary Oakland Raiders lineman and completed in June 2012, the building blends with its surroundings—designers carried certain exterior elements, such as the brick, over from the existing hospital campus in Truckee—and includes state-of-the art features. Far from a clinical interior, the earthy tones, rich woods and shortened hallways adorned with art are meant to lend a lodge's warmth to an intimidating setting.
Design standards for the, $33 million-plus Cancer Center, paid for through a public bond and private contributions, were partially laid down by the Cancer Advisory Council—a group of 29 community members and hospital staffers—who set out to tour other cancer centers to assess what they wanted in Truckee.
"Things that were a priority was a design that was beautiful, welcoming and peaceful, inspiring hope for each person who entered the building," says Pamela Hurt-Hobday, who chaired the council.
To that end, the hospital hired David Wolfe of San Diego–based architecture firm FreemanWhite. In considering an exterior design, Wolfe, who has 40 years of experience designing hospitals, had two objectives. "We were fixated on making it fit in and be unique," he says. The "earthy" brick veneer and COR-ten dressed up the steel superstructure, and Wolfe opted for flat rooflines that would hold the snow rather than shed onto adjacent sidewalks and parking areas. Construction began on the 34,000 square foot, three-story building in September 2010.

Named in honor of NFL great and benefactor Gene Upshaw, the Tahoe Forest Cancer
Center is designed to promote healing
"There's a lot of talk now about healing art and a healing environment," says interior design consultant Joy Meeuwig. "Some of those features in the Cancer Center draw from nature using wood grain materials, placing lots of windows in the building and the use of natural light in the infusion area and in the lobby." Earth tones carry through the interior, where steel beams are wrapped with dark woods and mahogany, cherry and maple are present throughout.
Before any of the finishes could be applied inside, though, there was a 7,500-pound, foot-thick door to install on the northwest end of the building in the radiology department. Due to the sensitive nature of radiation—namely, not exposing people to it—the department is recessed below Donner Pass Road and built like a "bank vault," says project manager Jason Shakespeare of Reno's Geney/Gassiot General Contractors.
Slab to support heavy radiation equipment is three feet thick, with walls and ceilings made of seven-foot-thick concrete. The door had to be framed and set before any other construction could take place due to its sheer magnitude.
"It's not the norm to build that thick of concrete walls or roofs," Shakespeare says. "It's for dams and bridges usually."
"That door is really scary," says Meeuwig. "In taking the hard-hat tours before construction finished, there was such an immediate coldness in passing it." Tangible efforts were made to soften the walk to radiology. A curving corridor, warm color palette and mandala paintings keep the focus on the walls instead of the looming door.

Millions of dollars in new imaging equipment—including this PET-CT scanner—make the
cancer center state-of-the-art
"One of the design ideas was to minimize the length of those corridors, unlike other clinical settings… It's intended to minimize the trepidation," says architect Wolfe. Small alcoves meant for artwork break up the length of the walls.
From the well-lit main lobby, a corridor stretches toward an on-site lab—a feature recommended by the council so that patients did not have to leave the building for testing, Knudson says. It's flanked on the left by a small stone-lined alcove featuring a rising bird sculpture created by Dr. Milton Heifetz, a brain surgeon and father of the Cancer Center's lead physician.
"The best thing we ever did was develop an art committee," says Knudson. "The pieces are soothing and distract from why the patients are here."
Local residents may recognize the stylized iron and glass aspens created by Troy Corliss, who created the flowers in Truckee's Pioneer Trail roundabout.
The southeast side of the building features the building's showpiece space—the infusion room, where patients receive chemotherapy. Upon entering, the eye is immediately drawn to a glassed-in gas fireplace, giving the room a homey feeling. Positioned in a semi-circle around the fireplace are eight infusion bays, each complete with a reclining chair, personal television and media center and small closet. The floors cover a radiant heating system, essential as patients are more sensitive to cold while undergoing chemotherapy.

The glass fireplace—cool to the touch—serves as the centerpiece in the infusion room,
where patients receive chemotherapy
Directly behind each bay is a window and small porches. Patients may—if OK'ed by the nursing staff—walk out onto to enjoy a sunny Truckee day.
"We thought the porches added a little bit of whimsy," says Wolfe. "But it had some gravity for most of the patients, because when we asked them 'why do you live here?,' it was because of the outdoors and the environment."
The environment was what drew the hospital's namesake, Gene Upshaw, to the area. The NFL Hall of Famer started visiting Northstar during his Raiders career—one that saw him play in Super Bowls in three different decades, the 1960s, '70s and '80s. His wife, Terri, a Bay Area native, grew up skiing at Lake Tahoe and watched her husband find solace on the tree-lined links of their Sierra getaway, a respite from the grind of his life in Washington D.C. as the leader of the NFL's players' union.
"Gene spent a lot of time on the road traveling, but when we were in Tahoe it was all about family and friends," she says. "He completely shut down in Tahoe; people knew not to call him when he was here."
An avid golfer, Upshaw began feeling sick during a trip to Tahoe in August 2008, when he planned to be on the links for his 63rd birthday. Sensing a problem, Terri advised her husband to seek testing at Tahoe Forest Hospital, an institution the couple had managed to avoid even while raising their sons, now 22 and 25, as skiers.
Upshaw went in and, on August 17th, received shocking news: He suffered from advanced pancreatic cancer. He died August 20th.
Shortly after Upshaw's death, the family started a Tahoe golf tournament to benefit the hospital in his honor—one that draws leading lights from the NFL such as former San Francisco 49'er Ronnie Lott—and gave an undisclosed monetary gift toward construction of the Cancer Center.
"After he became ill, I really had such respect for the staff at the hospital," says Terri. "Everyone was overwhelmingly nice and supportive, and the quality of care he received for that short time was outstanding. I'm a big spokesperson for the kind of care you get here. Sometimes you feel like a number and not a person at larger hospitals; here, people know your name. To me, that says a lot."
Commercial Award
Architect: FreemanWhite
Builder: Geney Gassiot
Interior Design: FreemanWhite
Year Completed: 2012
Square Feet: 34,000