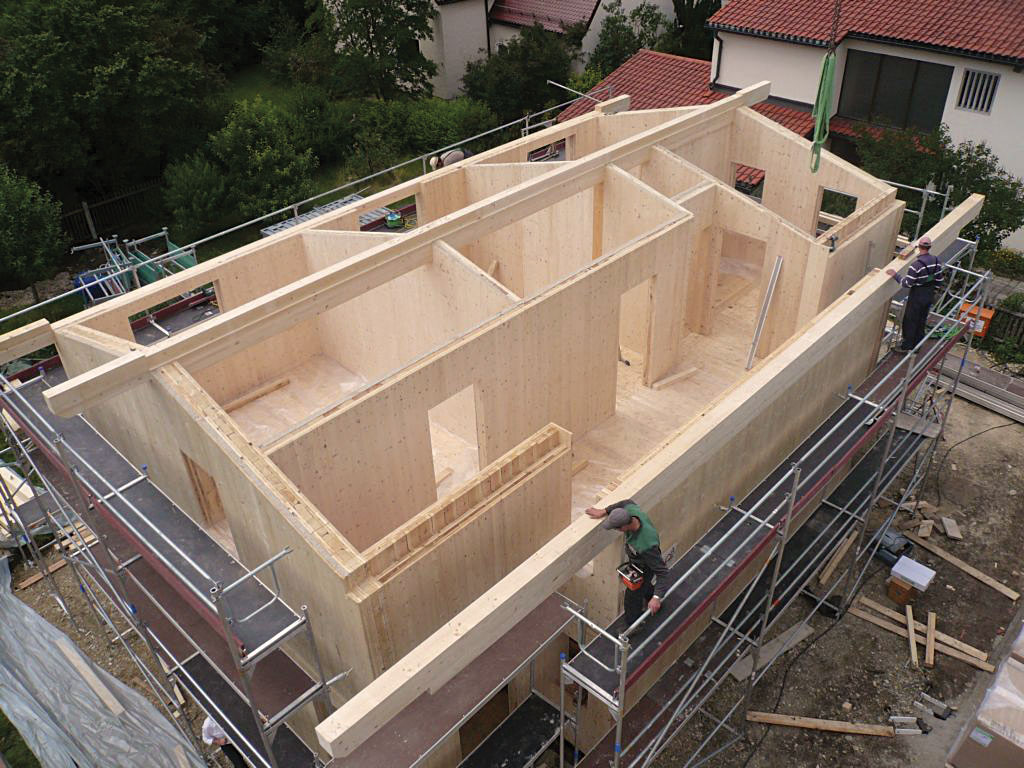 Solutions in Solid Timber
Solid timber construction—an ancient technology recently rediscovered—is making its debut in Placer County's Martis Camp development this summer.
Truckee's RDA Architecture and its father-son team of architects Gordon and Andre Pierce are bringing the technique to town with a home for Gordon on one of Martis Camp's cabin lots.
The technology is ages old—pagodas in China made completely of timber still stand—but is enjoying a bit of resurgence in commercial building and now residential construction, says Andre Pierce.
"Newly re-invented," Andre Pierce says, by Austrian Erwin Thoma, solid-timber building requires laminated wood panels to be attached together, much like other concrete panel systems. The difference is there are no adhesives or nails used—panels are secured together with dry wooden pegs, which, when inserted into wetter panels, soak up the moisture and expand to create a tight bond. The panels are insulated with a solid inch-and-a-half layer outside the building, which is then covered with any siding of the builder's choice.
"Right now they're building with timber like crazy in Asia because steel and concrete are so expensive," Andre Pierce says. "This is inexpensive, lightweight, and holds up well in earthquakes."

Opaker Gard Hotel Lounge, Kirkenær, Norway
About seven years ago, Gordon Pierce struck up a relationship with Thoma and began to think about building with solid timber here in the States. One of the major draws was the low impact of manufacturing the laminated wood panels, he says.
"The factory takes nothing off the grid because they use waste material to heat the building" along with solar panels on the roof to generate the power needed to run the factory, Gordon Pierce says. The hang-up, though, also lies in manufacturing. Since the plants are in Germany, solid-timber panels must be shipped overseas. The Pierces are currently working with a lobbyist to explore the possibility of building a factory in Oregon but so far it's still at a very early phase of development.
For the Martis home panels are being assembled in early May and shipped to Truckee for installation.
"We're not far off the mark (cost-wise) with this house because of the speed of construction," Gordon Pierce says. "Even with importing it, we're going to frame this house in a week; it's a huge savings on labor."
RDA is contracting with Tahoe City's Setter Construction to erect the project.
The plans for the home breezed through inspections by the Martis Camp Architectural Review team, says Architecture Review Supervisor Kelly Turner. Placer County similarly gave its nod to the project.
Fire concerns—an obvious question when dealing with an all-wood structure—are actually lessened than in a comparably-sized concrete and steel structure. When materials in a concrete structure catch fire, the concrete conducts heat at a high rate, causing the steel to warp and destabilize the structure. In solid wood construction the effect of a fire is similar to what you see in a large firewood log—the outside may char easily but it takes a long time to get into the inner layers of the panel system, Gordon Pierce says.
Builders are increasingly looking to solid-timber construction in very large projects as well. National Geographic's December edition profiled a builder in Vancouver who is proposing a 30-story skyscraper to be built out of solid timber construction. With the ability to re-grow your material, the technique is perking ears the world over.
What's old, it seems, is new again.