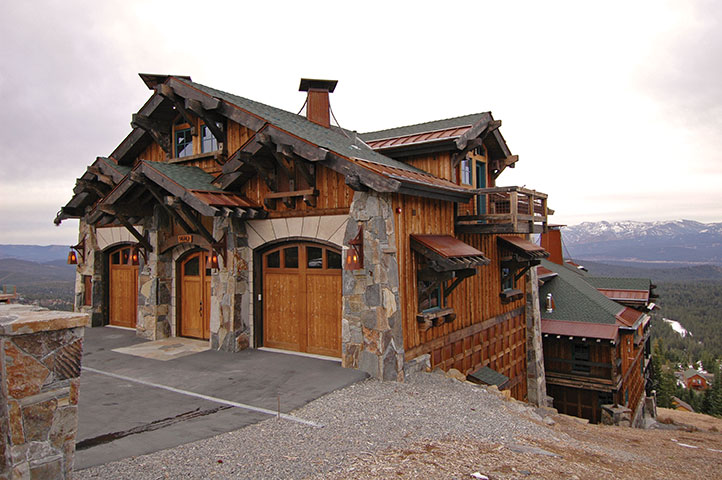 26 Feb

Paying it Forward
Tahoe Donner home a getaway for Wounded Warriors
Dr. Peter Killcommons, CEO of a company practicing telemedicine and teleradiology for the military, picked up the Tahoe Donner lot, high on Ski Slope Way, on a whim in 2006 after a friend purchased an adjacent property. He wanted a lodge-style mountain retreat, and one day noticed a breathtaking house created by Truckee architect Rob Rogers. Killcommons liked Rogers' style, and decided he was the clear choice to design the home.

The rear exterior of the home opens to spectacular views of Tahoe Donner and the valley beyond
Plans moved slowly. What began as a vacation home morphed into a retreat where people could gather and develop ideas for better medical care technologies in austere regions. To accommodate the new requests, Rogers focused on creating an inspiring  space to relax and collaborate, with lots of little living room groupings around the home.
Wars in Iraq and Afghanistan raged as design and construction got underway in the late 2000s. Killcommons frequently traveled to the Middle East to ensure his operation ran smoothly and did its best for hospitals serving soldiers. "I noticed that the ratio of people who are wounded to people who are killed went up, to 16-to-1," he says. "While I was in the war zone, and subsequently as I came back, I met a bunch of guys and gals who had unfortunately come back with all kinds of permanent injuries."
His encounters with wounded veterans inspired him to commission another design change. He wanted to build a retreat for these soldiers, a place where, despite their injuries, they could enjoy their surroundings and readjust to normal life.
Thus, the design changed again: two hydraulic elevators were added and bedrooms were adapted for ADA-compliance. In fact, 80 percent of the 11,688 square foot home is ADA-compliant, with wheelchair access to decks, living areas and even the in-home theater.
"The whole idea is that they can be up here with their friends," says Killcommons. "They can show up here and move around, up and down through the floors, enjoy the views, go skiing and have as normal an experience as they can despite the fact that they might be wheelchair bound."
When the project began changing, Rogers recalls, "I was thinking, not only do I want to do this, but I want to make it super cool for them."

Reverse-tapered columns with built-in lighting add flair to a house chock full of it
The architect had no interest in building an ordinary Tahoe home. "The only way you could really create and keep the interest of the place was to create architecture inside of architecture. Instead of when you have a door or opening, not just putting a simple wood frame around it and calling it good, no. We've created architecture around it, and done things like incorporated lighting inside of elements."
Indeed, there are multiple congruent elements, or ribbons, creating ambiance and tying the home together. Reverse tapered columns, door frames and window casings create an optical illusion of lowering the ceiling, and bring the juxtaposing sensations of spacious and snug to high-ceilinged rooms that might otherwise seem overly large. Handmade light fixtures and steelwork from artisan steel fabricator Chuck Groombs fill the space with repeating arches, mesh fills and LED lighting incorporated inside of steel and mesh elements throughout. An offset black and white tile motif using hand-cut two-inch square tiles can be found in each bathroom and the kitchen, as can several building materials such as chiseled black granite, copious warm wood tones and more steel highlights adorning everything from windowsills to bookcases. And out of almost every window is a stunning view of the valley below.
"I come from a big Irish family, and just like our family, I figured there were other people who would like a place to get together with their family as well," says Killcommons, who travels all but one or two months of the year. "When we're not here it's empty, and when it's empty I want it to be used. Make it available for other people to enjoy it as much as we enjoy it."

Built as a retreat for injured soldiers, this Tahoe Donner home is constructed to accommodate wheelchairs
On the reverse tapered fireplace in the living room hangs the Killcommons family crest, and a familiar sculpture, a symbolic version of a man, is suspended nearby. "[Rob and I] like the spirit of Burning Man and what it represents in terms of community and collaboration," Killcommons says of the homage.
Completed in 2013, the property has already hosted three Department of Defense veterans' events thus far, and will host its first group of disabled veterans with the Wounded Warriors program in April 2014. It's estimated that the house can sleep 20 to 30 people comfortably with its eight bedrooms (each with its own bathroom and coded door lock for privacy) and multiple fold-out couches.
"My hope is to have Wounded Warriors here one weekend a month through the ski season every year," Killcommons says, noting that houseguests will be training with the Alpine Meadows adaptive ski school beginning next year.
For now, he goes directly to organizations like the Fisher House Foundation and the Wounded Warrior Project to see how he can help. "These guys literally have suffered irretrievable losses in the course of fighting for our country. The idea is that we can pay it forward, pay it back to those guys and give them good experiences moving forward so they know they're appreciated.
"They're still out there fighting a war and there's a whole wave of them coming home this year as we're wrapping up in Afghanistan," says Killcommons. "I think more people should be aware of it and try to do something to let them know that we appreciate their efforts and the sacrifices that they've made."
Award: Unique Vision
Building Design: Rob Rogers, RWR Architecture
Builder: Barry Lease, Incline Builders
Interior Design: Rob Rogers, RWR Architecture
Square Feet: 11,688
Year Completed: 2013