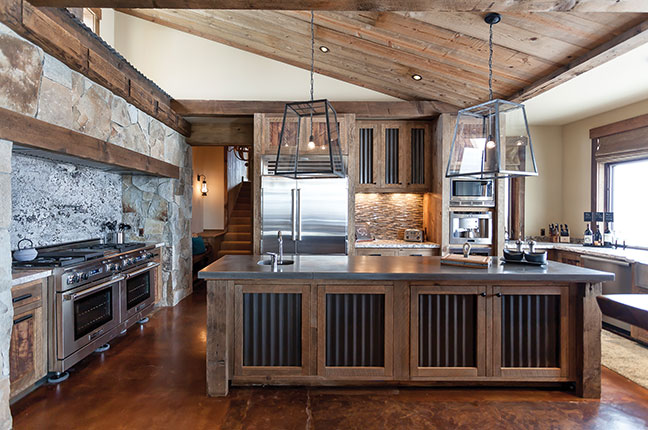 25 Feb

Vanilla Shake-Up

In a typical remodel, the home dictates the makeover. In this case, the makeover dictated the home.

"The homeowners were looking for a really private retreat in Tahoe," says Diana Vincent, owner of the Truckee-based interior design firm High Camp Home. "They contacted me and I explained that Bill [Lorrain, owner of High Sierra Customs] and I have helped a number of clients find and purchase homes that make sense given a client's wish list."

Vincent and Lorrain helped the San Francisco–based couple search for the perfect home to remodel. After touring about ten properties, they found a large house on a parcel with sprawling views of Boca Reservoir in Truckee's Juniper Hills neighborhood. Vincent called the home "incredibly vanilla," but it had good bones.

Varying ceiling heights help delineate the dining area from the great room
"We didn't need to do a lot of modifications on the structure," she says. "We did a lot of cosmetic work, not much structurally."
Vincent and her team at High Camp Home spent about four months assembling a design including everything from interior architecture to material choices and furnishings. "As soon as that was approved, Bill's company got started," she says.
The white drywall and mishmashed angles and beams of the original transformed into a wood, steel and stone estate.  Stepping through the front door, an entryway of two opposing stone seating areas  replaced the original closets. A Juliet balcony overlooks the great room, where a sliding barn door can close off the entrance to the home's guest wing, bringing symmetry to both sides of the large fireplace. Vincent replaced and reframed the arched windows with more traditional lines. The kitchen features a large island and smaller peninsula that divides it from the dining area, as well as a restained concrete floor.
"There were so many angles and slopes that it was almost nauseating," Vincent says. "It was a case of cleaning things up and calming things down."
"Pretty much everything got manipulated in some way," says Lorrain. "Some lipstick if nothing else."

Looking down from the entrance into the great room
Making the large home intimate proved a challenge. "It was so sterile," Vincent says. She and her team combated the problem by designing smaller, cozier spaces. Walls built in the family wing created an office and established a hallway. In the master suite, another wall was added to craft a new entrance. Replacing a bizarre walk-through closet with a fireplace and adding a kitchenette further enhanced the layout.
Truckee's Johansen Masonry installed the stonework using a "Farmhouse Creamery" blend of stones, which is a little lighter and more contemporary than the typical dark granite.
Vincent used sheet metal to adorn the decorative interior roofs, such as in the media room. Lorrain's company sourced the woodwork, from either dead standing timber it mills in Truckee or reclaimed barnwood from northeastern California.
Lorrain gives much of the credit to his High Sierra Customs crew. "They have a lot of skills," he says. "What we do in the field is always unique."
High Sierra Custom's Thom Vance crafted the reclaimed pine and corrugated metal cabinets in the kitchen and bathrooms. In the great room, the father-and-son team of Steve and Joey Montero created a ceiling styled after a recently-dismantled barn. Lorrain's son Chad finished, stained and distressed wood throughout the home. Dave Svoboda, says Lorrain, "did everything from the plumbing to decorative steel to the lighting."

The cozy, warm media room
In July 2013, the "vanilla" spec house completed its transformation into one of High Camp's signature looks. "This was a great house and a great project," says Vincent.
Merit Award: 

Interior Remodel
Interior Architect: High Camp Home
Builder: High Sierra Customs
Interior Design: High Camp Home
Year Completed: 2013
Square Feet: 5,800