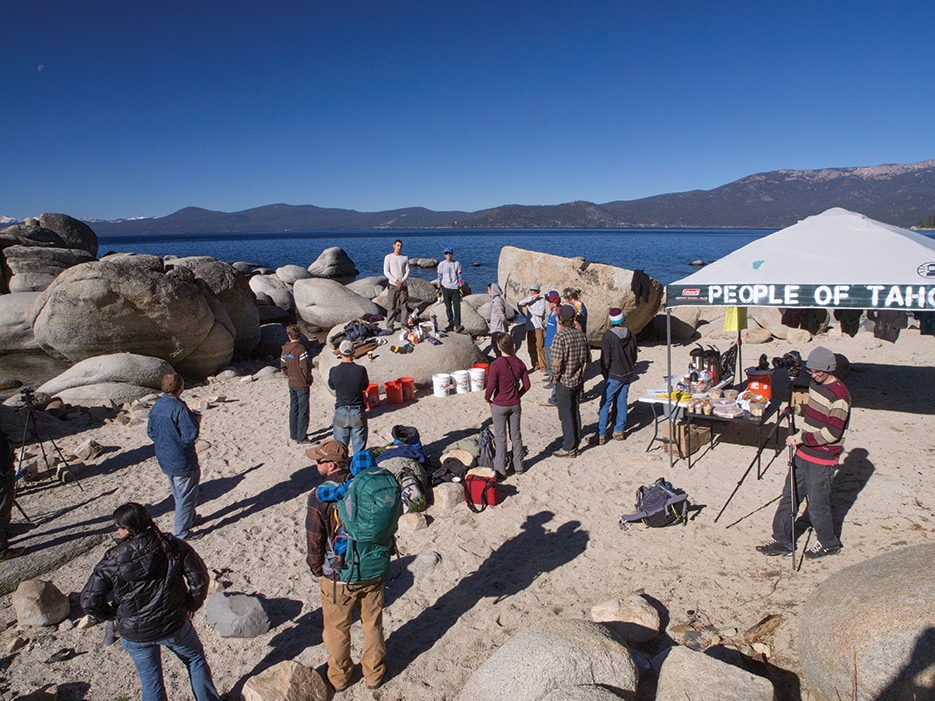 25 Feb

Written on Stone

On a wintry evening at Lake Tahoe's East Shore, waves collided with giant oblong boulders half-sunken in the shallow teal waters. The white caps dashed off the rocks, shattering into golden spray. Tiny rugged pines wedged their roots into the stone crevices, searching for a hold to secure them against the harsh northwest winds.

The picturesque beach, just south of Sand Harbor, is known as Bonsai Rock for the prominent square boulder with several dwarfed conifers poking out of the top. In the summer, thousands of visitors descend the steep path from Nevada Highway 28 to enjoy the undeveloped shoreline. It's one of Lake Tahoe's most photographed scenes, and one heck of a place to watch the sunset.

But the small rocky cove has become well known for something else—something far from the East Shore's pristine acclaim. Spidery scrawls of graffiti cover many of the smooth granite surfaces. The area is fast becoming the focus of both residents' and agencies' frustration over increasing environmental vandalism.

"What's so frustrating is the lack of respect these taggers have for one of the most beautiful places in the world," says North Shore resident Trevor Trimm, who, along with friends, helped orchestrate a graffiti cleanup last November.

Despite efforts to blot out the markings, swirls of black, red, green, blue, white and gold aerosols can still be seen on dozens of boulders at the site. Moniker tags like 'Form,' 'Epod,' 'Skunk' and 'Loik' stand out against the quartz and feldspar. An ugly scrawl reading "Bird WBL Wuz Here" slices across one face of rock. A crude face with rounded teeth poorly drawn into a large "F" covers another.

Last year, graffiti in varying forms was discovered at Sand Harbor State Park, Cave Rock, South Shore's Party Rock and even at Emerald Bay. Officials have found sporadic tags at many sites for years.

"There's always been sort of a small chronic problem that's ongoing," says Bob Becker, a recreation specialist who's been with the U.S. Forest Service in Lake Tahoe for more than 15 years. "We know that every year we're going to be faced with somebody who wants to deface public property. The horror of it is it's usually some of those stunning boulders on the East Shore."

But the blanket of graffiti left on the East Shore rocks after last year's busy summer was worse than anyone can remember.

"I knew that there was some graffiti around The Lake," says Jesse Patterson, deputy director of the League to Save Lake Tahoe. "But that particular location was shocking because of how much graffiti there was and, over the course of a few weeks, how quickly it was expanding. There was more and more each time I went out."
The Cleanup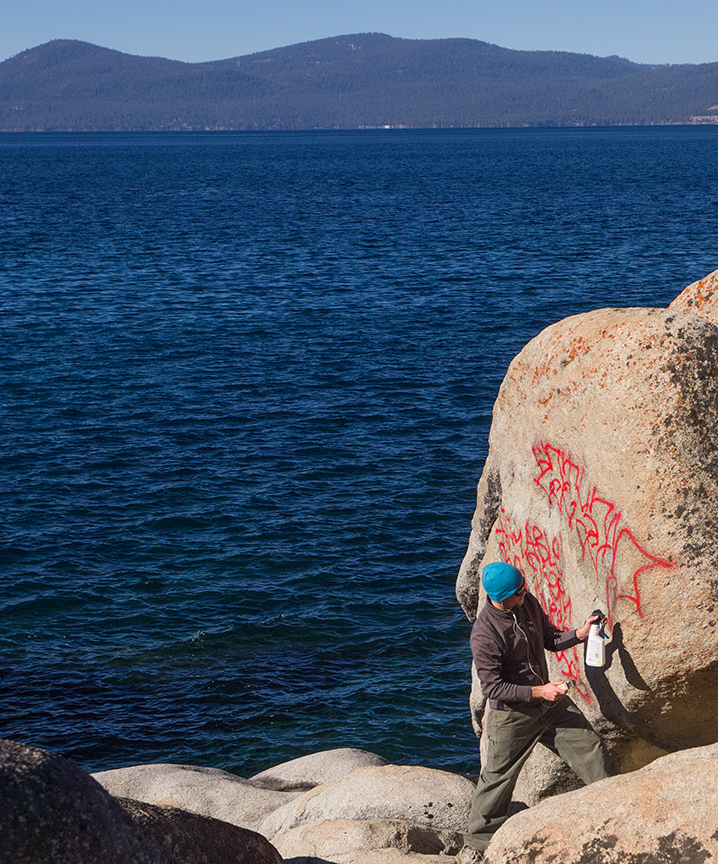 On a late fall trip to Bonsai Rock to take photos, Trimm noticed the change. He'd visited the beach throughout summer and hadn't seen as many markings. Now, there were dozens of tags on the rocks.
He snapped a few pictures of the damage with his iPhone and posted them with an angry note on Facebook. Within a day, the post had more than 400 likes and 100 comments.
"People from all over the area and even people from out of the area noticed the photos and were immediately frustrated," Trimm says. "That's when I started to get emails and phone calls from people who wanted to help clean up the graffiti."
The social media buzz spawned a cleanup day. A handful of Trimm's friends and acquaintances showed up and started scrubbing. Then, they realized how large the problem was.
"It wasn't only a few rocks," Trimm says. "It was 40 to 50 rocks that had been tagged up."
Trimm, North Shore resident Dylan Eichenberg and a few dozen others partnered for a second, more successful cleanup. The volunteers brushed, chipped and torched the paint from the boulders. They found some success with an environmentally safe chemical cleaner called Motsenbocker's Lift Off.
The Tahoe Regional Planning Agency took note of the citizens' hard work and presented Eichenberg with a Lake Spirit Award. But despite their efforts, many tags remained.
The volunteer group wasn't the only organization acting on the vandalism in the area. Kayakers and other boaters filed reports with the U.S. Forest Service of tags on the water side of the boulders. Nevada's Division of State Parks also received complaints.
"We had visitors reporting to us that it was a much larger problem than we had realized," says Eric Johnson, senior law enforcement officer for Nevada State Parks.
The agency began sandblasting the rocks from a small dingy. Carson City Sheriff's Office had inmate crews scrub and wash scribbles from signs and landmarks along Highway 28 numerous times. The Forest Service and the League to Save Lake Tahoe also got involved in the cleanup effort. But the area is far from pristine.
"We have dozens of tags to go, just in that area south of Sand Harbor," Johnson says. "Some of them appear to be recent. Others have been there for well over a year."
Preventing the Paint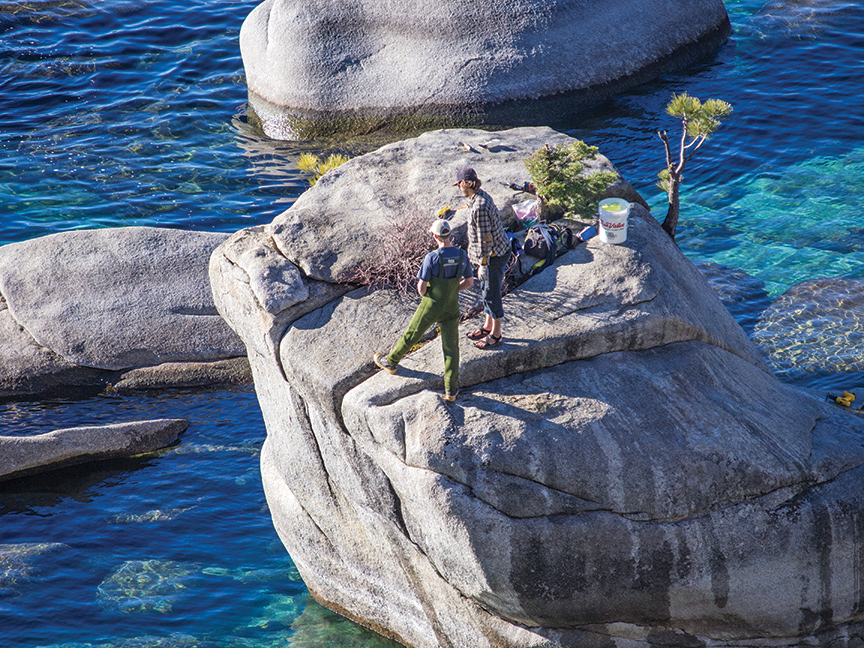 If scrubbing paint from stone surfaces is tough, catching taggers before they commit the act is near impossible. There is little they can do to stop those who want to paint on the rocks, say officials with Nevada State Parks, the U.S. Forest Service and the Carson City Sheriff's Office.
"We do a plainclothes detail from time to time to see if we can catch anybody in the act," says Tom Crawford, a reserve commander with the Carson City Sheriff's Office. "But it can be done so quickly or at night when we don't have routine patrols up there. They're in and out in a heartbeat."
Numerous laws declare the painting of rocks on public property a crime. The fines for the act can range from $250 to more than $5,000, plus the cost of repairing the damage. Nevada also has laws against carrying spray paint or other graffiti tools in certain public places.
"If you're caught the penalties are pretty stiff," Crawford says. "Even if you're carrying spray paint or markers, you can be arrested."
Though graffiti detectives have been successful in nearby Reno and Truckee, the kind of spontaneous "tagger" vandalism that has occurred at the East Shore is more difficult to investigate. The site's easy access and lack of light seems to make it an easy target for graffiti writers, Patterson says. There's also the "broken window theory"—the idea that even just a little vandalism can lead to a lot more.
"Graffiti is kind of like litter," Johnson says. "Graffiti breeds graffiti. When people see it, they feel they need to add to it."
The League hopes to counter that with a cleanup effort and possibly a new graffiti hotline before summer. The nonprofit is working with Nevada State Parks to plan a larger event, which they hope will eliminate any signs of the vandalism.
"It's definitely a huge concern of the League's," Patterson says. "And we're going to do whatever we can to eliminate it."
Becker believes that more than arresting the perpetrators, there's a fundamental problem that needs to be addressed. Respect for The Lake needs to be instilled in those that live and visit the area, he says.
"We have a really aggressive and ongoing environmental education program," says Becker. "A lot of it is establishing that connection with the land."
Dylan Silver is a South Lake Tahoe–based writer and photographer. He can be contacted at dylanmsilver@gmail.com.