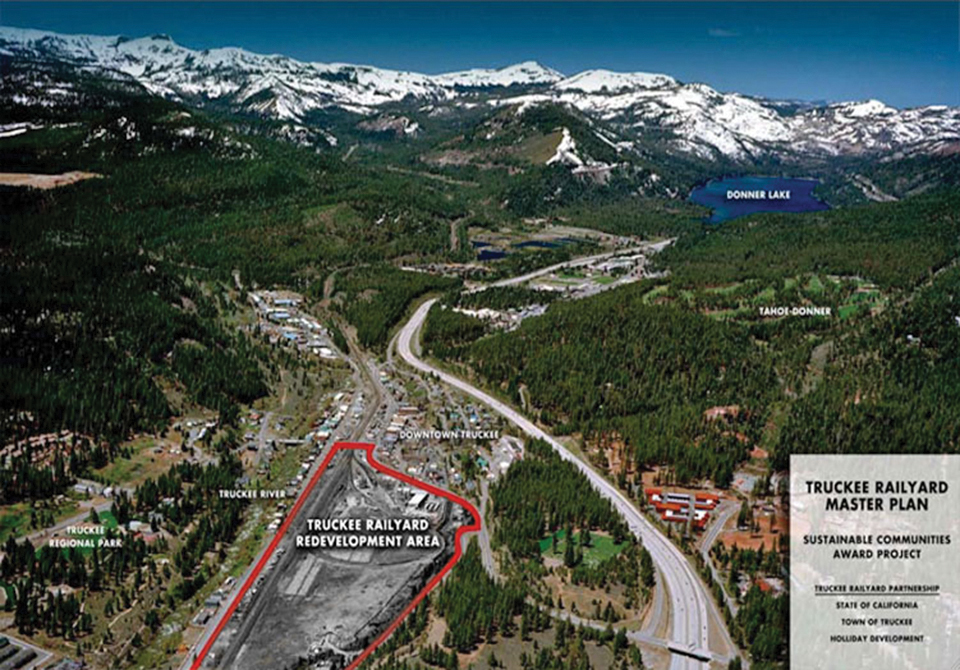 04 Mar

Truckee's Railyard Project Back on Track

More than five years quietly passed for a development planned in the heart of Truckee, but the creaks and clanks of warming metal and the hiss of steam from a coal-fired engine signal a new beginning for the town's Railyard.

The project, with its roots back in the town's infancy, has rolled forward in the hands of public participation, got caught up in litigation and temporarily stalled out in the difficult economic and political climate of the last few years. But, it is once again chugging along, poised to reshape downtown Truckee as soon as summer of 2016. That could mean a movie and performing arts theater, restaurant/brewery, new housing and a grocery store all in the downtown core.

Gears started turning two years after the town's 1993 incorporation, when the newly formed town government and the public sat down and hashed out a plan for the 70-plus acres immediately east of downtown Truckee along the railroad line, envisioning an expansion that would maintain and enhance not only the quaint district popular with tourists, but local services as well.

"That was probably the biggest public involvement process the town has done to date," says town manager Tony Lashbrook. "When we established a relationship with Rick Holliday ten years ago and came up with a plan, there was tremendous community support—I'd never seen anything like it. Every living mayor, except maybe one, was there in support."

Rick Holliday of Holliday Development won approval by the town for an ambitious development that would move the balloon track—a loop of railroad track used to turn trains around—east, create a new connection to Glenshire Drive, and add commercial and residential zoning to the property.

But then a group by the name of Friends of Truckee emerged and filed suit against the project, tying it up in court in 2010, until Nevada County Superior Court Judge C. Anders Holmer ruled in favor of Holliday Development and the town. This delayed the project enough, however, to coincide with the recession and a state decision to dissolve all redevelopment agencies, a tool the town planned to use to fund the large infrastructure costs of the project.

In the past few months, Holliday has secured $4 million in state grants and is working to get another $12 million to cover the infrastructure costs of the project, now reduced with an amended plan no longer moving the balloon track, he says.

"We've got momentum now," Holliday says. "I expect to start doing site work late in the summer and early fall, then potentially starting building May of next year."

Live/work buildings like this one represent the beginning of the Railyard
development, photo by Vance Fox
The first two years will focus on the western portion of the site, closest to downtown, adding a theater/restaurant and restaurant/brewery (maybe distillery) to town, and later constructing artist housing, a grocery store, and more.
Holliday is enthusiastic about the new momentum and the partnerships with cornerstone businesses he's working to secure.
"What I've tried to do is anticipate who to sell the land to, who the right people are to run these businesses for Truckee," Holliday says. "Getting the first four blocks right in building is great, but we need the people who love this town to get this right. The buildings are the hardware, but the people are the software that makes it run."
So far, those businesses and people include Andy and Alicia Barr of Truckee's FiftyFifty; Billy McCullough (formerly of Dragonfly) partnering with Kyle Conner of the Alameda Theater on the theater-restaurant; Ali Youssefi of Warehouse Artist Lofts in Sacramento; and Doug Wiele of Foothill Partners working on the grocery store.
Lashbrook agrees that making these businesses fit, not only within Truckee, but within downtown, is key.
"A theater can be a very non-downtown thing, but [Conner] partnered with Alameda, a small city in the Bay Area, that had this iconic, historic theater they were looking to resurrect, and he figured out how to make it really something, to build in a way that was compatible," Lashbrook says.
The plan is to integrate both a movie theater and a performing arts theater, which is taking some ingenuity.
"[Conner] had to design one-off screens that can show the latest 3D movie then 20 minutes later be ready for a high school play on the same stage," Holliday says. "I found the perfect answer in Conner and McCullough, this theater-slash-restaurant has been road tested."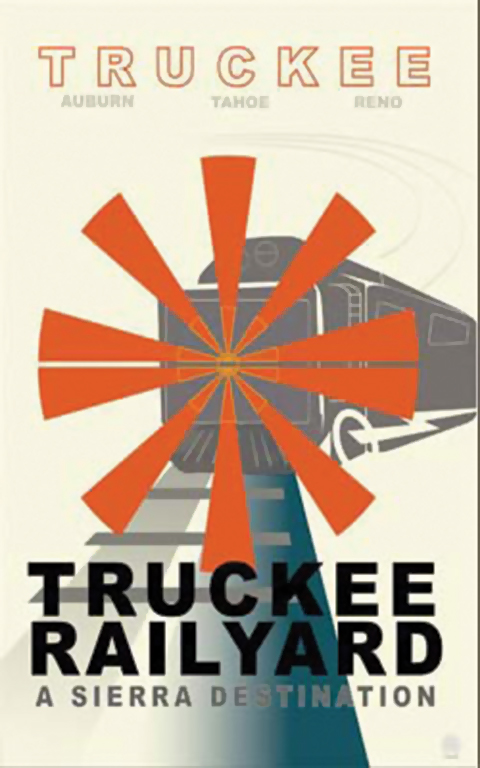 FiftyFifty's Andy Barr says he's excited about opening in the Railyard Project. "We're going to have a FiftyFifty-branded presence with some production, a restaurant and an event space," Barr says. "We're excited about the theater, parking, and looking at the project there is enough stuff that hasn't really existed in the area that will be a great supplement of downtown offerings."
The artist housing is a unique take on affordable or workforce housing, Lashbrook says.
"Most affordable housing is funded with tax credits to make it make sense, and federal tax law defines housing artists as a public interest," Lashbrook says. "Sacramento has been working on this—it's affordable housing but different, perfect with the new theater."
Now is a good time to finance such a housing project, says Holliday, noting that similar projects have started in San Francisco and Emeryville.
Instead of moving the balloon track, Holliday would develop inside the loop (including the proposed grocery store) and realign Church Street to continue through the Railyard site and connect to Glenshire Drive, thereby also potentially alleviating some of the pressure on the Donner Pass Road/Glenshire Drive intersection, Lashbrook says.
"The railroad agreed to use the balloon track only for snow removal equipment, so it will be very infrequently used," Holliday says. "It seems ridiculous to move something 12 acres east at such a high cost when it is not used very often."
Holliday is working with three different interested grocers for a health food type grocery store in the balloon track, he says.
He estimates future phases, reaching east of the balloon track, would be four to seven years out.