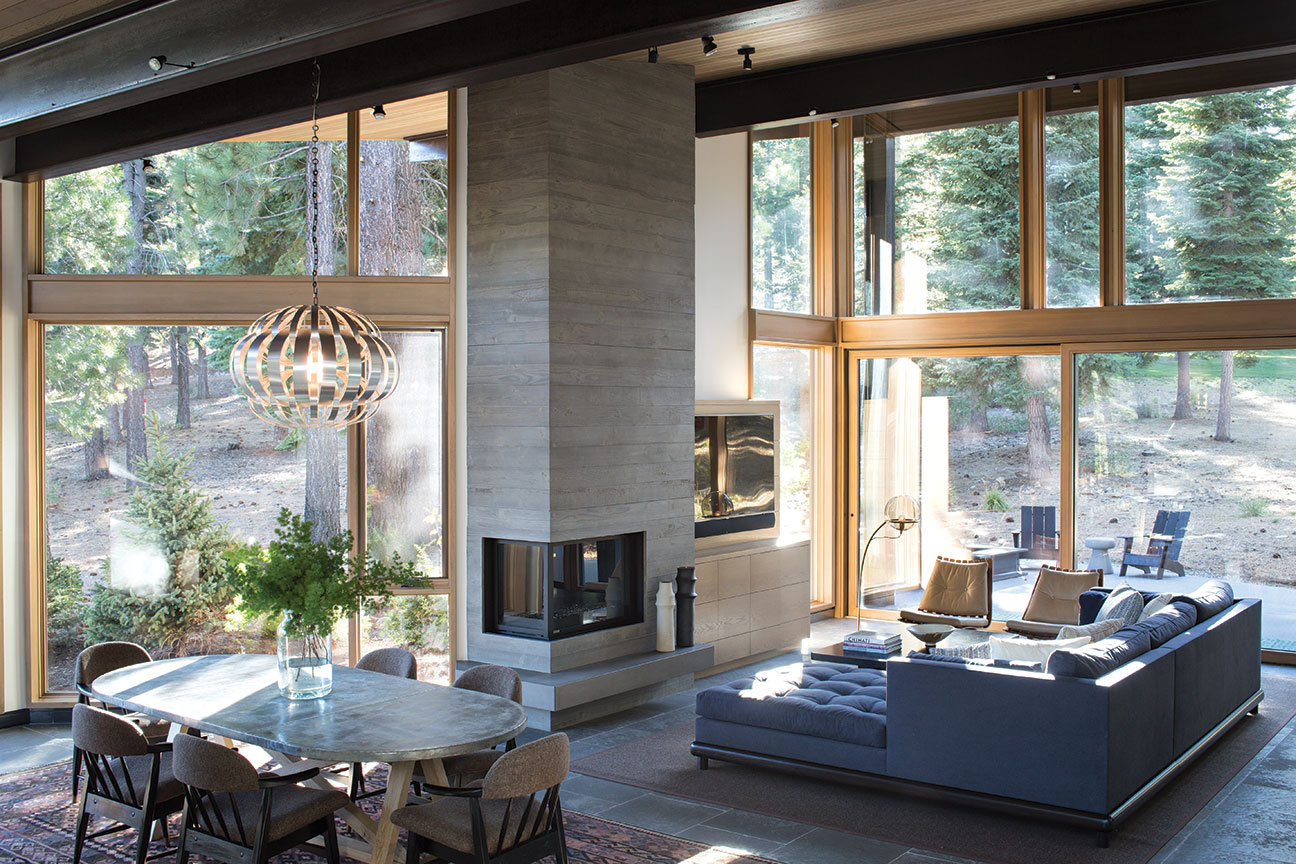 24 Apr

Alpine Flight
Angelinos find their place in the mountains
Bold architectural forms are rarely ever an accident. They tend to be a direct reaction to specific outside forces. For architect Ted Brobst, that force was his clients' desire to take full advantage of two beautiful but opposing vistas available from their property.
"They wanted to capture the view up to Lookout Mountain and to the cascading creek and greenbelt behind the property," says Brobst, an associate at Truckee's Ward-Young Architects. "The roof had to address the views so the house is open to opposing directions, but then you have to figure out where to send the water. It made sense to send it to the middle. A lot of people might do the butterfly roof arbitrarily, but here there's a reason."
The owners, lifelong Los Angelinos (who prefer anonymity), embraced this bold architectural form as part of a larger experience taking them completely out of their residential comfort zone. They had never built a house from the ground up. Their home in L.A. is very traditional. They had no history of vacationing in the Tahoe area and hadn't lived in a mountain environment ever. By their own admission, buying property in Martis Camp was borderline crazy and something of a lark. After continual encouragement from close friends to check out the community, they reluctantly agreed, thinking it would be a quick in-and-out and never to return. Laughing, the owner says, "We got there at noon and at 4 p.m., we were in escrow."
While the couple's two adult children pushed them to consider beach property instead, the lure of Martis Camp offered the promise of something more irresistible than Hawaii: time with grandchildren. "When you have grandchildren, you need a hook. You need some place where you can be with them as they grow up." A clear confirmation that their alpine gamble paid off was recently issued by the eldest of the couple's three grandchildren (who is four) as she readily declared that of all the places in the world she could choose to be, Martis Camp was number one.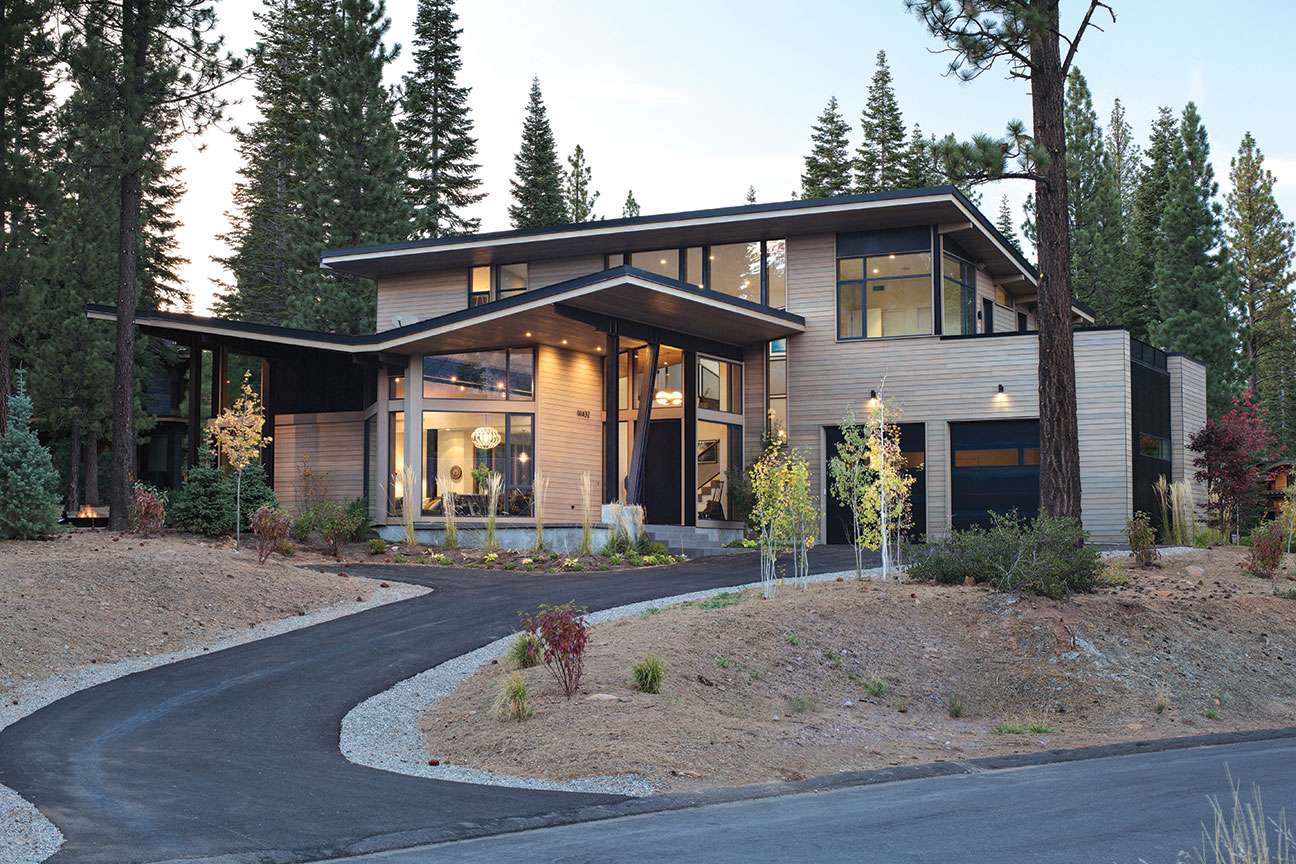 Resting on a natural platform slightly above the street, the site is at an advantage regarding presence. The signature roof form sits prominently on the prow of the dining area out in front of the main geometric masses of the home. The front door pivots open to a generous foyer area, gracefully transitioning to the wide open great room.
This public volume—living/dining/kitchen—has an incredible connection with the surrounding forest environment. It feels like a plush, well-finished external living area thanks to roof lines raised to the sky, resting on glass walls. Surya Grey limestone flooring runs continuously through the unbound area, and the natural concrete fireplace works as a visual anchor and counterbalance to the extensive glazing. Adjacent the entry, reclaimed, chunky timbers compose a switchback stair bordered by meshy black metal railing, beautifully juxtaposed against the aged steps.
Contrasts of texture as well as unexpected colors and varied materials come together to give the fresh interiors a sense of well-woven diversity.
"It's all Ted's fault," says the owner with a smile. "He kept telling us, 'Do something different.'" The owners found designer Amy Kehoe, partner at Los Angeles design firm Nickey Kehoe, while leafing through a magazine as they waited for a flight. "Everyone in the article was so happy and the house was so beautiful," says the owner. "Amy is located in L.A., so we went to her store the day after we got home, met her, and that was that."
Kehoe spent a handful of formative years in New Orleans, Paris and New York.
"Those cities were inspiring and provided me with an education even when I didn't know that's what it actually was," says Kehoe. These eclectic and sophisticated influences are readily visible throughout this project and her body of work as a whole. Texture, unexpected punctuations of color and pattern, and sharp but subtle contrasts are overlaid with surprising furniture and lighting selections that span genres, creating what Kehoe calls "moments."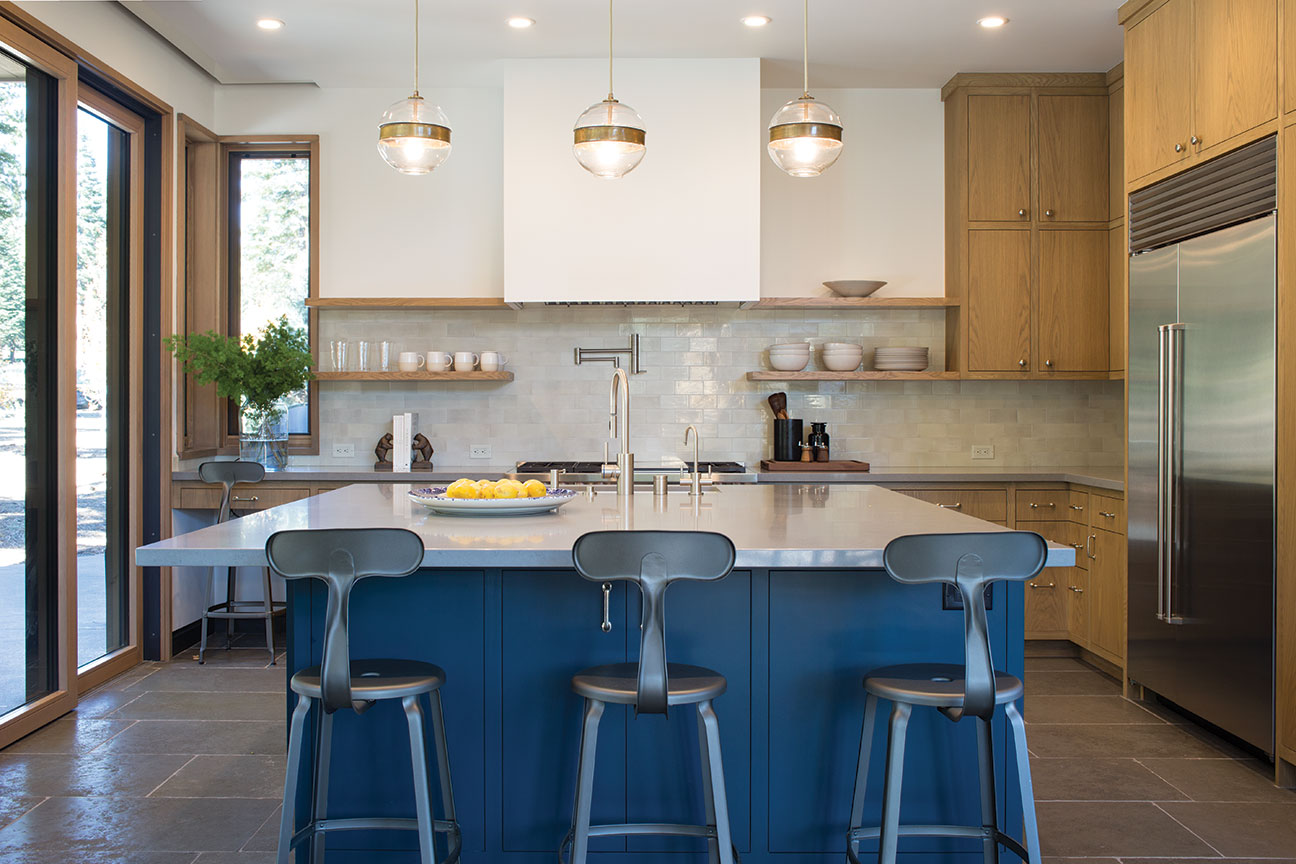 The various furnishings throughout the home include refurbished items from the owner's mother, grandfather and great grandmother in addition to furniture designed by Paul Frankl and an original Raymond Loewy Barcalounger. Occasional blasts of brightly colored walls tune the visual radio to a different station in a given room, and the combination of layered components makes for a very personal experience throughout the house.
"The concept for this house was 'modern cabin' but not so much a mountain house by looks but certainly by heft and materials," says Kehoe. "Every finish and every piece has a kind of might and substance that I would think an alpine house should have."
Kehoe capitalized on the architecture's strength to enhance interior components. The architectural vignettes created by Brobst through the spot-on siting of the house and surgical placement of windows are certainly capable of standing alone, but stratum of color, texture and personality added by Kehoe brought the interiors of the house to a new level of fruition. "The gift that Ted has to find those moments is magic," says Kehoe. "And I think he and I share a lot of common design philosophies."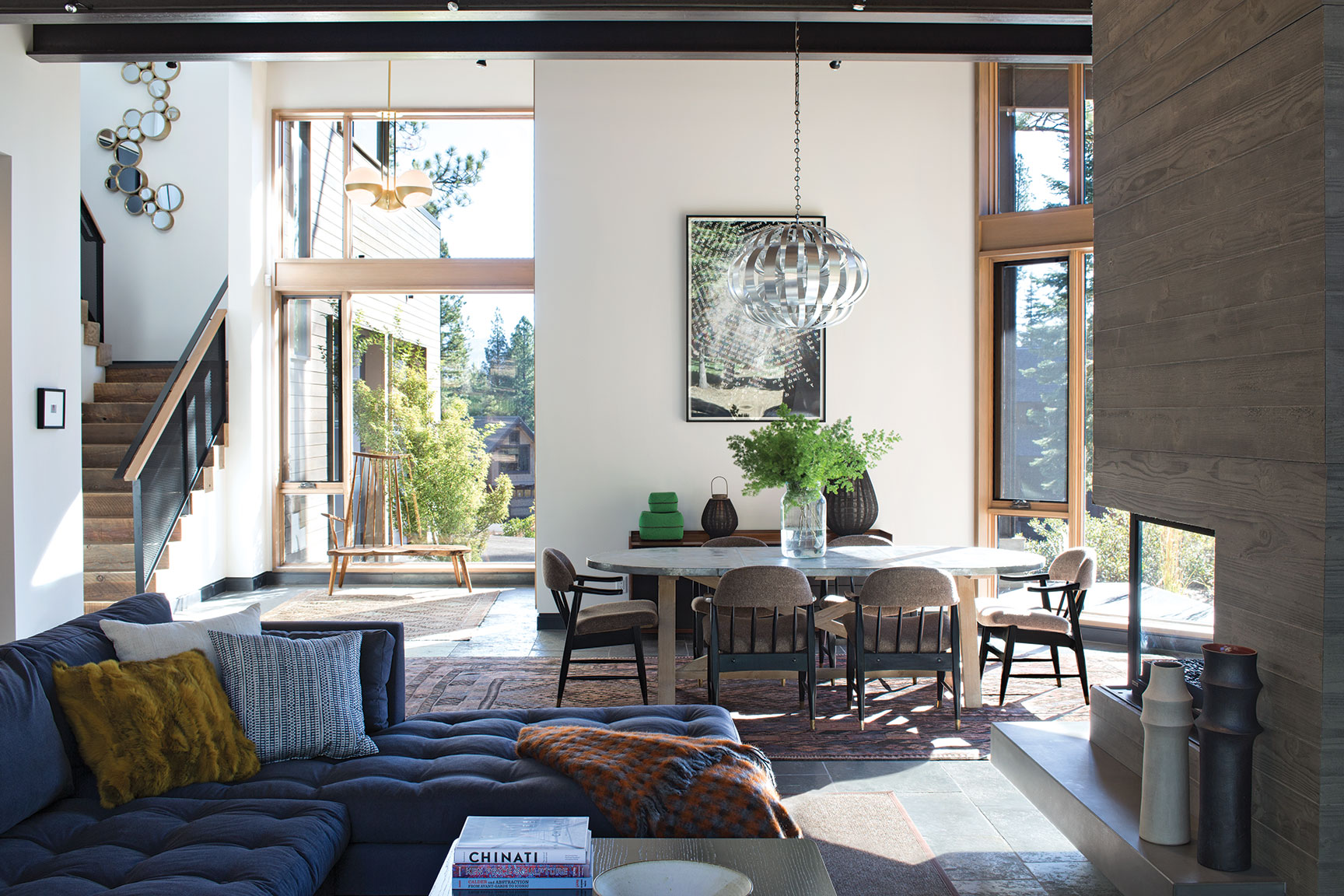 The success of the team dynamic was enthusiastically echoed by all parties, including general contractor Scott Walstom, owner of Sunco Homes. "These owners were so engaged, and Ted was always open to new ideas," says Walstom. "It was a great experience."
"Without question, one of the dominant themes of this project is personality and how well everyone worked together," says the owner.
Just as the views pointedly affected architectural forms, well-meshed personalities contributed to the strong collaborative foundations the house eventually was built on, so much so that the owners have gathered the team together a second time, moving forward with a new project. "Everybody added tremendous value to this house," beams the owner. "We're so happy. We love this house and we love being here."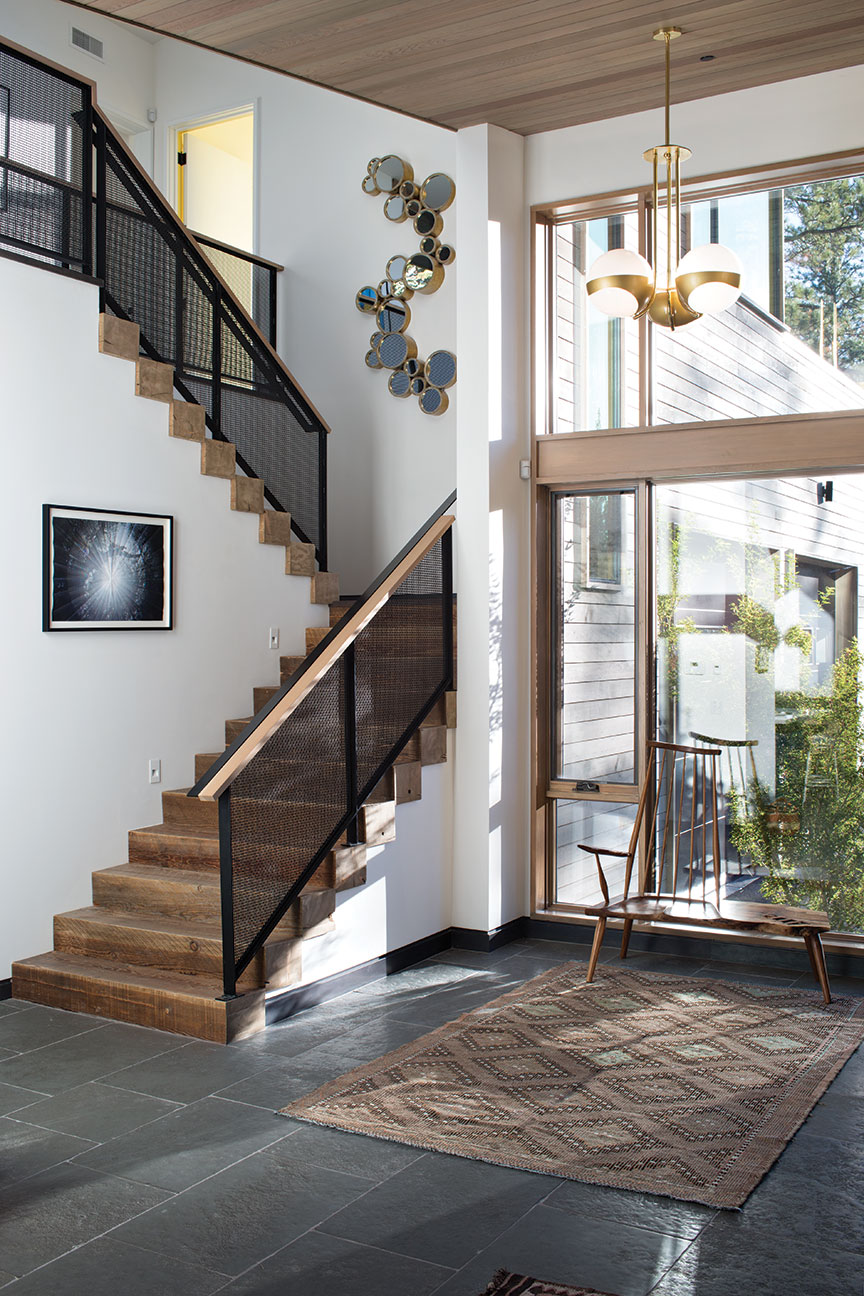 Award: Modern
Building Design: Ted Brobst, Ward-Young Architecture & Planning 
Builder: Scott Walstrom, Sunco Homes
Interior Design: Amy Kehoe and Todd Nickey, Nickey Kehoe
Square Feet: 3,250
Year Completed: 2014