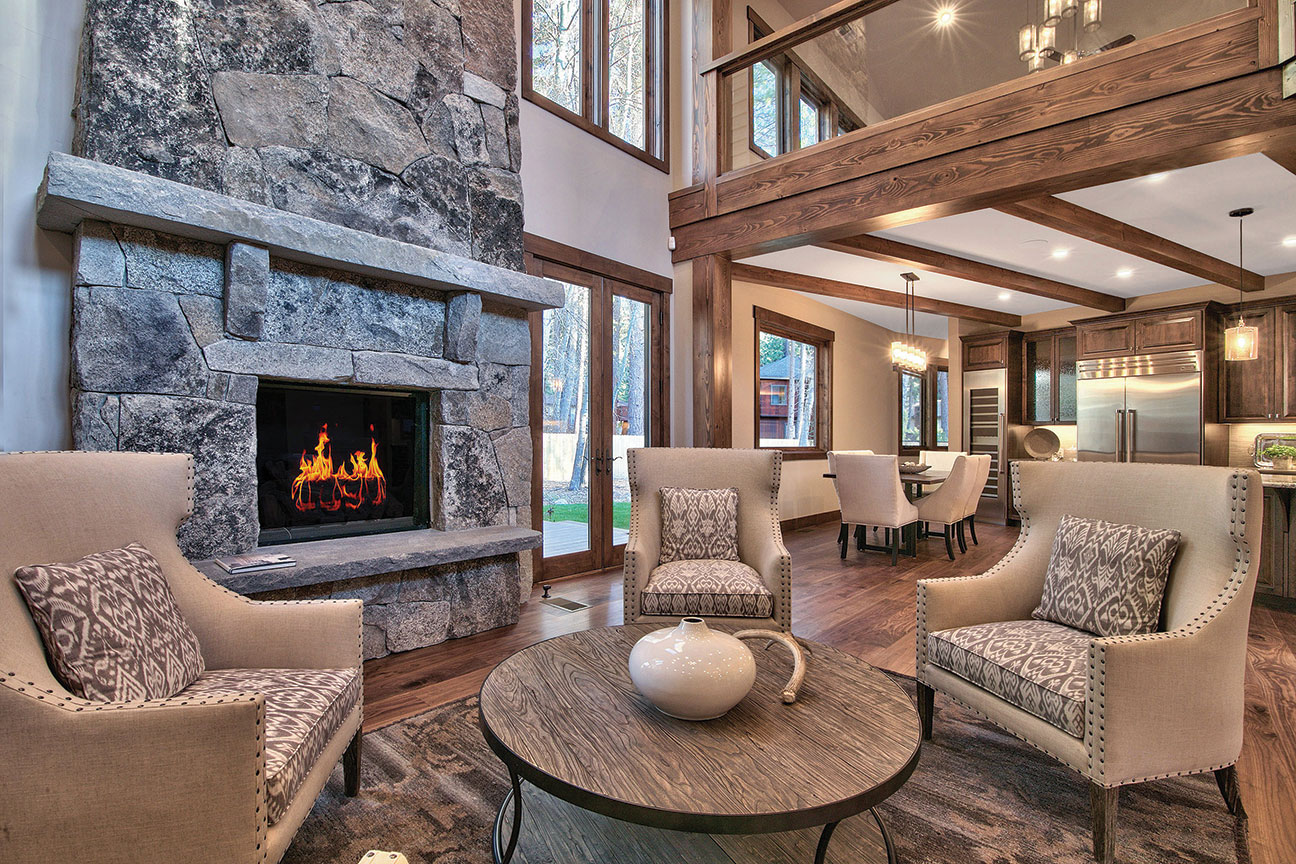 15 Apr

Home Making

The trick to building a good, marketable spec home is not building something that looks like a spec home. Blasé finishes and decisions that are consistently, identifiably budget-driven are a sure way to elicit 'meh' shoulder shrugs from perspective buyers.

When Lindsay Bourgeois of Incline Village's Bourgeois Interior Design was brought in to help elevate a spec home off Mayhew Circle in Incline that had just been framed out, she knew what to do.

"Our goal was to create a more refined Tahoe aesthetic," Bourgeois says. "We wanted a lot of natural materials, so it would be broadly appealing to a myriad of buyers, but we didn't want your typical knotty alder. We mixed some high-end materials with some low-end materials to manage the budget well."

Mercury glass fixtures in the kitchen add a touch of glamour to the space.
Visitors notice how classic elements of a Tahoe home—a tall granite fireplace dominates the center of the great room—mesh with more modern touches like wood-topped glass railings flanking the staircase and second floor overlook.
Bourgeois earned high marks from builder Barry Lease of (now closed) Incline Builders for an easy, professional relationship during the design.
To buck usual trends, Bourgeois selected walnut flooring for use throughout the home. Casework in the kitchen is a clear espresso-stained alder, and a Delicatus granite slab serves as the island countertop, while a manufactured quartz covers the surrounds.
Mercury glass lighting was added to brighten the space.
"We decided to use that to add a little bit of elegance to the project," Bourgeois says. "We didn't want to incorporate typical rustic, heavy lighting. We wanted a little glamour."
The home's bathrooms use a lot of natural stone with glass mosaic accents on the backsplashes and shower walls for a more contemporary look. The master bathroom incorporates a rustic travertine tile with a marble mosaic above a free standing bathtub to catch the eye.

Tile mosaics surrounding the mirror give the bathrooms a modern look.
With these small touches and more, the house feels less like a spec home and more like a home.
Merit Award: Interior Design
Builder: Incline Builders
Interior Design: Lindsay Bourgeois Interior Design
Landscape Design: High Sierra Gardens
Square Feet: 3,658
Year Completed: 2015