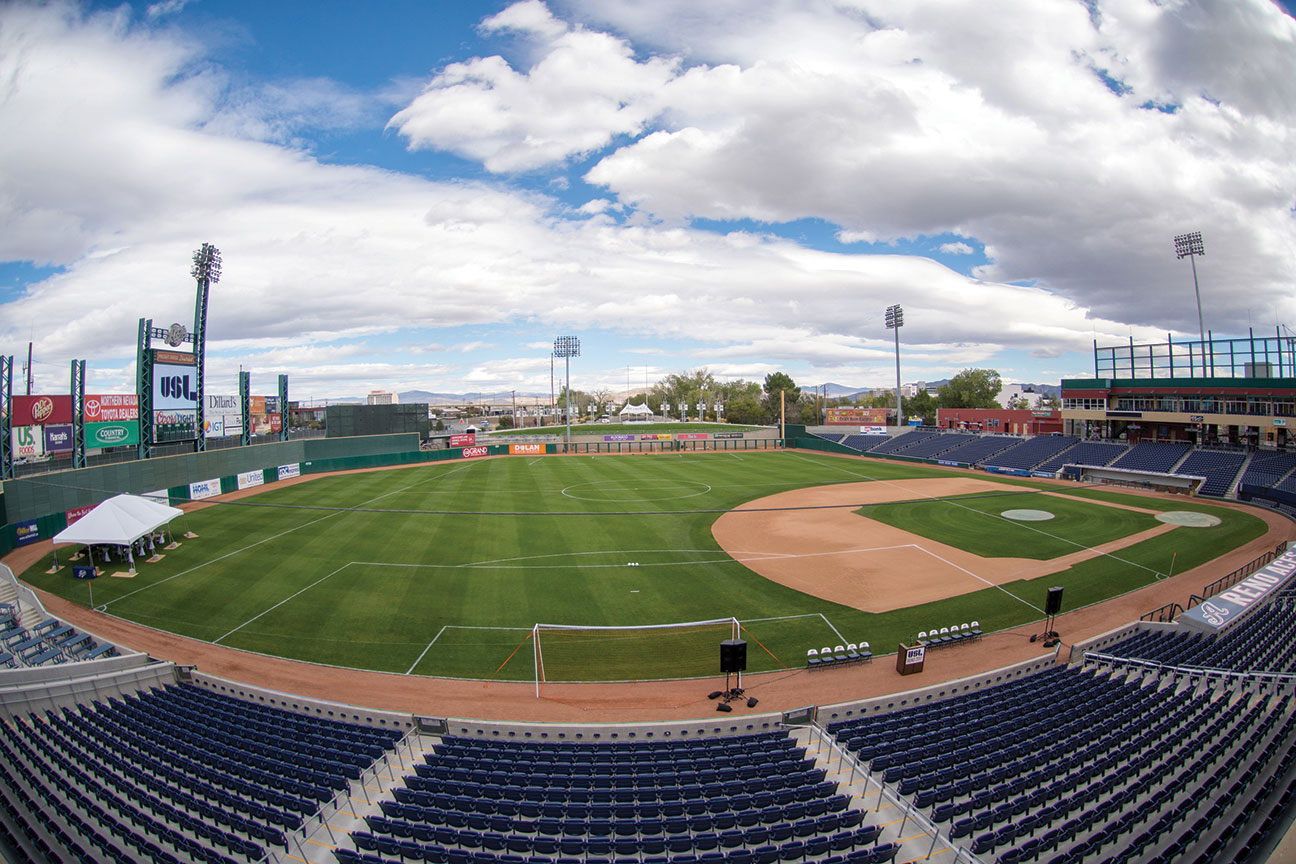 Photo by David Calvert, courtesy Reno Aces
01 Mar

Reno Gets its Kicks

It's only appropriate that the "Biggest Little City in the World" would embrace the "world's game"—and likewise.

Both Reno and soccer, after all, are on the rise in this corner of the globe.

"Reno is a market that draws a lot of parallels to our league," says United Soccer League president Jake Edwards. "It has a lot of history but is also being reborn. It's booming."

Herb Simon, principal owner of the Reno Aces, and Eric Edelstein, president of the Triple-A baseball club, share the same view. While they make no claims to their soccer expertise, the brass of Reno's prized sports organization see opportunity with one of the country's fastest-growing games and its sprouting professional league.

USL President Jake Edwards, right, presenting the USL 17 jersey to Aces/USL Reno President Eric Edelstein (middle)
and Aces/USL Reno Owner Herb Simon (far left), photo by David Calvert, courtesy Reno Aces
Edwards—flanked by Simon and Edelstein, as well as Reno Mayor Hillary Schieve and Nevada Governor Brian Sandoval—announced in September that the United Soccer League (USL) is coming to Reno, where one of its six expansion teams will share a stadium with the Reno Aces. The USL, which is in partnership with the nation's preeminent soccer league, Major League Soccer (MLS), draws professional talent from across the United States and around the world. The team will be called Reno 1868 FC.
"We're real excited. It's a growing sport and a growing league," says Edelstein. "I really believe we're ahead of the curve and really have a great opportunity to be at the front edge of this fast-growing sport."
Edelstein says it was he and Simon, who also owns the NBA's Indiana Pacers, who reached out to the USL about bringing an expansion team to Reno. Edwards needed little convincing. Aside from his positive impression of the city, he was impressed with the Aces' management team—calling Edelstein a "rising star as a sports executive"—as well as its $50 million downtown ballpark.
"The great thing about Minor League stadiums is that they're all great, new stadiums and are lovely places to watch a sporting event. Not every stadium lends itself to soccer, but certain ones do, and in Reno's case it is able to be transformed and is a top-notch place," Edwards says, adding that USL teams in Portland, Louisville, New York and Tulsa also play in baseball stadiums.
Founded in 2011 with a dozen teams, the USL has expanded to include more than 30 clubs. Reno will hit the field at the start of the 2017 season.
The team is in the process of hiring a coach and general manager of soccer operations, Edelstein says, conceding that Aces management is naturally more baseball-minded: "We'll definitely look to bring somebody in for the on-field side of things. I'm under no illusion that I can evaluate soccer talent. It's not part of what I'll be working on."
In order to house a soccer field, Aces Ballpark will undergo a transformation before and after each of the 15 or so home soccer games. The USL's 30-game season overlaps the Aces', running from March to September.

A rendering of what Aces Ballpark will look like for a soccer game, photo courtesy USL Reno
The man responsible for that undertaking, Joe Hill, will have his work cut out. A former Major League Baseball groundskeeper with the New York Mets, Seattle Mariners and Boston Red Sox, the Aces' first-year manager of grounds will be responsible for converting the playing surface from baseball to soccer throughout the season.
Although the 110-by-75-yard soccer field "fits snugly" into the confines of the park, Hill says—stretching from the third-base foul line to the right-field bullpen area—it covers a good portion of the infield. Hill and his grounds crew will place sod over 12,000 square feet of the 17,000 square foot infield.
"It's going to be a learning experience," says Hill, adding that he performed a similar feat once for a soccer game at Boston's Fenway Park. "It's part of the reason I took this job. I've been in professional baseball now for 12 years. It's going to present a ton of challenges, but I'm kind of excited about that."
Before laying the sod, Hill says he and his crew will cover the entire infield with a tight plastic, "so it kind of seals the skin in there and protects it." The sod comes in large rolls that are three feet wide and two inches thick and are heavy enough that, when bunched together, will stay in place despite the grass not being rooted into the ground.
Hill says the biggest challenge will be creating a seamless transition while minimizing the wear and tear on the playing surface.
"Ultimately, my goal is to have the baseball team play here, leave, convert to a soccer game, and have the soccer players never know that there was a baseball game here," he says. "And then when soccer leaves, we'll need to convert it back and ultimately have the baseball team not ever know that there was a soccer game. So it will be a lot of attention to detail."
As for the USL games, which are fewer and farther between than Aces games, Edelstein says the fan experience will be considerably different than Minor League Baseball, which is known for its entertainment between innings. Soccer games, on the other hand, have few stoppages and a running clock.
"It's going to be a little bit more intense," he says. "People are there to watch the game, and so they are going to be really focused on that. But it's still going to be about creating an experience, and that's going to be our job."
---
Sylas Wright is a Truckee-based sports writer and editor.