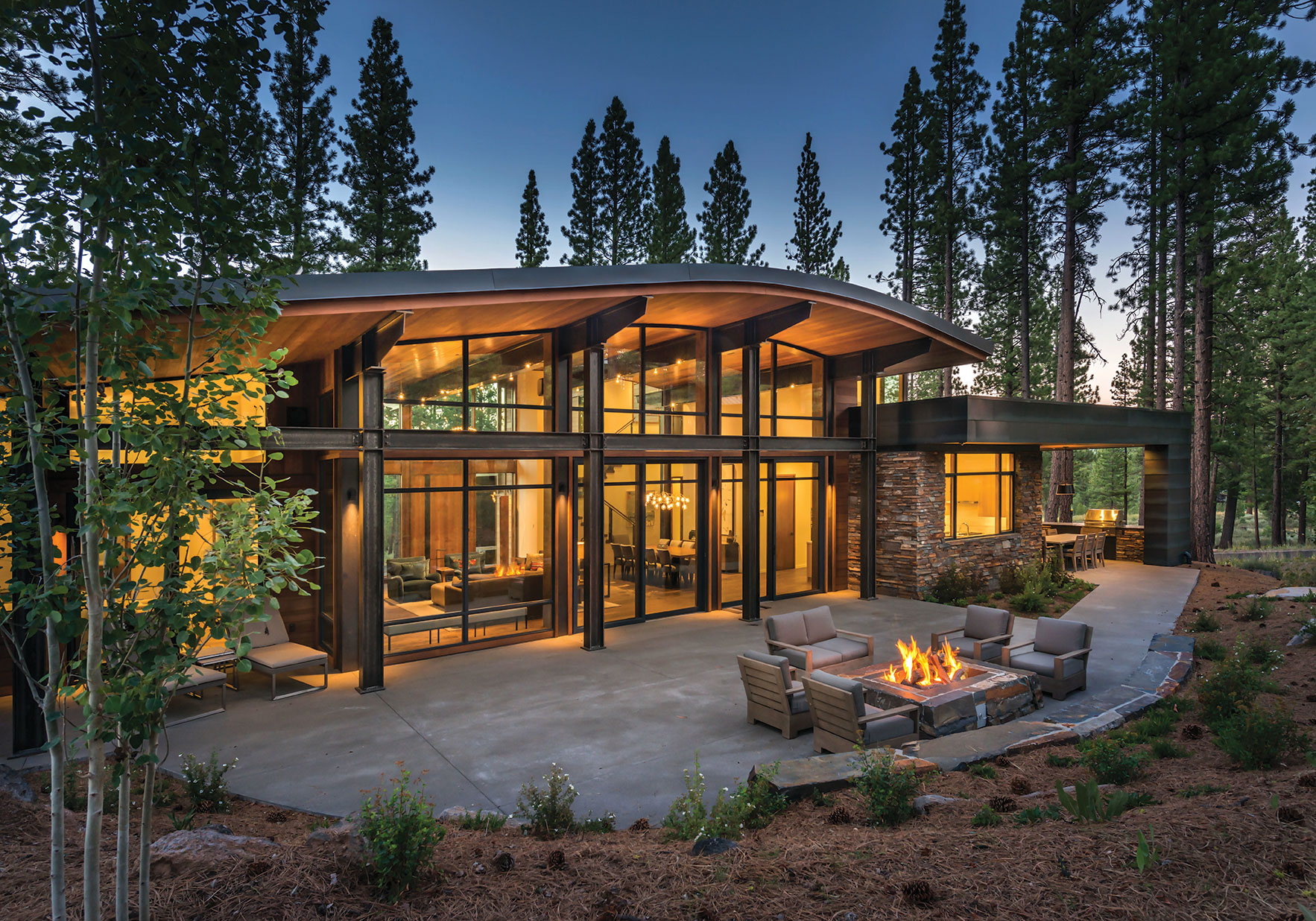 15 Apr

Simplicity, in All its Complexity

Designing and building a modern home may look simple.

Trim packages are minimized or done away with altogether. Walls are clean, frequently white and unadorned, unbroken planes stretching great distances.

When done right, the materials that do present themselves do so in an impactful way. "It's funny, when I asked some guests what their favorite part of my home was, they all loved this steel beam that's exposed near my dining room table," says the owner (who prefers anonymity) of her home in Truckee's upscale Martis Camp neighborhood. "It's not industrial, but it really has a lot of character. That's the thing that really resonates with people."

An open floor plan allows for easy circulation and conversation between the home's public spaces.
Stripping away all the extras so a piece like that permalac'ed steel beam can sing isn't easy, says Joan Jones of Tahoe City's Jones-Corda Construction. Her firm was brought in to design the project by Ted Brobst of Truckee's Ward-Young Architecture.
"People say modernism is minimalist—if everything looks so clean, it must be easy," Jones says. "In truth, it's exactly the opposite. It's easier to apply more and more layers of wood to cover up the sins of framing or the natural materials. Making it trim-less or with minimal trim is more challenging. It's a challenge we as a company and our carpenters are into. We like to make it as clean as possible we look for those details that can show off the contemporary style."
The finished product is known as the Arc-Tangent home, a mountain modern design conceived by Brobst, whose name borrows from its curved roof/flat roof layout. The arcing roof lines representing different masses in the house for the public and private spaces terminate in straight tangent lines. It is positioned to take advantage of excellent views to Northstar California's Lookout Mountain.
It was built for the homeowners, a Marin County couple who have two grown children and use the home as a gathering place for their spread-out family and circle of friends.
The home's cedar, hot-rolled steel and Cisco Grove stone exterior provides ample space for indoor/outdoor activities, with a large fire pit area, outdoor dining and grill space, and in-ground spa.

Built on an estate lot, the home had plenty of room to add indoor-outdoor living features, such as covered outdoor dining and a generous fire pit area.
"We had a large, estate parcel for this project," Brobst says. "We're typically not used to having that much extra building space, so we took advantage by adding extra large outdoor spaces which included the covered outdoor dining and grilling area, along with a large fire pit patio and hot tub area."
Guests enter the home through a large white oak pivoting door, which opens to an encompassing view of the dining and great room and the window wall to the deck beyond.
"People like the impact of that door," Brobst says. "Since we weren't building a rather large house, it was even more important that that door open up to a big space. You see through the house to the view beyond."

A heavy white oak pivot door provides a grand entrance to the home. Above the dining room table a steel beam terminates in an end-cut that
mirrors the home's exterior.
Inside, the material palette is simple and refined—the permalac-coated steel beams express the home's structure spectacularly, with the one the homeowner's friends were impressed with connecting to a horizontal beam at the ceiling that then terminates in a striking end-cut that matches the beams outside the home. Oak flooring and rifted white oak cabinetry, complete with mitered corners, give the kitchen a clean, seamless look, while Caesarstone countertops add light and brightness. Window shades are concealed in the trim package to drop down on overly bright days.

Caesarstone counters and white oak cabinetry help keep the kitchen—a hub of activity while the homeowners are in town—light and bright.
All that hard work to build an "easy" home has paid off, though, says the homeowner. The couple hosted a 70-person Fourth of July party in 2015, which could be a daunting feat of logistics in most homes.
"It was wonderful, [the circulation] was fluid and lovely," says the homeowner. "There was lots of room for the guests to be inside and outside. It's very cozy and comfortable. [The design-build team] just nailed it."
Strip away the extraneous stuff and the important pieces fall into place.
Merit Award: Craftsmanship
Architect: Ted Brobst, Ward-Young Architects
Builder: Jones-Corda Construction
Interior Design: Owner
Landscape Design: Betty Anderson Fulda
Square Feet: 3,825
Year Completed: 2014