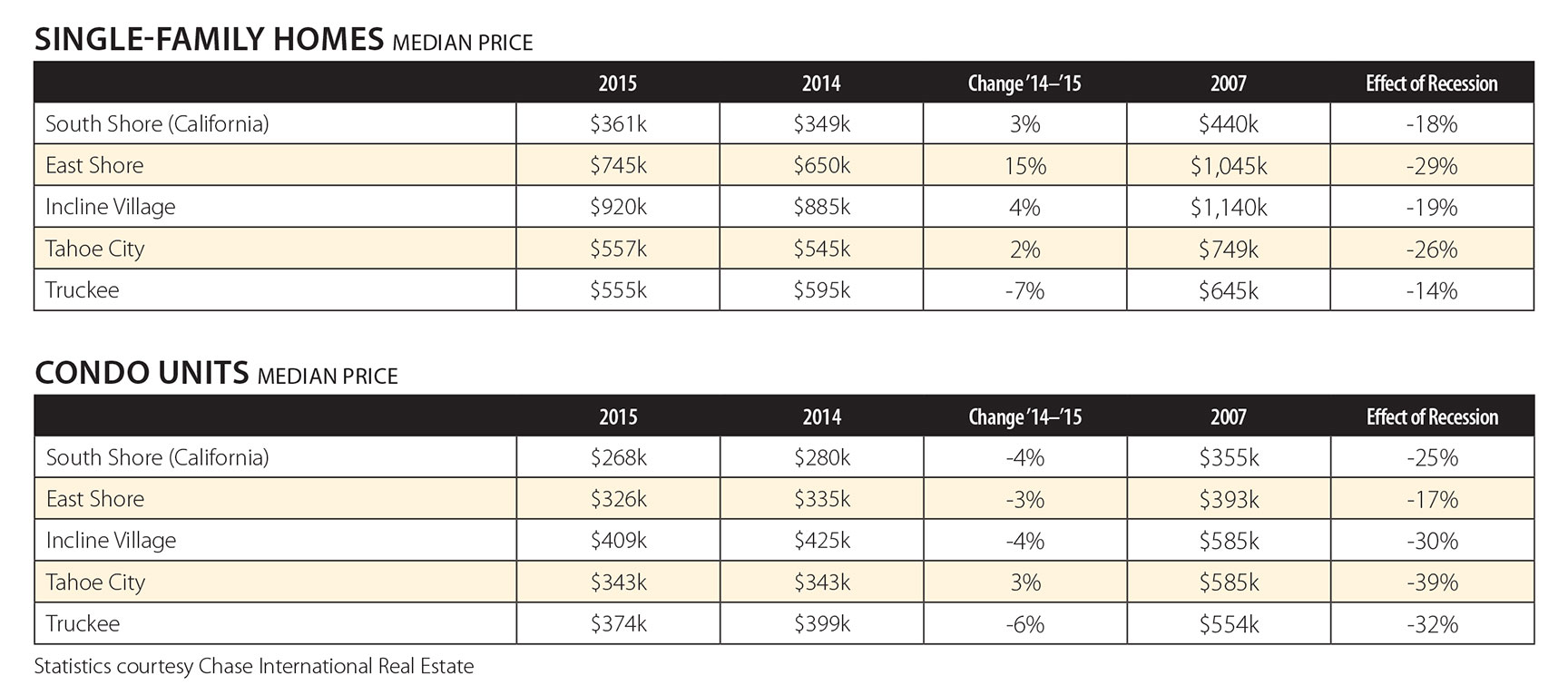 Tahoe Homebuyers Follow El Nino Back
After several dismal winters, the Tahoe snowpack is making a comeback, and along with it Tahoe's real estate market is rebounding substantially, coming closer to pre-recession values.
Chase International's annual market report for 2015 shows upward trends in sales price and volume on the West and South shores among the most significant findings.
Theresa Souers, co-owner of South Lake Tahoe's Pinnacle Real Estate Group, has seen an uptick in clients looking for second homes in South Lake Tahoe.
"The South Shore generally offers lower home prices and more elbow room," says Souers. "The continual growth of the downtown tourist corridor has become a popular draw to the overall area."
However, Souers has been pleased to see a new crop of young, local, first-time homebuyers seeking real estate on the comparatively less expensive South Shore.
In Truckee, Martis Camp will likely see a continued climb in property values with 70 percent of the neighborhood already built out.
Larry Lawrence of Lawrence Realty, a firm that serves the Martis Camp and Squaw Valley housing markets, says that the future of the high-end neighborhood is uncertain but promising. As for what the next couple of years will bring, "who knows?" Lawrence says. "If there are only 30 percent of the lots left that haven't been built on, there are going to be shortages."
The appreciation of home values around Martis Camp will almost certainly affect home values in nearby developments, says Lawrence.
After a slow first quarter in 2015, Squaw Valley has rebounded substantially, rounding out the year with one of the healthiest markets around The Lake.
"When the El Niño weather forecast started coming out in the first part of August, all of the sudden people started looking again and interest started picking up," says Lawrence.
Ski-in/ski-out properties were some of the most successful offerings in late 2015. Condominium values increased substantially from the low $400,000s to the $600,000 range during the last quarter of 2015.
A significant downturn in sales volume characterized the East Shore over 2015. Souers attributes this trend to a smaller pool of possible buyers (the median price of a single family home hovers around $750,000, exceeded only by Incline Village), and the difficulty of commuting to California, where the bulk of employment is to be found, as well as negotiating taxes while straddling the border.
In Incline Village, the median sales price of a single family home increased by 4 percent from 2014, to $920,000. Chris Plastiras, co-owner and broker of Incline's Lakeshore Realty, says that in spite of this upward trend, the lower end of the market sold more aggressively over the last year.
Plastiras has noticed that California residents are relocating to Nevada with increasing regularity, a trend he attributes to more lenient tax regulations in the Silver State.
"Fifty percent of all of our buyers are from the San Francisco Bay Area," says Plastiras.
Although Tahoe home values have not quite returned to pre-recession heights, he does not see this as an indication of a weak market.
"I'm still seeing value," says Plastiras. "Not too crazy, not euphoria, but value."
Plastiras and his wife, Patti, have been co-owners of Lakeshore Realty for 22 years, and have witnessed decades of market fluctuation. Plastiras sees positive trends in the current real estate climate.
"Because of the robust economy, you're going to see more of the buying of homes, tearing down and rebuilding," says Plastiras. "Construction has dramatically picked up and you're going to continue to see that."