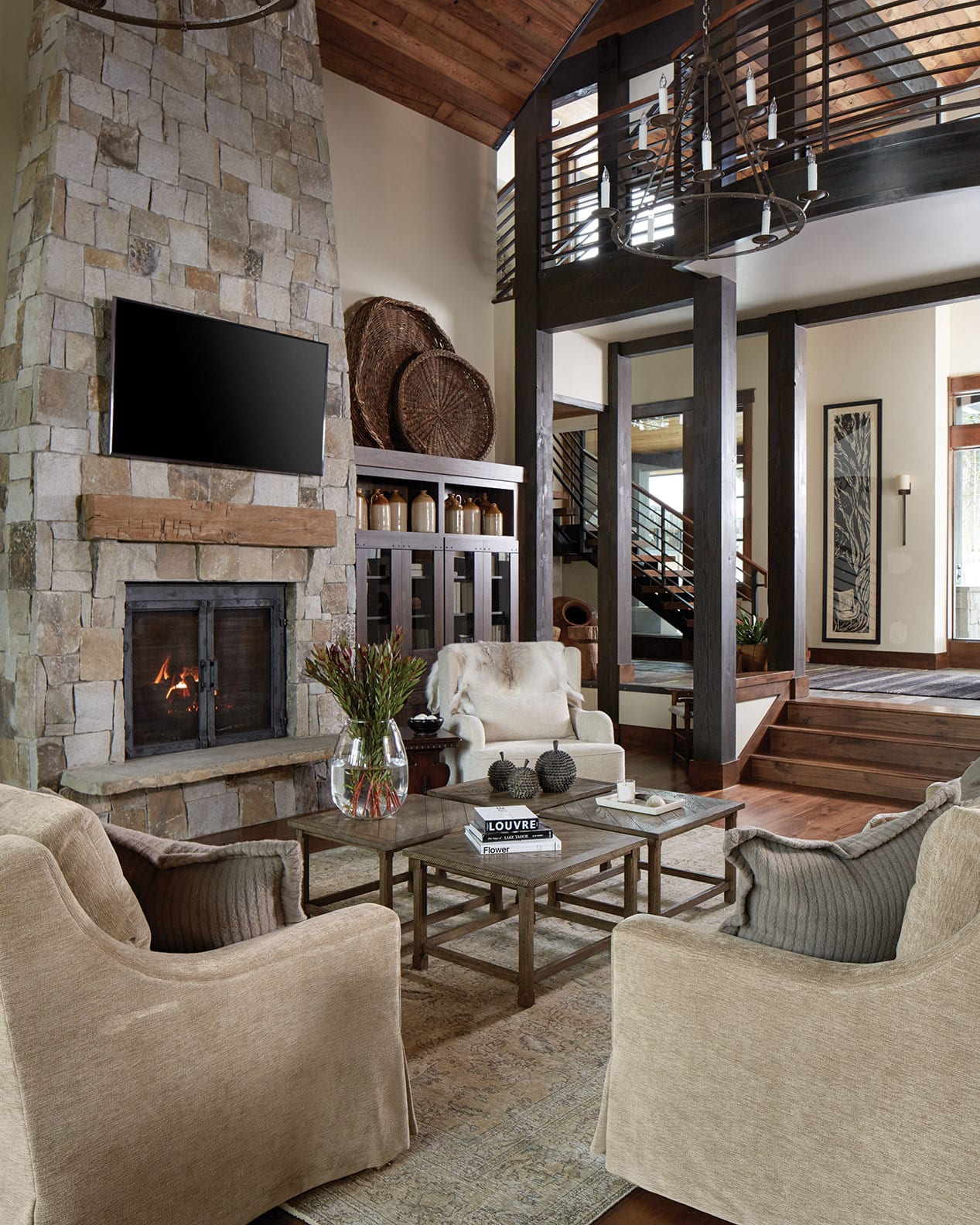 In the living room, clean interior finishes mix with sophisticated furnishings and pieces the Macfees found on a buying trip to the Alps, photo by John Merkl
26 Apr

French Flair
Alps style meets a Tahoe retreat
It would be the perfect birthday present.
That's what the Atherton, California–based owner thought when viewing the in-progress spec home at Martis Camp. She and her husband had been looking for a second home at mountain locations like Deer Valley, Utah, but after a chance winter weekend in Tahoe, they decided to buy in the high-end Placer County development.
The home, designed by David Spear of Mountain Concepts and Daniel Mellon of Trailside Builders, had only three weeks left of construction.
"Our goal was to create a traditional house with a slightly contemporary feel and clean finishes," Spear says. The home features plenty of covered exterior areas, as well as intricate spaces inside the house—such as a game table booth, media room and window seats—for the eventual owners to enjoy different experiences. Mellon also performed extensive work from the time he bought the lot as a spec project to when it sold 27 months later.
After purchasing the home, the wife, who wanted to personalize it in time for her husband's birthday just three months away, contacted mother-and-daughter team Catherine and Justine Macfee of Truckee's Catherine Macfee Interior Design.

Furnishings, like the built-in breakfast nook, were crafted locally, photo by Kaare Iverson
"We never met the husband the entire time on the project; he had nothing to do with the process," Catherine says. "She wanted to present this lovely house to him for his birthday."
"It was a fun challenge for our office," Justine says. "We had this time crunch with the fantastic birthday celebration—so, like, no pressure there. We wanted it to be really elegant, something we could be proud of, too, that we could deliver to these clients brand-new to Tahoe."
The short timeframe presented multiple challenges. While the architecture was good, the slightly contemporary feel wasn't the homeowner's style. There wasn't time for a remodel. Instead, the designers made simple fixes, like wrapping the metal stair rail in wood and swapping the lighting for more traditional fixtures.
However, for the most part, no major changes were necessary. "The key elements—the walnut floors, reclaimed barnwood, hot-rolled steel, natural stone—are all very classic and timeless materials," Justine says. "It's nothing too trendy. We just added on to that."
They began by envisioning the home with a French and Swiss Alps feel. The wife, Catherine says, is simple, elegant and classic, all qualities they tried to incorporate into the design.

Antique pieces give the home a comfy, lived-in feel, photo by Kaare Iverson
An open floor plan encompasses the living room—which opens onto a large patio—as well as the kitchen and a dining room. A media room, office, master suite and guest master are also on the main floor; upstairs are two more bedrooms and a pool table area.
The home features a mostly neutral color palette. Textural elements—like richly upholstered furnishings, skirted sofas, wall coverings and Oushak carpets—offer a relaxed formality that help bridge the gap between contemporary and traditional. Accessories throughout the home were pulled from the Macfees' inventory, to include authentic Alps pieces such as jugs and baskets acquired on a recent buying trip to France.
Most of the artwork came from area galleries, to include Truckee's Bolam Gallery, Art Obsessions and the Macfees' showroom, while much of the furnishings were custom-made by local craftsmen. To complement the newer pieces, the Macfees mixed in antiques.
"That took it from a brand-new house and made it feel like a home," Catherine says.
Justine agrees. "There's nothing too shiny and new about it," she says. "It's comfortable and relaxing, a place where they can retreat."
While the main floor exudes a tailored elegance, the second floor is more relaxed. One of Justine's favorite spaces is the upstairs bedroom for the couple's younger daughter.

The upstairs pool table room offers a place for casual relaxation, photo by John Merkl
"The daughter had so many ideas of what she wanted," Justine says, listing a soda-fountain-like candy station and a hanging chair. "It's a whole suite meant for her and her friends, this teenage lair that's still elegant enough for her to grow into."
"This was a fun, fun project," Catherine says. "The client was a joy and the project, in my mind, looks just like her: beautiful, elegant and understated."
The Macfees finished within the three-month timeframe, in part, they say, because the client gave them the latitude they needed to complete the project quickly.
"This was an awesome client who trusted us to get it done," Catherine says. "It was our very first project with her, and she was very trusting with us, which is a key factor with that kind of timeline."
Catherine Macfee Interior Design prides itself on fulfilling a turnkey experience. As the wife presented the husband with the finished home for his birthday, the entire house was ready, to include monogrammed towels, lit candles and champagne ready to be popped.
"There were tears of joy as they walked in," says Catherine. "All that hard work was totally worth it."
Award:

Interior Design
Building Design: David Spear, Mountain Concepts
Builder: Daniel Mellon, Trailside Builders
Interior Design: Catherine and Justine Macfee, Catherine Macfee Interior Design
Square Feet: 5,117
Year Complete: 2015