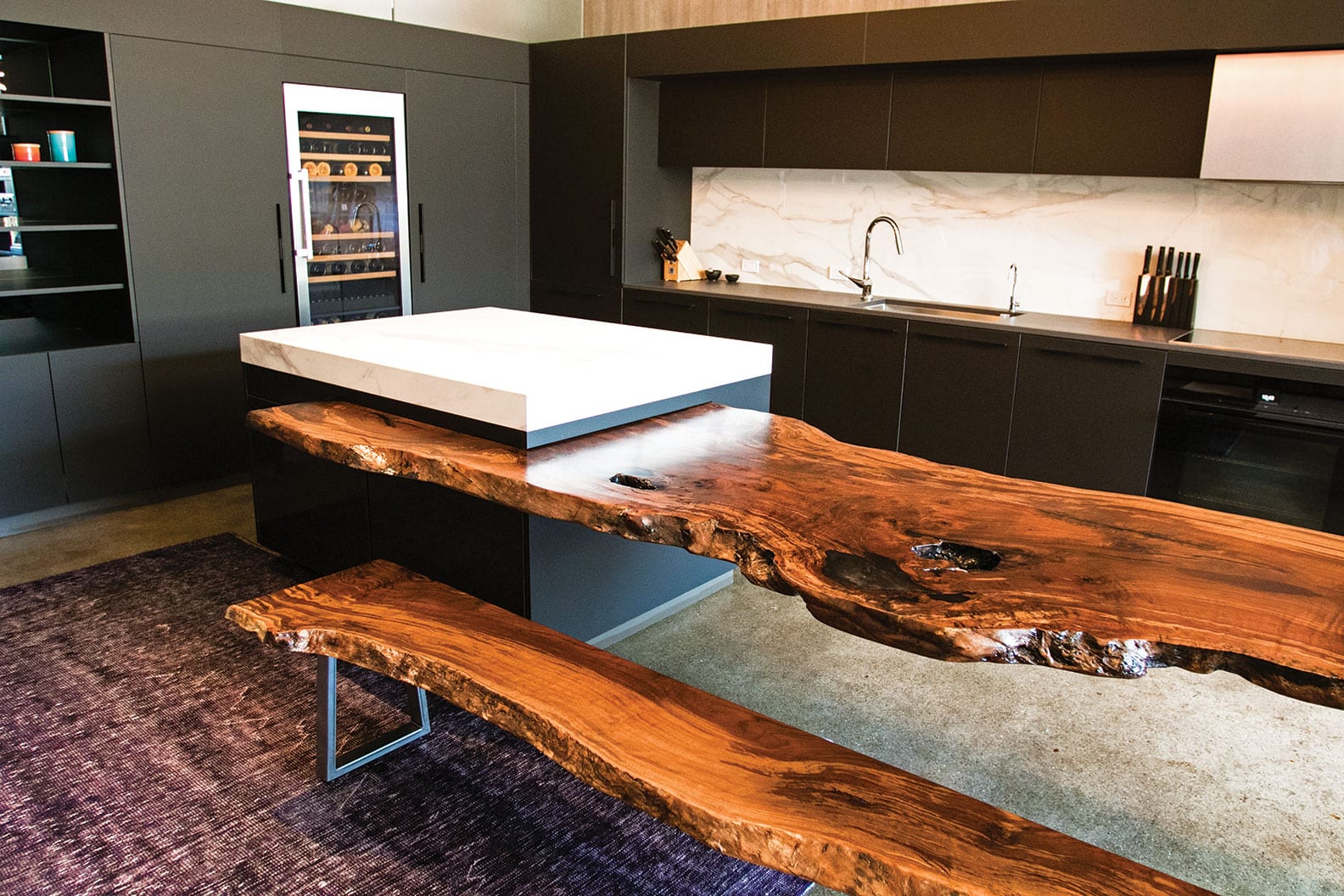 Mez Works is frequently commissioned for custom pieces, like this live-edge dining table installed in a Bay Area home
04 Apr

On the Table

Terren Gomez unlocks the faded red door to his Eloise Avenue workshop. Inside, the smell of sawdust, varnish and wood glue drifts under yellow fluorescent lights. A 10-foot slab of freshly glued black walnut lies on one surface, clamps squeezing drops of adhesive from its joints. The board is destined to become a polished Mez Works signature piece.

The South Lake Tahoe furniture company specializes in luxury wood furniture, particularly high-end tables. Its lacquered creations cost thousands of dollars and have attracted buyers from all over the country. Started in 2010, the business has grown from Gomez's garage to three large rental spaces with a half dozen employees, including his fiancé Allie Halperin.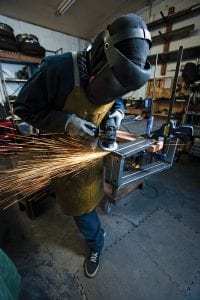 "I'm a third-generation woodworker," Gomez says. "My uncle and my dad got me into it after high school."
Gomez has lived in the Lake Tahoe area since he was 10. Furniture building wasn't his first career choice, though. The 31-year-old began as a snowboard photographer. His images frequented industry magazines and were regularly bought by board companies. But the work wasn't steady. In a way, it pushed him into his current gig.
"I was doing picture frames for my photos and then someone asked me to build them a bar and then someone asked if I could build them a bed," Gomez says. "I was like, 'Wow, I can actually make money doing this.'"
A cornerstone of Mez Works' style is the high-quality lumber he chooses for his table designs, like the Zeeva, the Martis, the Insignia and the Graphite. Most of the wood is reclaimed or salvaged and a lot of it comes from within 200 miles of his shop. He glues and sands the thick, raw boards before attaching his handmade steel components. On the 10-foot walnut slab, it would be hard to see the seams between the 12-inch boards, if it weren't for the yellow droplets of glue.
"We line the grain up as best we can," Gomez says. "We try to make it so it blends together. Once the glue is scraped, you can barely tell there's a joint there."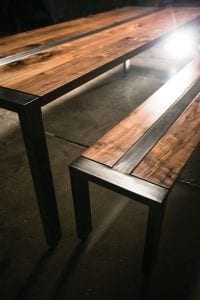 Mez Works sells much of its furniture on the craft site Etsy.com. Gomez's background in photography has helped him build a dazzling portfolio of marketing images. His website is starting to pick up traction, and word of mouth about the tables is getting around.
His style has started to evolve, too. Gomez is moving away from Mez Works' rustic "log cabin" roots into more of a modern style. It's reflected in the demand, he says. He's working with an Incline Village architecture firm to get some of his pieces in Martis Camp homes.
The company's geometric steel table bases and minimalist metal accents illustrate the modern aesthetic. Gomez welds the table legs himself, paying careful attention to every aspect of the metalwork. He likes the seamless, almost industrial look.
"We really pride ourselves in not only high-quality wood work, but also steel work," he says, pointing to a pair of steel table bases. "The welds are seamlessly blended and sanded. It's just as nice of a piece as the top."
The construction is often not the hardest part of the job, though. Shipping 12-foot-long, 200-pound tabletops and bases presents its own challenges. The busy holiday season, when Mez Works ships four to five pieces a week, can be pretty stressful, Gomez says.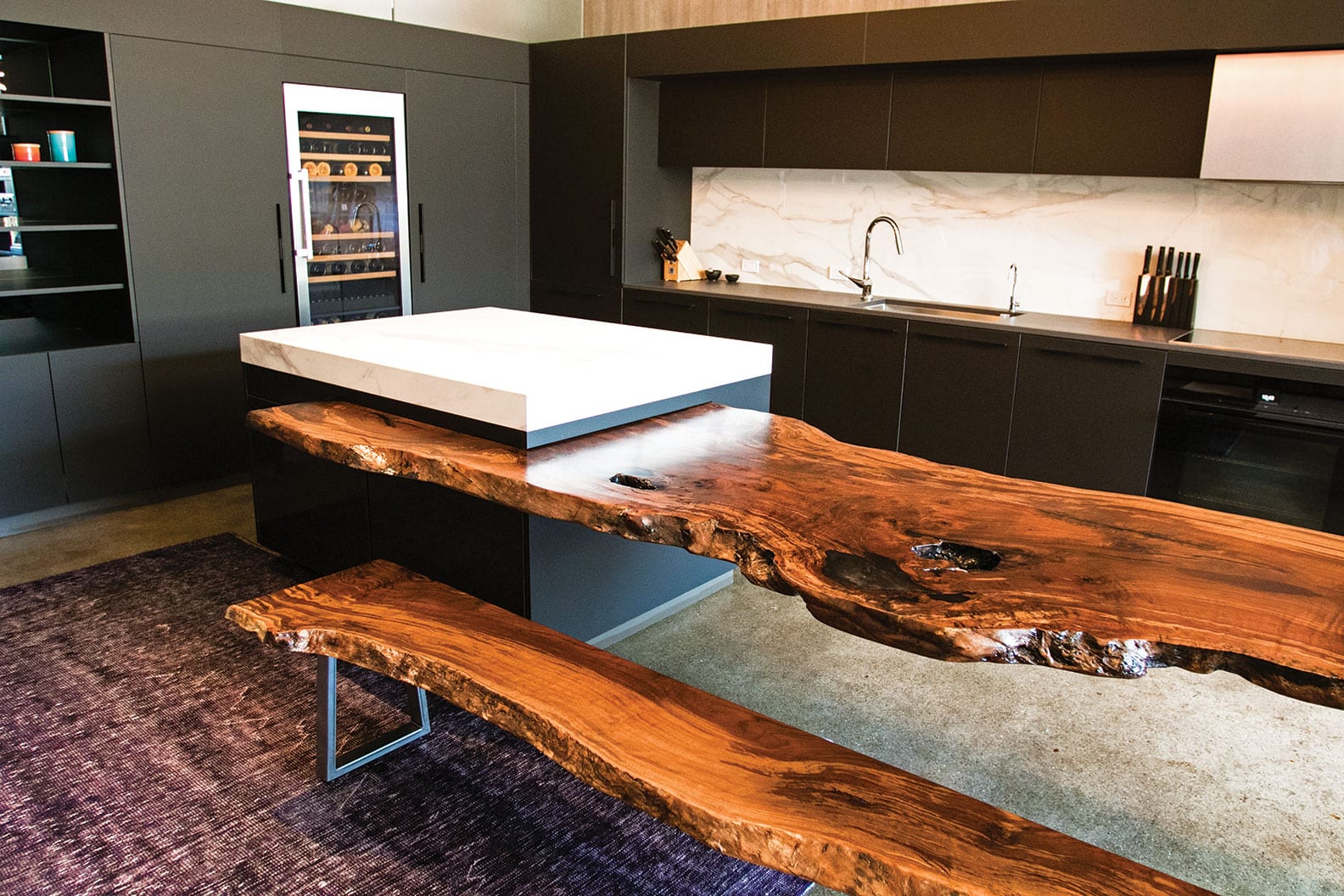 "Freight going across the country with weather can be pretty hectic," he laughs. "That's why we love to work more local. It's just nice to shake someone's hand and see their home."
It's not all sawdust and varnish for the crew. Gomez has tried to create a balance for him and his employees between work and play. But it's always tricky, especially during the Christmas and holiday rush.
"I do whatever I can to cram as much of both as I can," says shop manager Nick Poohachoff, who's also a sponsored snowboarder. "Some days I get up and ride before going to work, or I work all day and go ride at night."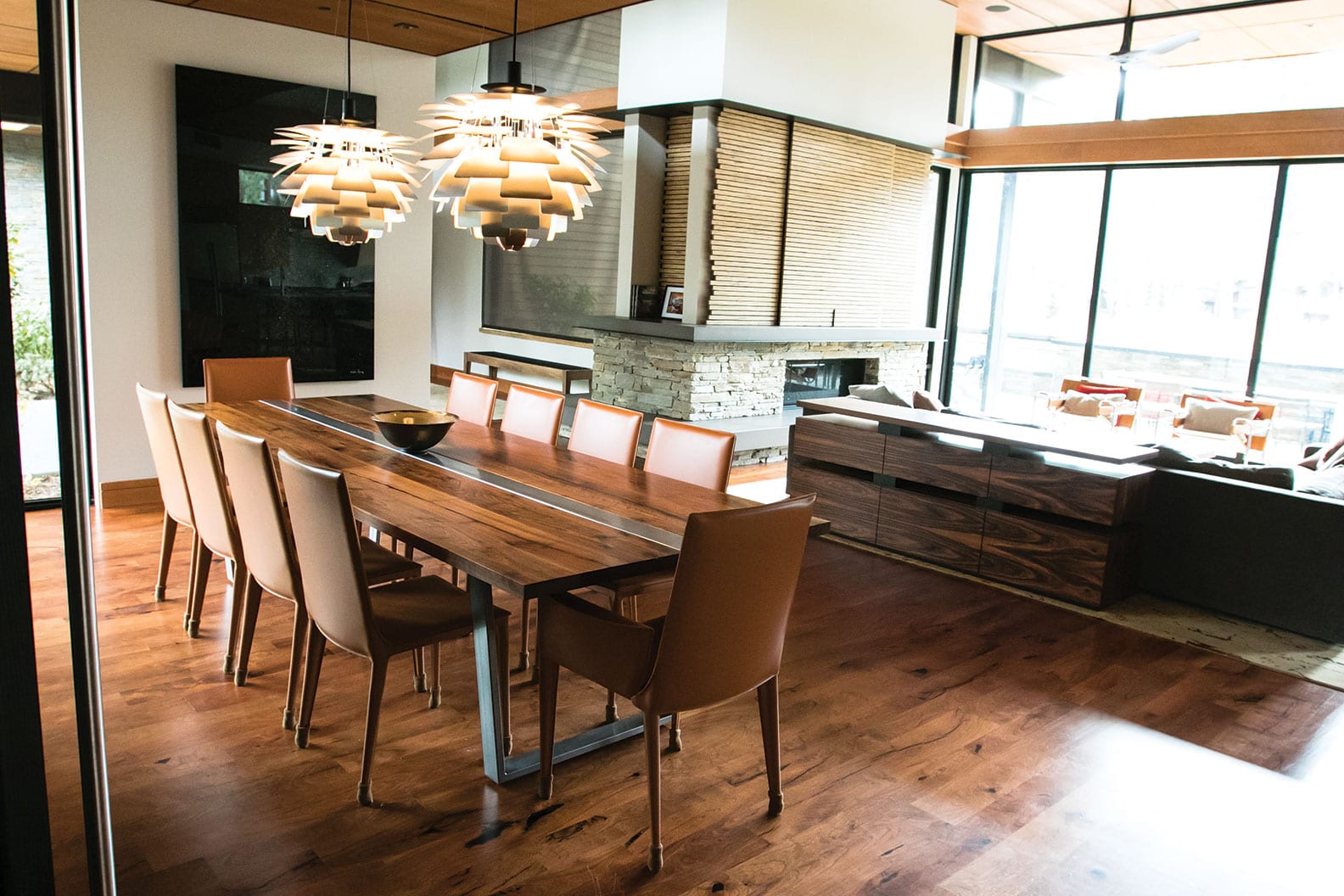 Gomez is starting to think about expansion. He's been considering a retail space in the South Lake Tahoe area, but he's not sure how big he really wants Mez Works to get. He feels fortunate to have come this far.
"I feel really lucky to be able to do this for a living and have a good crew that I can rely on," he says.