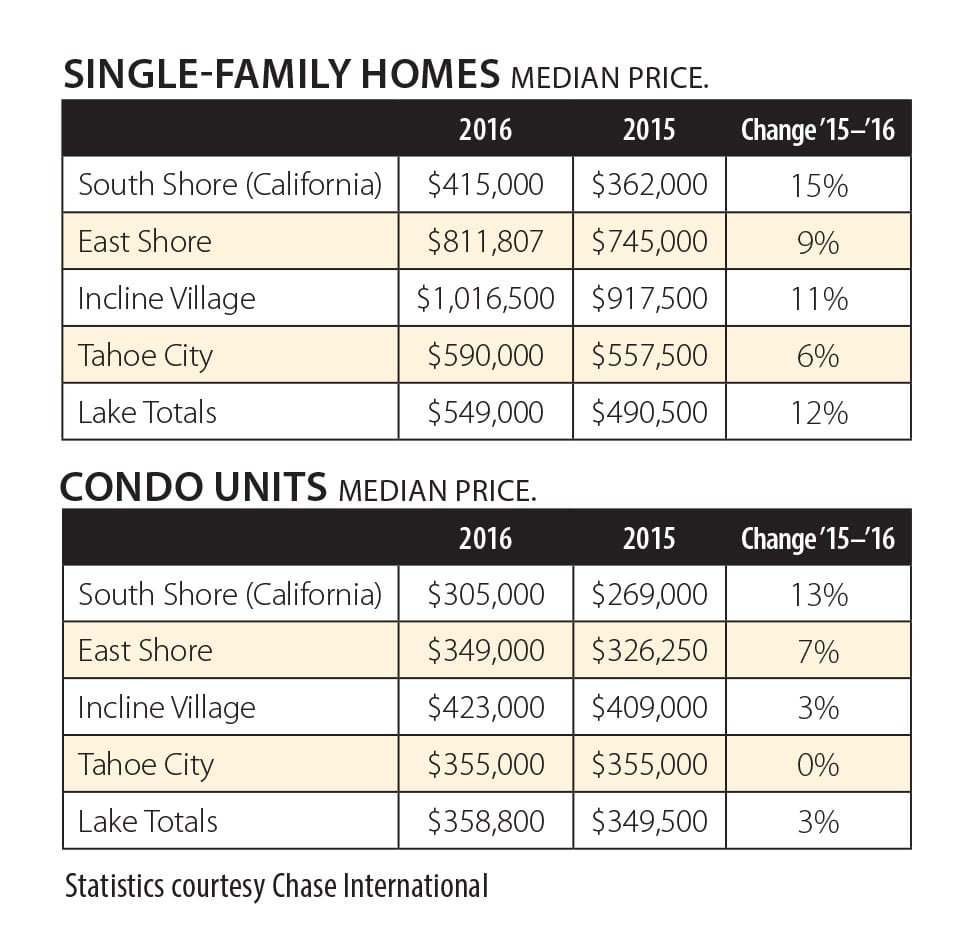 04 Apr

Tahoe Housing Market Update

Tahoe's real estate market enjoyed a nearly Basin-wide upswing in 2016, attributed to an increase in both the number of homes sold and in median sales price—which climbed 8 and 12 percent, respectively. These statistics are part of an annual report published by Chase International, which highlights trends in the Lake Tahoe Basin and Reno/Sparks.

Susan Lowe, Chase International's corporate vice president, attributes the growth to initiatives to develop pedestrian-friendly communities and support redevelopment that have taken hold around The Lake.

"There's a lot of responsible growth taking place in the Basin right now," Lowe says.

Tahoe's East Shore saw some of the largest increases in units sold and overall volume of sales, with 122 homes sold for a 26 percent increase from 2015 to 2016.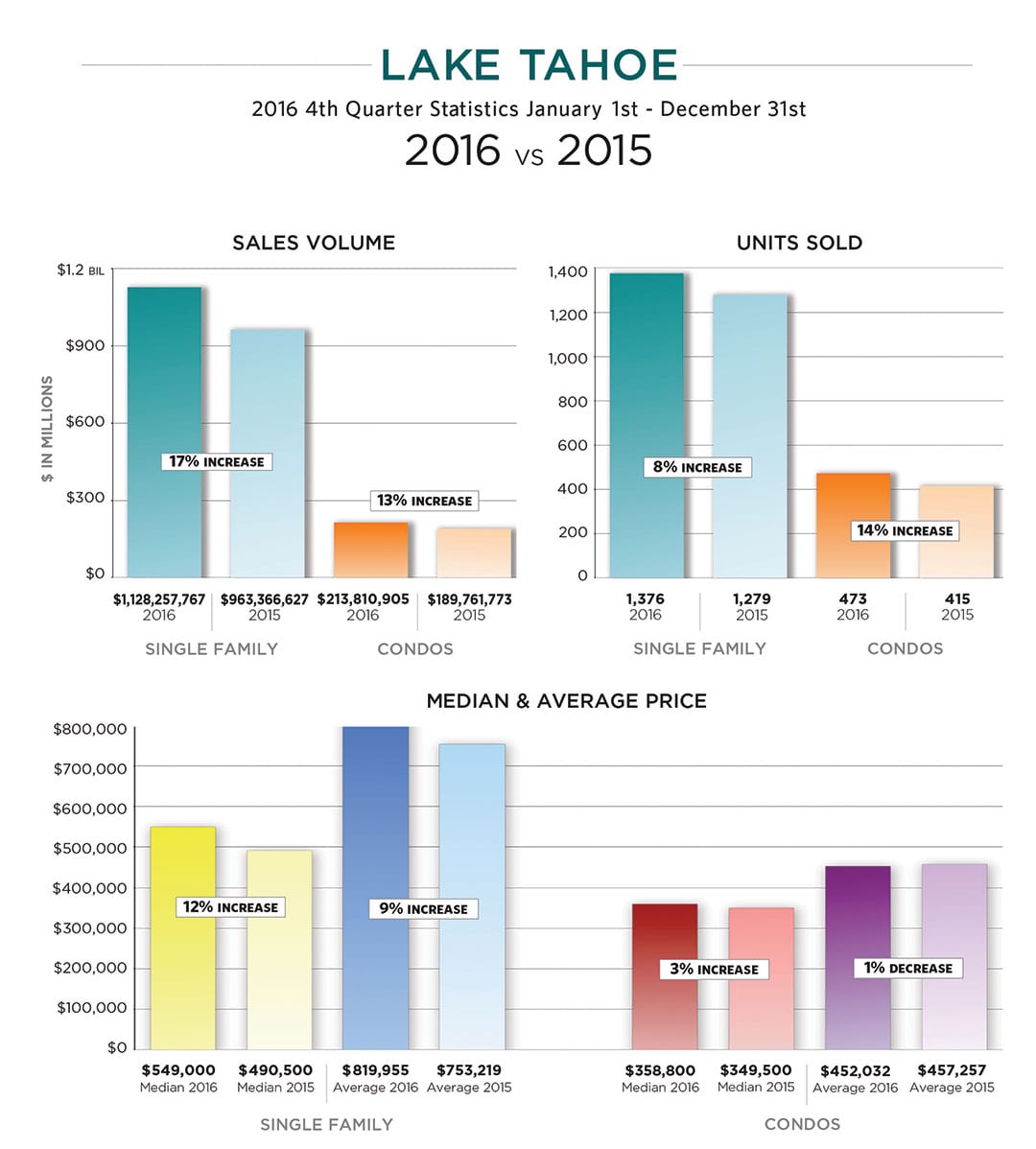 Incline Village experienced a 35 percent increase in home sales over $1 million from 2015, but experienced a 7 percent decrease in sales under $1 million.
Lakeshore Realty co-owner Chris Plastiras attributes this to fewer units offered below the $1 million mark: 25 are currently listed in this price range in Crystal Bay and Incline Village, compared to 94 listings above $1 million.
Plastiras is pleased with market gains over 2016, and is confident in the year to come.
"So far this year looks very promising with as much snow as we had, and we've still had very robust sales," Plastiras says.
Real estate markets surrounding the popular ski resorts at Northstar California and Squaw Valley Alpine Meadows continue to boom, with Northstar observing a 325 percent increase in home sales over $1 million (a total of 17 homes for 2016).
In the Village at Squaw Creek, only 15 units are currently left for sale—the lowest number of available units in the past 12 years, according to Lawrence Realty founder Larry Lawrence.
"There's a shortage and we may start to see a few signs of multiple offers and people paying higher than asking prices," Lawrence says.
Luxury neighborhood Martis Camp in Truckee sold 49 homes in 2016, with an average price per square foot of $1,144. A single lot on the golf course sold for $3.5 million in the past year, Lawrence adds, while a home is currently listed for just under $16 million, which is the most expensive home listed to date in Martis Camp.
"Because of the continued build-out of lots in Martis Camp, it's anticipated the lot values will increase, and the prices will increase as well," says Lawrence. The amounts fetched at Martis Camp may be outliers, but prices at the higher end of the market can impact costs all around The Lake.
After a solid 2015, Tahoe City saw declines in overall sales volume and units sold, with a modest 6 percent increase in median sales price.
Truckee saw a 95 percent jump in home sales over $1 million and a 13 percent increase in median sales price in 2016.
Overall, Tahoe's median sales price is still 35 percent below pre-recession values in 2007, when the median value of homes around The Lake was $843,000. However, Truckee and South Lake Tahoe are now both within 10 percentage points of pre-recession values (2.5 and 6 percent, respectively), and offer some of the most affordable markets in the Basin.
No one is talking about a housing bubble, but Lawrence recognizes some current trends that appear similar to the 2007 real estate climate.
"In 2007 and 2008 we had very few homes in Squaw Valley for under $900,000, and we're getting very close to that again," he says.
Plastiras is optimistic, but sees an unpredictable situation in markets across the country. "I think there are other mitigating factors that will tell us," he says. "For example, if interest rates are going to keep ratcheting up like some people are predicting, then I think the market will cool off a little bit. With the new administration, it's hard to say which direction we're going in right now."
---
Statistics courtesy Chase International
---