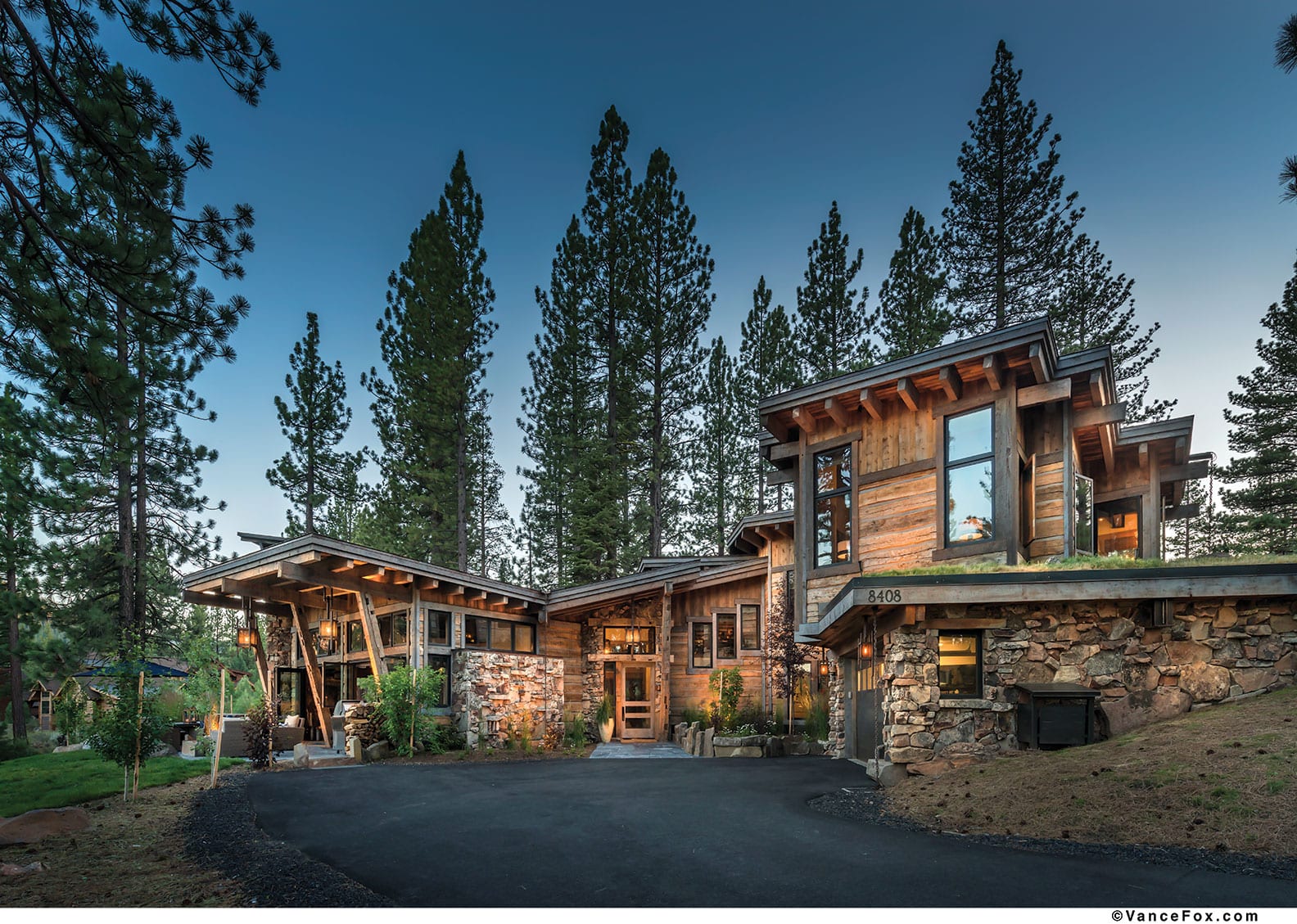 Contributing to the rustic feel of the home, the exterior is clad in heavily textured native basalt, reclaimed wood siding and scabrous timbers, photo by Vance Fox
15 Feb

Authentic Living
Builder goes all in on rustic character with his personal home
The powder room is often the one spot in a house where something out of the ordinary can be found: wild wallpaper, a faucet made from sculpted concrete or a mirror with a fur-covered frame. In this respect, the powder room at Mark and Susanna Neave's Lahontan home does not disappoint.
A cast-iron smelting pot weighing hundreds of pounds, repurposed after years of containing thousand-degree liquid metals, has retired to a more comfortable and less thermally demanding life as a vessel sink, resting comfortably in a slab of oak.
"It has to weigh a ton," Mark Neave says with a smile. "It's totally authentic."
Authenticity of materials throughout the house is a big part of what gives this 3,150-square-foot, two-story residence its easy livability. General contractor and owner of Truckee-based NSM Construction, Neave tasked his subcontractors and craftsmen to maintain a sense of legitimacy in each detail and finish application.
"I wanted the house to look very rustic, not fit and finished, but crafted and textured," Neave says.

In the kitchen, stone slab countertops with mosaic tile sit on reclaimed casework and flooring, while windows bifold completely open to the exterior terrace, photo by Vance Fox
A native of Australia, Neave met his wife Susanna while living in Mammoth Lakes, and they moved to Truckee in 2008 with two children in tow. While Neave has built many custom homes, this was the first he's built for himself. "There really were no surprises during the process," says Neave reflectively, "but I wanted this house to be who we are, so it's very functional and full of little things that make it particular to us."
Upon approaching the front door, a beat-up framing hammer refashioned as a door knocker is one of the first things to announce the home's bespoke character. Heavily textured native basalt, reclaimed wood siding and gnarly, scabrous timbers cladding the exterior introduce a strong material presence seldom experienced beyond historic structures. This rich texture extends past the sheltered entry area, through the glass-panel front door and to the most minute interior detailing.
Custom metalwork crafted by Truckee's Mountain Forge is found throughout the home, sufficiently amping up the rustic character: hammered steel wall hooks in the mudroom (suspended against a heated board-form concrete wall to aid in the drying of soggy ski parkas), metal framework for custom light fixtures (housing canning jars or beer growlers as lamp globes) and the one-of-a-kind stair rail.
"I asked Mountain Forge to create a railing that looked like salvaged parts off of a John Deer tractor," Neave says. "They even painted 'faded' colors to make it look old and abandoned."

A custom pendant light fixture in the dining area started as a piece of driftwood found on an Oregon beach, photo by Vance Fox
Distressed, reclaimed finishes abound. Casework and wood flooring are clearly marked by prior lives, old redwood wine barrels clad the soffits, and timbers salvaged off the bottom of a Canadian river and run through a mill have become exposed 6-by-12 structure.
The Neaves consulted with Julie Johnson-Holland of Truckee's JJH Interior Design to ensure that chosen "finishes and colors were harmonizing," but the husband and wife are by and large entirely responsible for the rustic alpine ambiance. "We picked all the finishes and materials, including the stone hearth," Neave says.
Anchoring the weighty chimney above and balancing generous voids on either side, a massive singular chunk of granite was selected and placed on the site before the foundation was formed. "The rock went in the house before the slab was poured," says Neave. "We then framed and set the fireplace around it."

The great room has two sets of folding doors on either side of the chimney, which is anchored by a chunk of granite that was placed on the site before the foundation was formed, photo by Vance Fox
This project marks Neave's fifth with Truckee architect Dennis Zirbel and is Zirbel's 16th Lahontan home. Zirbel points to the demands of the steep corner lot contributing to the spatial success of the project.
"Because the lot has a relatively steep slope for the size of the property, we were challenged to maintain a harmonious site-to-structure ratio while fulfilling the program and aesthetic desired by the Neaves," Zirbel says. "We integrated the house with the site as much as possible by building into the slope and designed a green roof that further blends the home with the land. This approach also provided outdoor access on both lower and upper levels."
"Dennis did a great job of situating the house," says Neave. "There's beautiful morning views on one side and golden afternoon sun on the other."
The entry level of the home includes the public and utilitarian spaces while the more private and family-oriented areas are tucked upstairs. Both architect and owner rave about the indoor-outdoor living vibe and outdoor access from both levels.

The home features large covered outdoor living areas off the lower level, photo by Vance Fox
"The great room has two sets of folding doors on either side of the fireplace, opening up the room to the outside and creating an impressive indoor-outdoor experience," says Zirbel.
Neave also lauds the transformative power of simply sliding open the large doors. "The great room and terrace are amazing in the summer when both doors are completely open," he says. "I love it most when people are around and there's just so much interaction between spaces. Even with 80 people here for the housewarming, everyone could connect and still be really comfortable."
Even though it is a sophisticated and well-appointed residence, there is zero pretense. Case in point: Cooper, the family's 4-month-old golden retriever. Cooper freely wanders between interior and exterior through the huge accordion glass doors, trailing his extended leash back and forth across finished interior floors and exterior flatwork, even with damp paws and a pine cone in his mouth. On occasion, he stops to take a quick nibble on the kitchen casework (before being asked nicely to cease and desist), and the reclaimed material easily absorbs the canine attention.
Neave is proud of the home's livability and capacity to make visitors instantly comfortable. "It's the tiny pieces that make the difference and create the warmth," he says. "There are so many conveniences and comforts to the house without it being obnoxious. I love the fact that people always feel at home. You don't have to worry about scuffing something up; it's not pristine. That's what I like the most."

A full wall of native basalt gives bold contrast to the soothing color palate in the master bathroom, photo by Vance Fox
Award:

Rustic
Building Design: Dennis E. Zirbel
Builder: Mark Neave of NSM Construction
Interior Design: Owners and JJH Interior Design
Square Feet: 3,150
Year Complete: 2014