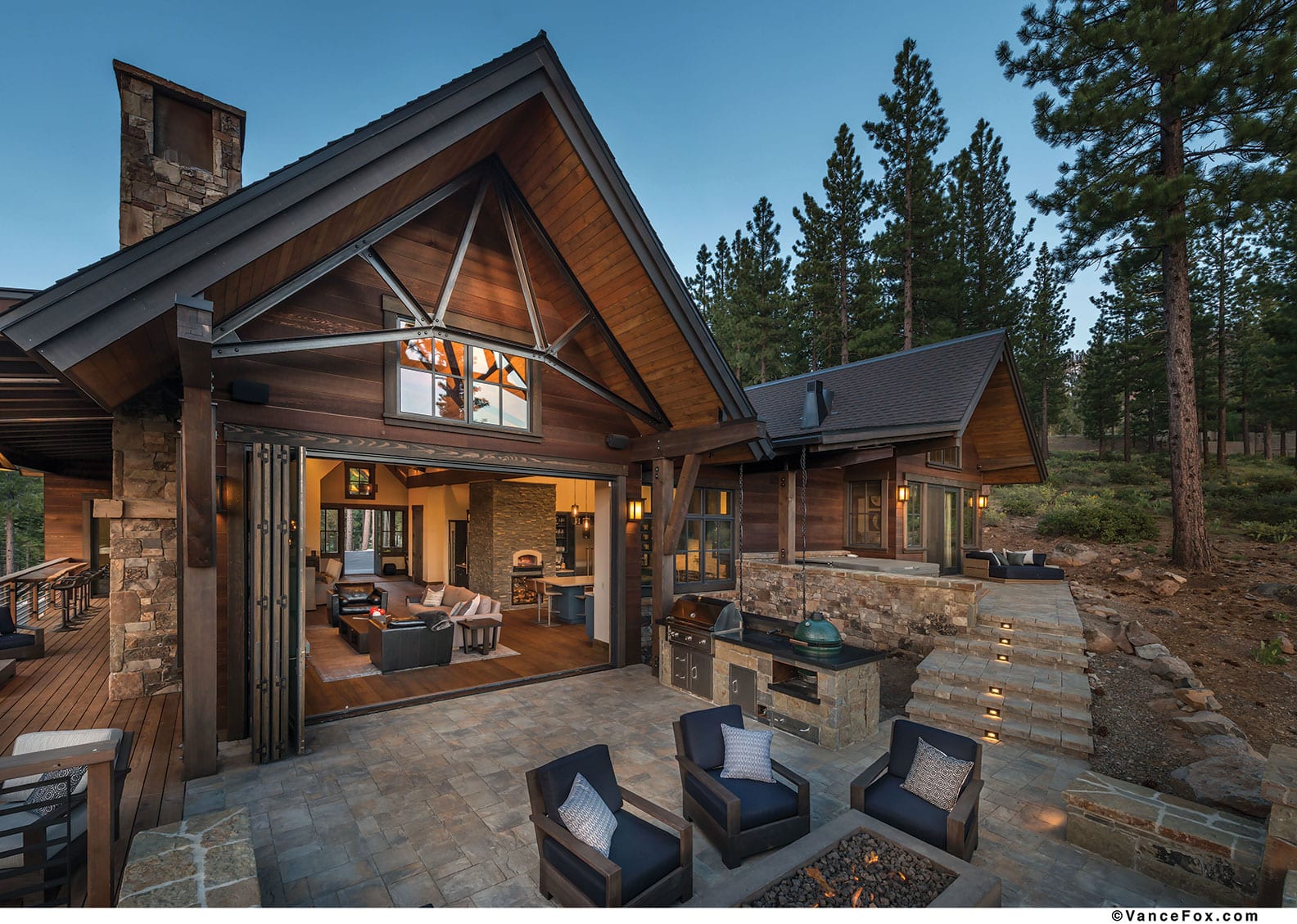 Sierra Pacific folding glass walls connect the great room of this Martis Camp home to the fire pit terrace, which boasts a Big Green Egg ceramic grill and views to the Sierra Crest. A lighted staircase provides access to a hot tub and the master suite, photo by Vance Fox
15 Feb

Homey Getaway
Martis Camp home reflects its owners' active yet relaxed lifestyle
Call it King of the Hill.
Perched on a rise in Martis Camp, this mountain modern, chalet-style vacation home built for an active Bay Area couple and their dogs rules with its panoramic mountain views, cool amenities and indoor-outdoor living space.
The pair, both originally from the East Coast, had recently sold their longtime Bear Valley getaway and were looking for new weekend digs when they discovered—and were instantly enamored with—Martis Camp.
"The beauty, serenity, service and amenities made the decision easy," says the homeowner, who, along with her husband, wishes to remain anonymous. "We were open to both building and buying. We always said that you can't build a view. So, when our realtor brought us to our lot and we stood admiring the view, we knew building was what we wanted to do."

The mountain modern home, which is clad in cedar and stone, sits atop a hill in Martis Camp with stellar views to the Sierra Crest, photo by Vance Fox
"The logistics of the site were definitely a challenge," says Steve Casey, project manager for Truckee-based Robert Marr Construction, which built the house in about 16 months. "But we were able to get through with a great excavator [AM-X Excavation] and patient clients."
Clients with a clear agenda.
"We wanted our house to be a home, a gathering place for friends and families—a place for everyone to feel welcome and comfortable when they walk in," says the owner. "One of our guiding design principles was 'feet up,' an idea that promotes a place to relax and unwind, not make you feel you are in a museum or showroom."
Using that as a foundation, the couple pooled aspects from some of their favorite places: a Sonoma winery, Yosemite's Ahwahnee Hotel, where they were married, Big Sur's Post Ranch Inn, and travels throughout the world. "These fueled our vision of what we wanted our home to be," the owner says.
The couple met Ted Brobst from Truckee-based Ward-Young Architects while they were looking at land. "He generously offered his time to look at our potential lot choices and share his thoughts on bringing our vision to life," says the owner. "Ted is innovative, thoughtful and a wonderful listener. After the time we spent with him, we knew there would be no one better to collaborate with. His associate Caitlin [Davis] and he were able to understand our visions and bring them from concept to reality."

The master suite is outfitted with a fireplace and windows with mountain views, plus access to a recessed hot tub, photo by Vance Fox
"The owners were so unique, humble and open that it really made this project quite special," says Davis. "Many aspects of the design were representative of places they had been to and really truly cherished; once the home was in the final stages of completion you could almost feel as if you were reliving those past moments together with them."
As for builder selection, the couple met Robert Marr and Steve Casey and shared ideas, timing and desire to be part of the process. "They were very open and welcoming to our input," says the owner. "We are both very hands-on and wanted to be a part of the build. Their drive and can-do attitude won us over right away, as well as their teams' craftsmanship and attention to detail."
A longish, steep drive leads up to the cedar-and-stone exterior and oversize garage, which stores the couple's Sprinter camper van. "Integrating the oversized bay and door into the massing of the home was an important factor," Brobst says. "But because of the hillside and lower roof over it, it's much less noticeable."
The architectural team ensured the garage and rooms above it did not feel too tall. "Breaking up the roof planes, changing the pitches and offsetting wall faces really helped to embrace the height necessary for such a vehicle," says Davis.
A small set of steps leads to the home's main entrance, where a pair of glass-and-steel doors allow a glimpse of the open and airy living space and out to the mountain views the house is sited to capture.
"The most unique feature is the steel trusses that frame the main living volume of the home," says Brobst, noting the design was inspired by industrial winery architecture. "The trusses bring a rustic, modern sensibility to the traditional gable roof forms and offer a sense of identity to the home."

The design of the great room was inspired by industrial winery architecture, with trusses that bring a rustic, modern sensibility to the traditional gable roof forms. A Mugnaini wood-burning pizza oven in the kitchen is among the owners' favorite features of the home, photo by Vance Fox
In the living room, the fir ceiling complements wide, European white oak planks from Nor-Cal Floor Design in Truckee. Sierra Stone Supply provided the rock for the hearth, which is punctuated with a reclaimed beam mantel from a barn in Minnesota built in the late 1800s, and purchased from Sonoma's Heritage Salvage.
The L-shaped room opens into a spacious kitchen built for entertaining. It boasts a Mugnaini wood-burning pizza oven surrounded by blue-grey ledgestone, a large Caesarstone-topped island and custom, blue-hued and glass-faced NuFace cabinetry that displays the colorful dishware stashed within. The blueish stainless steel hood over the commercial stove was fabricated by Reno's Riveted metalworks. A corner farmhouse "party" sink can be accessed from two sides, making prep and cleanup more social, and the barstools at the counter provide a casual eating option to the great room dining table.
Here, as elsewhere in the house, Truckee-based interior designer Kasey Hudson, principal of Hudson Design, lets her skill set shine.
"Kasey invested the time to get to know us and was very collaborative with the broader team. She was very open to our desire to shop locally in the communities that we love for some of the treasures in our home," the owner says, listing Moroccan doors bought in San Francisco, handcrafted items from Etsy artisans, furnishings and bedding from eBay, and Sonoma finds like a large stone sink from Artefact Salvage.
"We had lots of eclectic ideas for her."
She credits her husband for the pizza oven.
"He wanted an activity to engage and involve our family and friends and he's an engineer, so creating the perfect pizza dough was a challenge and passion. We've had so many fun nights in the kitchen around that oven. It's super casual and inclusive—and sometime a little competitive."
Steps from the kitchen, Sierra Pacific folding glass walls connect the living room to the fire pit terrace, complete with built-in gas and Big Green Egg ceramic grills, and views of the Sierra Crest and Squaw Valley. A second outdoor space includes a covered gathering area with a live-edge bar and hearth with seating to enjoy the views toward Donner Summit and Martis Valley.
Indoors, a den/TV room offers dog-friendly furniture and fun and funky artwork, and a nearby powder room employs a large beam and boulder as vanity and sink, plus eye-catching artwork made from fruit stickers.


A powder room employs a large beam and boulder as vanity and sink, plus eye-catching artwork made from fruit stickers, photo by Vance Fox
The main floor master suite is outfitted with fireplace and picture window views, plus access to the recessed hot tub. A stairway leads up to three additional bedrooms—one of which includes a lofted third bed, convenient for visiting family—above the garage.
The functional mudroom includes built-in benches, hampers and drying drawers, plus space for doggy whatnot. Lockers with grated doors help organize and air out damp clothing.
Not surprisingly, folks who work in technology—this couple included—like high-tech in their homes.
Beyond the basics like Nest (for temperature and smoke alarms) and Lutron (for lighting and shades), the owners use Sense energy manager; pHin, a hot tub manager; and a WaterCop, a monitoring device that shuts off water to the house if it detects a leak. "We tie much of it together with IFTTT [If This Then That]," the owner says. "IFTTT allows you to easily create small applets that trigger actions based upon different inputs. This saves resources, allows for remote monitoring and provides some peace of mind. They can be very basic such as 'if the temperature in the hallway drops below x degrees, turn on the heat and send me a text.' You can also get a bit more creative and do 'when I enter Martis Camp, turn on the heat, open the shades, turn on the lights, play music and start the Crock-Pot.'"
The couple also have a small weather station and, to help offset their electrical/carbon footprint, 6kW of SunPower solar on the roof. "To date, it has provided approximately 60 percent of our electric needs," the owner says.
Tying together the details of all the different design elements is always a challenge on these types of projects, says Casey. "But the success here is truly a testament to a very committed team approach between owner, architect, interior design team and general contractor and all our subs." This was Marr's last build prior to retiring after a three-decade run; Casey has since started his own company, Casey Custom Builders, specializing in the same high-end custom residential projects.
"We love that it feels like a home," says the owner. "We love walking in the front door and admiring the view. We open the doors, grab a glass of wine and unwind on the patio with our dogs Declan and Comet." Feet up, for sure.
Award: Lifestyle
Building Design: Ted Brobst and Caitlin Davis of Ward-Young Architects
Builder: Steve Casey of Robert Marr Construction
Interior Design: Kasey Hudson of Hudson Design
Square Feet: 3,871
Year Complete: 2016