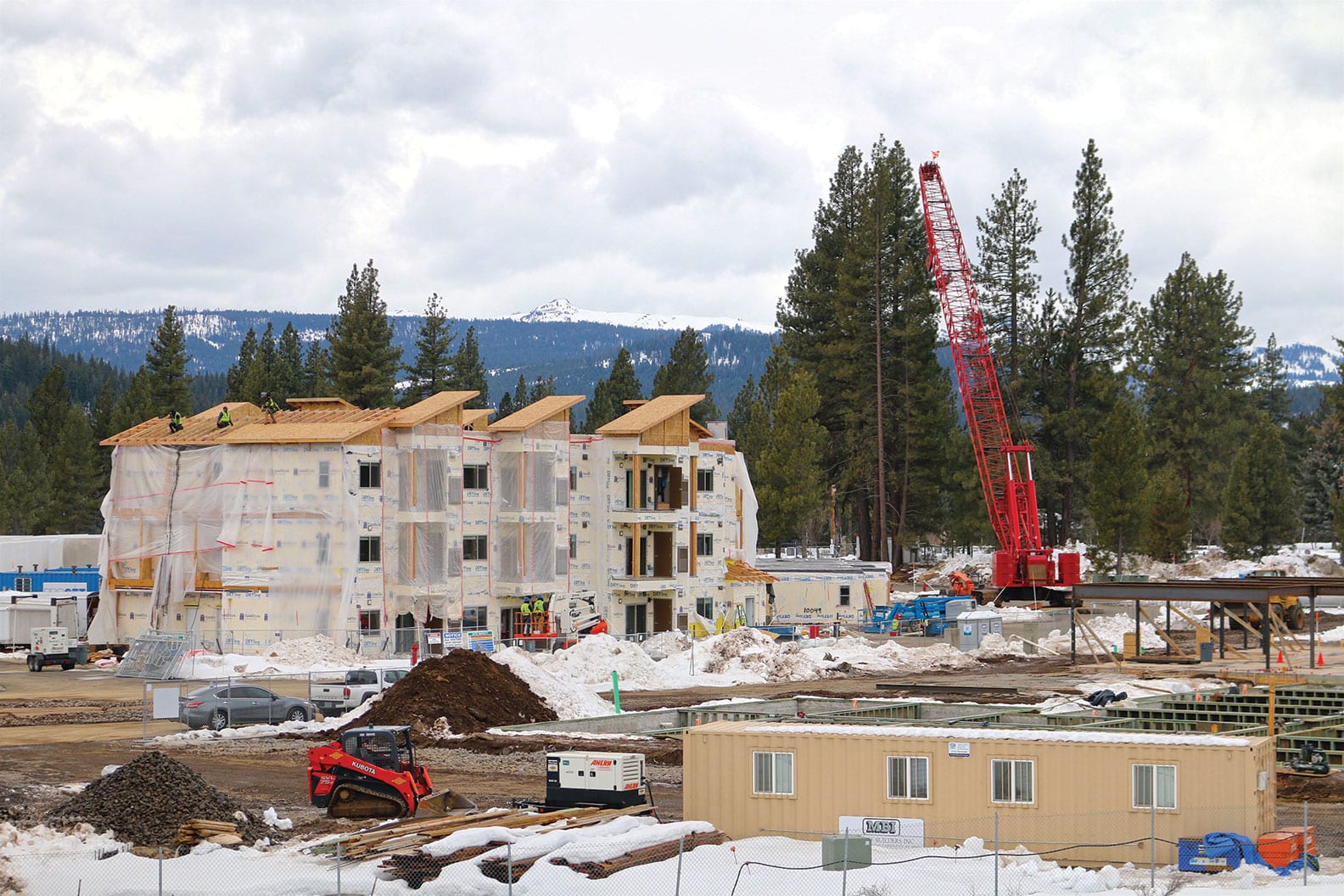 Truckee's Coburn Crossing will include a hotel and 138 apartments when complete, photo by Sylas Wright
24 Feb

Housing Projects Moving Forward Despite Obstacles

The dire state of the long-term housing market in the Tahoe–Truckee region is well documented and understood: Employees can't find places to live, employers can't find employees and prices continue to rise.

The good news is that there are projects planned and under construction on both shores of Lake Tahoe and in Truckee that will add to the long-term housing inventory.

However, while people are working to solve the housing shortage, developers and homeowners at the forefront of the issue say it is still a monumental task to get something built, with bureaucratic obstacles and fees delaying or preventing projects from ever breaking ground.

Here is a look at where some of the most promising projects stand.
Coburn Crossing, Truckee
Coburn Crossing will include the 114-room Marriott SpringHill Suites Hotel and 138 apartments on 10 acres near downtown Truckee. Triumph Development, with an office in Vail, Colorado, is developing the project.
"We are learning the ropes in California. There are more fees and more processes to go through to do a locals' housing project here than in Colorado," says Mike Foster, Triumph's director of design and construction.
After acquiring the property, Foster says the company asked the Town of Truckee what it would like to see developed on the 7 acres of land remaining after the hotel. The answer: locals' housing.
The apartments, which range from studios to three-bedroom units, will spread across five buildings made from modules assembled on site. The apartments are scheduled for completion by late summer.
Under an agreement with the Town of Truckee, there will be no short-term rentals allowed, and at least one person in each unit must work within the boundaries of the Tahoe Truckee Unified School District.
Truckee Railyard Project
This project is set to revitalize the Truckee Railyard into a mixed-use extension of downtown. The plan is for retail and office space, a grocer, movie theater and between 400 and 600 residential units. Ninety of the residential units are slated to become affordable housing.
Jason Hansford, general manager of Holliday Development, says the development was scheduled to break ground this past fall but was delayed due to budget issues.
"The bids came in considerably higher than we expected," says Hansford. "We revamped to modular units instead of custom construction."
The Railyard Project is working with CFY, a development company that specializes in the construction and management of housing projects, and is attempting to get grants and state funding to underwrite the affordable housing part of the development.
Hansford hopes to have building permits by the time this story goes to press. Foundations are set to go in by June, with the units completed by the summer of 2020. "It is a great opportunity for people to live, work and play right where they are," says Hansford.
Residences at Jibboom, Truckee
This development is proposed for the dirt parking lot on Jibboom Street in downtown Truckee, across from the post office. The development is a partnership between local residents Sean Whelan and Kevin Sloane, who are seeking to build 50 workforce rental units as well as 32 two- and three-bedroom condos. All of the units will be restricted to local residents.
"We are really working hard and thinking outside of the box to make it work," says Sloane. "We could easily build 28 luxury units. That is the path of least resistance and profitability, but as a local business owner, we have decided to take a different route."
Sloan says the plan for the property allows for about one parking space per unit, but the code requires 1.5 parking spots per unit.
"We are working with the town to restrict a number of studio units to people without cars or have a car sharing program," says Sloane. Without leeway on the parking restrictions, he says that a project such as this cannot pencil out. "We've made as many concessions as we can. It is a challenge. We've been at it for 20 months, and even though we've been told it's the most important project in Truckee, it still hasn't happened. It gets to the point of frustration to where I ask myself, 'Should I just build the luxury units?'"
The Tahoe Truckee Sanitation Agency has been another big financial hurdle for Sloane. "They charge a $5,500 access fee per unit for the development," he says. "A 7,000-square-foot home in Martis Camp pays the same amount as a studio rental unit."
Despite the challenges, Sloan and Whelan continue to wade through the permitting process and hope to move forward with the project as soon as possible.   
Lazando Project, Truckee
A few years ago, Rick Lee was looking for a development opportunity in the Tahoe–Truckee region. He went online and found 1,100 vacation rental listings for the region, and only five listings for 12-month leases.
"I started paying attention, and determined there was an astronomical need for local housing," says Lee. He bought a 6-acre parcel on Truckee's Sierra Drive and then "spent the last year and a half getting the project in a form that could not lose money."
Lee's plan is to build a total of 22 units on 11 lots. Each structure will include a 1,600-square-foot primary residence with an 800-square-foot secondary unit. The units will have a locals-only restriction and the project would be partially supported by the Truckee Tahoe Airport District, which would have the first right of refusal for units to house its employees. The units would also have a $750 per bedroom cap on rent.
But first, the project has to make financial sense, and there is the challenge.
"Building costs are the issue," says Lee. "It's $60,000 per unit for permitting alone. And we are trying to find some semblance of logic with the building code."
While a two-unit structure has been completed, the remaining units are in question.
Tahoe City Marina Apartments
The Tahoe City Marina in downtown Tahoe City is in the process of converting existing second-floor commercial space into 10 studio apartments above the Marine Supply Store.
"I had 4,500 square feet of space since 2000 that have not been a good fit for retail. We've thought about turning them into apartments for a long time," says Jim Phelan, Tahoe City Marina's general manager. 
The apartments will be self-contained with murphy beds and kitchenettes, and will include a communal room with laundry and a group kitchen where residents can entertain guests. The units will be restricted to long-term rentals. Phelan plans to provide discounts to renters who don't have a car, and he is considering providing bus passes to keep residents from occupying parking spaces that could be used by customers of the property's commercial businesses.
Phelan says he benefits from having the building and utilities already in place, which streamlines the permitting process and eases the financial burden.
Dollar Hill Housing Project, Tahoe City
While still at least a few years away, one of the most exciting new housing prospects is the 11-acre parcel on Dollar Hill in Tahoe City owned by Placer County. The planning process is underway for a project that would include a mix of between 150 and 200 units, including market-rate units as well as apartments designed for a wide range of income levels.
Related California was selected and approved by the Placer County Board of Supervisors and is working to finalize plans for the development.
"We put forward a concept. We are now vetting it and figuring out exactly what makes sense," says Meea Kang, senior vice president for Related California. "We will refine it as we go forward. The hope is that we can bring in a lower rate on the cost of houses by design, and that will be challenging."
South Lake Tahoe
At least three affordable housing developments are in the works on the South Shore, but "the details are still being worked out," says Tahoe Prosperity Center director Heidi Hill Drum.
South Lake Tahoe's Housing Tahoe Partnership kicked off in April of 2018, and much has happened already. South Lake Tahoe has initiated flexible parking standards, allowing more land coverage for housing units. In addition, the South Lake Tahoe PUD has lowered its sewer connection fees from $2,700 per unit to $100. On a 50-unit project with two sewer hookups per unit, this would save the developer $265,000.
"Our vision is transforming local housing options so that residents and workers can live, work and thrive in Lake Tahoe," says Hill Drum. "We are accelerating housing solutions."