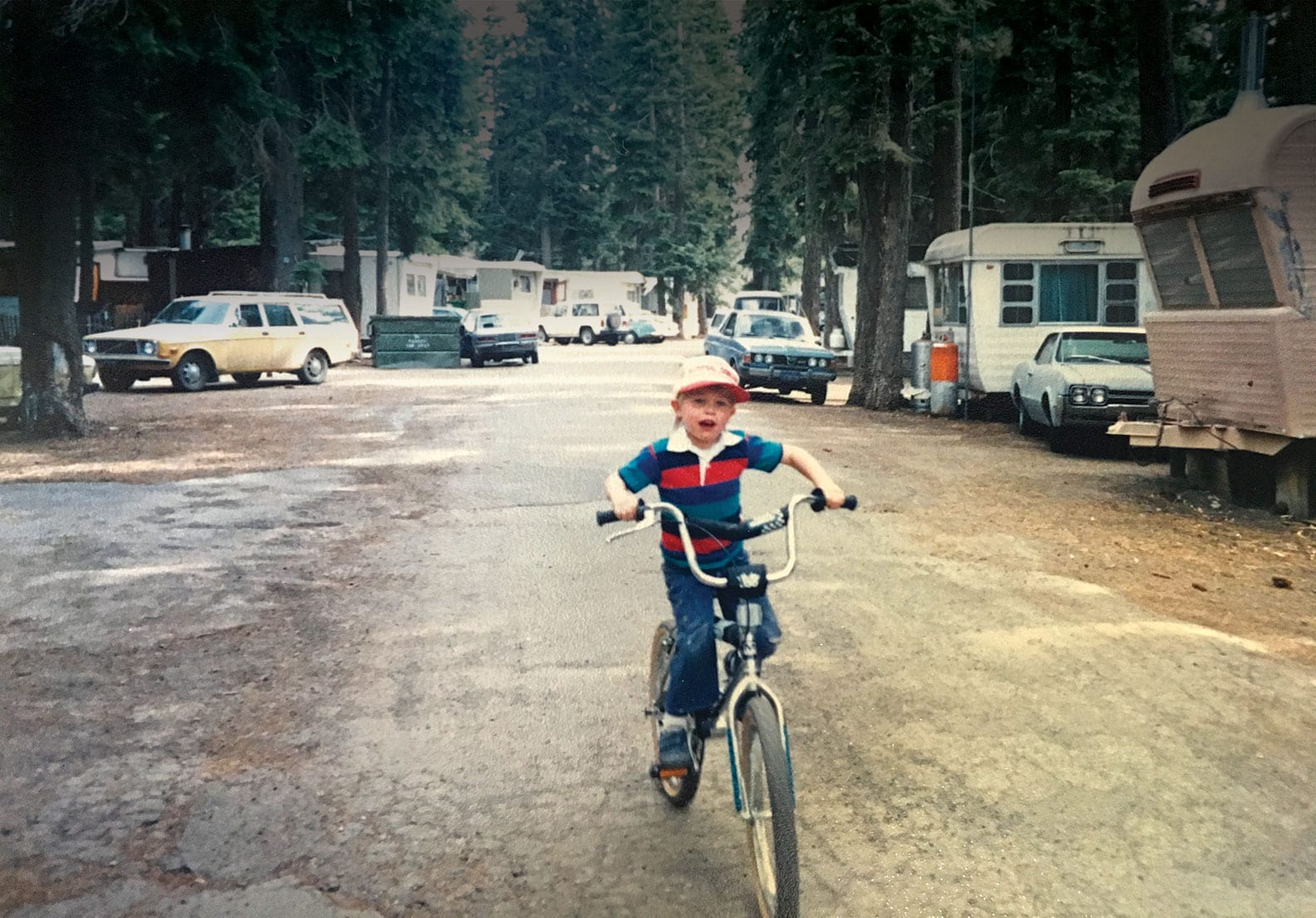 The Tahoe City Trailer Park was home to a number of world-class athletes, including a future Olympic alpine ski racer named Marco Sullivan, courtesy photo
24 Feb

Memories from a Modest Mountain Paradise
Cheap rent and an idyllic location made the Tahoe City Trailer Park a Shangri-La for elite Tahoe athletes
In the 1970s and '80s, many of Tahoe's top athletes, including some of the world's fastest speed skiers and most influential rock climbers, lived in a harmonious community on the banks of the Truckee River. Their waterfront dwellings were modest. But given the location, surrounded by river, forest, ski areas and a beautiful alpine lake, the residents likened their community to a sort of mountain paradise. And perhaps best of all, rent was cheap.
They called it Little India, or Camp Five in homage to Yosemite's climber haven: Camp Four. But most knew it simply as the Tahoe City Trailer Park.
"It was such inexpensive rent. It was right on the Truckee River, and my wife Gena had her horse there," says Paul Buschmann, who, along with friends and fellow Tahoe City Trailer Park residents Steve McKinney, Craig Calonica and Tom Simons, was among the fastest speed skiers on the planet. (Buschmann was featured in a Sports Illustrated article after skiing 127 miles per hour, briefly becoming the world record holder.)
Buschmann moved into a trailer at the edge of the Tahoe City Trailer Park in 1976 and lived there for about 10 years. He remembers it as a place where ski racers like him and his friends hung out, living a simple and fun life when not traveling the world competing or embarking on adventures.
Buschmann and his wife Gena, a 1979 North Tahoe High School graduate, paid $55 a month. Their digs included a large organic garden, while the couple put in their own water line and received power from an extension cord through the window. Buschmann also built a corral for his wife's horse, and they had five dogs. They showered in a public bathroom on the property.
Land of Change
Construction will conclude this year on a new bridge across the Truckee River where the Tahoe City Trailer Park once stood. The land is now part of the 64 Acres Park, which is operated and maintained by the Tahoe City Public Utility District and includes a bustling parking lot used by summer river rafters.
The 64 Acres property has a long history, starting with the local Washoe Tribe who used the land for hunting and fishing. In the early 1900s it served as the turnaround point for trains traveling from Truckee to the Tahoe Tavern pier, where tourists boarded steamers that provided transportation to the rest of the lake. The Tahoe Tavern was a grand hotel that was the center of Tahoe City before it burned down in the early 1960s and was replaced by condos.
Up until the mid 1980s, much of the land that is now 64 Acres was leased to a variety of businesses, including Tahoe Tree Company and the Tahoe City Trailer Park. The affable Pete Peterson ran the park from 1958 until the mid 1980s, when the Forest Service moved the residents off the property.
"At first it was all traveling people living there, then the trailers got bigger and it was people who lived there full-time," says Peterson, who's now in his 90s and still lives near Tahoe City. "A lot of people in town complained like hell when they made us move out. A lot of nice people lived there."
River Life
The Tahoe City Trailer Park was no ordinary neighborhood. In addition to its noted affordability, the community was known for its friendly atmosphere, which allowed residents to live pretty much how they wanted.
It was the perfect place for the band of athletes who resided there, including climber Peter Mayfield, who spent the winter of 1980 at the trailer park as an 18-year-old.
"The amazing thing was that it was where all these world-class athletes were living," says Mayfield, who had been climbing for six months in Yosemite before moving into the Tahoe City Trailer Park. There, he found legendary climber Jim Bridwell, with whom he would later conquer many challenging climbing routes.
Mayfield lived in a school bus that had been converted into living space by someone living in San Francisco's Haight Ashbury. His bus was right next to Buschmann's place in what was known as the "back 40" of the park, where the rent was cheaper, but without all the amenities. 
Climber Dave Diegelman, who shared a trailer with Calonica, recalls there being a good-natured competition between the climbers and skiers who lived in the park.
"[Steve] McKinney and I rode unicycles together. We got the trail all the way down to River Ranch wired," says Diegelman. "It was good training for both of us. It was all about how far two friends could push each other."
The athletes who resided in the Tahoe City Trailer Park also knew how to unwind and have a good time. McKinney, who held the world speed record on numerous occasions before dying tragically in 1990, was a mentor to the young Mayfield and challenged him to see the possibilities beyond that carefree corner of Tahoe City.
"He pulled me aside one day and said, "This is all fun, but you are too bright to lose yourself in this world,'" Mayfield recalls. "It sorta really hit home." He left Tahoe and moved to Yosemite, becoming a climbing guide in the valley. Mayfield now runs the Gateway Mountain Center in Truckee, which helps youth in part by teaching them how to climb.
Loose Rules and a Lovable Landlord
"We were all living the dream," Mayfield says of his time at the Tahoe City Trailer Park. "The trailer park owner was this amazing, big-hearted guy."
"He cut everybody slack," Buschmann says of Peterson. "He was like a dad. He only got on my case once when I brought home a truck load of debris to use on my place."
By debris, Buschmann means usable refuse that residents of the development would bring home from construction sites. In the Tahoe City Trailer Park, it was pretty much free game as far as what people did with their places.
"The way that people built these awesome additions to their trailers was hilarious," says Mayfield.
Some of the remodels were quite extensive, turning a trailer into a little Shangri-La, all with leftover lumber and their own hard work. Many of the athletes needed jobs to support their world travels, and there were plenty of construction jobs in the booming 1970s in Tahoe.
"It fit our lifestyle," says Calonica, who now lives in Chamonix, France, and runs a heli-skiing operation in the Himalayas. "It was cheap, and sometimes Pete didn't care if we paid. We were traveling all winter long, and then in the summer I went to Chile for more racing or Yosemite to climb."
Local Community
While the trailer park was where an amazing group of athletes congregated, it was also home to a wide range of folks who were every bit as much a part of the community.
For many of the park's residents, fishing was a major part of their lifestyle, as well as an economical supplement to their diet. Peterson speaks with fond memories of the fishing hole located where the new bridge is going in, and how a friend caught a 10-pound brown trout from that hole.
Susie Bellomy remembers driving over the rickety one-lane bridge that accessed the trailer park to visit her in-laws, who lived in a prime fishing spot right next to the river.
"Marie would go fishing right out the side yard of her house," Bellomy recalls of her mother-in-law. "Most of the people who lived there were service people who worked in the community. It was sad when they took it down. It was affordable housing."
While people are working to solve current issues facing Tahoe City, including affordable housing, one has to wonder if abandoned pieces of the area's history might be just what are needed today.
The grand old Tahoe Tavern was a luxury hotel that could have continued to serve as a great cornerstone of the community. A train from Truckee to Tahoe City would certainly alleviate traffic. And while locals are now desperate for places to live, in the 1980s there was a popular and affordable place right along the Truckee River in Tahoe City—a place that somehow magically became ground zero for the world's best skiers and climbers, who lived the good life in a no-frills mountain paradise.
---
Tim Hauserman grew up in Tahoe City and fondly remembers driving across the one-lane bridge to the Tahoe City Trailer Park in his youth. These days he writes frequently about a wide range of topics and teaches cross-country skiing at Tahoe XC.