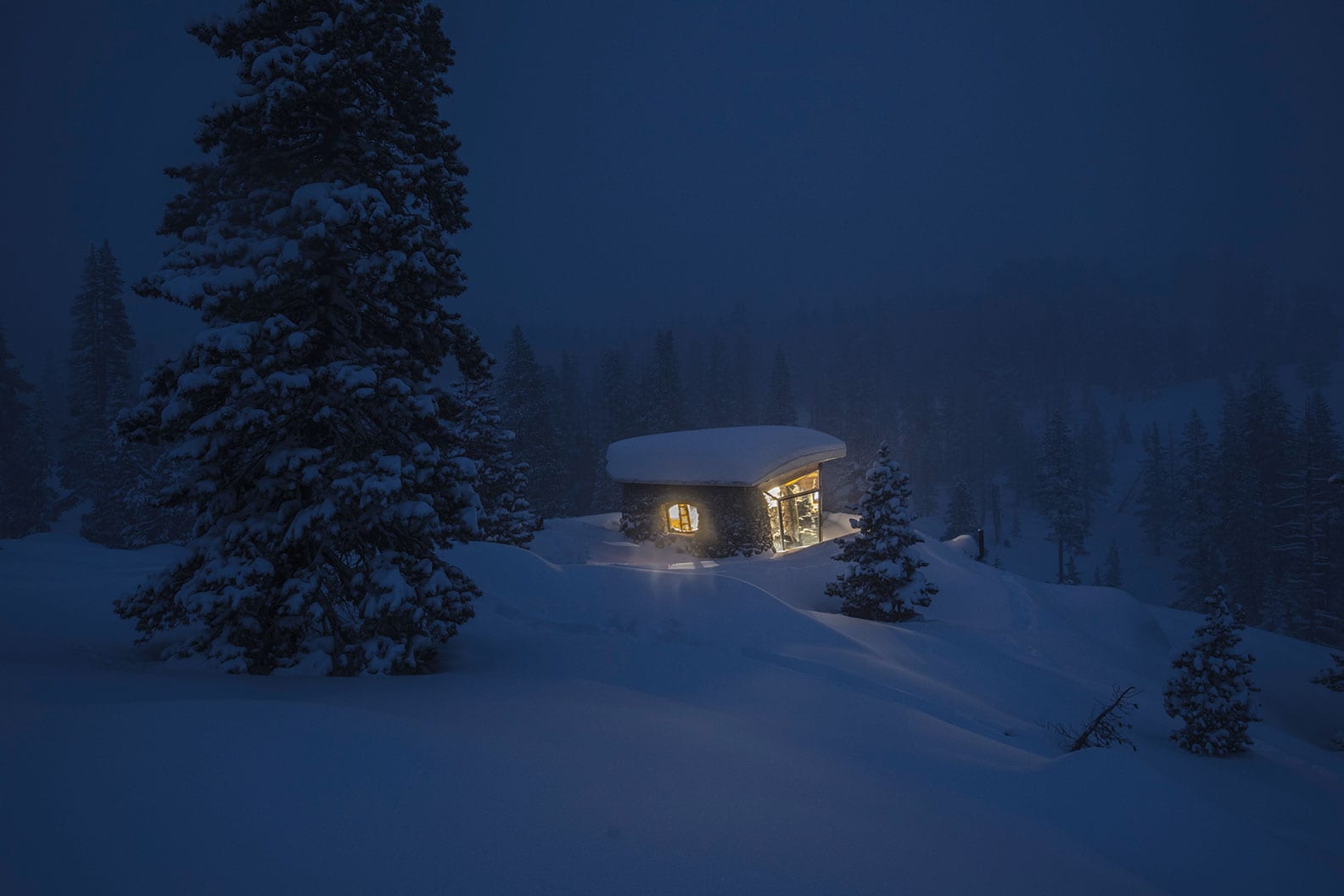 Mike Basich's hand-built cabin has endured many snowstorms from its Donner Summit perch, like this one in January 2019, photo by Ryan Salm
24 Feb

Off-the-Grid Dream
Snowboarder Mike Basich fulfills childhood fantasy by building a one-of-a-kind cabin on his remote Donner Summit property
Snow is falling from the sky in thick curtains of white, when Mike Basich yanks the pull cord on his snowmobile and the engine growls to life.
Daylight is fading, but his snowmobile's headlight casts a warm cone of brilliant yellow out in front of him, illuminating a snowglobe world of powder-laden trees and fluttering flakes.
This is the start of Basich's daily commute. While other Tahoe residents steer their Subarus toward their driveways, Basich is winding through Donner Summit snowdrifts, slipping over snow-covered creeks for miles until he reaches his back door. At the end of his commute he has a decision to make—rest by the fire in his hand-built home or head over to his private single-seat chairlift and shred powder without another soul in sight until his legs turn to jelly.
If it seems like a dream—a childhood fantasy conjured by the mind of an adventurous child—that's because it is.
"This is a project I always wanted to do since I was a kid," says Basich.
Like many dreams, this one took a monumental amount of effort to turn into reality. Basich carried an estimated 175 tons of granite by hand, mixed cement in sub-freezing temperatures, and hand-milled every board and counter. But the result is one of the most unique and personal homes anywhere in the Tahoe region.
The Home
Basich's home is a miniature marvel, a total of approximately 300 square feet when the sleeping loft is included. Every piece of the home is handcrafted and off the grid, necessitating a high level of ingenuity and creativity.
The floor plan is based off of a pentagon and built using the golden ratio—a law of proportions seen throughout the natural world and art.
A pentagon of Osage orange wood is the centerpiece of the masterfully crafted wood floor, surrounded by interlocking pieces of tulipwood. Panoramic metal-ringed windows open up onto an expansive deck. In a one-of-a-kind melding of architecture and the natural world, a metal star in the window casts a perfect pattern within the pentagon on the floor on the afternoon of Basich's birthday—October 29.
Battery power generated by solar panels lights the home, and a wood-fired hot tub sits below the deck. The wood stove both heats water and fires an oven. Small, beautiful details dot the interior—soapstone rings the fireplace, deer antlers serve as cupboard handles, hand-crafted granite adorns the walls. An ornate oak coffee table incorporates marble, petrified wood and a petrified mammoth bone seamlessly while holding giant crystals in its metal table legs.
Like all things with Basich, the home started as an idea, a vision of the traditional victorious mountaintop pose. The outstretched hands and legs created a perfect pentagon shape.
"I am definitely inspired by a spontaneous shape that has to do with something deeper in the self," says Basich.
But after buying the 40-acre Donner Summit property in 2004, he spent a winter in a teepee on the property studying the weather patterns and topography of the site to refine the building's design. He ended up selecting the top of a granite dome as his building site, with huge granite boulders making up sections of the floor while also falling away to allow for storage under the house.
Truckee-based professional snowboarder and Olympian Andy Finch helped Basich on several of the projects at his home. He says Basich approaches new projects with a "dive in and you'll figure it out" attitude that works because of his natural skill as a craftsman and his determination to work until his ideas materialize.
"He makes dreams become reality," says Finch.
For five years Basich worked tirelessly on the project, hauling granite, milling lumber and fabricating steel.
"It's what I wanted to do. I wanted to be forced to be challenged to get out of my comfort zone," says Basich.
The Creative
Many might recognize Basich as a professional snowboarder—one of the bright stars during the formative years of the sport. During the 1980s and '90s, Basich traveled the world competing in the sport's biggest contests. His mark on the sport continued as he forged into filming, photography and backcountry riding.
But before he ever strapped on a snowboard, Basich was a Sierra foothills child who loved to work with his hands.
"The building has come last, but it was the first thing I had in life," says Basich.
Basich credits his creativity to his parents and a struggle to overcome epilepsy that made him view things as an outsider.
That viewpoint has paid off throughout his career. As his competitive snowboarding career wound down, he began looking to the backcountry as his next frontier. That led to a photography career that broke boundaries by re-imagining the traditional point of view.
Finch first met Basich in the early 2000s in Lake Placid, New York. Finch was hitting a 90-foot gap jump and Basich, with an eye for a specific photo, asked him if he could follow him off the jump, camera in hand. Getting to glimpse Basich at work behind the lens cemented Finch's admiration for his photography.
"He has a knack for seeing a photo before he takes it and then really capturing it," says Finch. "A lot of photos come and go, but his photos are timeless."
Basich's pioneering self-portrait photography includes a famous remote-triggered photo of him dropping more than 100 feet out of a helicopter in Alaska.
He continued approaching each new idea with his self-styled creativity—designing an early version of virtual reality using multiple GoPro cameras, founding his own clothing brand, 241 Collection, and building a one-of-a-kind, hand-crafted home on wheels.
That innovative spirit has attracted a whole new generation of fans fascinated with his DIY creations, adventurous lifestyle and unique craftsmanship. Basich currently has more than 25,000 Instagram followers and has generated tens of millions of video views online.
"It is my way of staying in the industry but also fulfilling my dreams and doing what I want to do with my life," says Basich.
As always, Basich is cooking up more projects to satiate his creative drive. He is building a snowcat for a beer company that converts into an on-the-snow bar. He recently became a father, and purchased the 40-plus-acre property next to his Donner Summit home. He has plans to build a larger home next to his current house.
"This home was really based on me and the next one will be based on family," says Basich.
And he'll keep enjoying the years of hard work he put into converting this little slice of Donner Summit into his ultimate winter dream.
"Being on the chairlift by yourself on a Saturday or a holiday and riding endless powder—I feel like a billionaire," says Basich.
And sometimes, when the snow is right, he'll pull out the groomer he has on the property, build a pristine jump with a powder landing and launch off it to his heart's content. Even for a dreamer like Basich, that surpasses his wildest childhood hopes.
"That is a crazy fantasy that I never thought of but just came true," says Basich.
---
David Bunker is a Truckee-based writer and editor.